"Sometimes me thinks, 'What is a friend?' And then me say 'Friend is someone to share the last cookie with.'" – The Cookie Monster
That Cookie Monster was a smart fella, I say.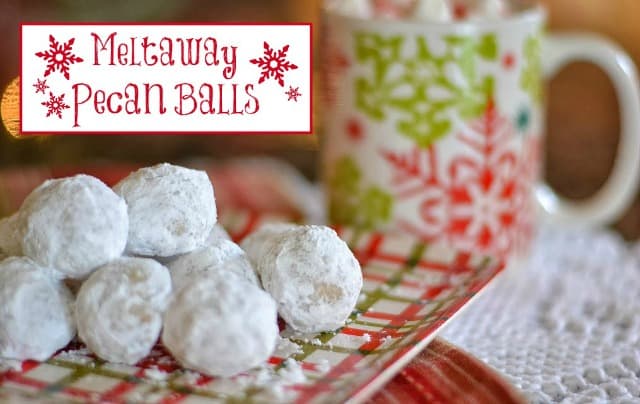 Welcome to the 1st Annual Christmas Cookie Exchange!
Get your recipe cards ready and be prepared to grab 30 cookie recipes this week to add to your cookie recipe library.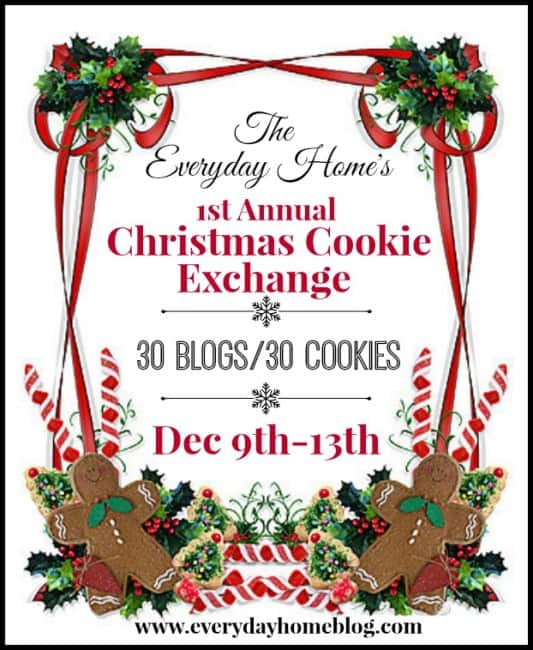 I'm not one of those who normally spends hour upon hour baking away in my kitchen, but something comes over me this time of year. Then suddenly, before I know it, I'm drinking coffee one morning and out comes my cookie recipe book. And the search begins for the perfect Christmas cookie.
The winner this year is Pecan Meltaway Balls. These tasty morsels require only 5 ingredients, are easy to make and even easier to eat.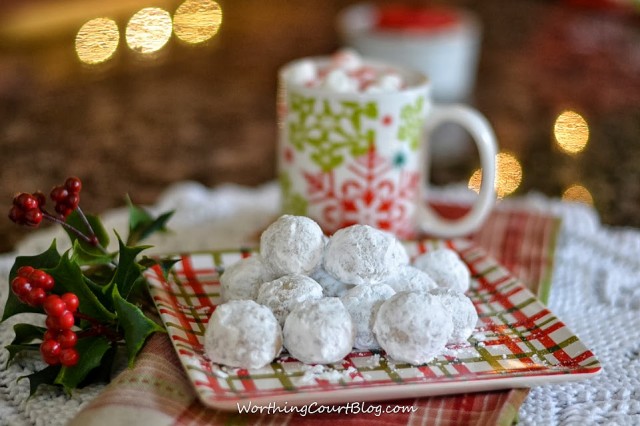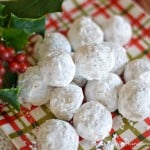 Meltaway Pecan Balls
2013-12-09 18:59:25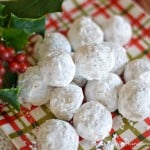 A 5 ingredient cookie that is easy to make. Tasty and perfect for Christmas cookie exchanges.
Ingredients
1 cup pecans
1 1/2 cups confectioners' sugar
1 cup butter - no substitutions
1 tsp vanilla extract
2 cups all-purpose flour
Instructions
Preheat oven to 325 degrees farenheit.
In a food processor with knife blade attached, pulse pecans with 1/4 cup confectioners' sugar until nuts are very finely ground. Add butter and vanilla, and process until smooth, occasionally stopping processor and scraping the side with a rubber spatula.
Add flour;process until evenly mixed and dough forms.
With floured hands, shape dough by rounded teaspoon full into small balls.
Place 1" apart on an ungreased cookie sheet.
Bake 16 - 18 minutes, or until bottoms are lightly browned and cookies are light golden.
Transfer cookies to wire rack. Cool for 3 minutes, then roll cookies in remaining confectioners' sugar and place back on wire rack to cool.
When cookies are completely cool, roll in sugar once again.
Repeat with remaining dough and sugar.
Notes
Completed cookies may be stored in a tightly covered container at room temperature for up to 2 weeks or in the freezer for up to 3 months. (If cookies are stored in the freezer, you may need to roll them in confectioners' sugar again before serving.)
Worthing Court http://www.worthingcourtblog.com/
These cookies were a big hit with Pookie and my family. I think they will be with yours too!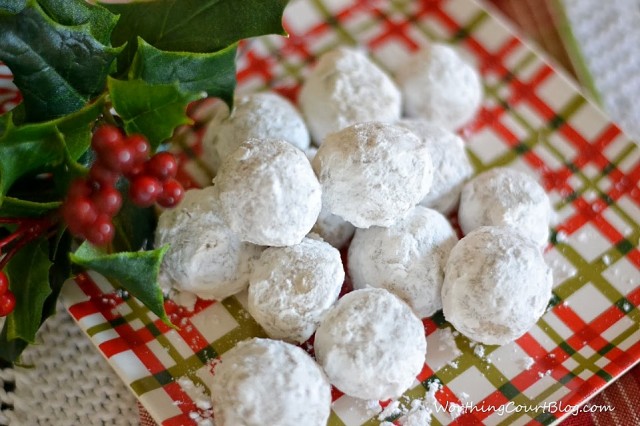 Please visit the following blogs to see what cookies
they have "brought" to the Christmas Cookie Exchange…
Monday, Dec. 9th
Tuesday, Dec. 10th
Wednesday, Dec. 11th
Thursday, Dec. 12th
Friday, Dec. 13th