Is it possible to have a homework area for kids in a rustic farmhouse style home? I'm happy to report that yes, it is entirely possible! Consider each one of these tips and inspiring ideas to help keep your child from sinking into the "I hate homework" blues.
Links to products that will help you to get the look are directly under each image.
(Some products contain affiliate links at no additional cost to you. See my full disclosure HERE.)
First of all – Make it an appealing space.
Make it appealing to the eye and to the senses. The object is to create a space that will inspire and motivate the child who is using it.
What child wouldn't love a loft bed like this to do their homework? The shape of the footboard certainly has a farmhouse vibe. Plus, an arrangement like this is perfect for a small bedroom!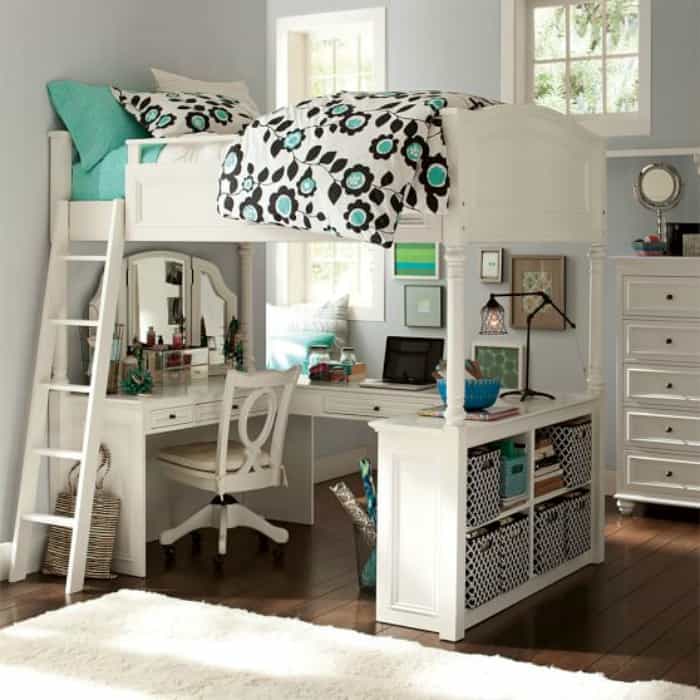 Loft Bed || White Armless Desk Chair || Farmhouse Desk Lamp || Fabric Storage Cubes
Need a homework area for multiple kids? Line up multiple tables and designate each child's spot with a marquee letter! Lucite chairs are almost invisible and keep the area from looking too cluttered.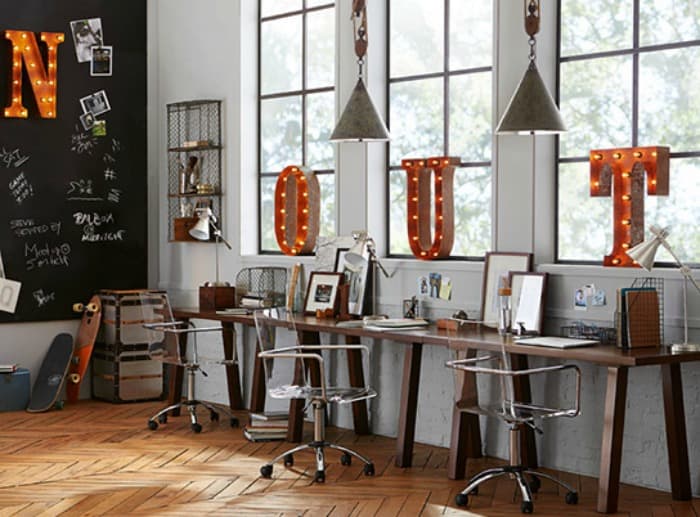 Keep it light and bright. Everyone works better in a space that is cheery and brightly lit.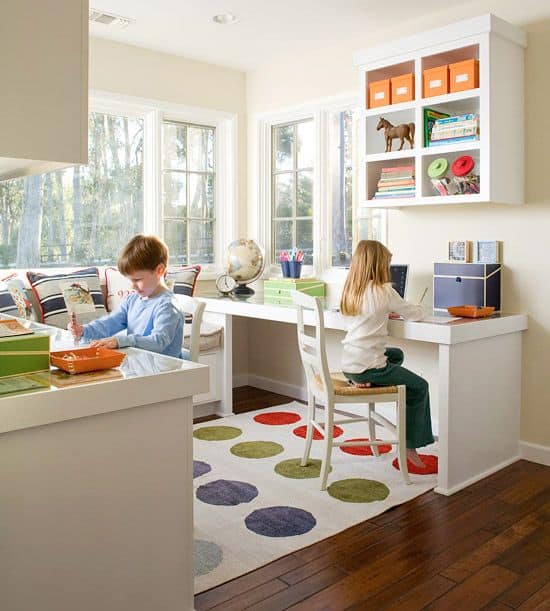 An organized space leads to organized thoughts
I bet you heard this from your mom – "A place for everything and everything in its place". Well, it's true – most every adult that I know is much more productive when working in an organized spot. Kids are no different.
Pegboard is awesome. Period. It can be cut to any size, painted any color, stenciled or frame. The availability of pegboard supplies makes it a great alternative for organizing around a homework area.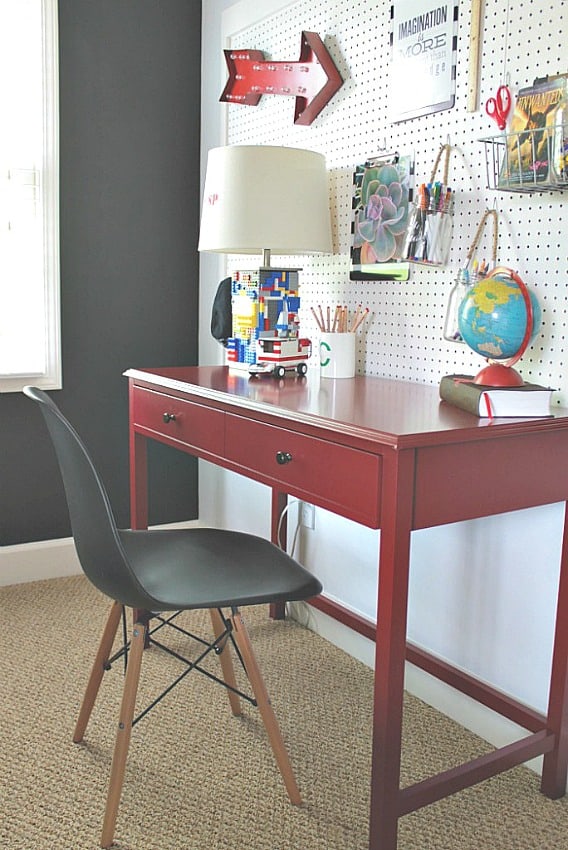 Pegboard Shelf || Pegboard Basket || Pegboard Pencil Holder || Pegboard Hooks
With that in mind – word to eliminate clutter. The clutter control solutions don't have to be expensive – the dollar stores carry lots of storage options. Or you could even cover cardboard boxes that you have lying around with pretty wrapping paper.
Install a hook nearby to keep backpacks within easy reach.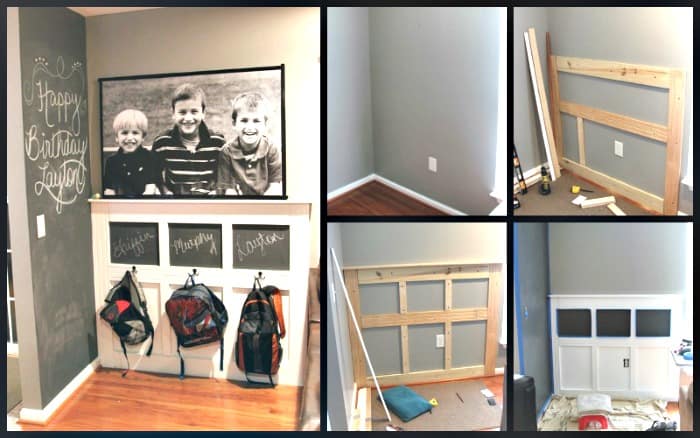 Here's an inexpensive solution for storing backpacks if you don't have the wall space for hooks.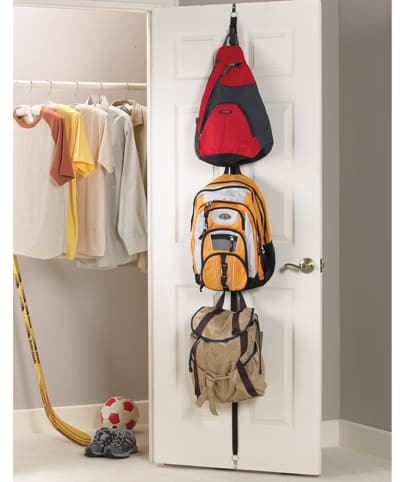 Sort and organize supplies. Ideas abound – you're only limited by your imagination.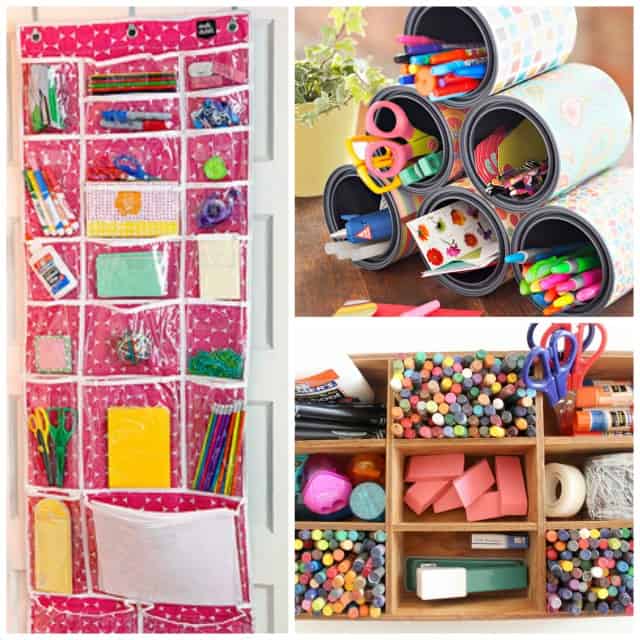 Christy Designs, BHG, Trebuchet
Don't forget about those electronics! They are playing a larger and larger role in today's education world. Make sure there are electric outlets nearby to accommodate them. This gizmo could come in handy if only one outlet is available and you need to plug in multiple items. Just make sure that whatever you use is UL Approved.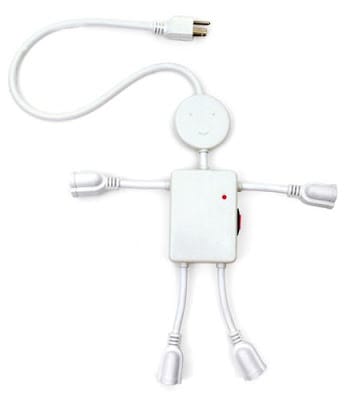 Keep distractions and temptations to a minimum
Who wouldn't want to work in this streamlined, yet attractive homework station?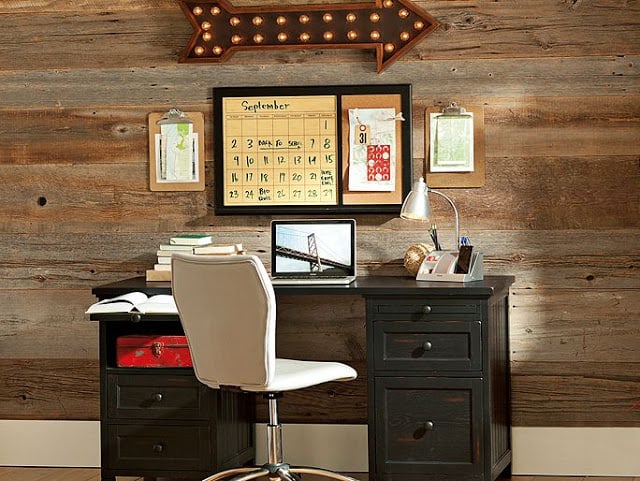 Plan ahead
Get your child in the habit of using a calendar to keep track of upcoming project due dates and tests.
Allow a space for display
Every child of every age is proud of their work. Giving them a special place to display their projects is one of the best ways to show them that you'e proud too.
Accept that no matter how much trouble you've gone to or how much money you've spent, they likely won't want to do homework and make peace with that knowledge.
Try to avoid the temptation to cajole, threaten or bribe your child into doing their homework. Aim to be a facilitator instead. That doesn't mean doing it for them. ☺
Discuss homework with your kids on a regular basis. Not just about what their assignments are, but remind them that you are proud of them are there to support them.
As much as is appropriate, allow the child to have a say in when their homework will be done – right after school, after supper, etc. You may not agree with their preference, but just discussing it with them will give your child a sense of empowerment.
Most of all – praise, praise, praise. They thrive on it!
Don't forget to pin it!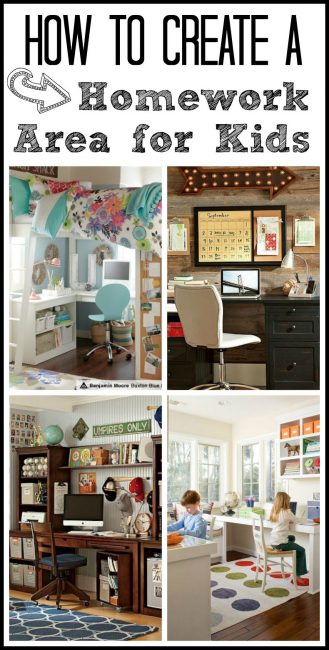 source unknown
Thank you for stopping by!
(Visited 6,047 times, 9 visits today)