I shared this project last October, but I think that it's so stinkin' cute that it's worth sharing again. It's a Halloween craft project that is really fun to do, even though the glitter part is a bit messy! Enjoy!
When I received a recent Pottery Barn catalog, their cute Halloween houses jumped right off of the page at me. I loved it and was inspired to create one of my own! Here's what I came up with.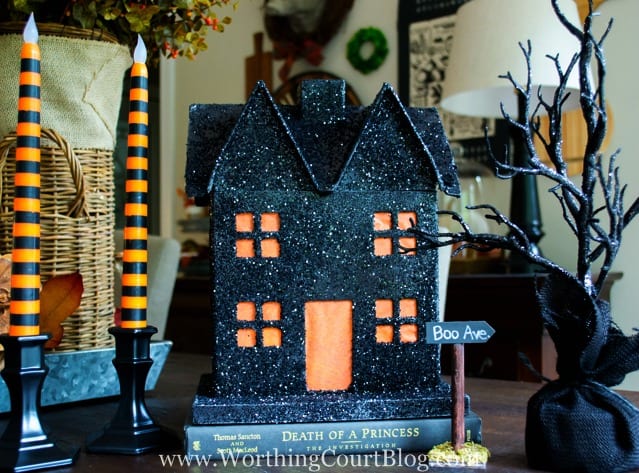 Y'all, this was SO quick and easy to do and I only have about $9 invested in my glitter house.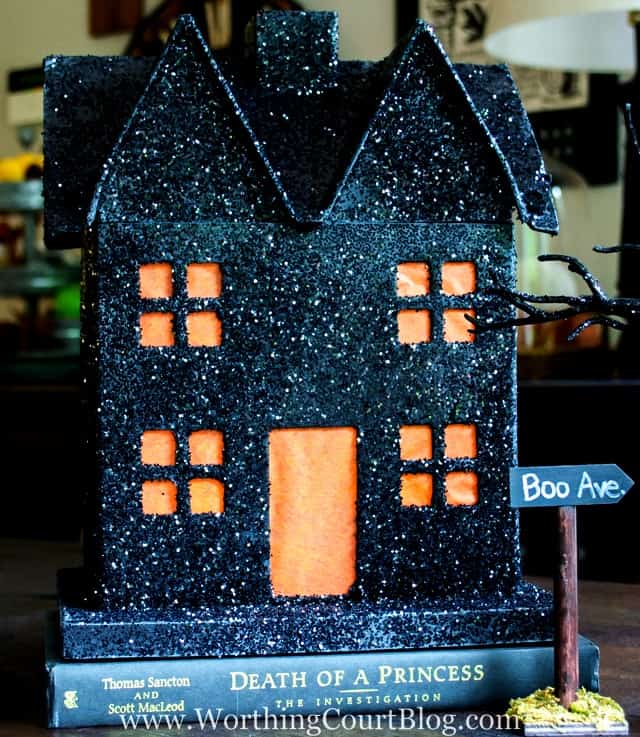 Here are the supplies that you'll need to make a Halloween house for yourself and to create a simple Halloween vignette.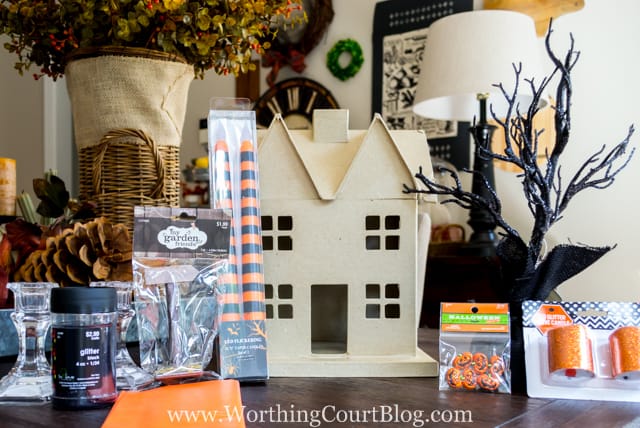 First, let's talk about just the house. You need (click on the item to be taken directly to the online source):
Paper mache house – mine came from Hobby Lobby. If ordering online, they only have a set of three available for just under $15 (you could make a whole village!), but in the store I was able to purchase just one for $6 (before my 40% off coupon).
Battery operated votive candles – I just happened to find Halloween ones in the dollar spot at Target, but any kind will do.
Black spray paint – not pictured
Spray adhesive – not pictured
Glue stick – not pictured
Directions – I didn't take in process photos as this thing is so ridiculously easy to do:
Paint the entire exterior of the house with black spray paint.
Once the paint has dried, coat one side of the house at a time with spray adhesive. Immediately sprinkle black glitter on all of the surface until you have a good coating of glitter. Continue with each side of the house until all sides are covered with glitter. This step makes a mess, so you may want to do it outside.
Cut pieces of the orange tissue paper that are large enough to cover the window and door openings of the house. Attach the tissue paper to the inside of the house using a glue stick around the edges of each opening. Here's a look at the inside of my house with the tissue paper in place.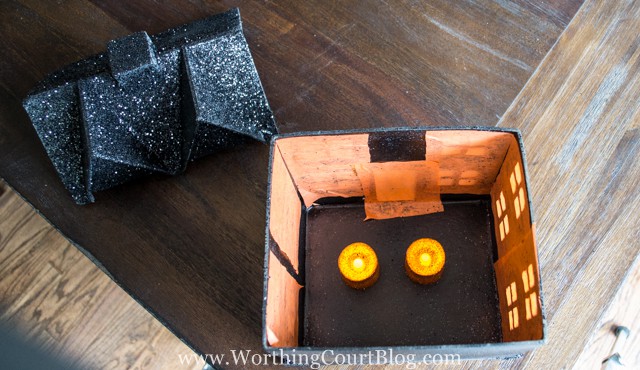 Add the votive candles to the interior, put the house roof in place and you're done! Once I had the house painted and glittered, I think I spent less than 10 minutes finishing it up.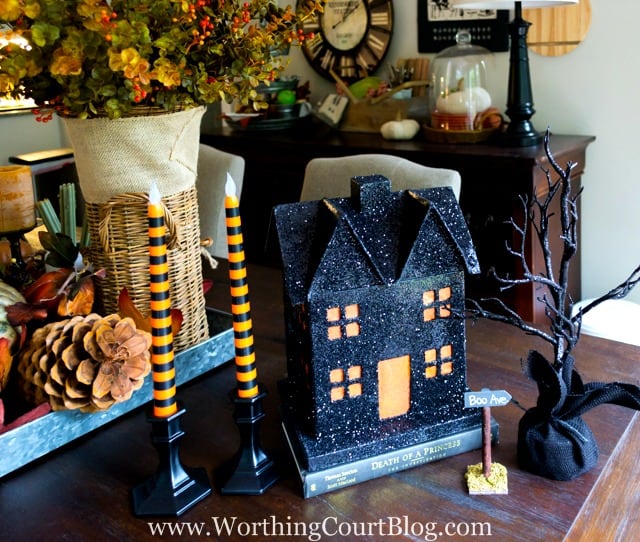 To put the rest of the vignette together, I used battery operated votive candles, a glittery Halloween tree, a couple of glass candle sticks that I painted with black spray paint (from a dollar store) and a little "street" sign that I wrote Boo Ave. on with a chalk pen.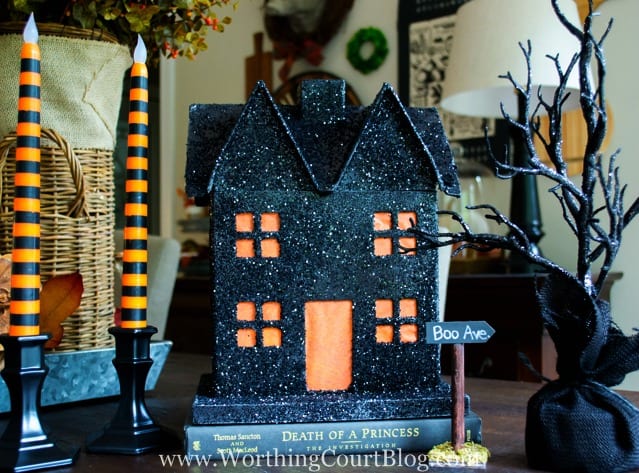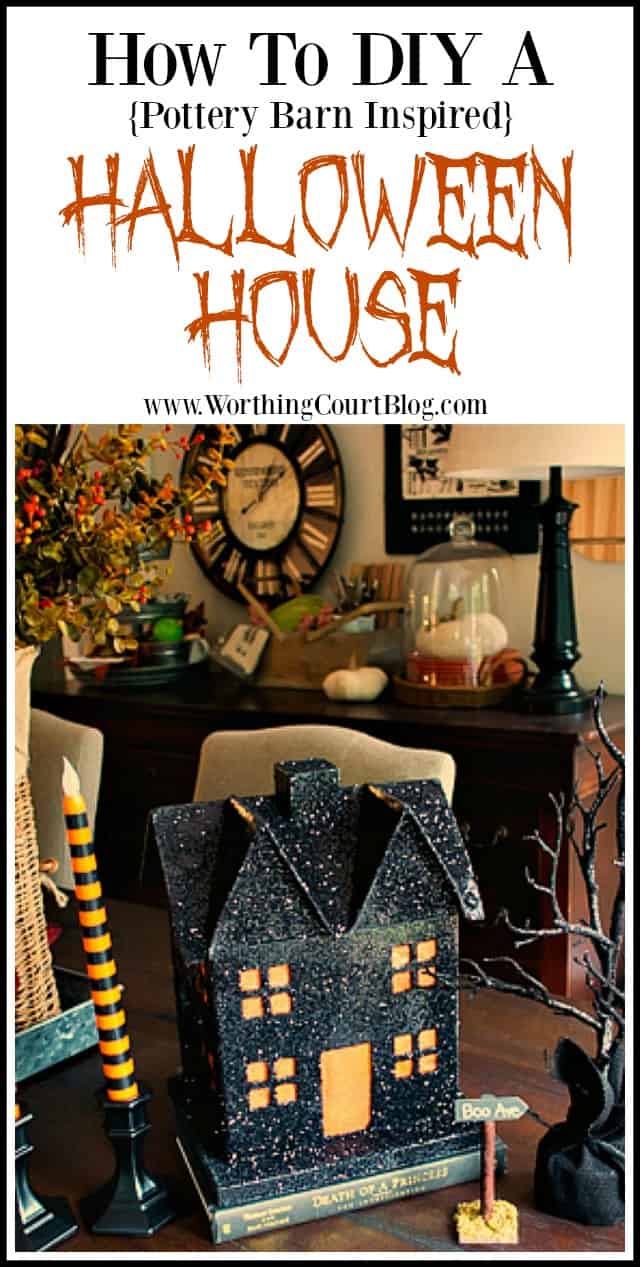 (Visited 2,674 times, 4 visits today)