12 Farmhouse Indoor Or Outdoor Planters For Under $50
I have put together 12 of the best indoor or outdoor farmhouse style planters.
With the unseasonably mild temps that we've been experiencing where I live, I'm itching to get outside enjoy the weather and put some spring planters together!  I'm forcing myself to hold off though because I know that we're not out of the woods yet, in terms of having a cold snap with freezing or below freezing days.   🙁
In the meantime, I'll go ahead and get myself ready for the day that I can finally fill my front porch with flowers by choosing the planters that I want to use this year.  I especially love to mix multiple styles and sizes of planters together in a group!
I've rounded up a great selection of farmhouse style planters for under $50.  Each one is rated for outdoor use, but some of them are only for covered or protected areas, so be sure to read the description.
CLICK ON THE LINKS BELOW THE IMAGE THAT CORRESPOND TO THE NUMBERED PLANTERS.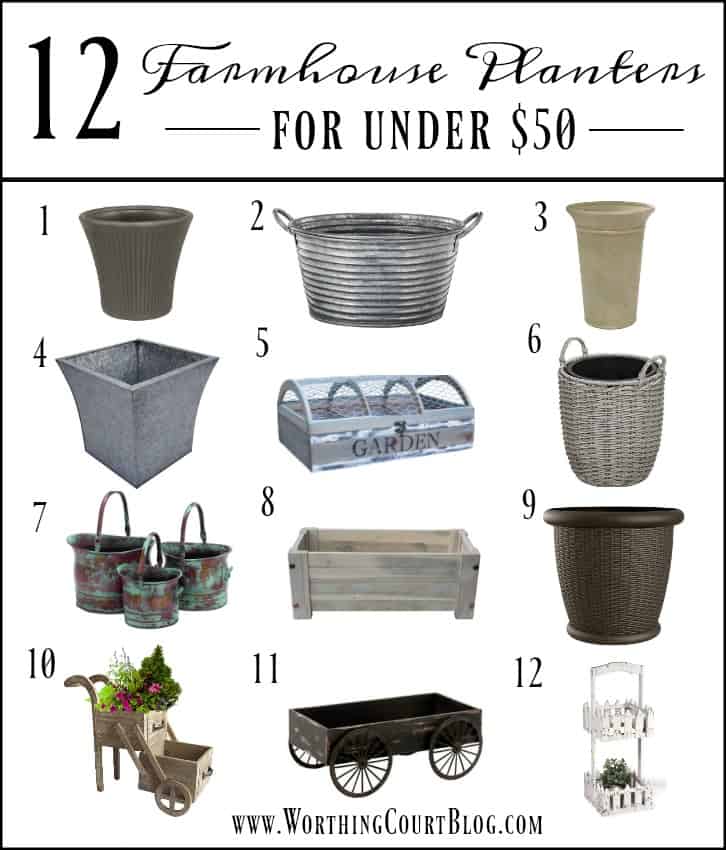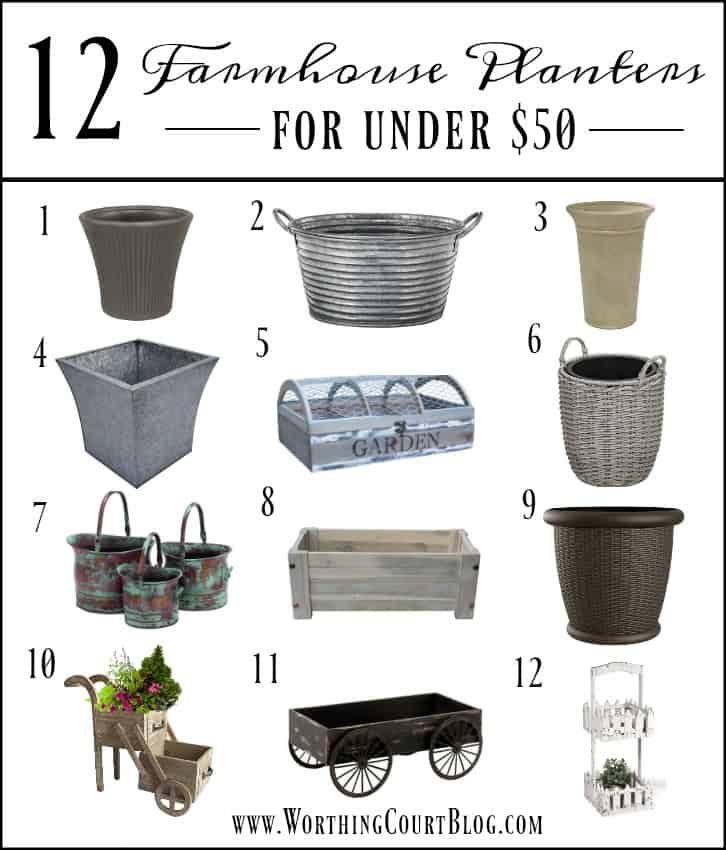 Pin
Affiliate links have been included for your convenience, at no additional cost to you.  Click HERE to see my full disclosure policy.)
 1. TISA ROUND PLANTERS (SET OF 2) || 2. CAROLINA OVAL MODERN FARMHOUSE PLANTER || 3. LANGSTON PLANTER || 4. TAPERED GALVANIZED METAL PLANTER  || 5. RECTANGULAR PLANTER BOX WITH MESH LID || 6. GRAY ROUND WICKER PLANTER || 7. COPPER METAL BASKET (SET OF 3) || 8. RECTANGULAR WEATHERPROOF WOOD PLANTER || 9. WICKER RESIN PLANTER (SET OF 2) || 10. DOUBLE TIER WOOD PLANTER CART || 11. DISTRESSED BLACK CART PLANTER || 12. HANDREN PLANT STAND 
When do you feel safe, weather wise, to start filling your outdoor containers where you live?
Sharing at THESE great parties.