OK – let's get this party started, y'all.  The Christmas party, that is.  I know that many of you are already in full Christmas decorating swing.  I just got mine started last weekend and I have to say that this is the first time in my whole life that I've ever put out Christmas decor before Thanksgiving.  My family thinks I'm nuts.   😛
I'd like to do something a little different on my door this Christmas.  I've been using the same glittery wreath for a long time, but I'm looking to tone down the glitz a little this year.  Here are 12 inspiring, unique Christmas wreaths that I came across during my hunt for inspiration.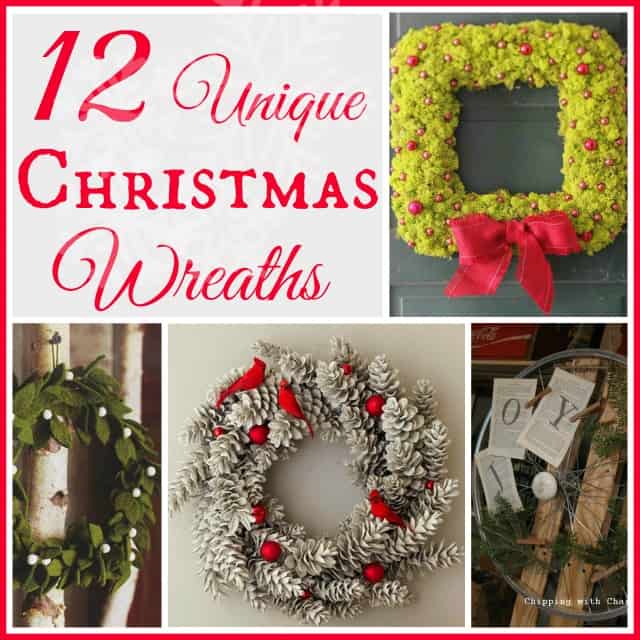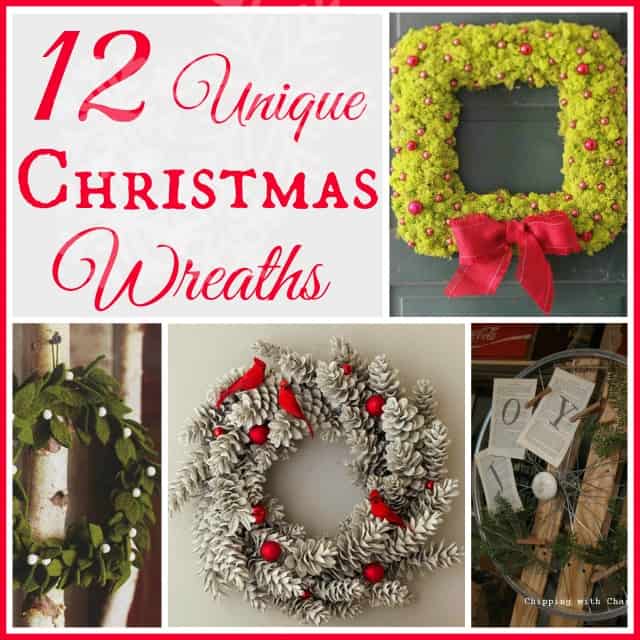 The non-traditional shape of a square wreath is eye catching all on it's own, but add the chartreuse reindeer moss and multi-sized beads and ornaments and it makes quite the statement.  The burlap bow tones is all down just enough.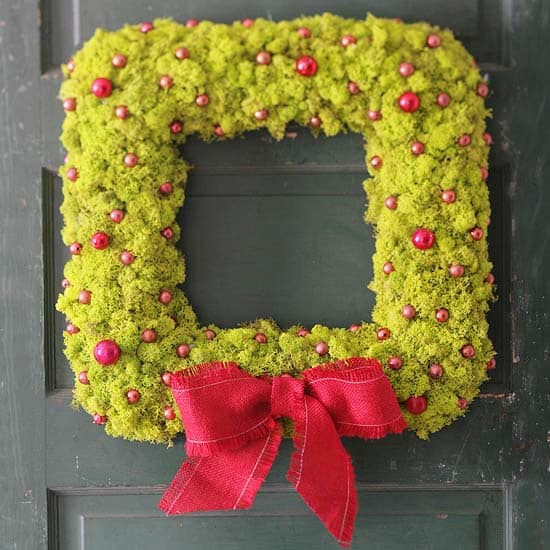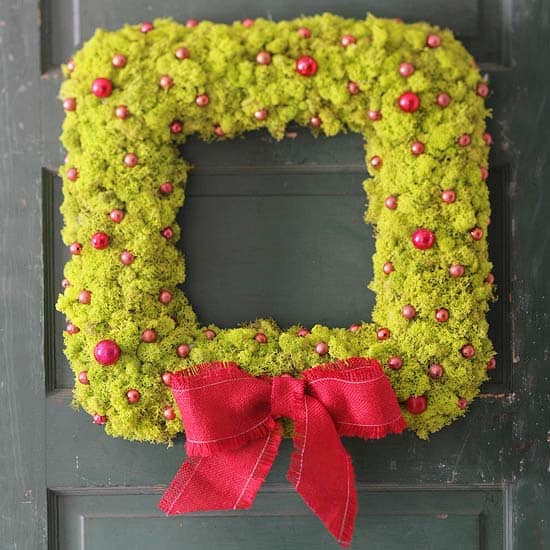 BHG
I guess this one is more suited to the kitchen than the front door, but I love the simplicity of this gingerbread man wreath with the cute checked ribbon woven through.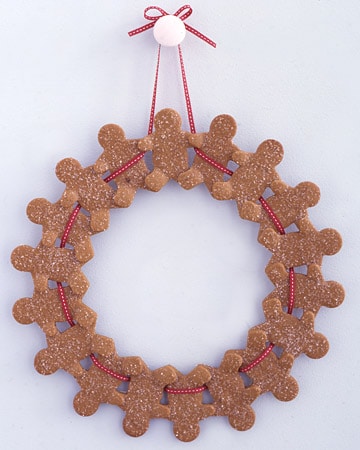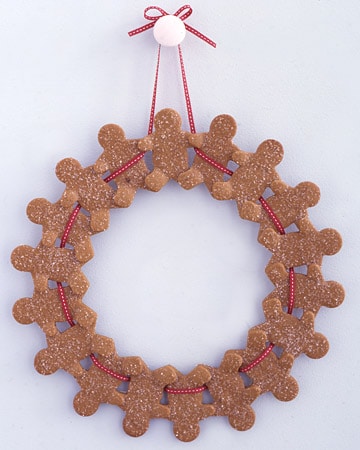 Martha Stewart
Gussy up a premade pinecone wreath with spray paint, faux snow, glitter and some cardinals and bright red ornaments.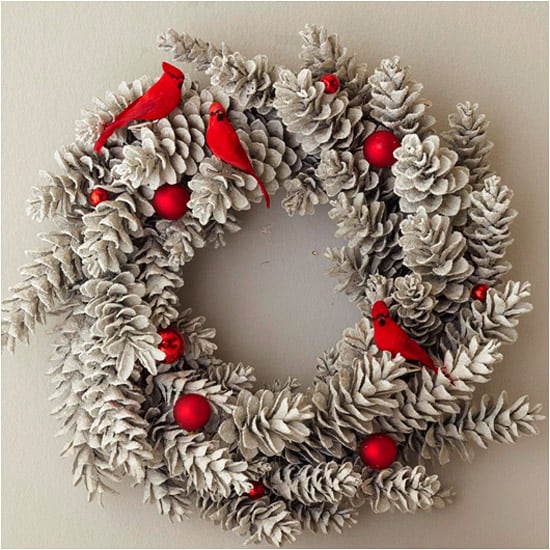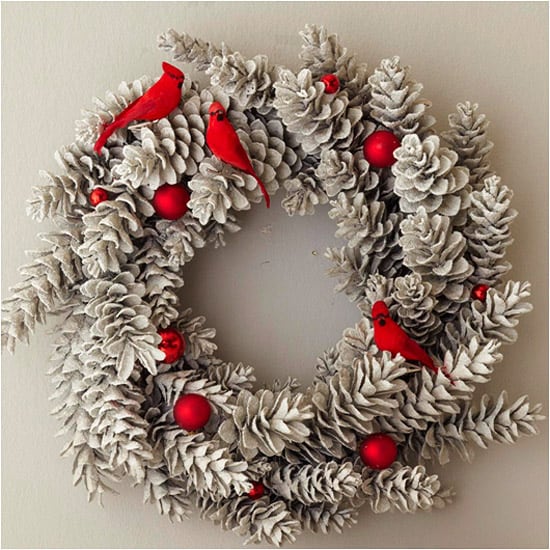 BHG
A rustic wreath made with rounds of cut wood.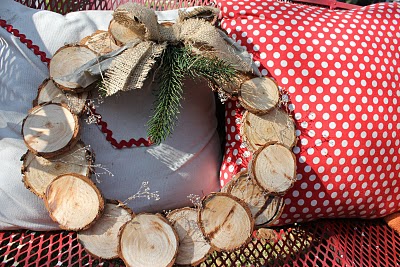 Lu Bird Baby
This candy cane striped wreath is cute and looks like it would be pretty easy to copy using either ribbon or yarn.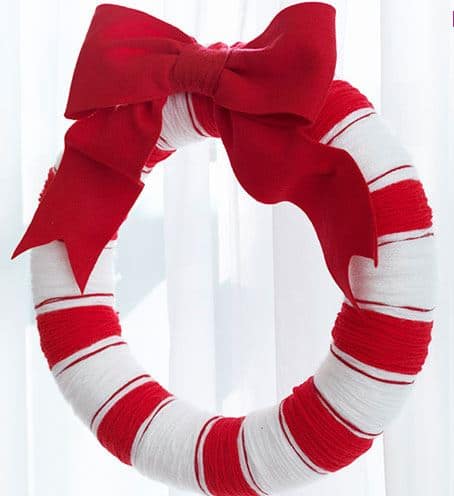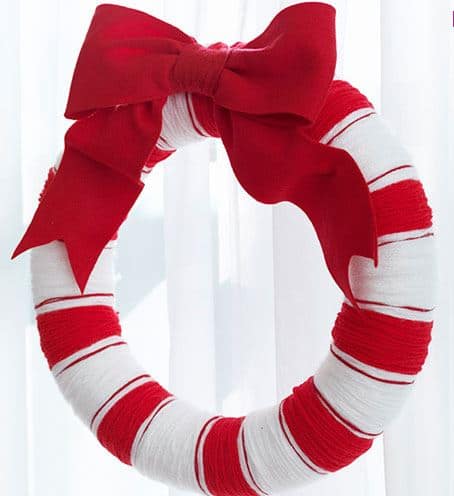 All You
An adorable felt mistletoe wreath with pompom 'berries'.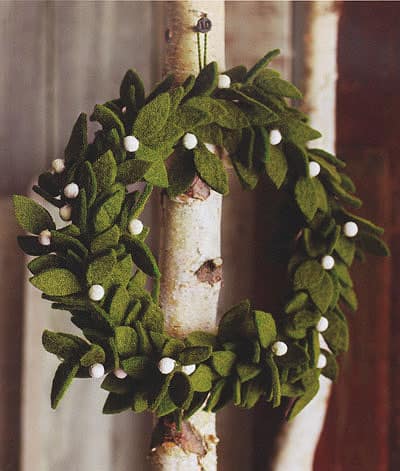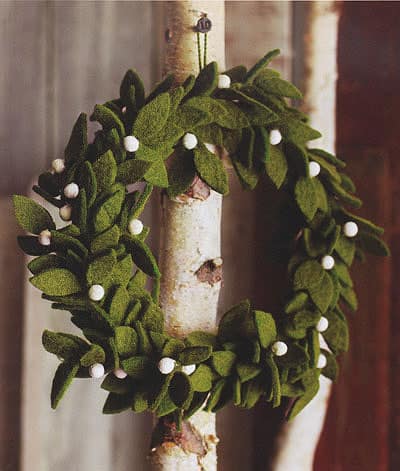 Nova68
This wreath could be made using a dropcloth instead of canvas.  The tags could be made by hotgluing lengths of ribbon with stamped letters and a button glued in place.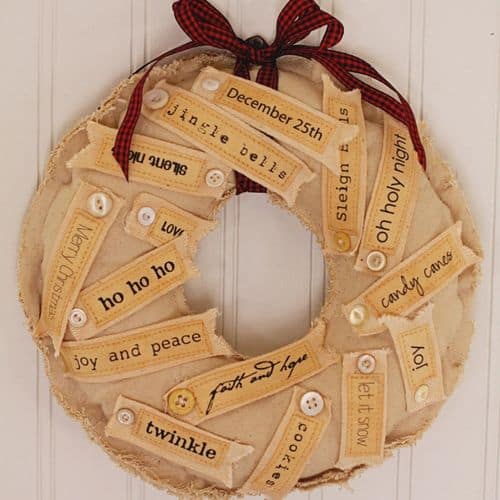 Make Life Sweet
Hmmm….we just happen to have a couple of extremely under-used bicycles in our garage.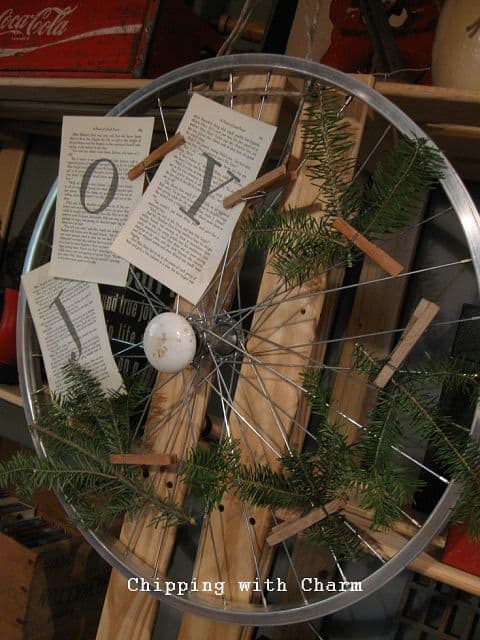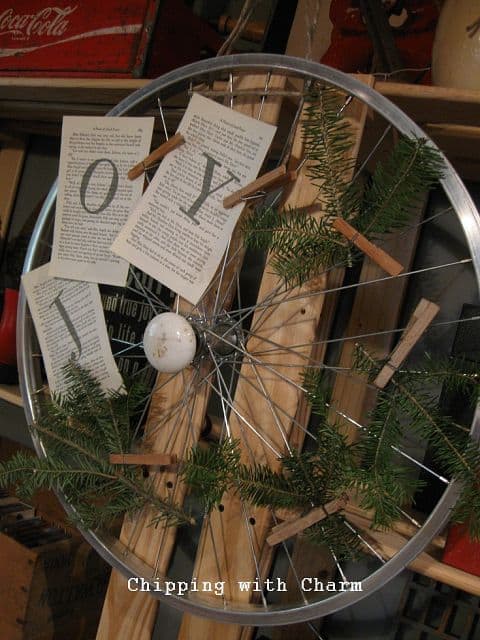 Chipping With Charm
A wreath made with recycled tin cans would be something easy and fun for kids to do.  Just switch the ladybugs out for Christmas ribbon.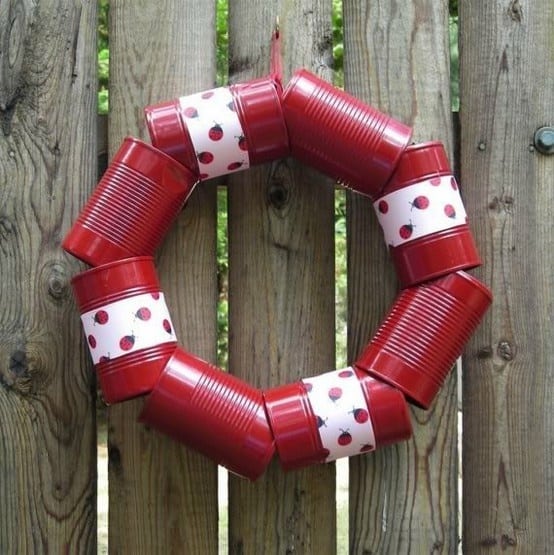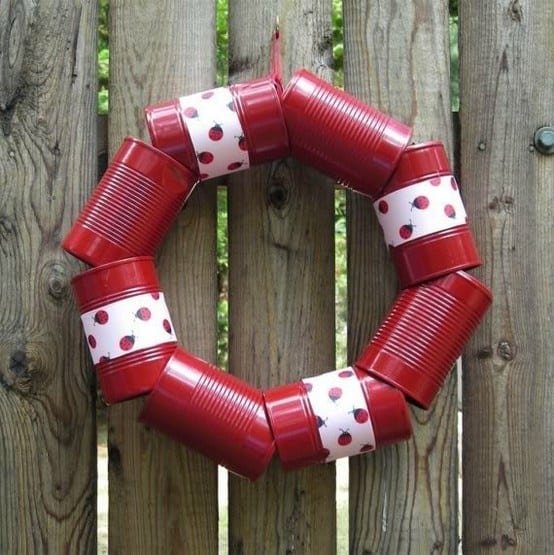 Ripe Green Ideas
Kelly's marshmallow wreath looks good enough to eat – really!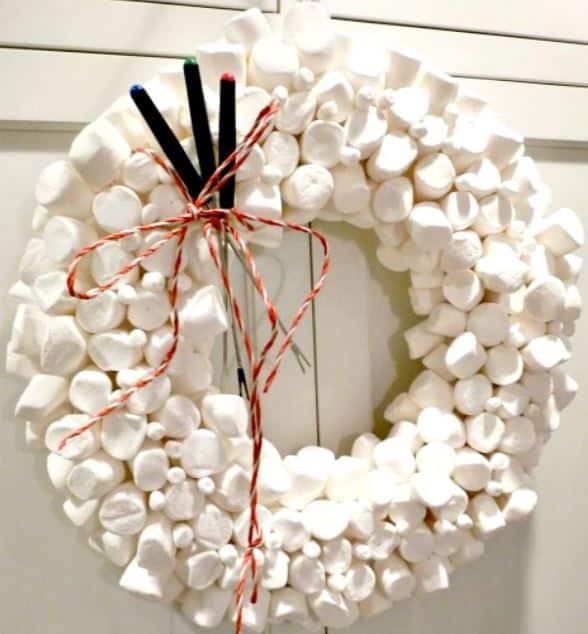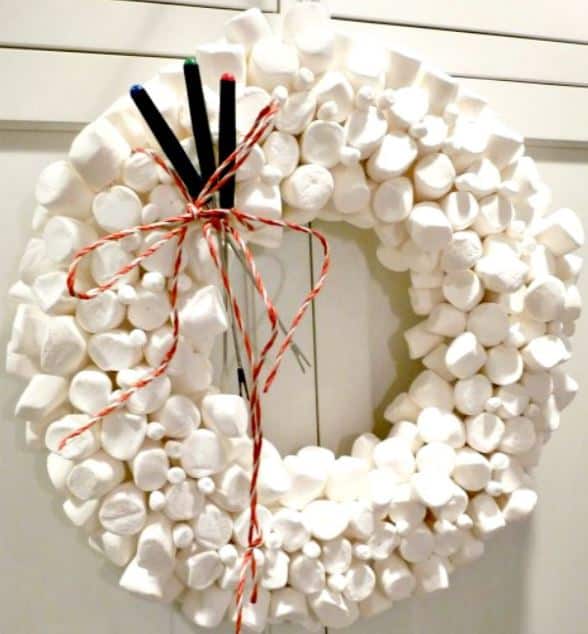 Eclectically Vintage
Here's something to do with all those vintagey silver trays that can be found for a song at yardsales or thrift stores.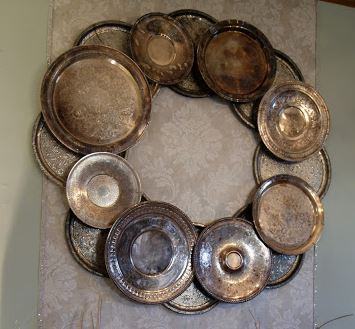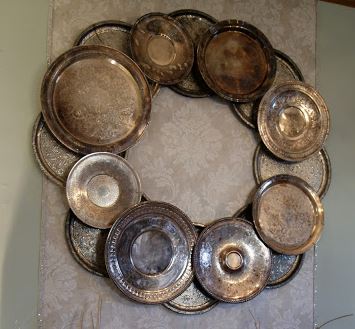 Nest Full of Eggs
And lastly, I have a slew of vintage costume jewelry from my mom.  She would love to see me bring out all of her pieces that have been packed away for years and turn them into something as beautiful as a Christmas wreath.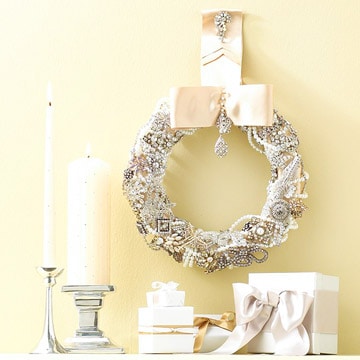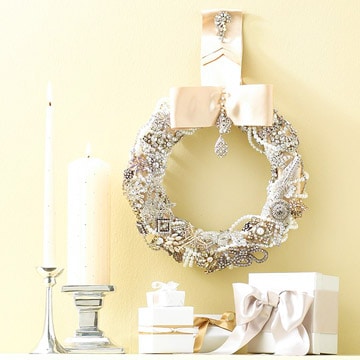 BHG