Do you love cozy DIY projects? Here are 3 of my best that don't require any sewing!
Brrrr!  Baby, it's cold outside!
All I want to do this time of year is to snuggle in and find ways to make my home and myself feel cozy and warm.
I'm sharing three no-sew cozy DIY projects today.  These creative items are so easy to make, would make great gifts that are frugal too, if you shop for your items at the dollar store.  I spent a whopping $5.50 to make all three projects and that includes a bottle of puff paint.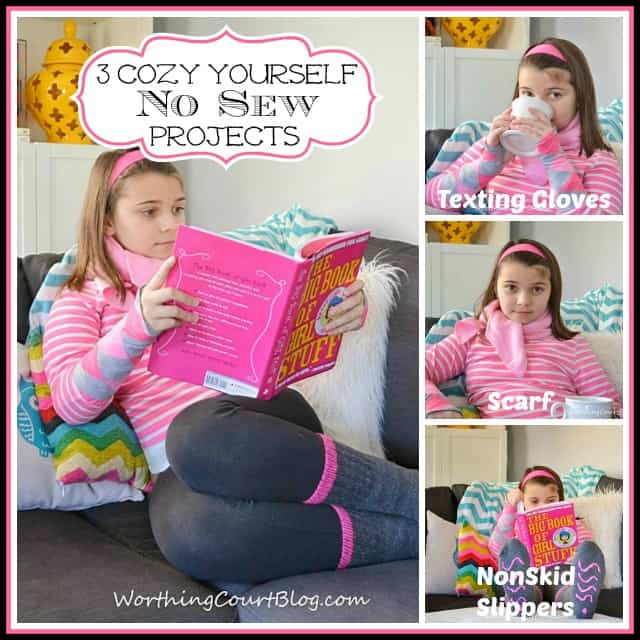 My 10 year old granddaughter, Miss M, agreed to be my helper and model for this project.  She loves to cuddle up in the corner of the sectional couch at her house with a book and a cup of delicious hot cocoa.  So I decided to treat her to a few things to make herself feel cozy and she loved them!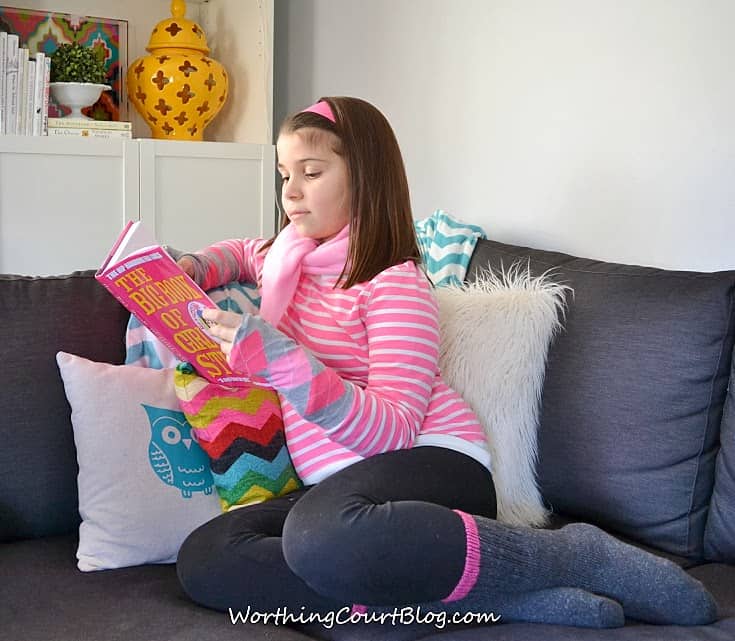 First up are these super adorable texting gloves made from a pair of socks.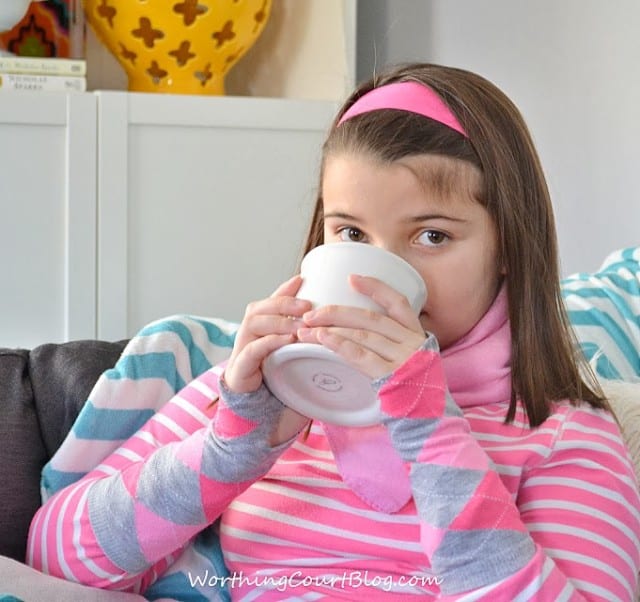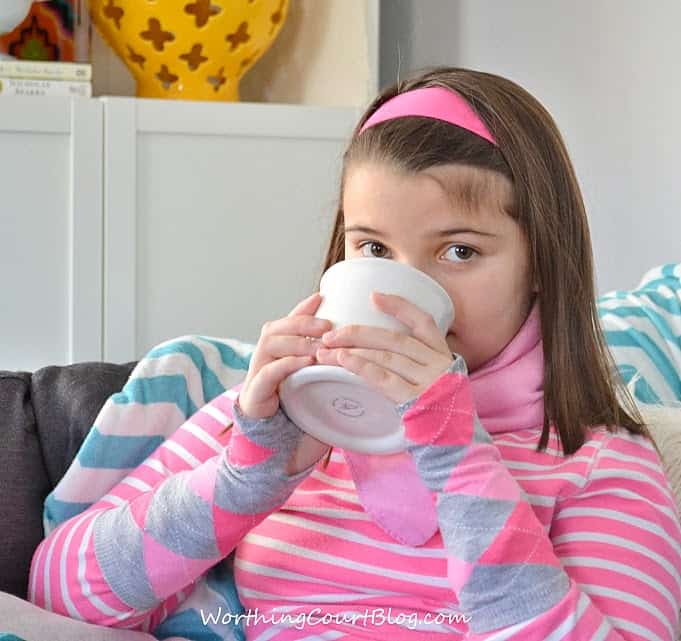 All that I needed to make these gloves was one pair of socks, a felt tip marker and some fabric glue.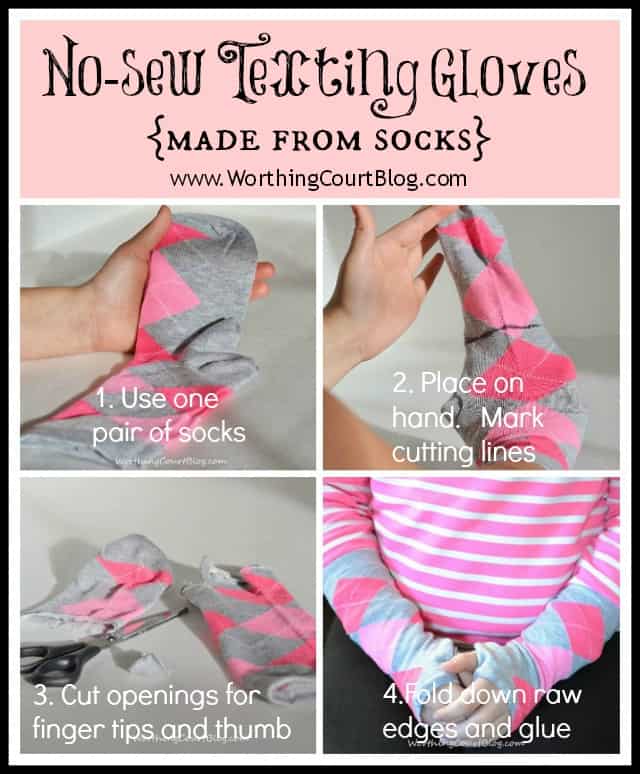 Secondly, is a pair of non-skid slipper socks.
These non slip socks couldn't be any easier to make.  Simply apply a few rows of puff-paint to a pair of thick socks.  Once dry, the puff paint creates a non-skid surface to walk with.  The socks are washable, but make sure to follow the puff paint manufacturer's directions beforehand.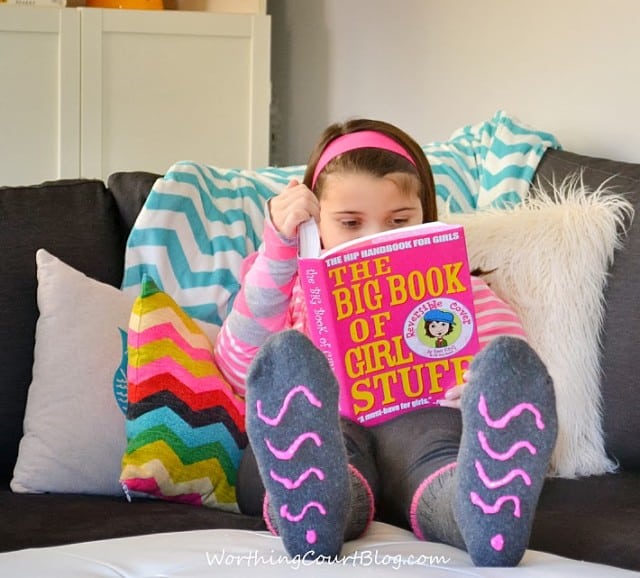 And lastly, is a cute scarf made from a baby blanket.
To make this scarf, I folded the square blanket in half to form a triangle.  My blanket was already square and did not need to be cut.  The edges were then glued together using fabric glue and allowed to dry.
I folded the blanket in half, lenghwise, one more time to make it narrower.  I glued the edges of each end with fabric glue to keep the layers from separating.
And voila!  A fuzzy and cozy muffler!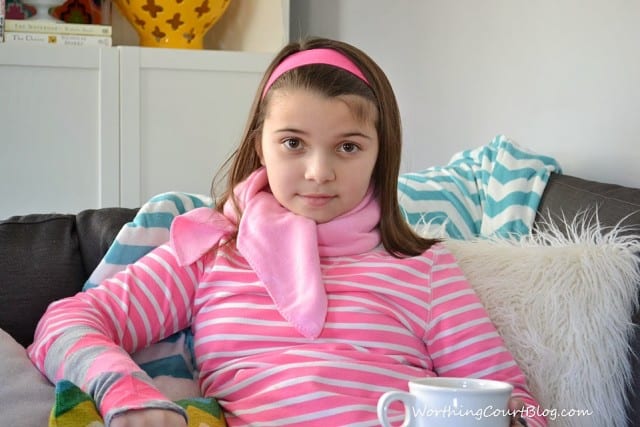 I know Miss M will enjoy these all winter long and I fully expect to be making another set once her 5 year old sister, Miss K, spots them!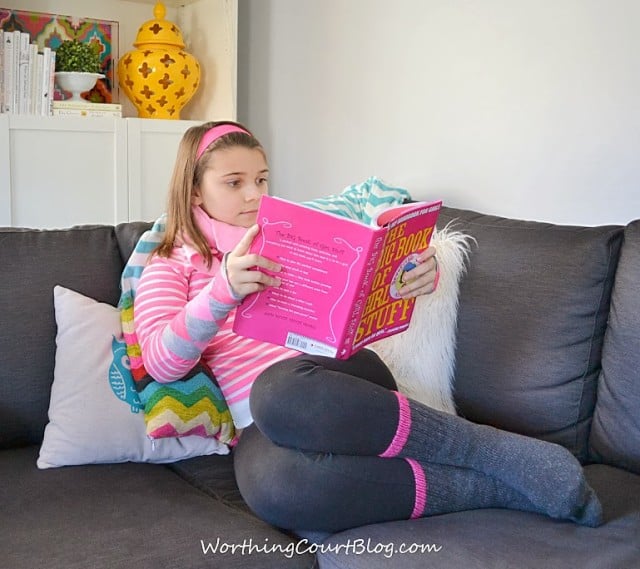 So how about you?  Do you have any special tricks to make yourself all cozy?