A Woodland Inspired Thanksgiving Table
Whenever I'm preparing to set any kind of a special table I need something to inspire me.  Inspiration can come from anywhere – a piece of fabric, a napkin or tablecloth, a placemat or even the pattern on a dish.  Sometimes inspiration comes from whatever 'feeling' the occasion or season brings to mind.
This is typically a gorgeous time of year here in North Carolina and is perfect for taking long walks in the woods.
Thus, my inspiration for a woodland inspired table for Thanksgiving.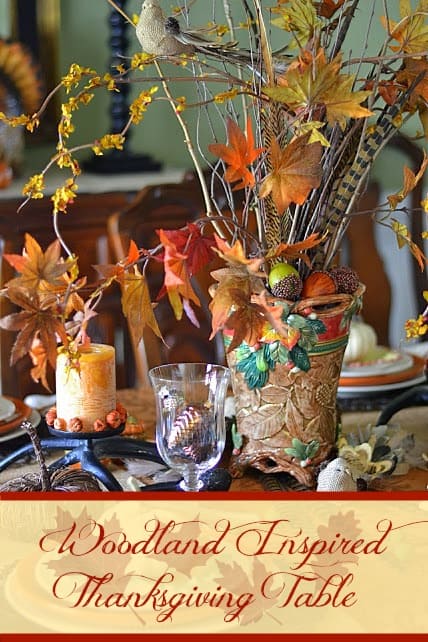 Pin
 My goal was to keep this table as thrifty as possible by reusing some of the items that I already have and by not spending more than a few dollars on anything that I wanted to add.
OK – I started off by using the my richly colored rusty/coppery tablecloth.  I no longer care for the shiny right side of the tablecloth, so I simply turned it over to the duller wrong side.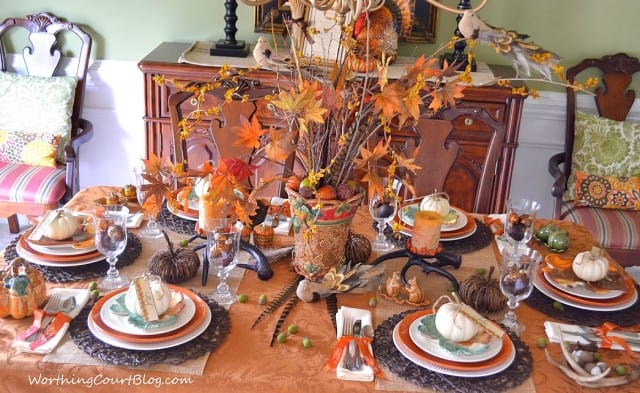 Pin
Next came one of my fave Fitz and Floyd pieces.  It's a vase that is from their Christmas Lodge collection that is covered with embossed brown leaves, has a twig running around the top and bottom and has pretty fall colored leaves running around the perimeter.
I filled it with some curly bittersweet, leafy sticks, a few feathers and some acorns.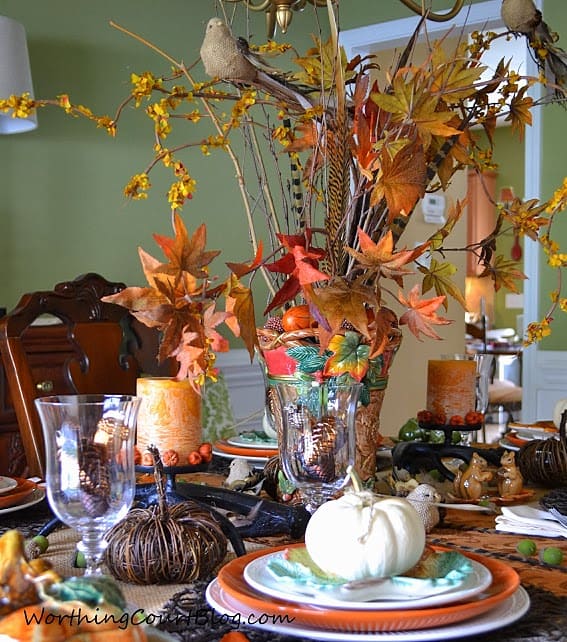 Pin
 A couple of neighborhood birds came by to roost along with some squirrels who wanted to play pass the acorn.   😉
The birds were my one sort of splurge item.  I found them at a Christmas shop in Southport, NC over the summer.  They were only a few dollars each and I plan to use them at Christmas too, so I guess it isn't so bad.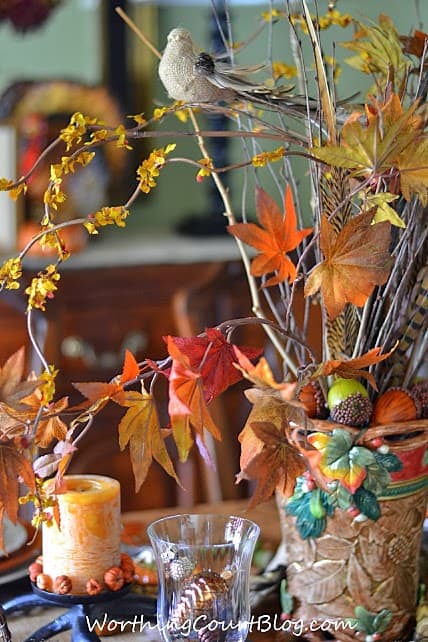 Pin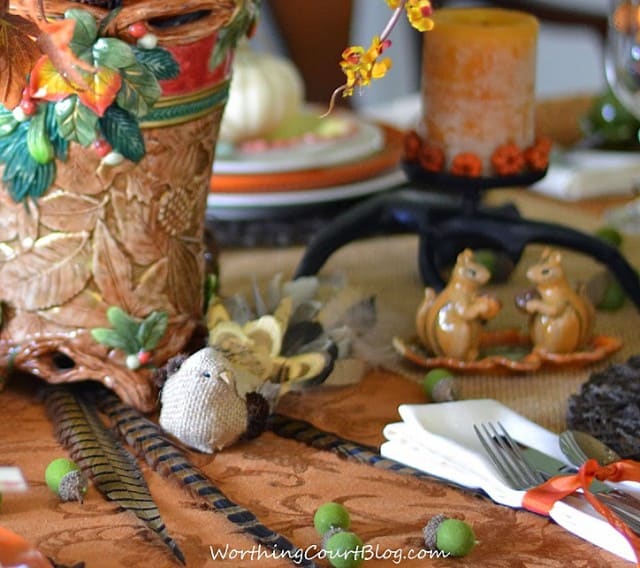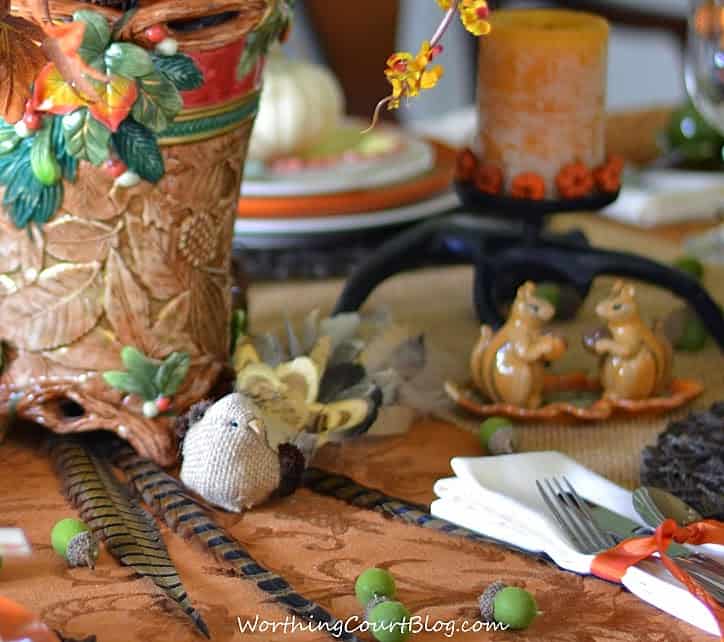 Pin
 Next came the place settings.
I used my woven straw placemats that I purchased last year for the base.  They kind of resemble a charger to me.  Then, to fallify my Mikasa Italian Countryside dishes, I added some rust colored plates that I found at the Dollar Tree. Paying $1 for a plate isn't very much, but I actually scored these for 50¢ each since they each have a slight defect.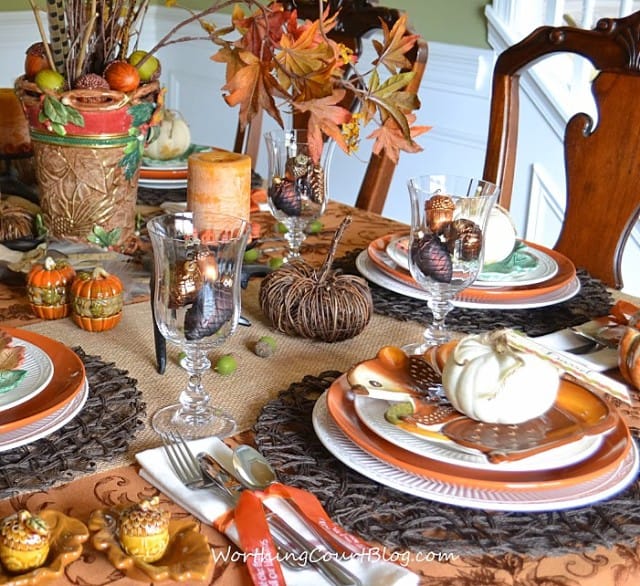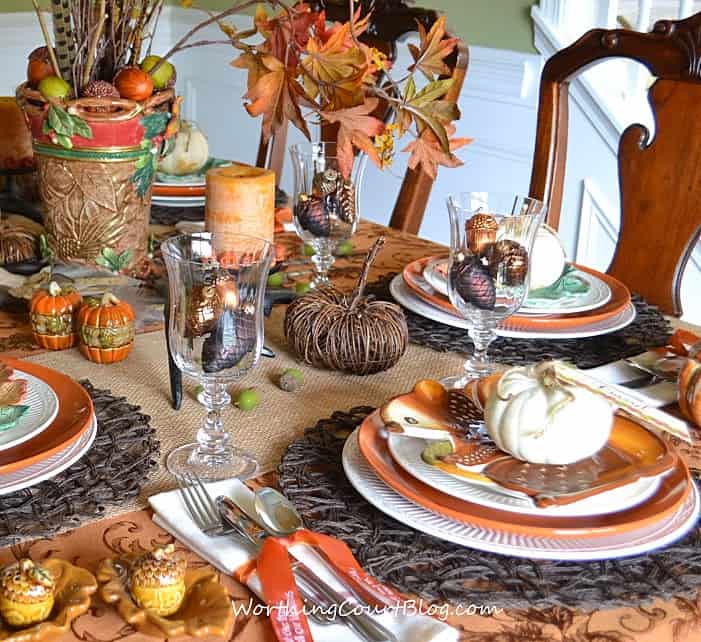 Pin
 A cute little fall plate tops of the each one of the plate stacks.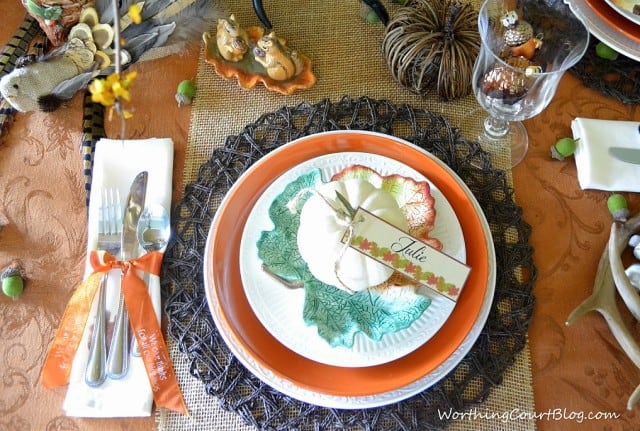 Pin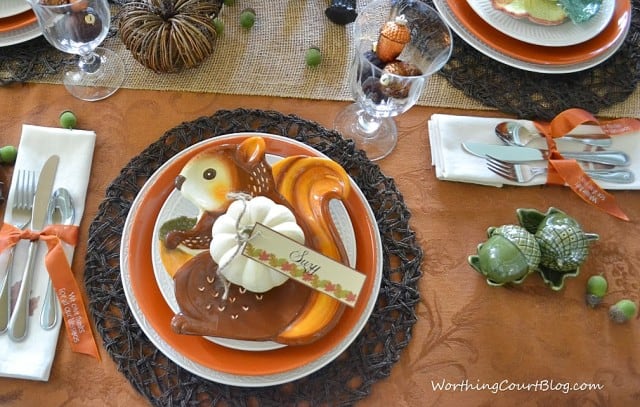 Pin
Instead of purchasing new napkin rings for my table this year, I made some easy and thrifty ones.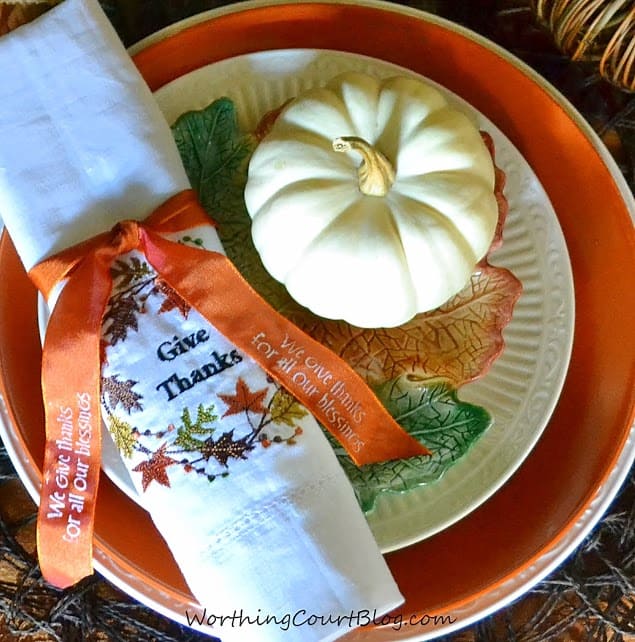 Pin
A cute little boo pumpkin tops each place setting.  Each pumpkin holds a place card that I made.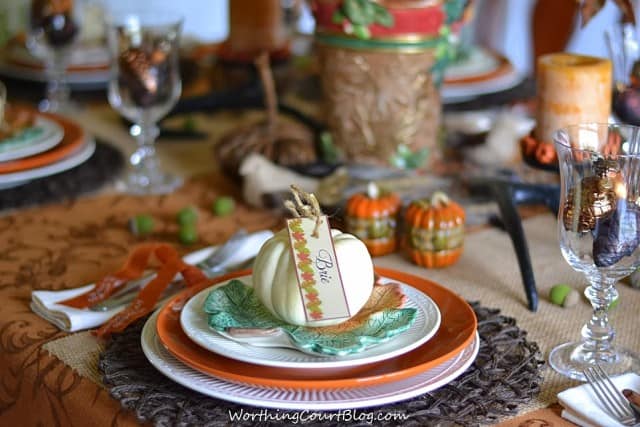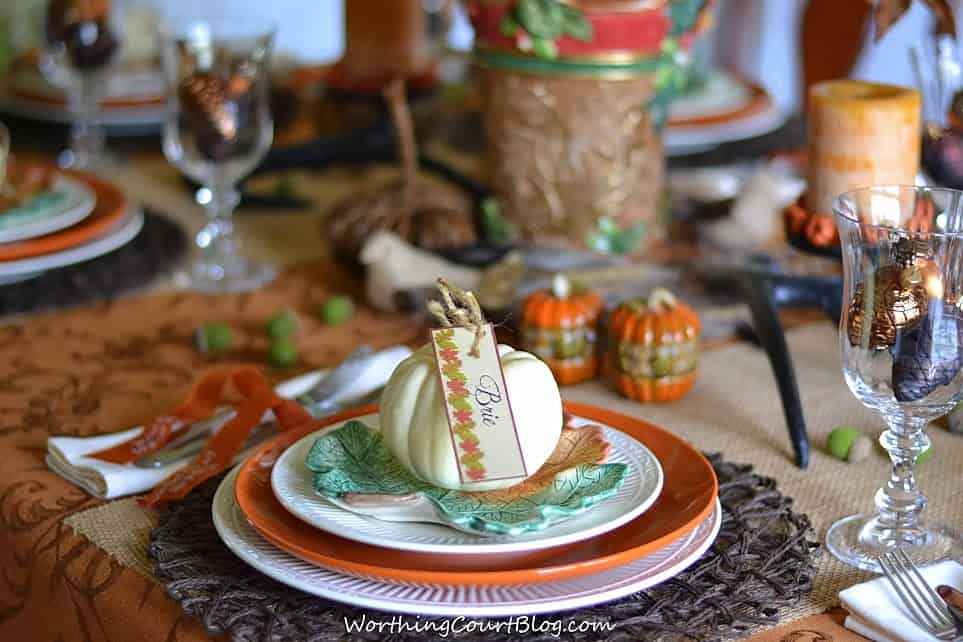 Pin
Next came water goblets for each place setting.  They're filled with pine cone ornaments for now.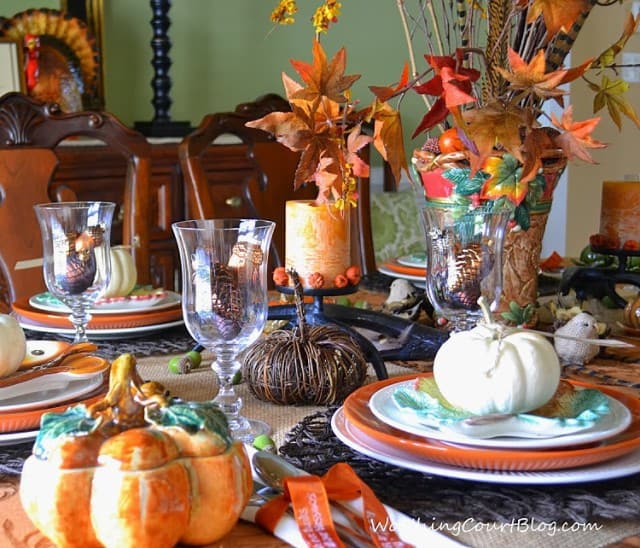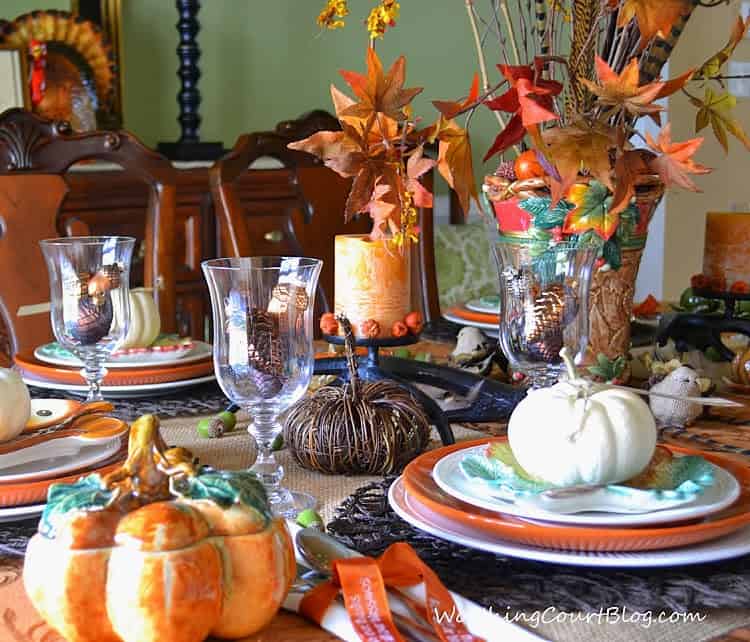 Pin
 And finally – my favorite part – layering on the details.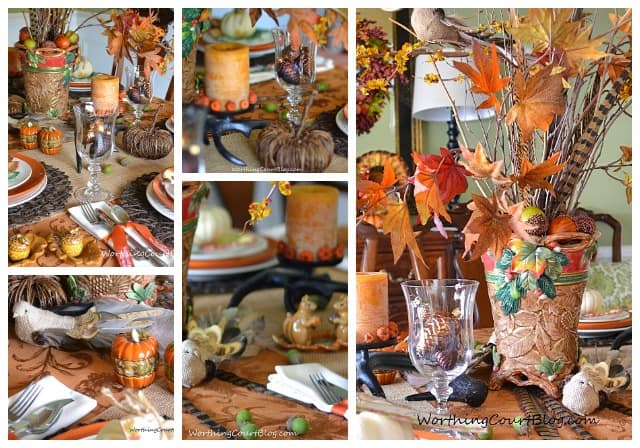 Pin
 Thank you for coming by to check out my tablescape!