All About the Details Kitchen Tour
Hi everyone.  Welcome to the All About the Details Kitchen Tour!  You're in for a treat over the next couple of days as 24 bloggers open up their kitchens to the world.
Annnd – we have a fantastic giveaway for not one, but two readers!  How about a chance to win a beautiful faucet from Pfister valued at up to $300 or a $250 Visa giftcard!?! Be sure to go all the way to the end to enter.
UPDATE:  The giveaway has ended!  Thank you to everyone who entered.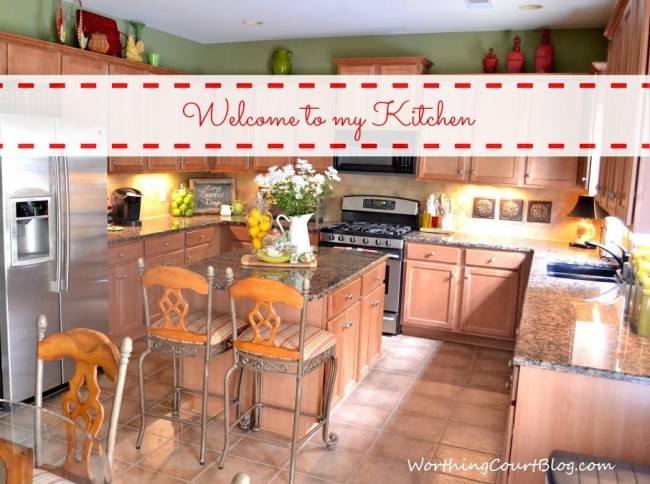 Pin
My first thought was to wonder what in the world to show you?  And a kitchen isn't exactly a place where you can come in every few months and change out the counters, backsplash, flooring and appliances.  Right?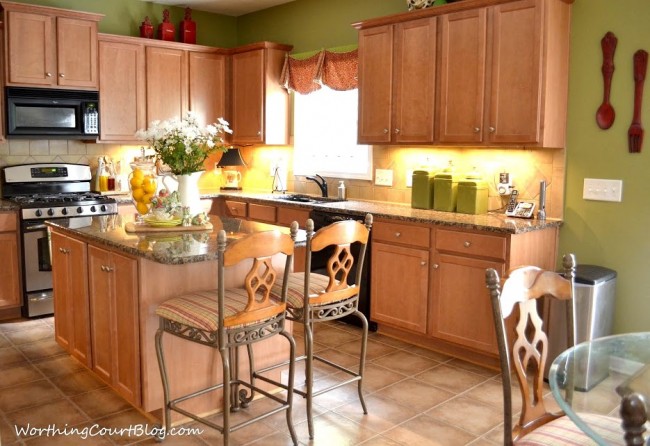 Pin
I know – how about awesome ways to organize?  Well…my method of organizing is to keep the contents of my cabinets as neat and tidy as possible.  And to be intentional about which cabinets are filled with what.
When I'm all bleary-eyed and ready for this early in the morning…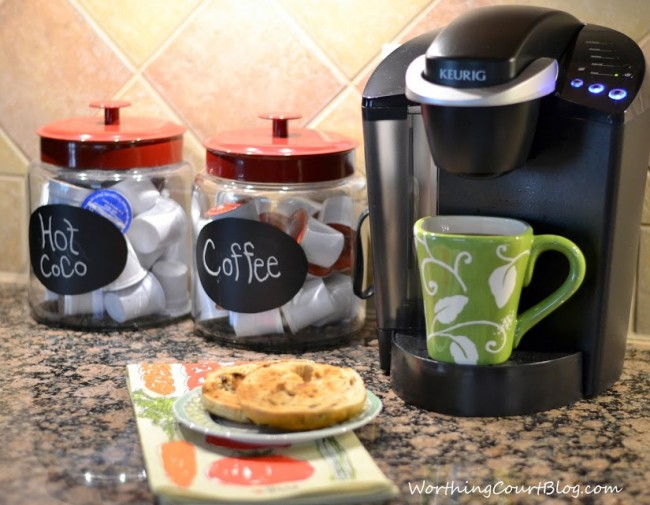 Pin
….I'm mighty glad that my mugs are directly above my favorite appliance.   ☺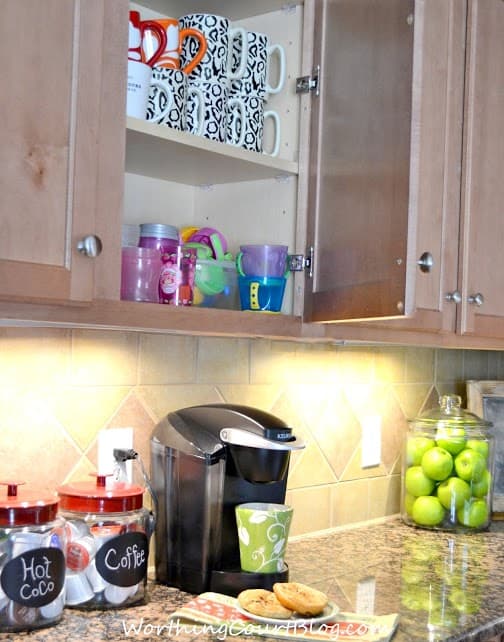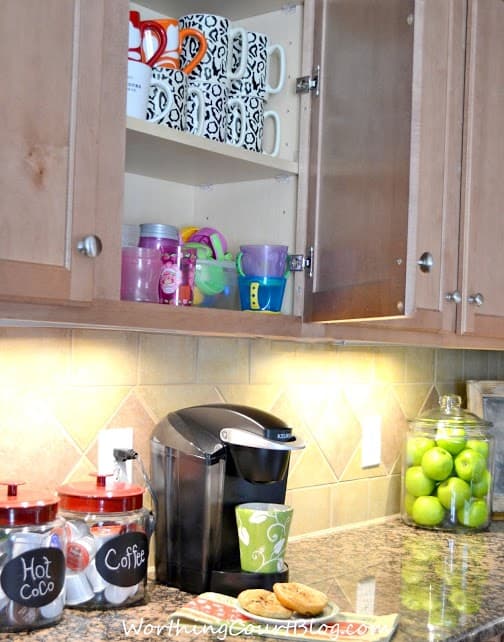 Pin
When I'm ready to cook, all of my cookbooks are in the island…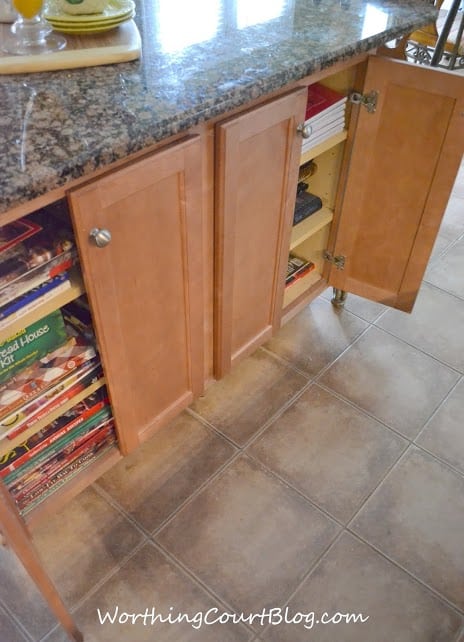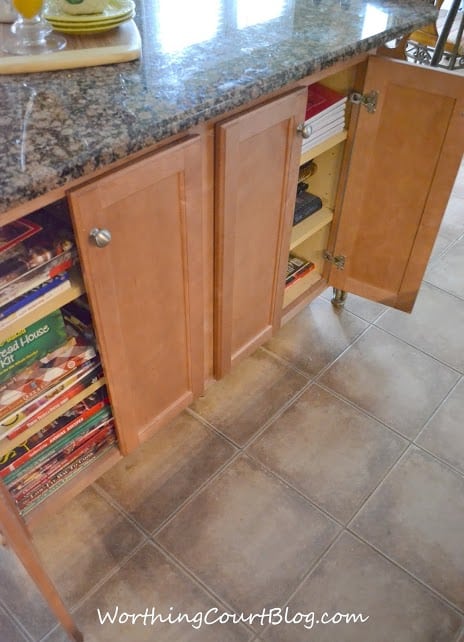 Pin
…which is directly adjacent to the lower cabinets near the stove where all of the pots and pans are kept.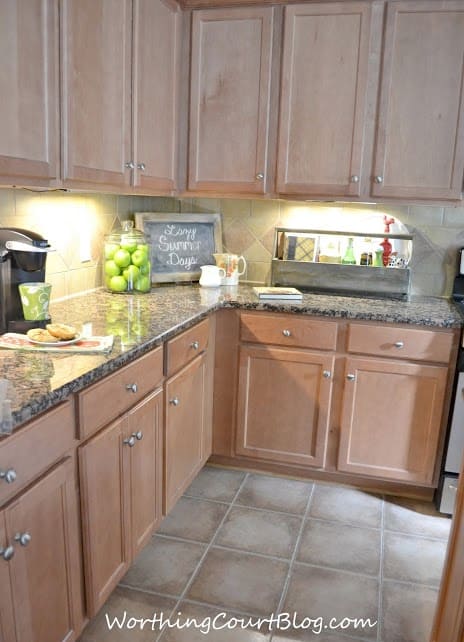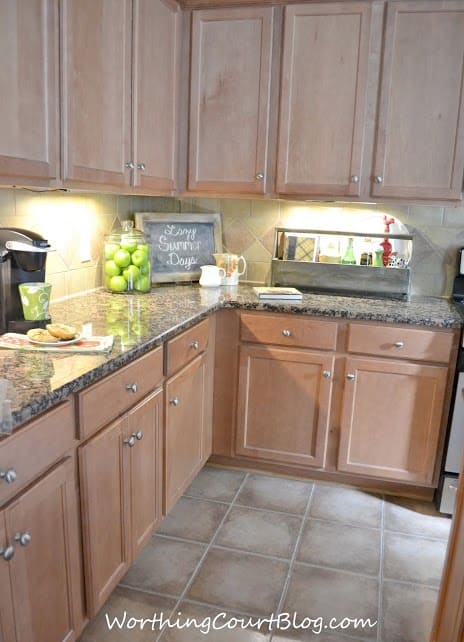 Pin
And when I'm ready to set the table, all of the dishes and silverware are grouped together within a step or two of the table.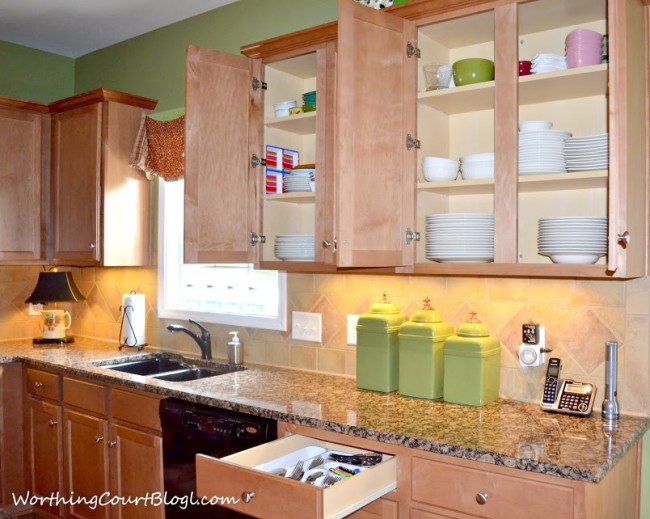 Pin
On the frequent occasions, when my home is the gathering place for family and friends, all of my serving pieces are stored together in the upper and lower cabinets on this side of the kitchen.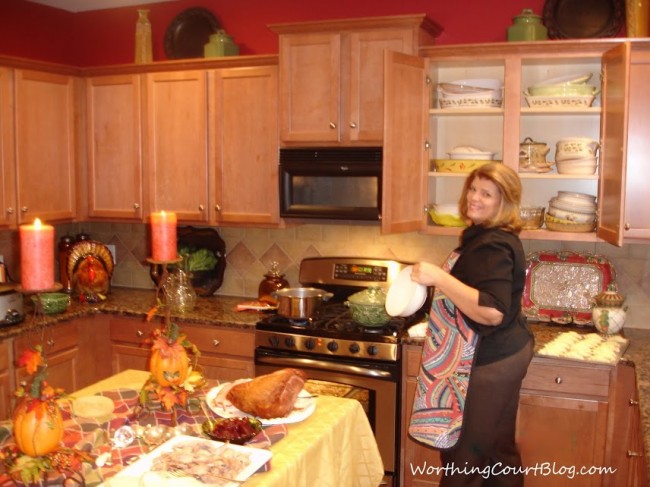 PinYes, my kitchen used to be red!
There are times when changes do occur in my kitchen though.  That would be every single season of the year.
The island is the perfect spot for seasonal vignettes.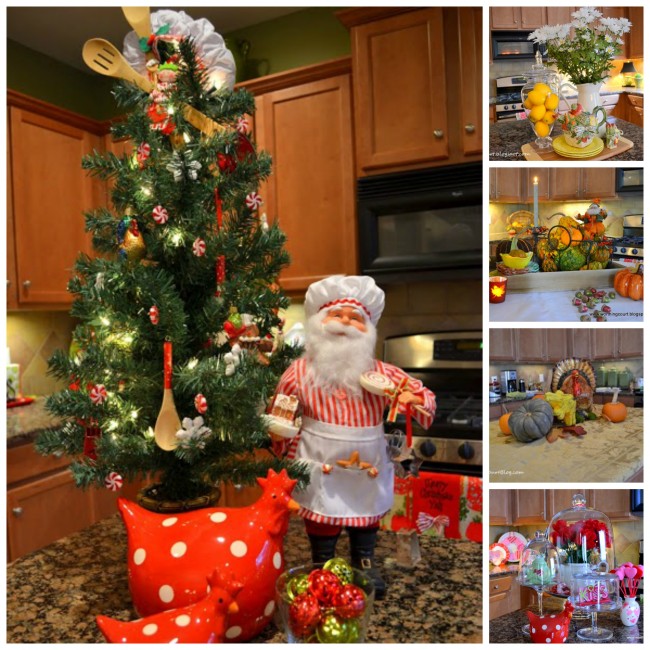 Pin
It's probably the workhorse of the kitchen.  It's the place where many, many projects are worked on.  Important ones like decorating Christmas cookies with a daddy who dropped by…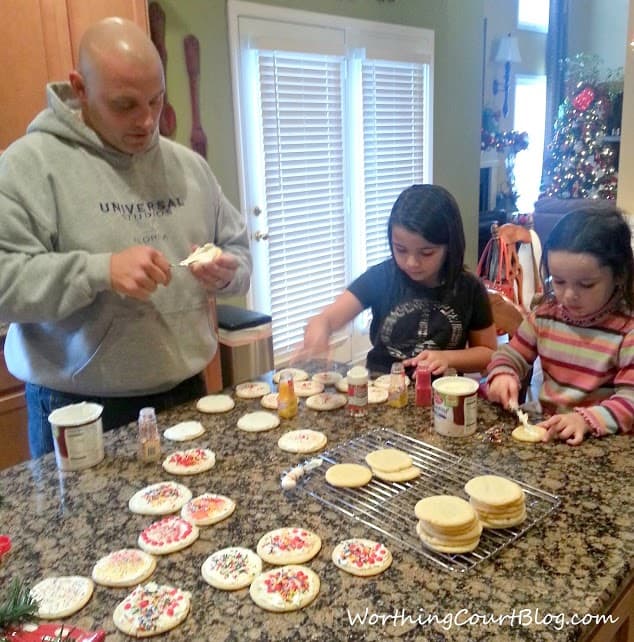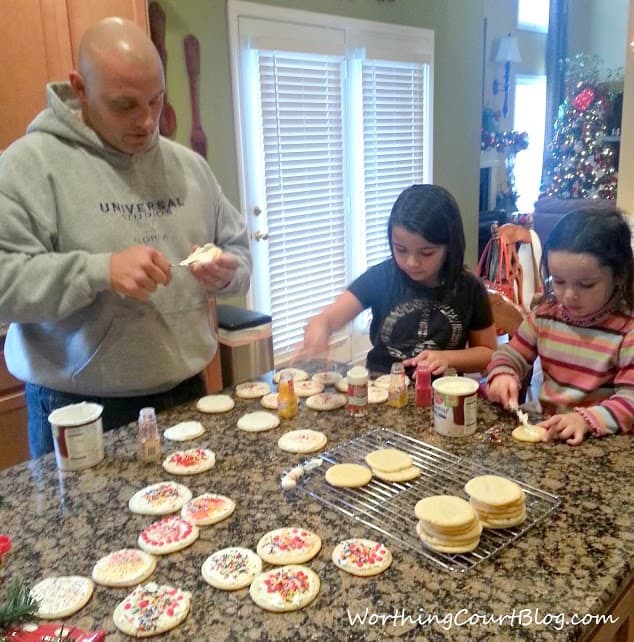 Pin
…and others whose importance pales in comparison.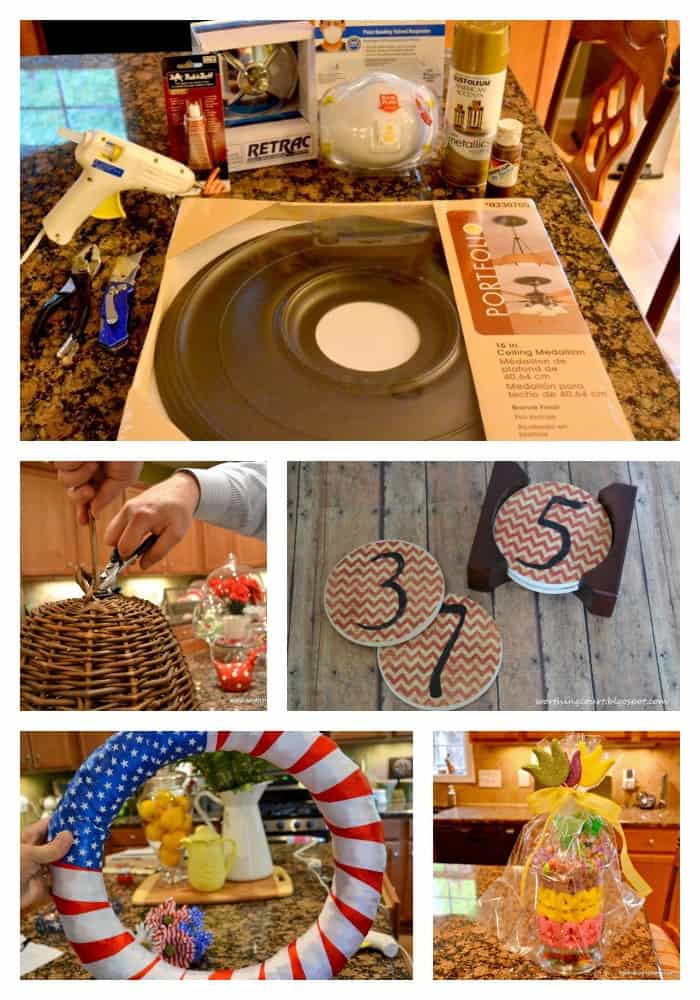 Pin
The corner to the left of the stove tends to get a good workout during the different seasons of the year too.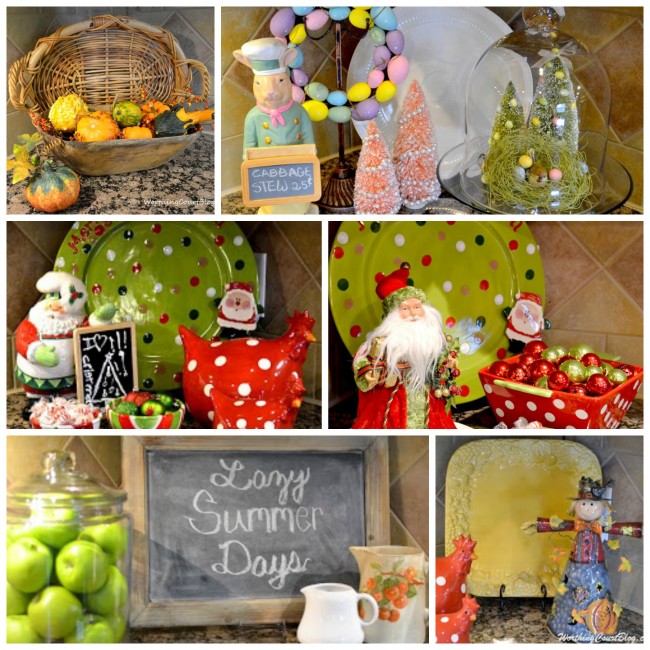 Pin
And so do various other spots on the counters.

Pin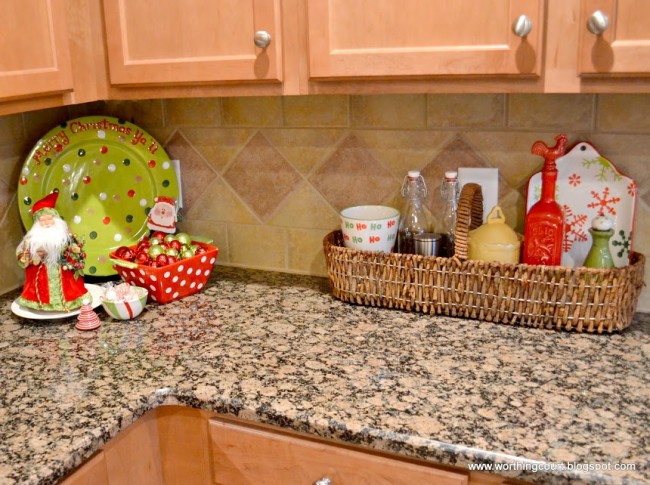 Pin
I like to add bits of cheer in my kitchen window whenever I can.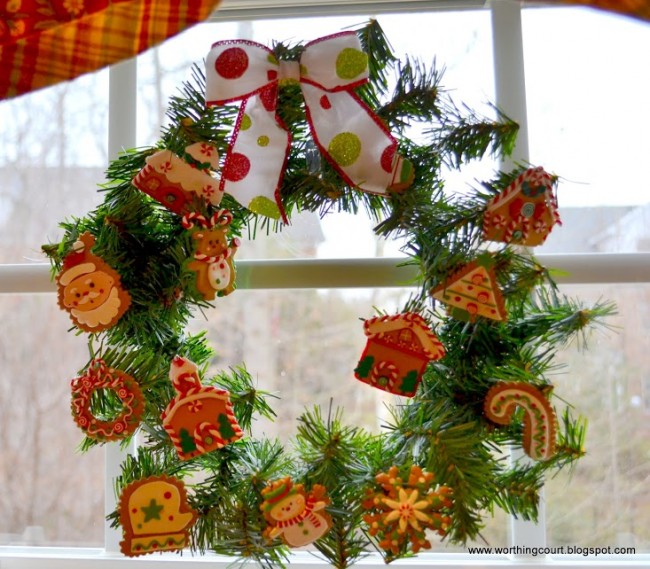 Pin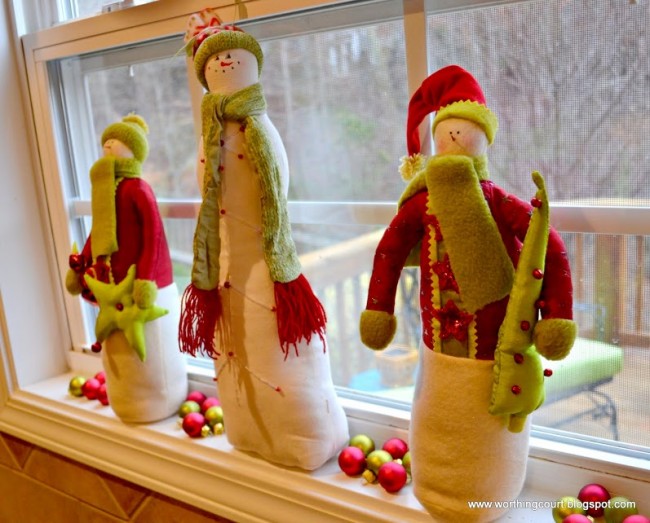 Pin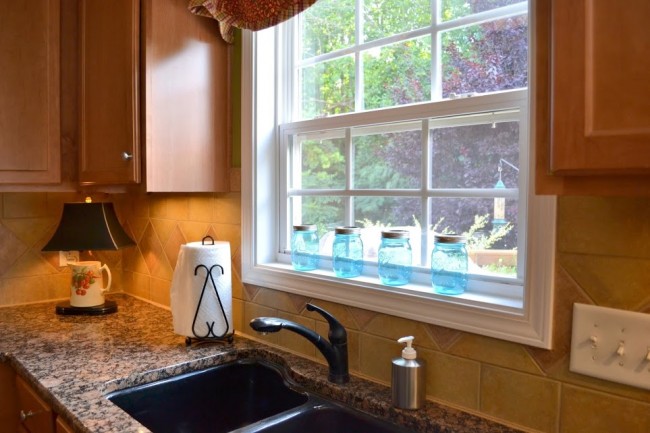 Pin
Not too long ago, I added a reproduction vintage toolbox.  It contains and few pretties and cooking vinegars and a container of kosher salt.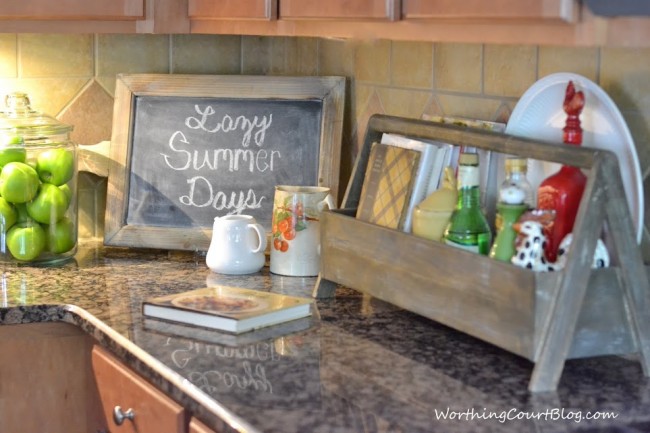 Pin
A treasured cookbook is on display as well.  This cookbook, All About Home Baking, belonged to my mother.  The edges of the cover are worn and the pages are tattered and yellowed, but I wouldn't take a million dollars for it.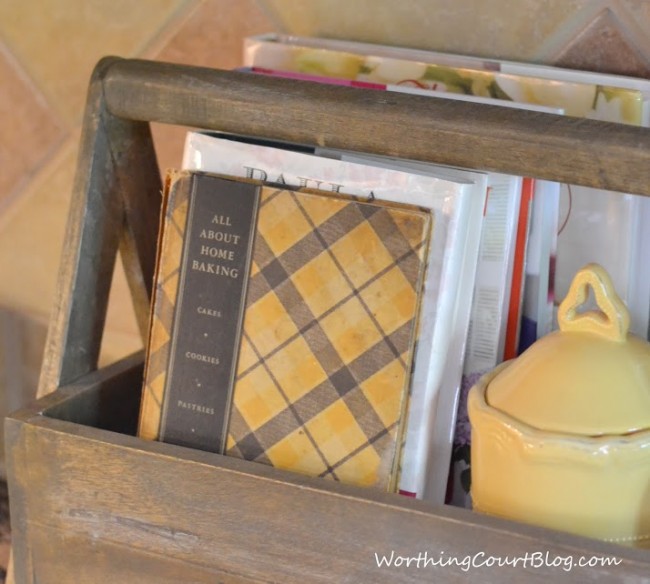 Pin
I haven't had it for very long and was blown away when I opened the cover to find an inscription from my grandmother (who died when I was 5) dated June 26, 1935 and a full page of notes written by my mom.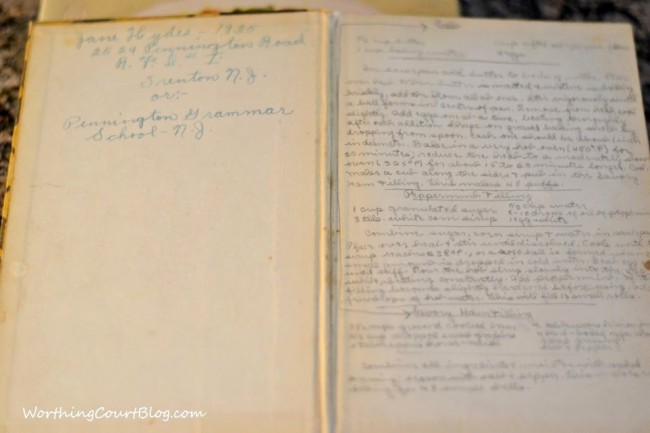 Pin
We don't eat at our table very often.  When we do, it isn't anything grand.  Just some placemats, silverware and napkins.  There have been times when I've set it for special occasions though – a place to eat or a place to serve from.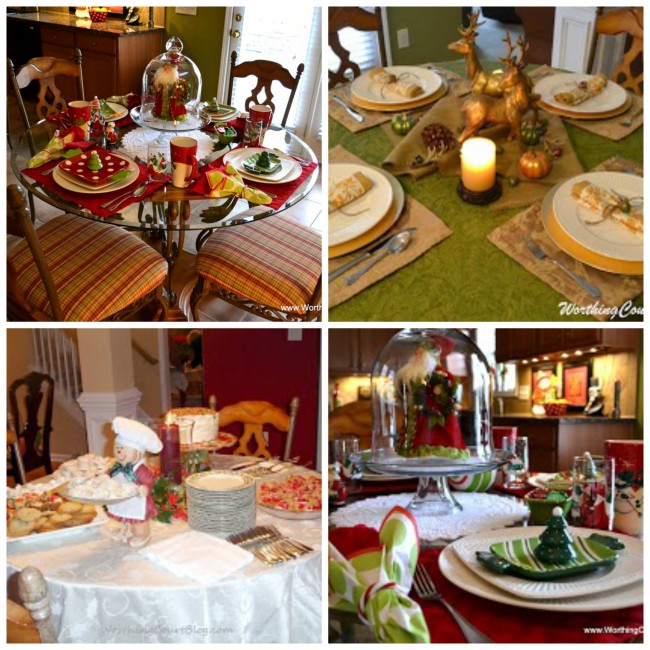 PinAs with many of you, the kitchen is the heart of my home.  It contains many memories for me.
Grandpas who give valuable tips for making pancakes on a snowy day (in spite of the mess all over the place)…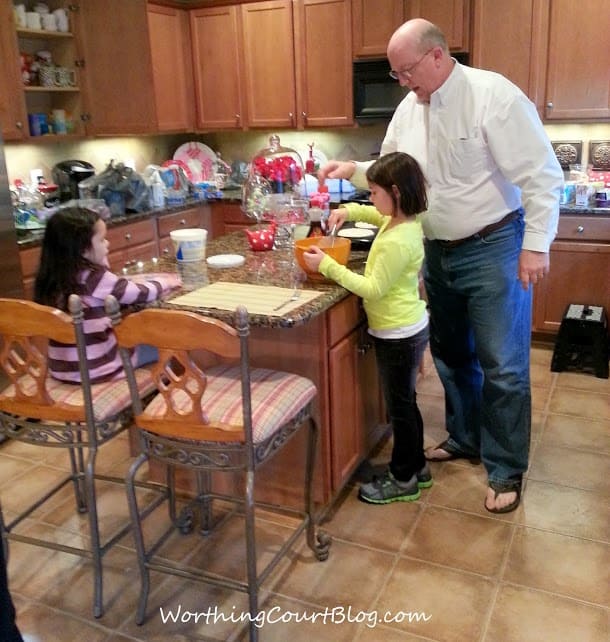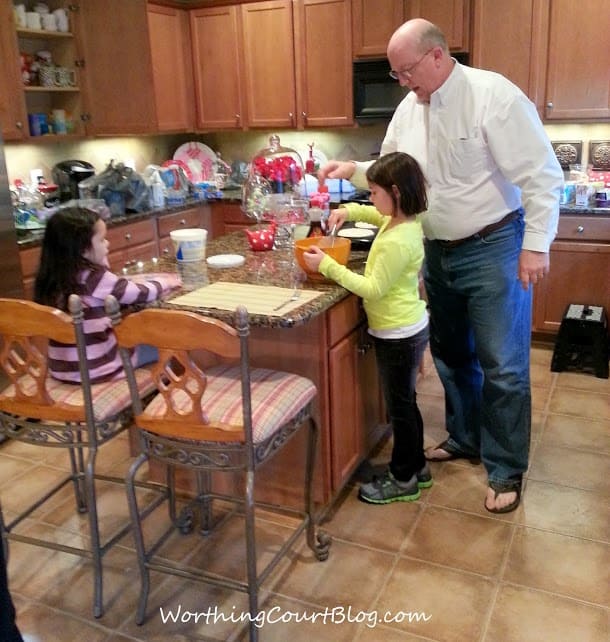 Pin
…important conversations with a much loved uncle (that's my brother, by the way)…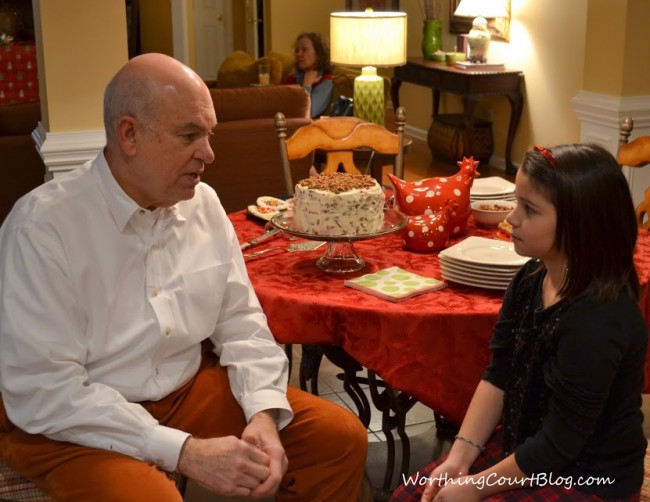 Pin
…learning to "wash" the dishes…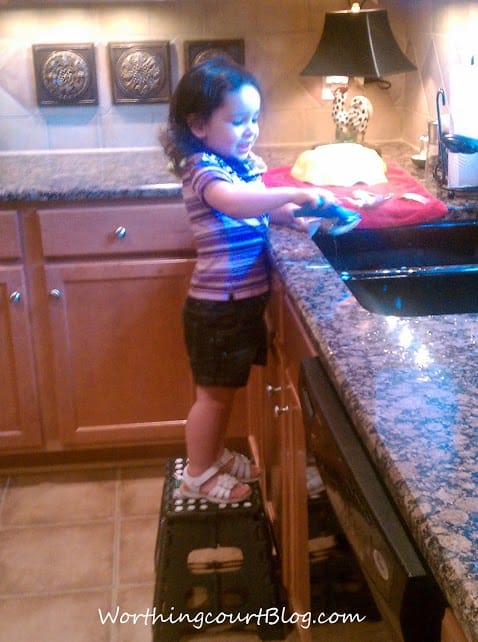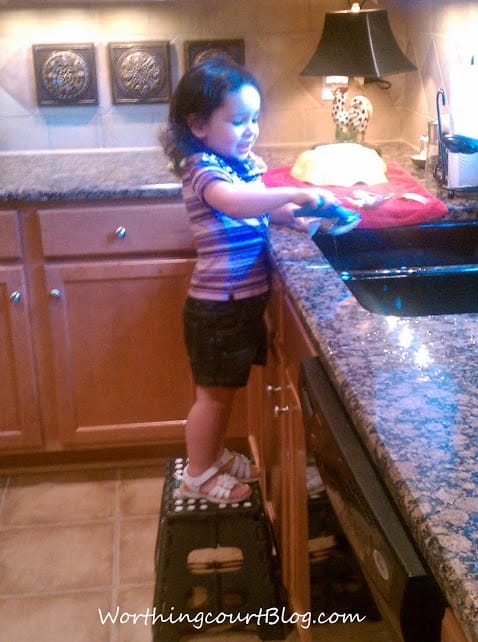 Pin
…and a Pookie and sweet daughter who give a worn out mom a break after a big meal.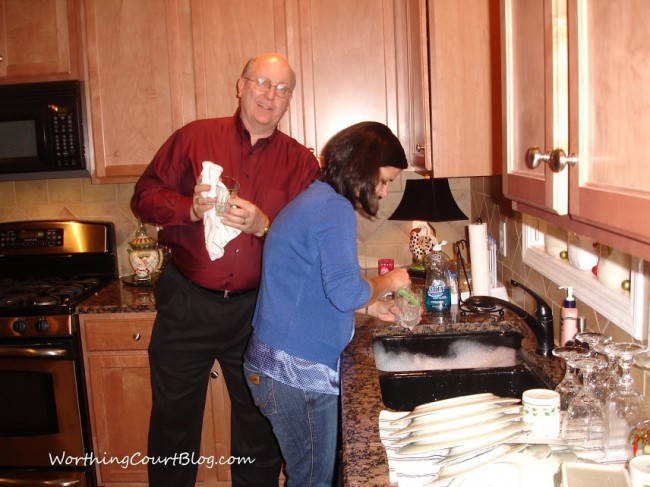 Pin
From sweet babies who just can't keep their eyes open…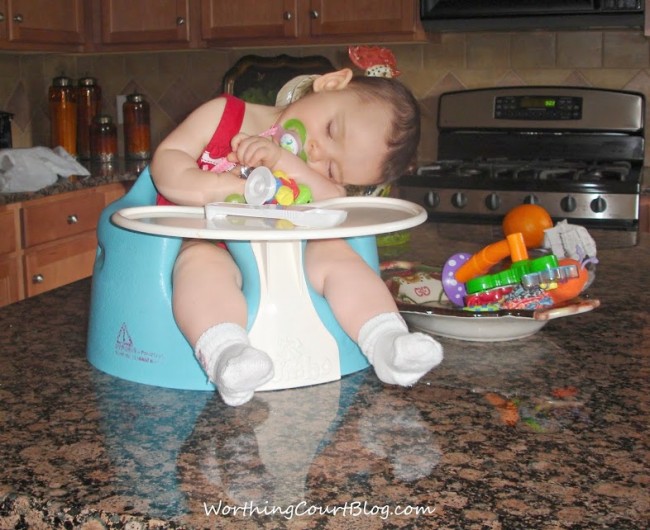 Pin
…to growing babies who like to hide in the island.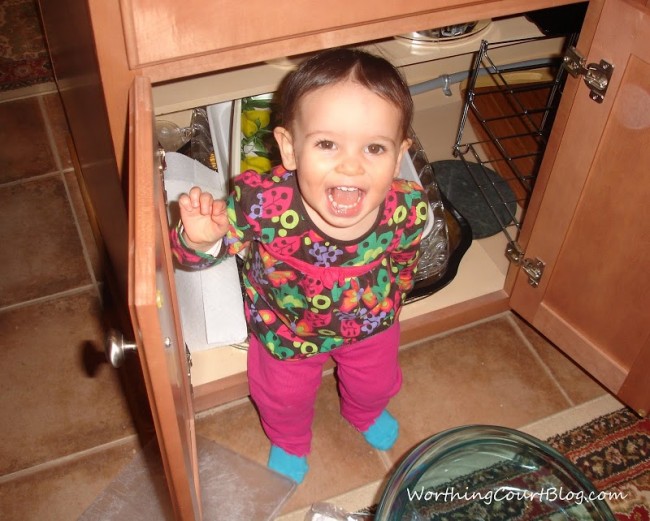 Pin
From remembering making my first gingerbread house with a snaggle-tooth girl…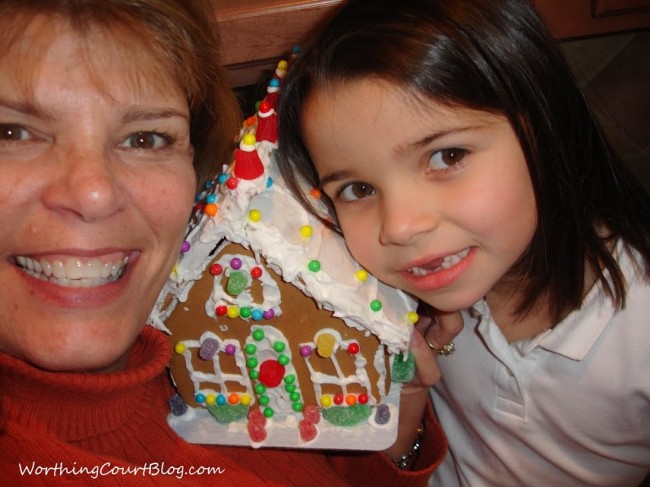 Pin
…to memories of my mom who so loved being right in the middle of it all.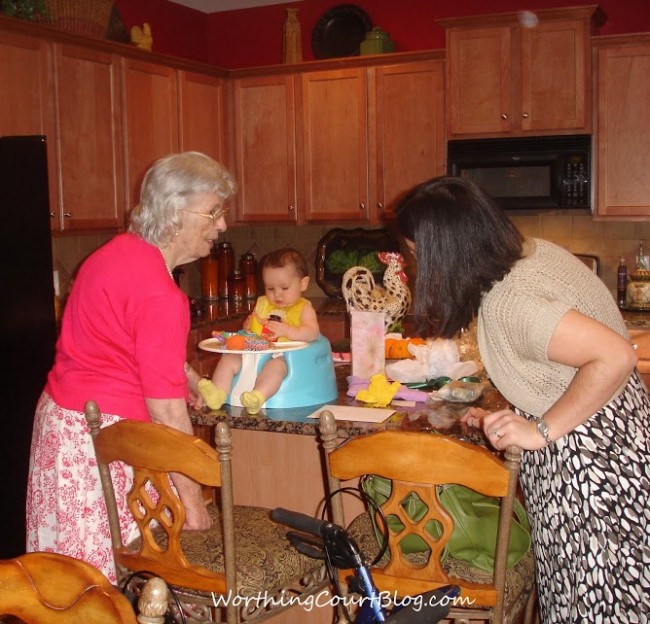 Pin
So that's my kitchen.  Not grand or full of the latest designs.  But a place filled with warmth, love and memories.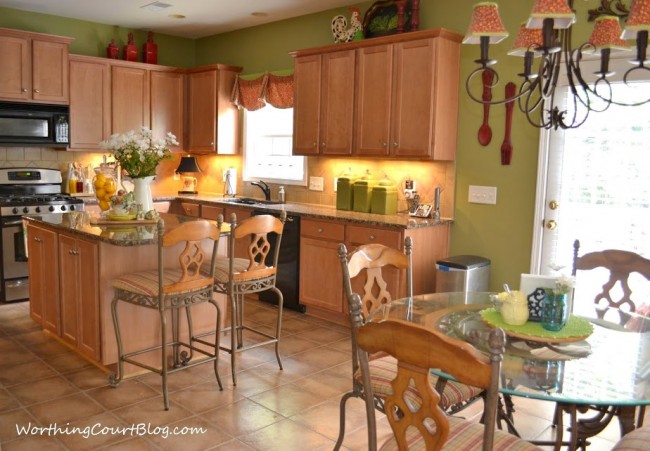 Pin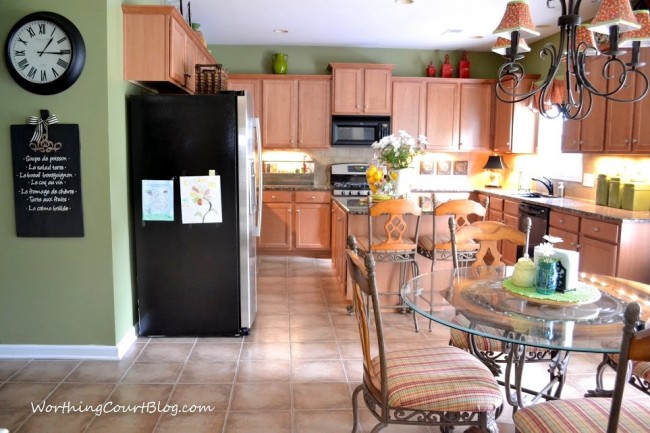 Pin
I'm sooo glad that you came by.  I don't get sentimental or share a lot of my personal life here at Worthing Court, but as I thought about what I wanted to show you about my kitchen it just seemed like the right thing to do.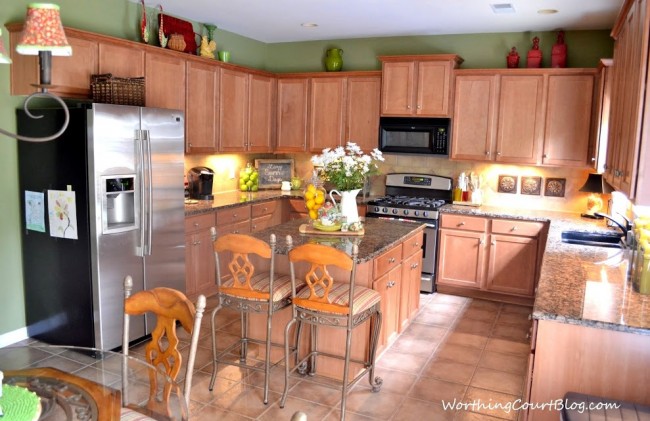 Pin