All Things Home Fall Tour At Worthing Court
Welcome, welcome everyone to my fall tour here at Worthing Court!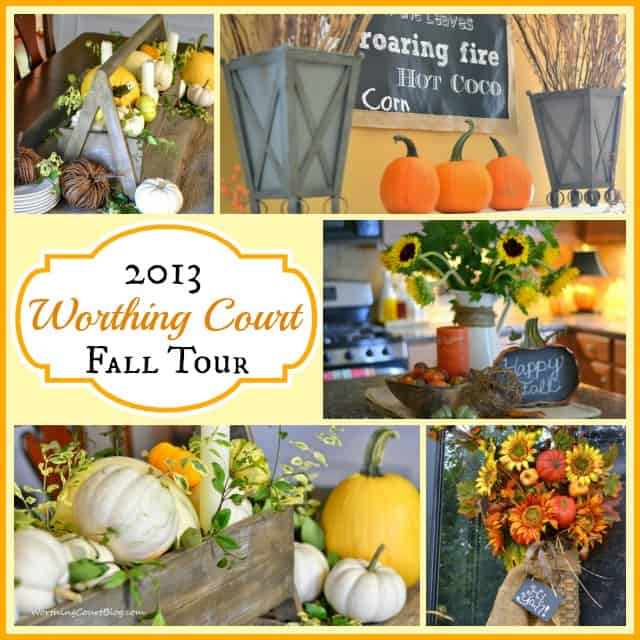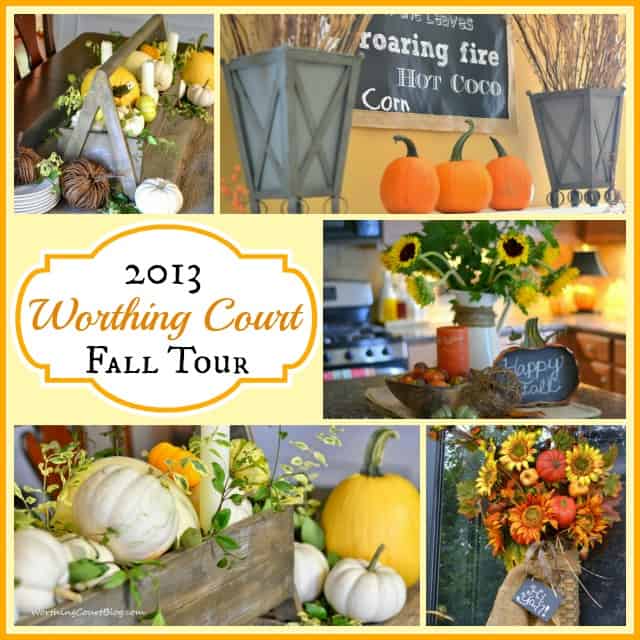 Pin
I've been a busy bee and am so glad that you all came by to check out my fallishness.  ☺  So come on in, make yourselves at home and take a look around!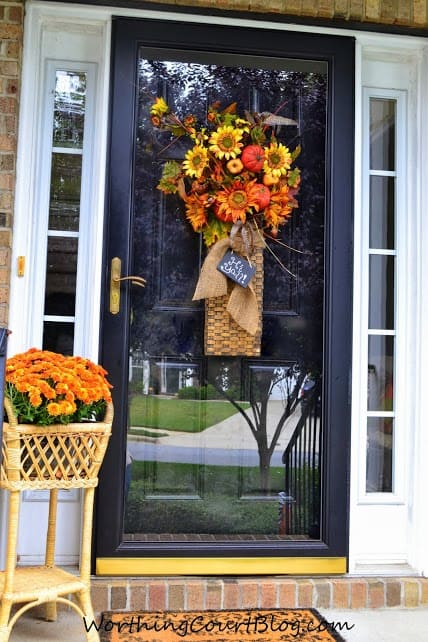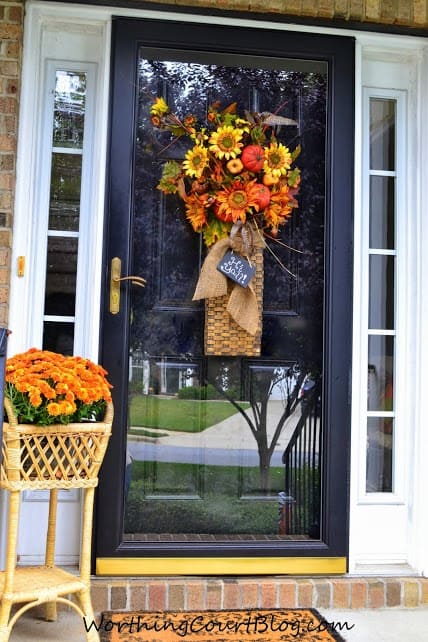 Pin
This is the first time in many, many years that I didn't use my old reliable pumpkin wreath.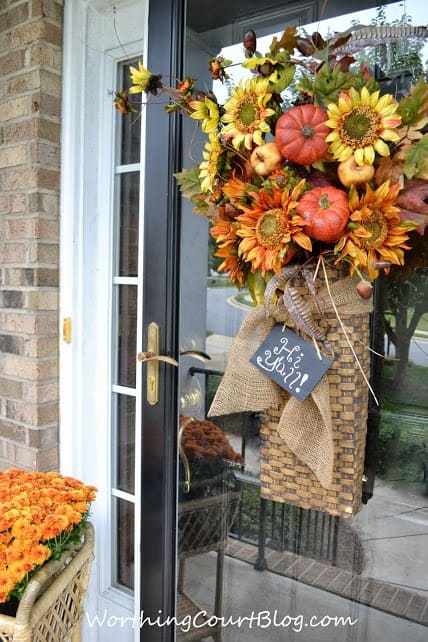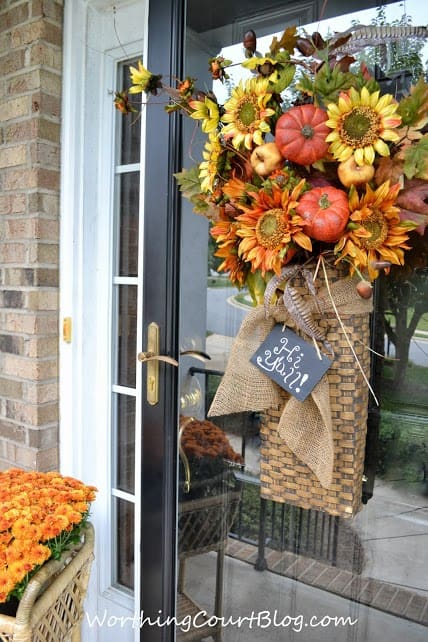 Pin
For fall, I spiffed it up with some burlap ribbon and a mini chalkboard.  I especially love the long length of it and can't wait to use it in all sorts of ways.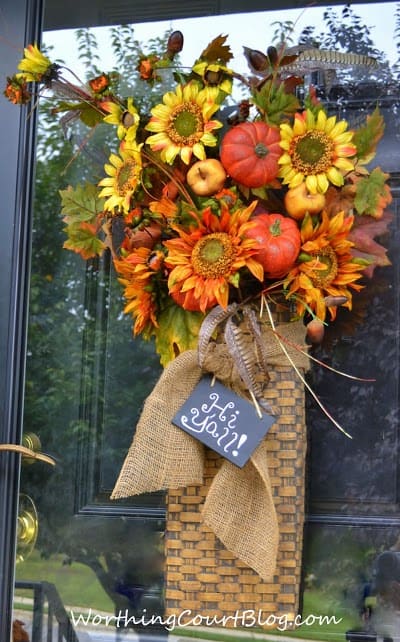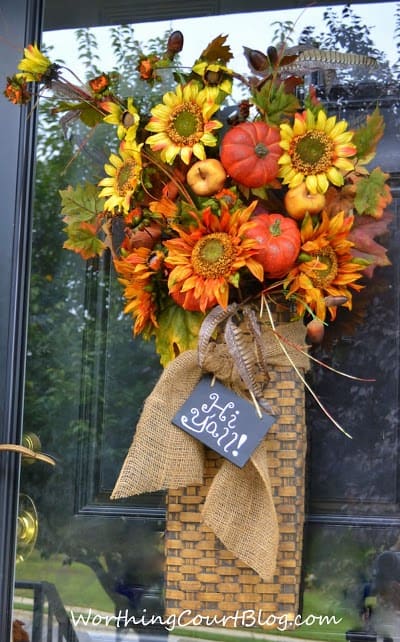 Pin
Come on into the foyer where I kept things super simple with a little vignette of mums and a yellow pumpkin and gourds on the chest.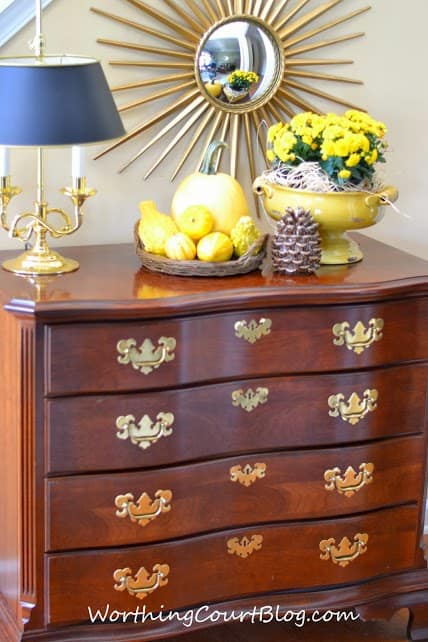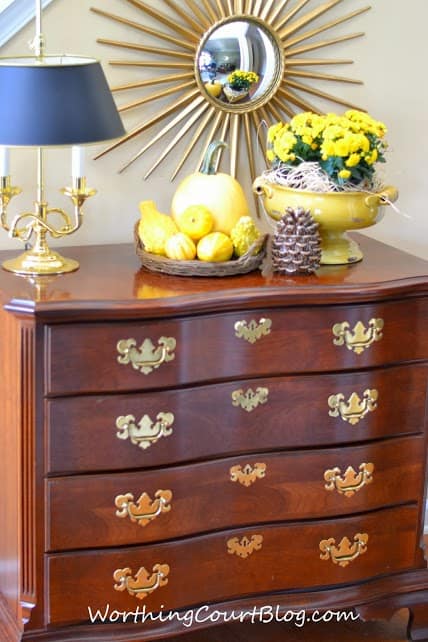 Pin
I was inspired by the beautiful buttery yellow pumpkins that I found at a local farmer's market.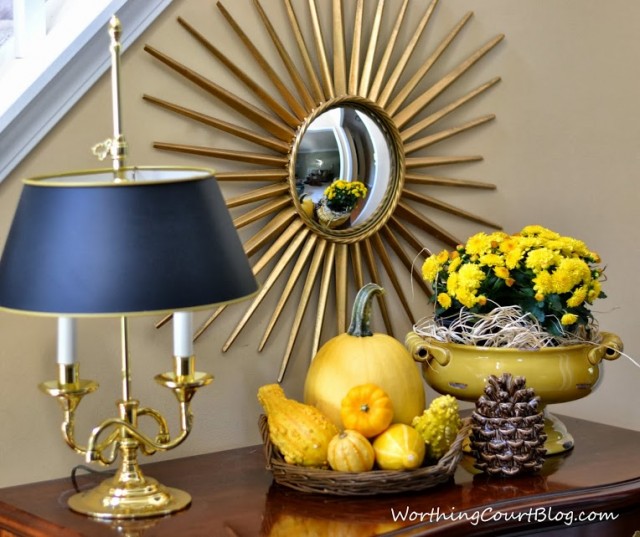 Pin
The person who sold them to me said that they should have been white, but they were planted near traditional orange pumpkins so she figured that somehow the orange 'influenced' the white.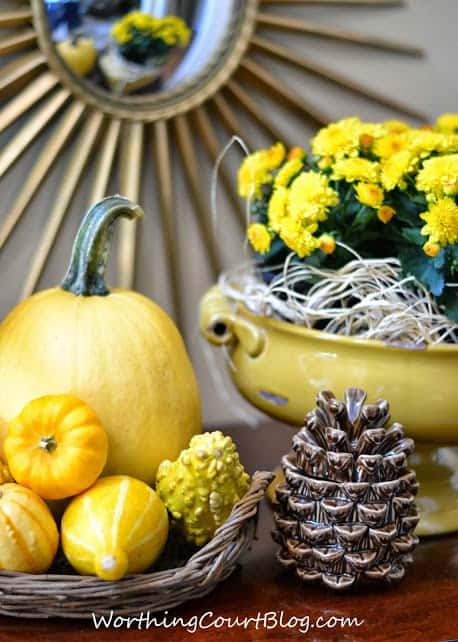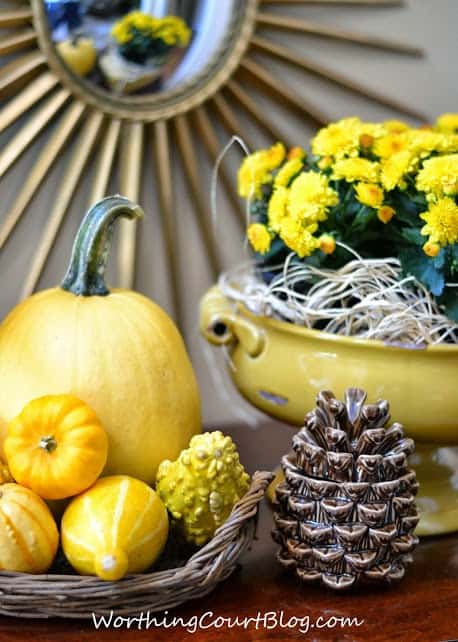 Pin
I added a couple of colorful fall pillows to the bench in the foyer too.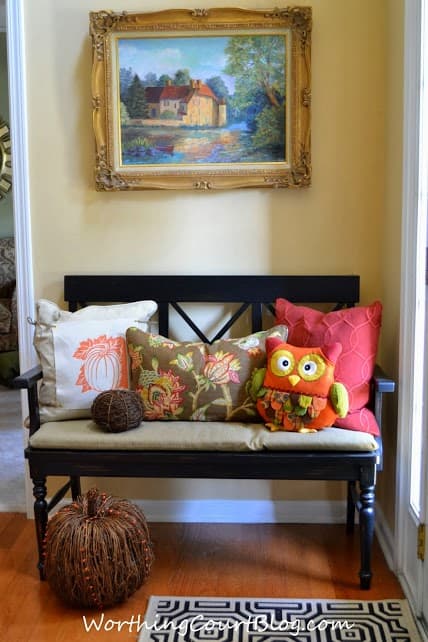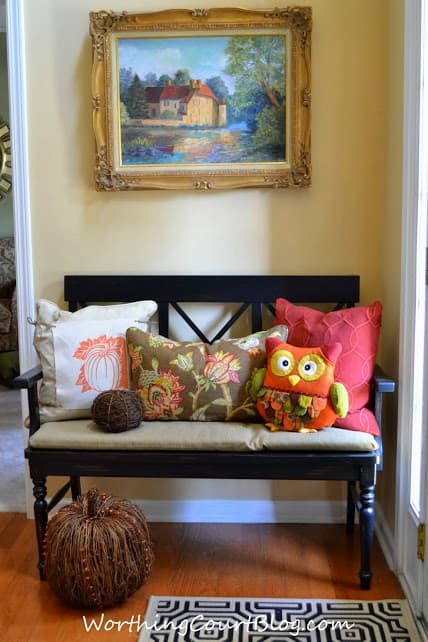 Pin
You may recognize the pumpkin pillow cover that is just one of several changeable, no-sew pillow covers that I made.  They are so easy and fun to make!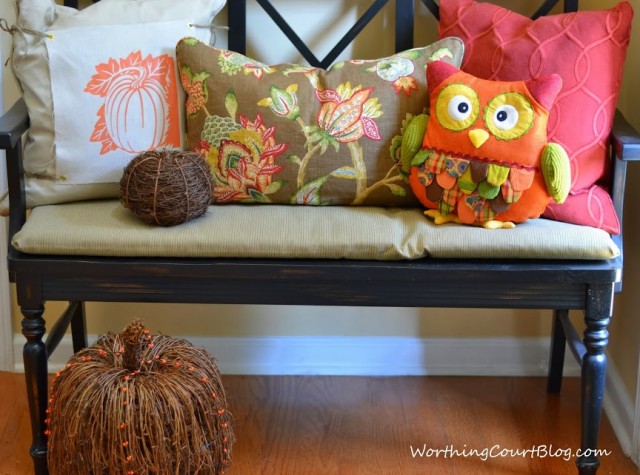 Pin
I dressed my dining room table with more yellow pumpkins along with quite a few white ones and sprigs of fresh greenery from my shrubs.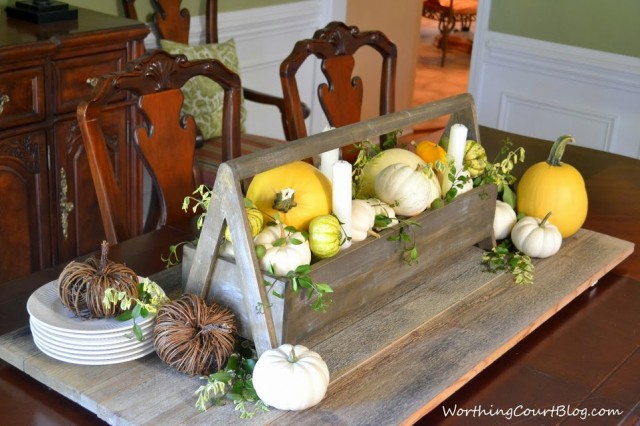 Pin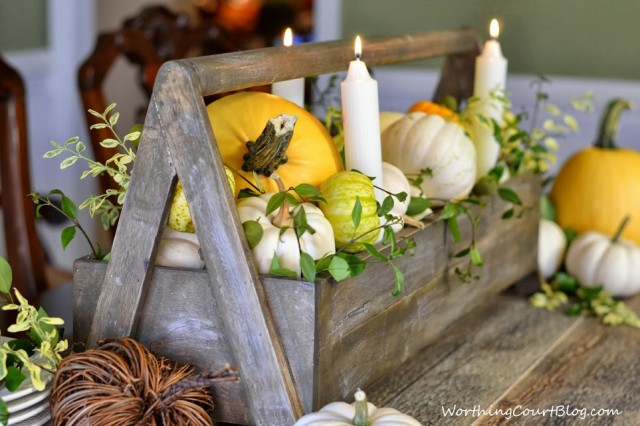 Pin
The base for the centerpiece is brand new wood that I made to look like old barn wood.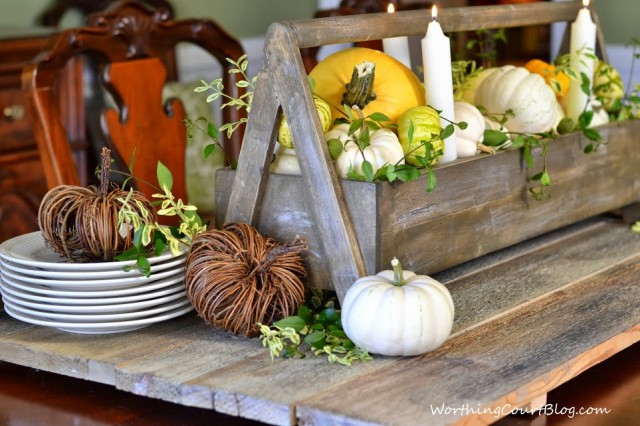 Pin
I borrowed it from my basement where I use it as a backdrop to the vignette on top of my media center.  It works great for adding a touch of rustic.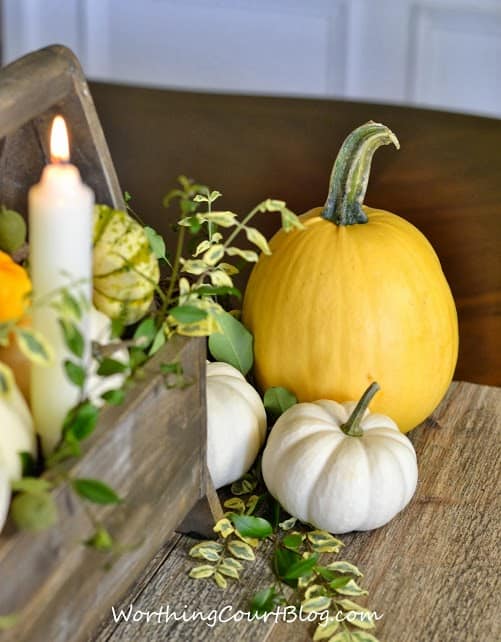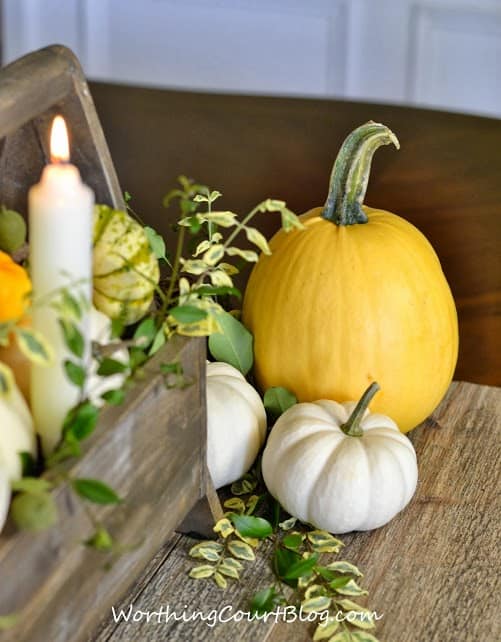 Pin
And I borrowed the wooden toolbox from my kitchen, where it is usually filled with cookbooks and other kitcheny paraphernalia.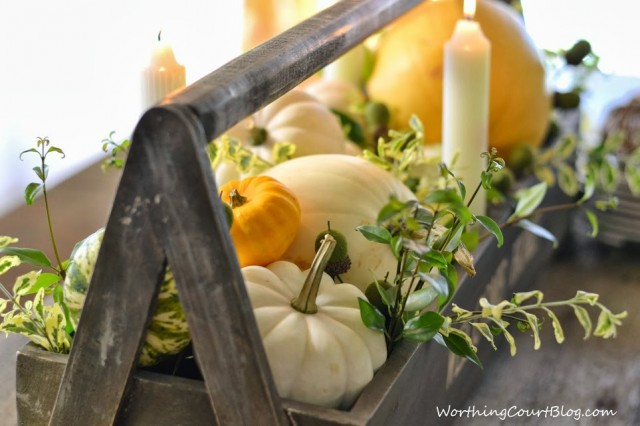 Pin
Over on the sideboard, I added a topiary of green heirloom pumpkins mixed with white and twiggy ones.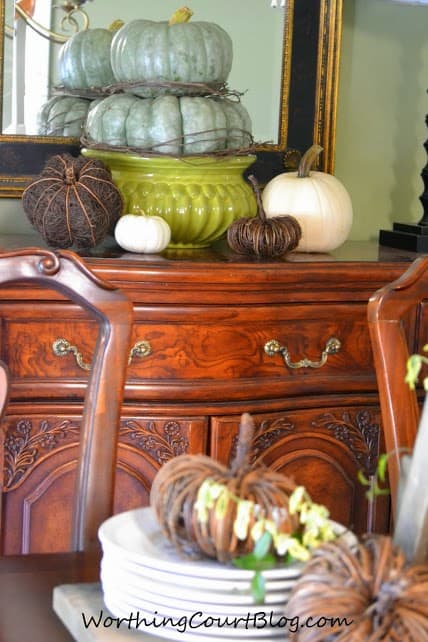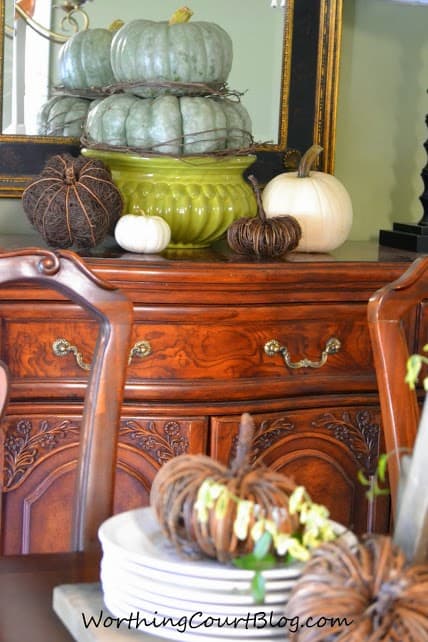 Pin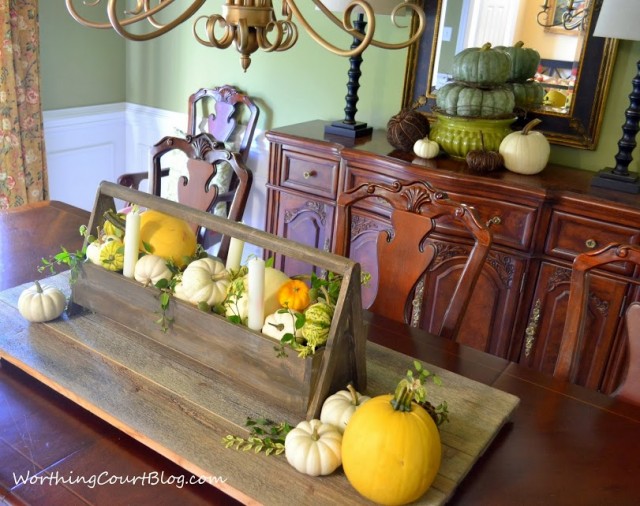 Pin
Love their reflection in the mirror.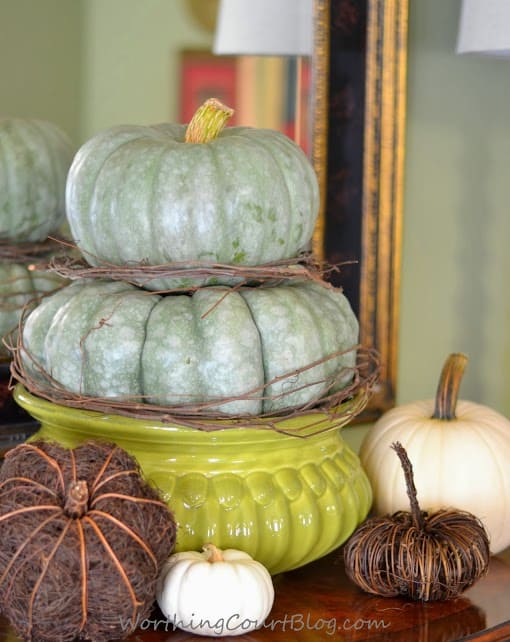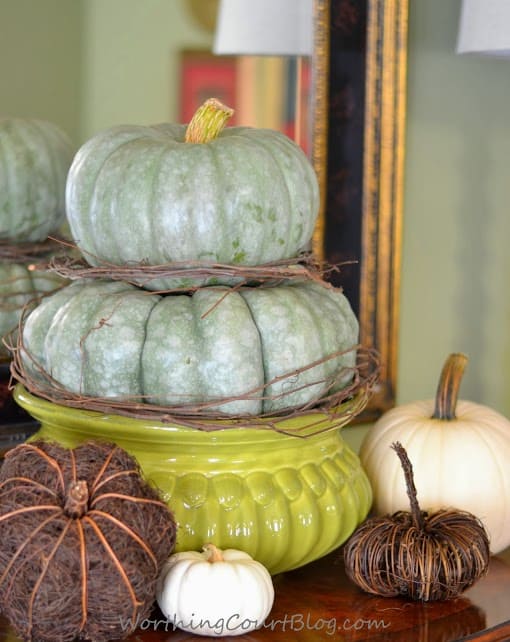 Pin
Back in the family room, I've gone back to the traditional rich colors of fall that I love so much.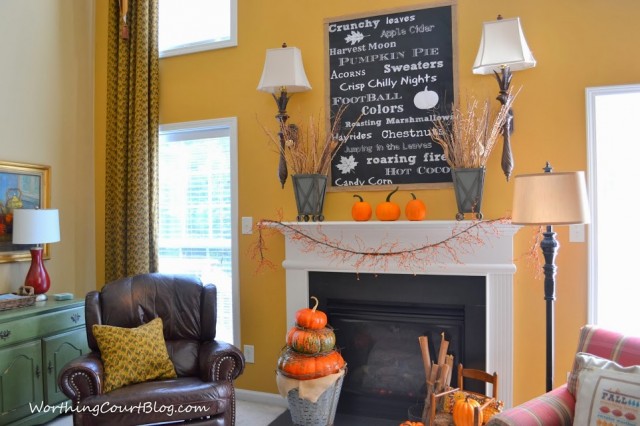 Pin
My fall mantel and hearth were inspired by a couple of things.  First of all are these fab galvanized metal containers that I found for a steal at 70% off at a local garden center.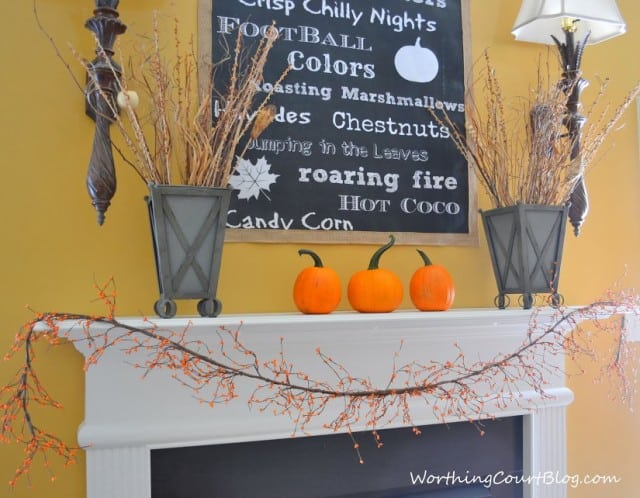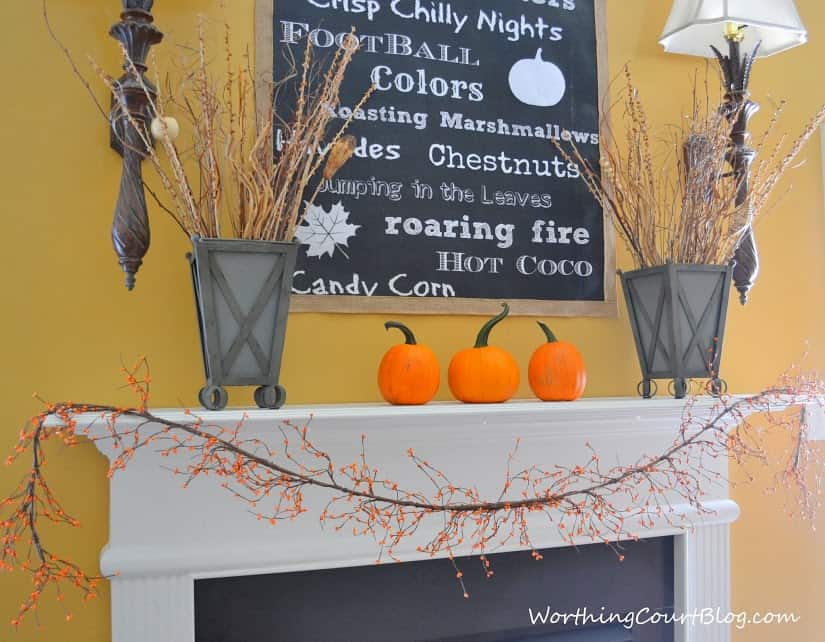 Pin
My second inspiration is the reproduction vintage olive bucket that I found earlier this summer.  Even though I kept it filled with a ginormous fern for the summer, I knew all along how I would put it to use in the fall.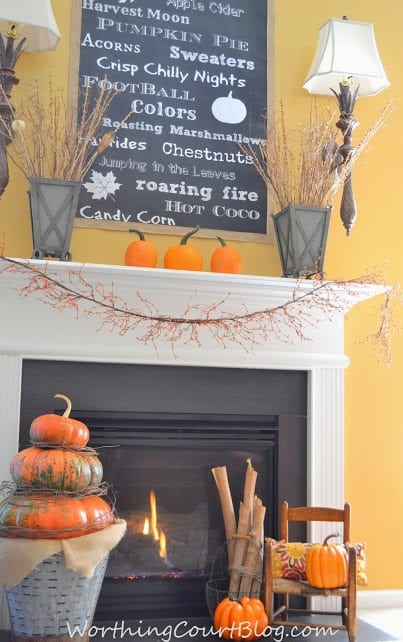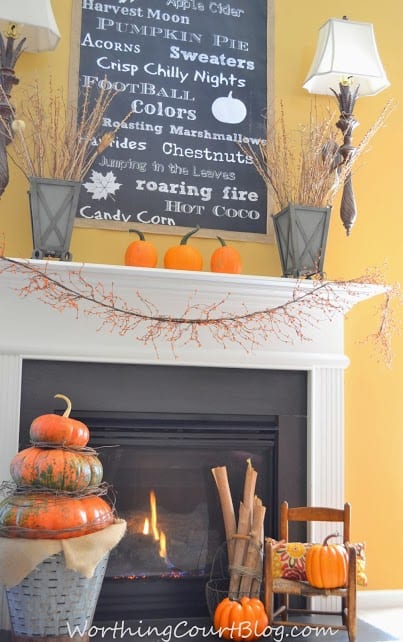 Pin
I've teased y'all a couple of times about the fall chalkboard that I put together.  It's actually a printable that I created and I'll tell you all about it in a few days.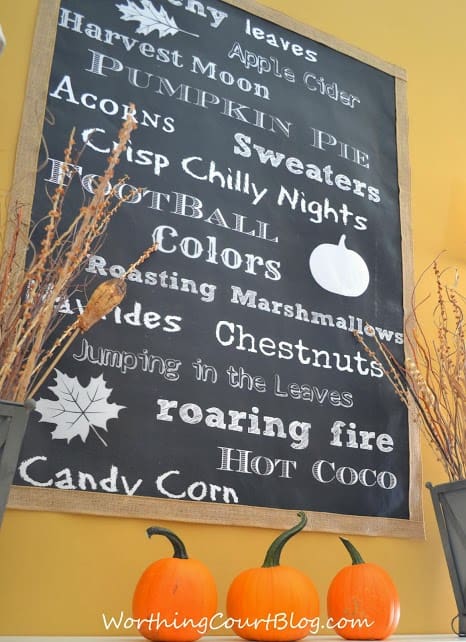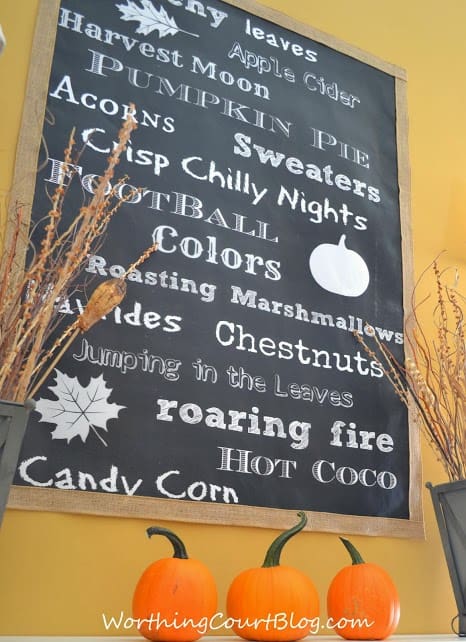 Pin
I know it is huge (36″ x 48″), but this is a two story room and it needs a large piece of art over the fireplace.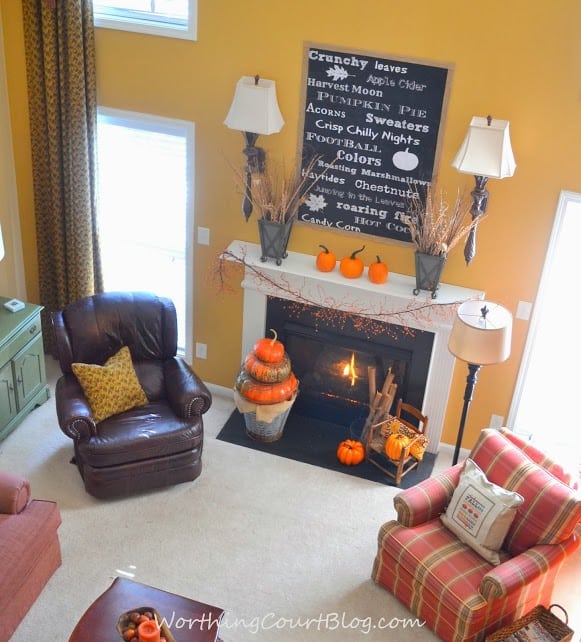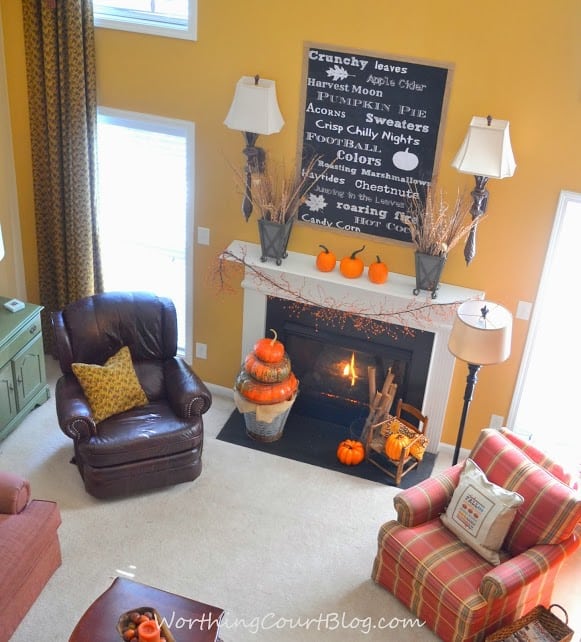 Pin
Hang with me – we're almost done.  Come on into the kitchen where you can relax and have a cuppa something cause I know this is the longest post in history!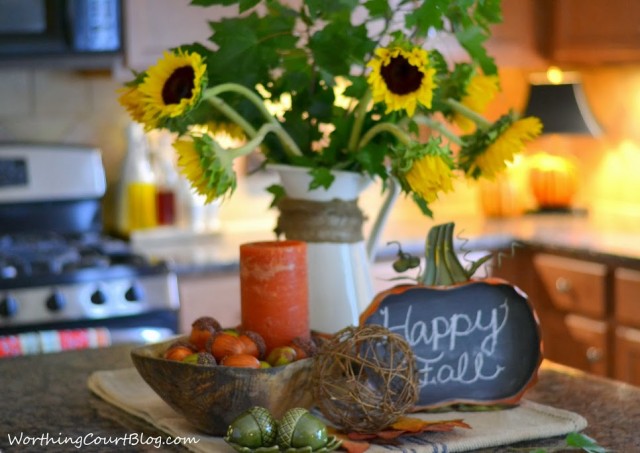 Pin
Oh, fresh sunflowers – how I love thee!  They are happy flowers and make me smile.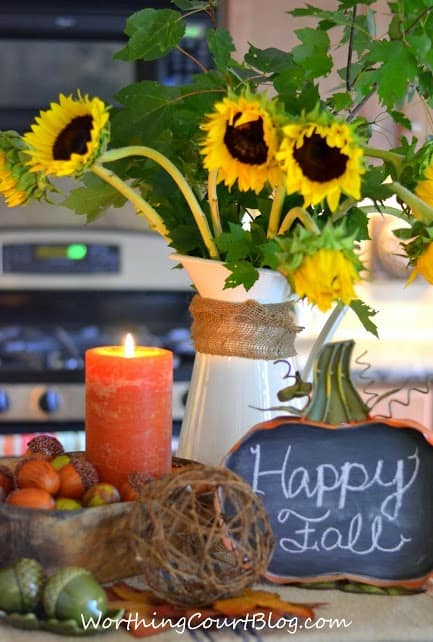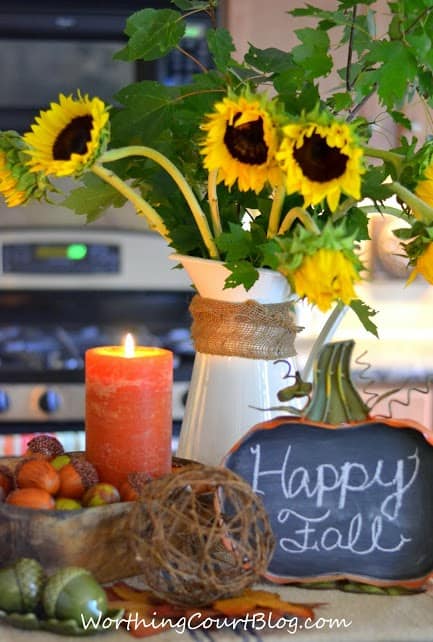 Pin
Did you know that their blooms open and close in reaction to light?  Neither did I until the florist told me and then I watched them for a few days.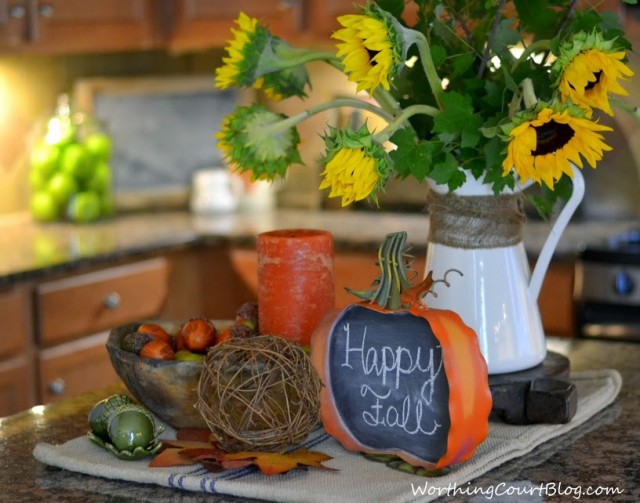 Pin
Wow – that was fun!  I certainly hope that I haven't worn you out too much by dragging you all around my house!  Thank you so much for coming by.  ☺