Basement Family Room Reveal
Over the past few months I've shown you bits and pieces of the makeover I was working on in our basement family room.  Well…I guess you really can't call it a makeover since nothing had been done to it for the seven years that we've lived here except to plop some furniture and a ginormous tv down there.
Things often move slowly around here, but at long last I'm ready to share the entire space with you.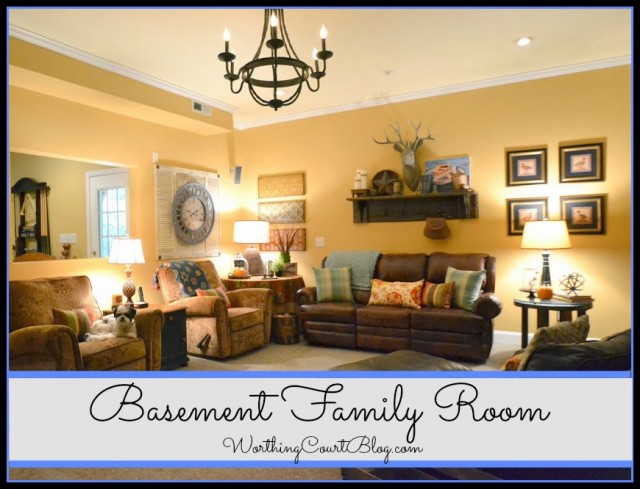 Pin
BEFORE:  The whole room was just a hugely boring space.  Willy-nilly furniture and a big ole tv.  Zero on the personality meter. It's no wonder that we hardly ever used the space.  We had already started shoving some of the furniture around before I remembered to take this picture.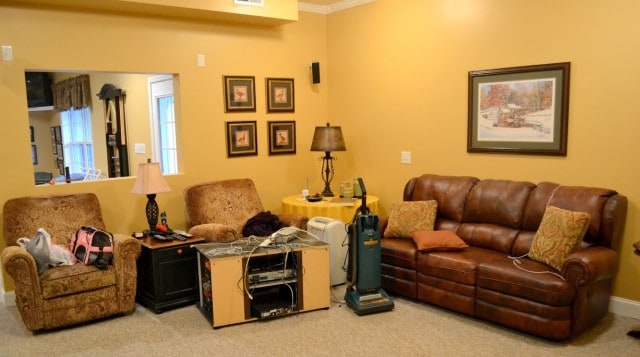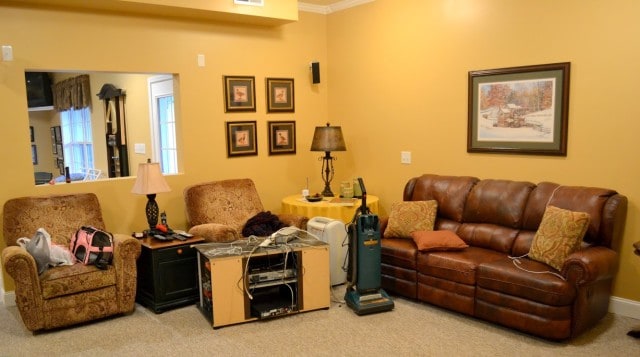 Pin
AFTER:   This side of the room got a whole new look.  I couldn't buy all new furniture, so I used pattern, texture and color to hopefully downplay the furniture that I don't care for.  BTW – Ferocious Guard Dog would not budge no matter how many times I tried to shoo him out of camera range.  Stubborn dog.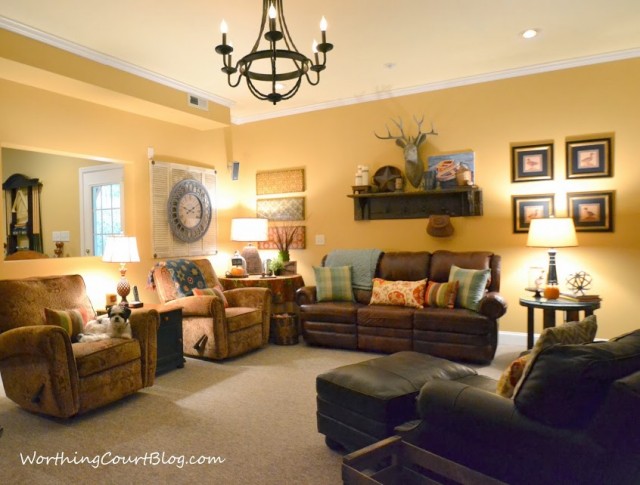 Pin
There are several diy projects on this side of the room:
Repurposed Bifold Doors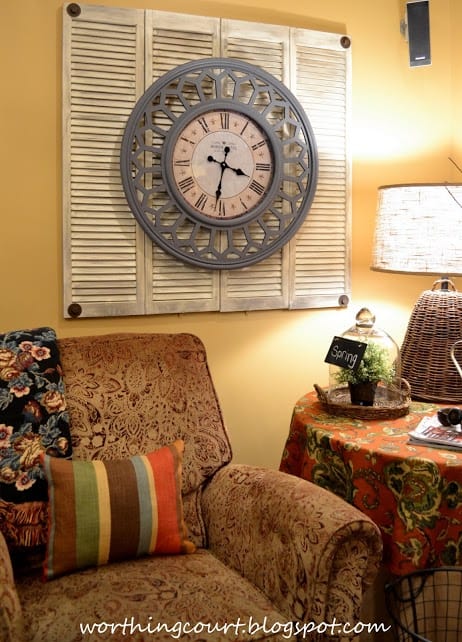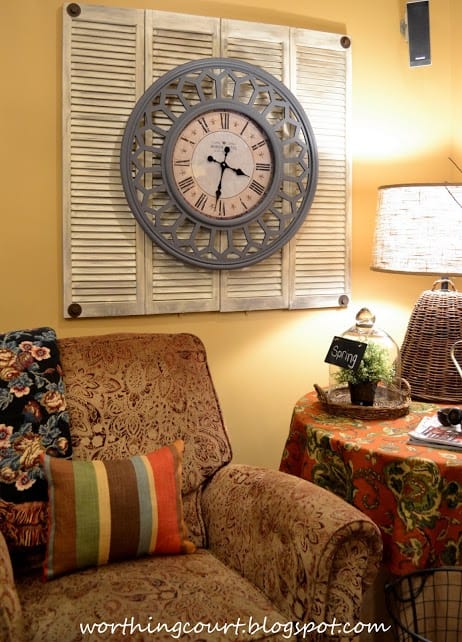 Pin
How To Turn A Wicker Cloche Into A Lamp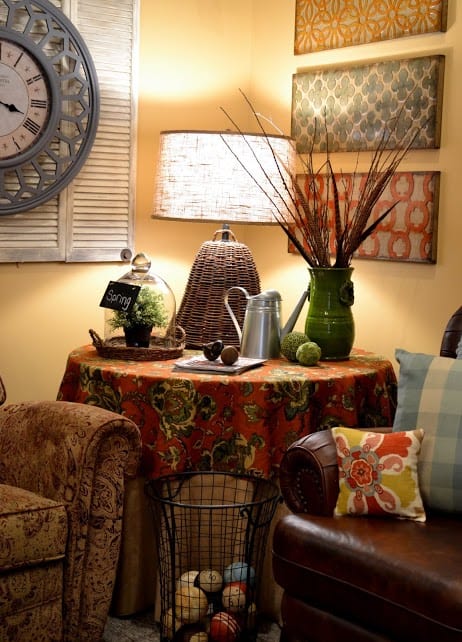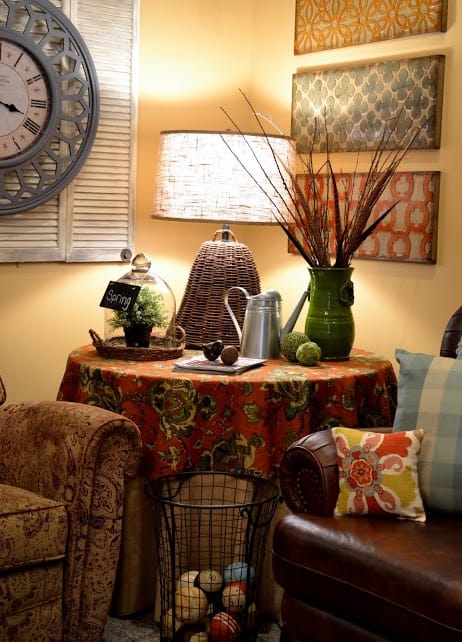 Pin
Recyled Vintage Mantel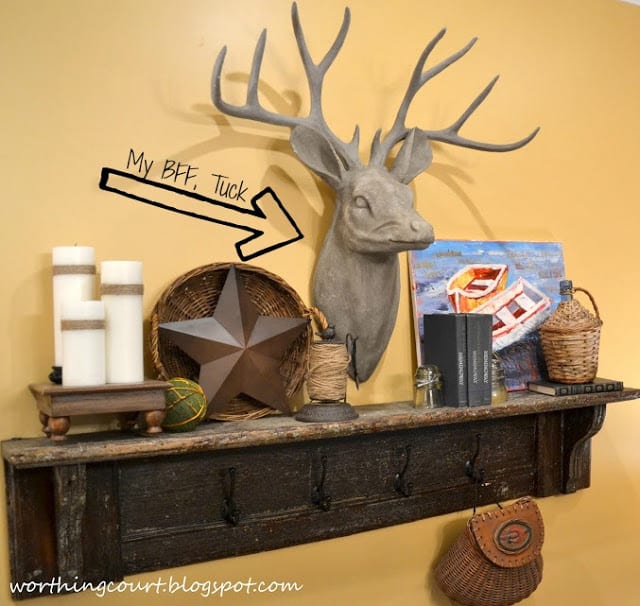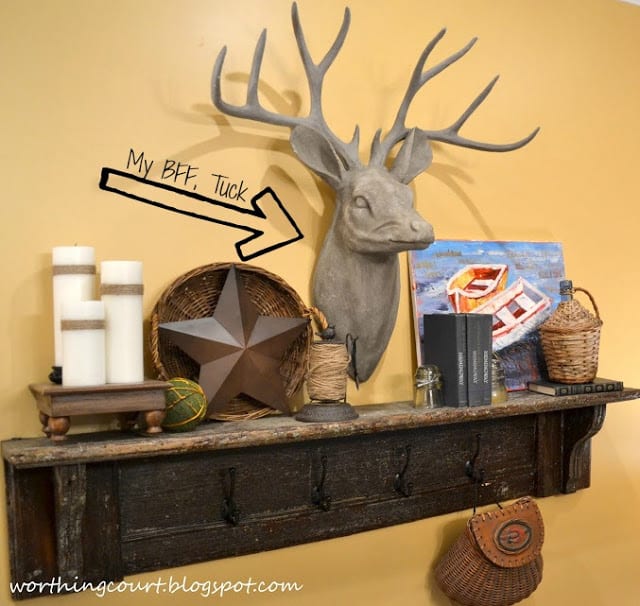 Pin
Unexpected Color And Mixing Patterns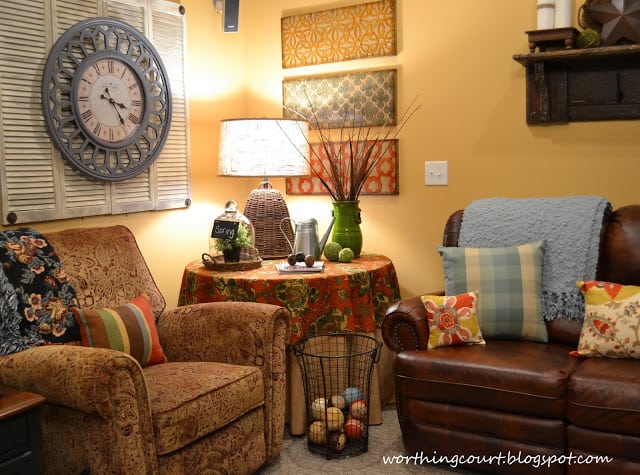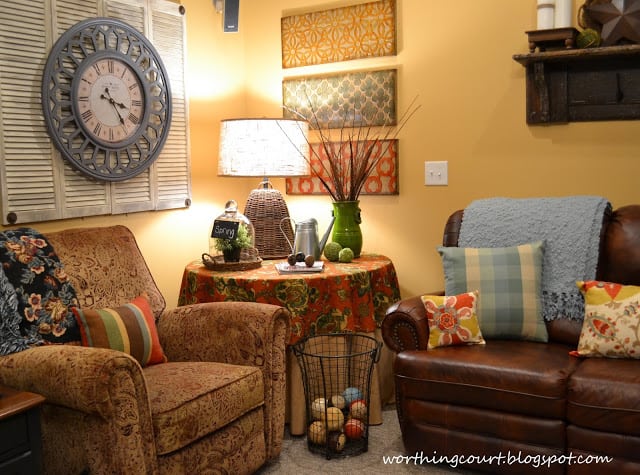 Pin
Before:  The other side of the room already held our game table.  But why did we even think that we needed one???  Nobody ever even sat here.  Again, I forgot to take a picture before we piled the tv in front of the table.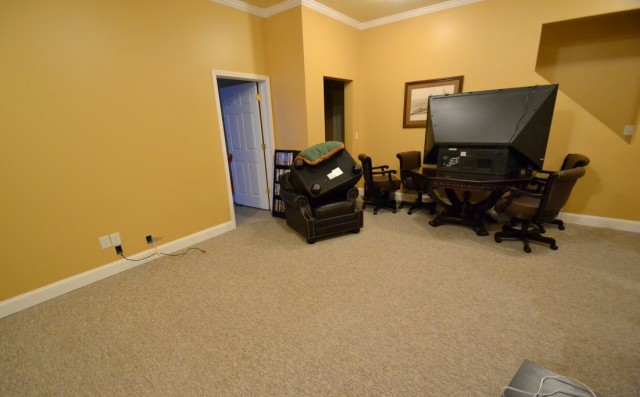 Pin
After: We bit the dust and bought a real live entertainment center to hold the behemoth television.  I think it was our Christmas present to each other last year.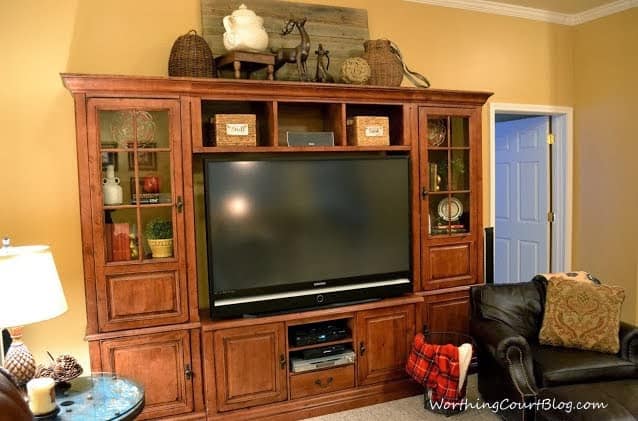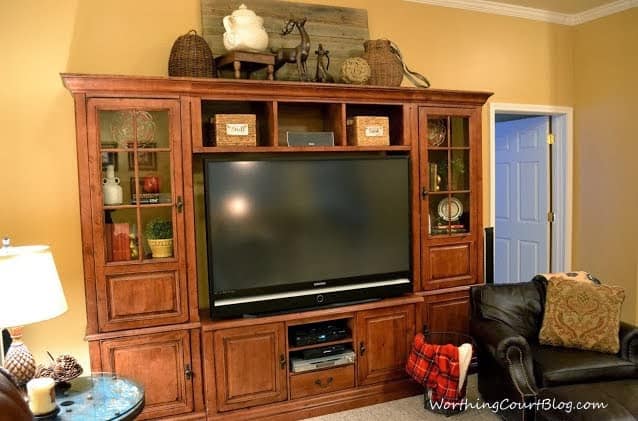 Pin
The vignette on top of the media center needed a backdrop.  Since I was going for a rustic/vintage/industrial look in this room, I wanted some old barn wood to make one with.  Well…there isn't too much of that just lying around when you live inside the city limits, so I created my own.
How To Make New Wood Look Like Old Barn Wood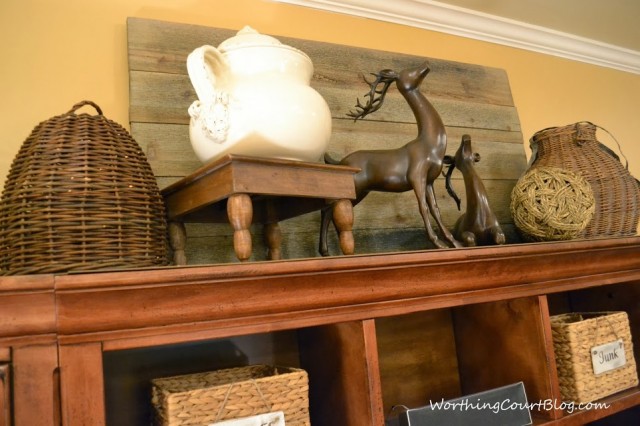 Pin
 The wall where the game table resides got a whole new look when I was inspired by something I saw in a Pottery Barn catalog.  I had lots of fun collecting all of my typography.
Typography Gallery Wall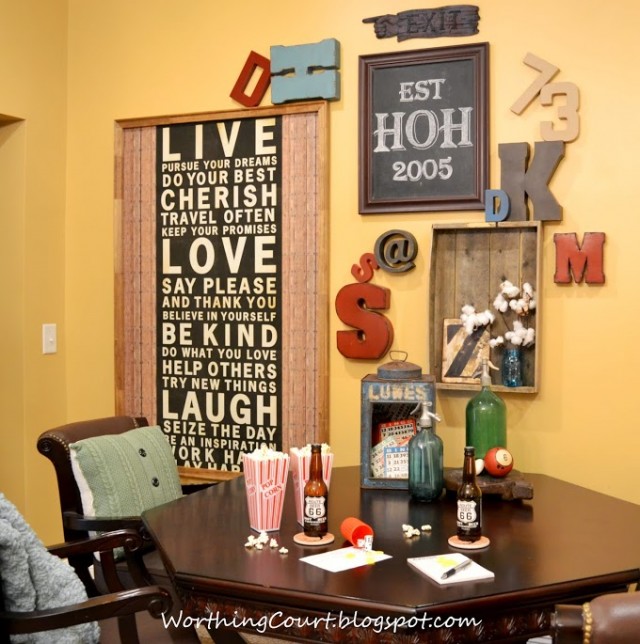 Pin
 My handwriting is atrocious when it comes to chalkboards.  But I showed you an easy way to get perfect chalkboard letters every time.
How To Make Chalkboard Art The Easy Way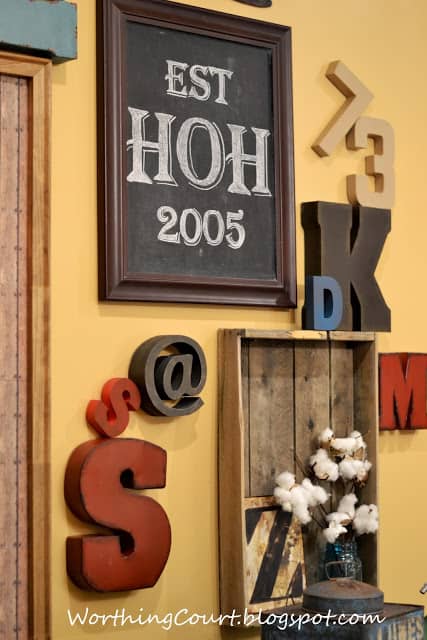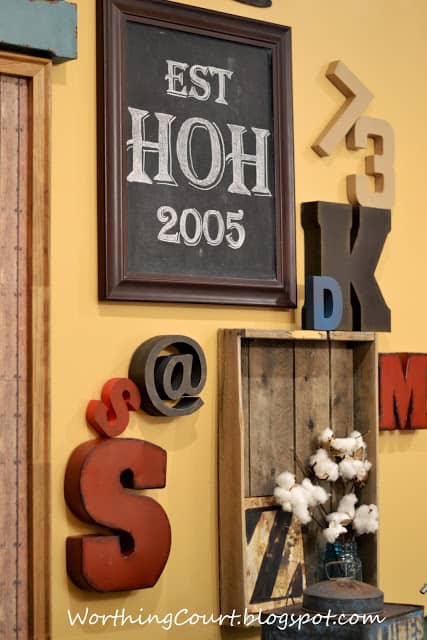 Pin
Finally!  A room that we really enjoy and use all the time.   😀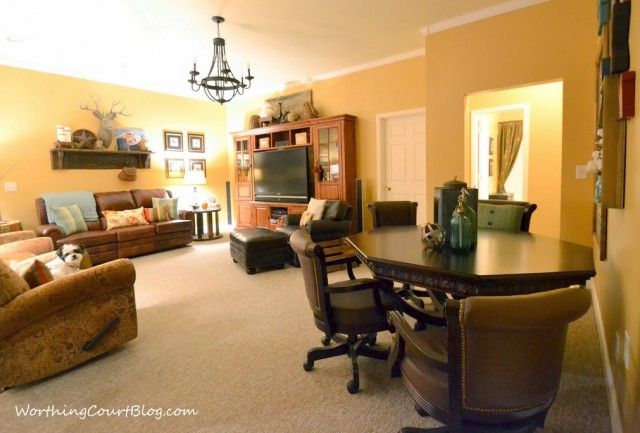 Pin