I am sharing my favorite paint and color that I have used everywhere around my home!
Ok, y'all – I've talked with you before about one of my go-to decorating staples and about how easy it is to decorate with something as simple as jute twine.  Now let's talk about something else that's super easy and affordable – paint!  Spray paint, that is!
There's nothing really earth shattering here – we all know the amazing power of paint to transform just about anything.  I just want to sing the praises of my favorite color and share just a few of the ways that I've used it in my home.  In fact, if you've been a follower of Worthing Court for a while, you may already know that my most favorite spray paint color is Rustoleum's Anodized Bronze.  I try to always have several cans of it on hand in my spray paint cabinet.  And no – this isn't a sponsored post, but it ought to be!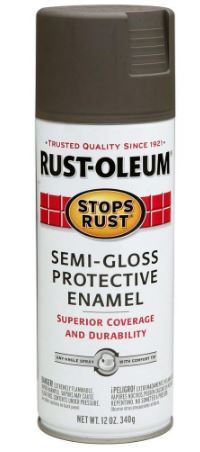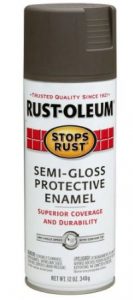 You'd never guess it from the name of the paint color, but Anodized Bronze is actually a medium dark shade of gray.  I recently had a sweet reader comment that from the name of the paint color and from looking at the cap on the can of paint, she couldn't believe what a lovely shade of gray it actually is!
The first place that I ever used this dynamic color (and subsequently fell in love) was on the two end chairs at my breakfast room table.
RUSTIC FARMHOUSE BREAKFAST AREA REVEAL – BEFORE AND AFTER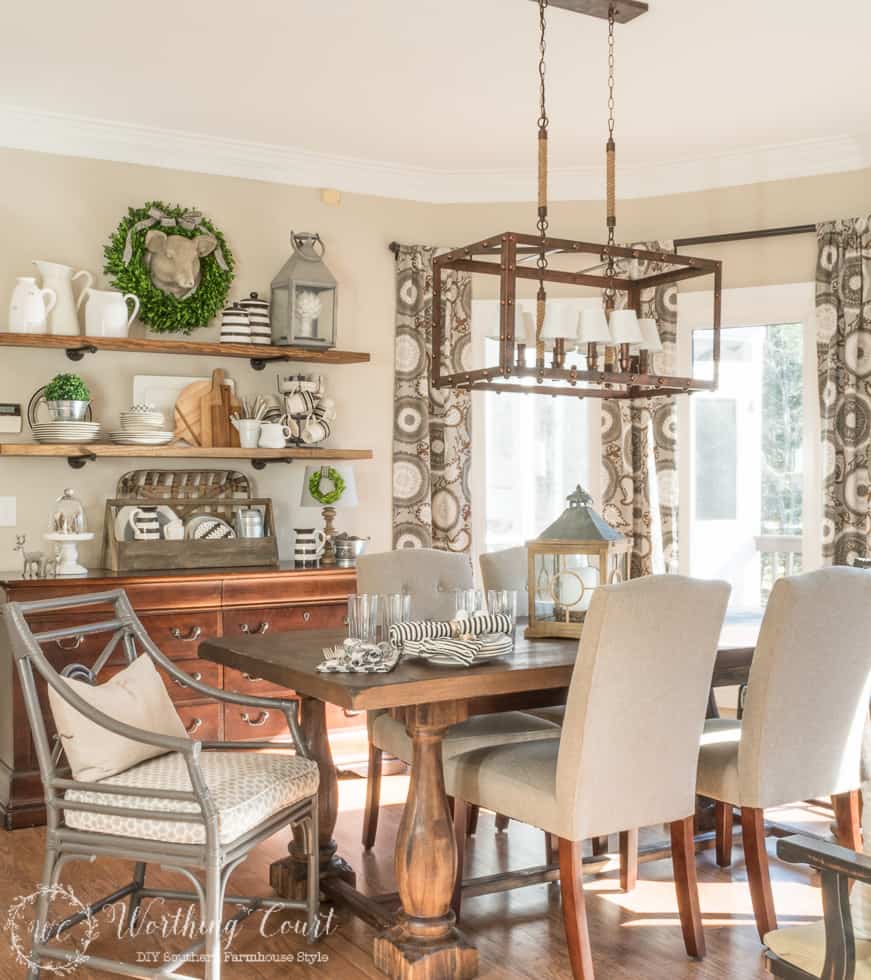 Then came the shutters (which are really cut up bifold doors) hanging in my dining room.
FARMHOUSE DINING ROOM MAKEOVER 
As I said, Anodized Bronze is a medium dark shade of gray paint.  Some grays have a cold look about them, but Anodized Bronze is a warm gray that works wonderfully with brown furniture.  In my mind, there was no better choice of paint color for the furniture in my dining room. I spray painted the wood chair frames, but the table and sideboard were too heavy to lug outside to paint, so I took a painted scrap of wood to the paint store and had them color match it for me.  Bingo!
FARMHOUSE DINING ROOM MAKEOVER FINISHING TOUCHES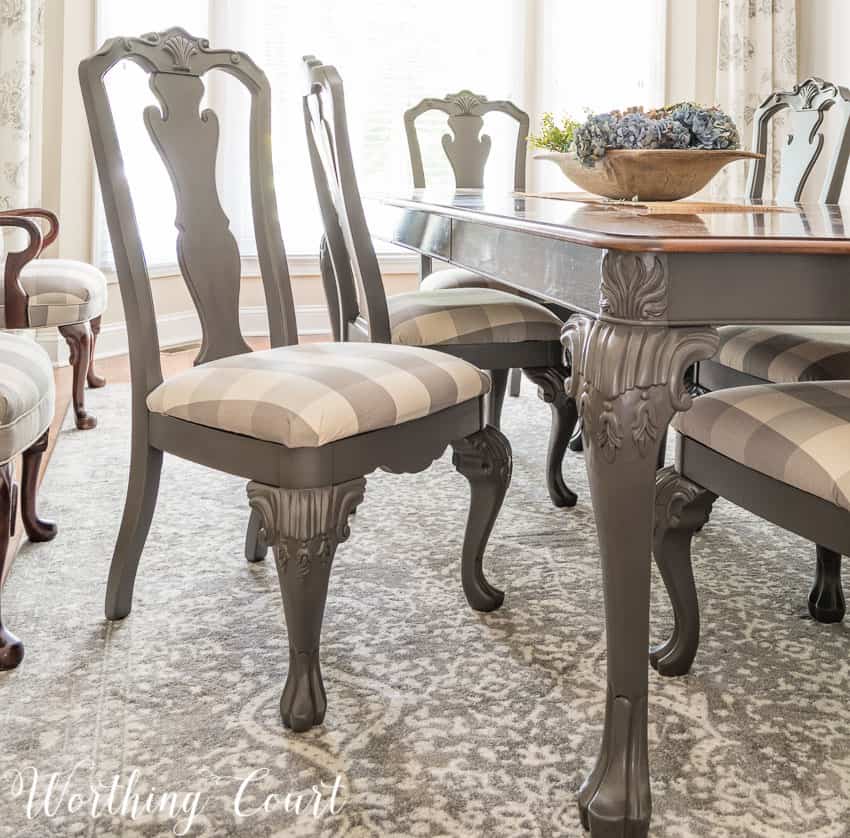 On the sideboard, I cut the paint to about a 50/50 mix with water.  CORRECTION: The correct paint ratio that I used is roughly 1 cup of paint to 1/2 cup of water.  It gives some variety to the furniture in the room and allows some of the beautiful grain of the wood to show through.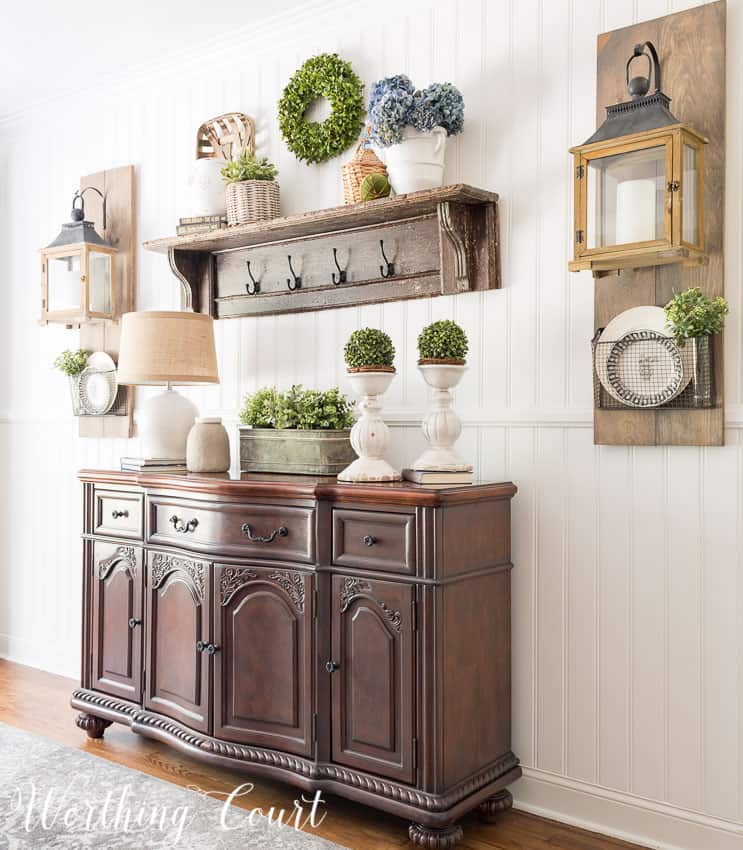 I used it again to paint the legs of our desk while working on our office makeover.  See the painted dining room furniture through the opening? That's an added benefit to using spots of the same color throughout my home – it helps to tie all of the rooms together and to give continuity to the feel of my home.
THE EVOLUTION OF A FARMHOUSE STYLE HOME OFFICE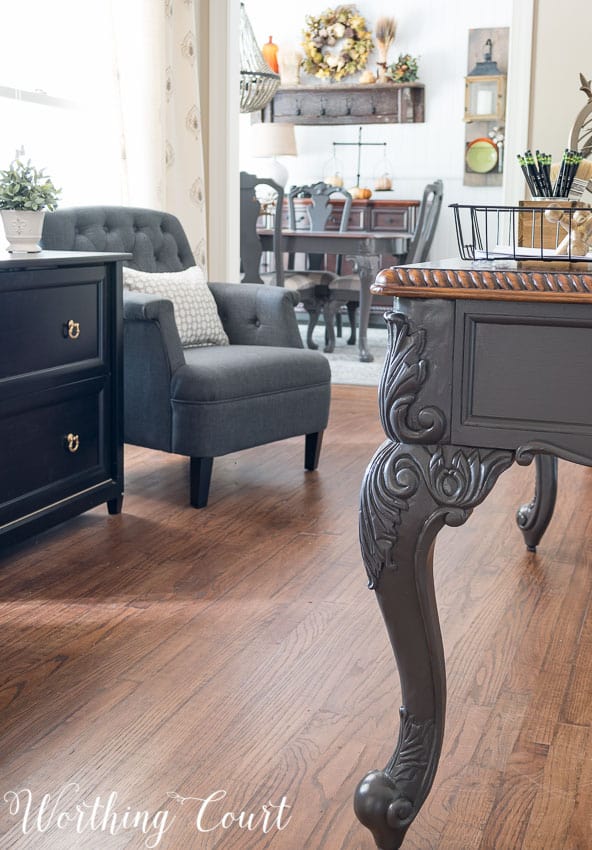 And most recently, I used Anodized Bronze to paint the frames of a pair of benches that Pookie and I built for our foyer.  I'll be sharing the tutorial for the benches soon!
HOW TO STYLE A FARMHOUSE BOARD AND BATTEN WALL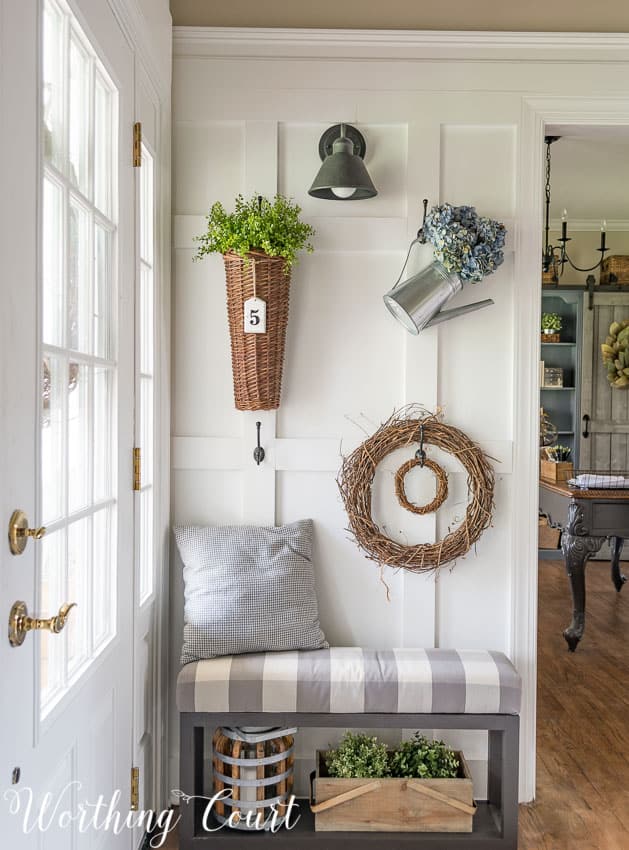 As I continue with the room makeovers in the rest of my house, I already have places in mind that I'll be using my favorite sophisticated color!  Does that make me a crazy lady???  😀  Do you have a favorite color of paint that you've used in your home?
Sharing at THESE great parties.