6 Ideas For Using Blue To Brighten Your Home This Summer
Blue is one of those colors that instantly brightens any space and is the perfect shade for summer.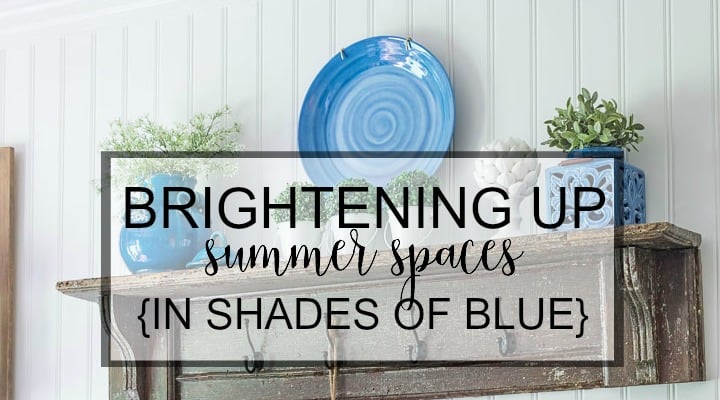 Pin
Do you ever get excited by the thought of what using your favorite color to decorate with can do for yourself and your home?  Maybe you think it's silly, but I do!  I love surrounding myself (without going overboard) with my favorite color.  There's just something cheery and uplifting to me about about sprinkling it throughout my home.
If you're looking for the perfect color to brighten your home this summer, I highly recommend decorative accents in shades of blue! It's the color of the water and the sky and cool refreshing swimming pools.  From Carolina blue to iris, royal blue and navy to turquoise – get ready to brighten your summer spaces with this ever-popular color with these pointers.
USE DISHES FOR A CHEAP AND EASY POP OF BLUE
Grab some blue bowls, plates and silverware in solids and prints, then mix and match them into a colorful place setting. Oh, and tie a bit of twine around silverware for a unique look.  The dollar store is fantastic resource for inexpensive dishware!  This place setting consists of my diy driftwood-look charger topped with one of my everyday white plates, a blue dollar store plate, a beachy striped plate found on clearance and a blue dollar store bowl.  I found a whole set of blue handled silverware at HomeGoods for less than $15.  You don't have to spend a ton of money to set a pretty summer table!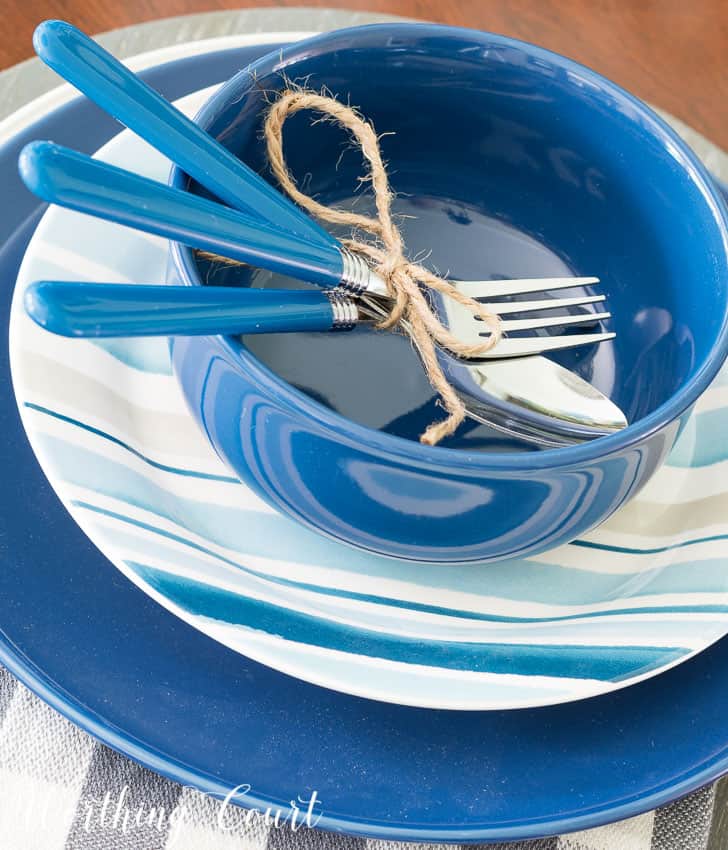 Pin
DON'T FORGET ABOUT THE THROW PILLOWS
In my mind, you can't talk about decorating without talking about pillows.  😀  Y'all know that I love to mix patterns, so the large solid square pillow in cornflower, next to a small pinstriped navy and white pillow on top of the diy buffalo check upholstered bench is my jam.  When combined with other colorful elements like the bright turquoise glass vase, you've got a perfect summery spot in your home!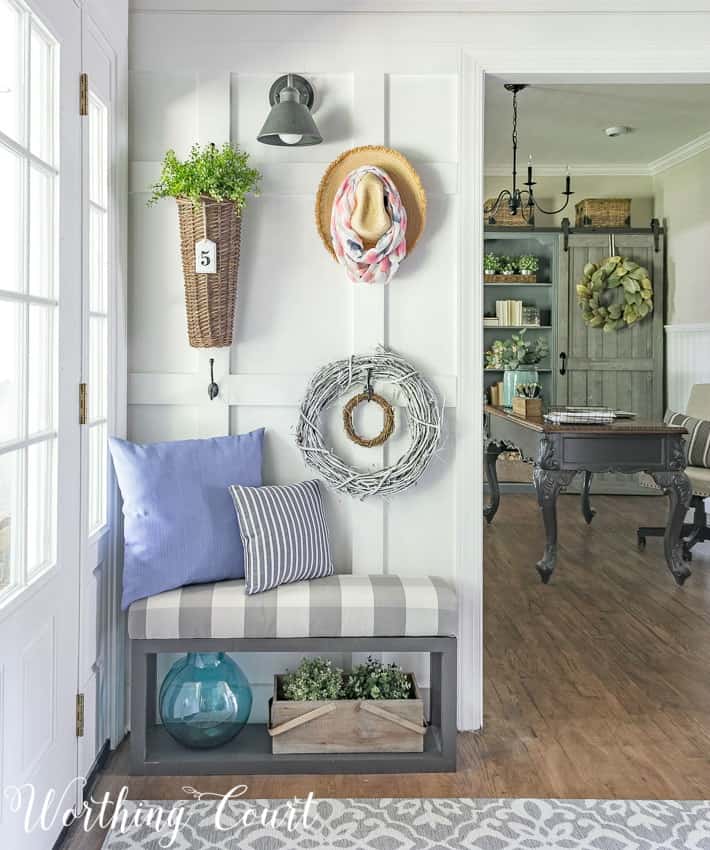 Pin
ADD LIFE WITH FLOWERS AND GREENERY – BRING OUT YOUR FAVORITE CONTAINERS
I love incorporating fresh and faux flowers into my rooms, especially in the summer.  Everything is blooming outdoors this time of year, so why not bring the outdoors in? These dried hydrangeas add a hard-to-miss pop of soft blue while greenery in a patterned blue bowl and a navy mini urn turned candle holder round out a simple vignette in the dining room.  There's more pattern mixing going on with the navy and white pillows and don't miss that place setting that I talked about earlier.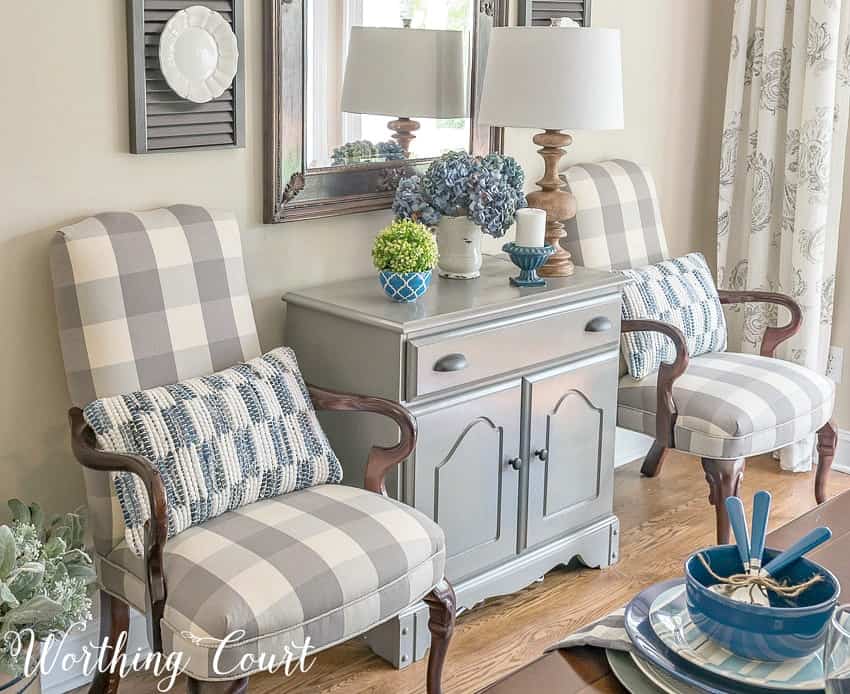 Pin
GRAB A COLORFUL CONTAINER FOR A SUMMER DECORATION
This tall blue ombrè ceramic pitcher is large and makes quite the summer statement piece on my mantel. I have yet to find a spot in our home it doesn't liven up. When it comes to containers, think outside of the box for filler.  You don't have to always use foliage stems of some sort.  I think my salvaged spindles make a great "bouquet"!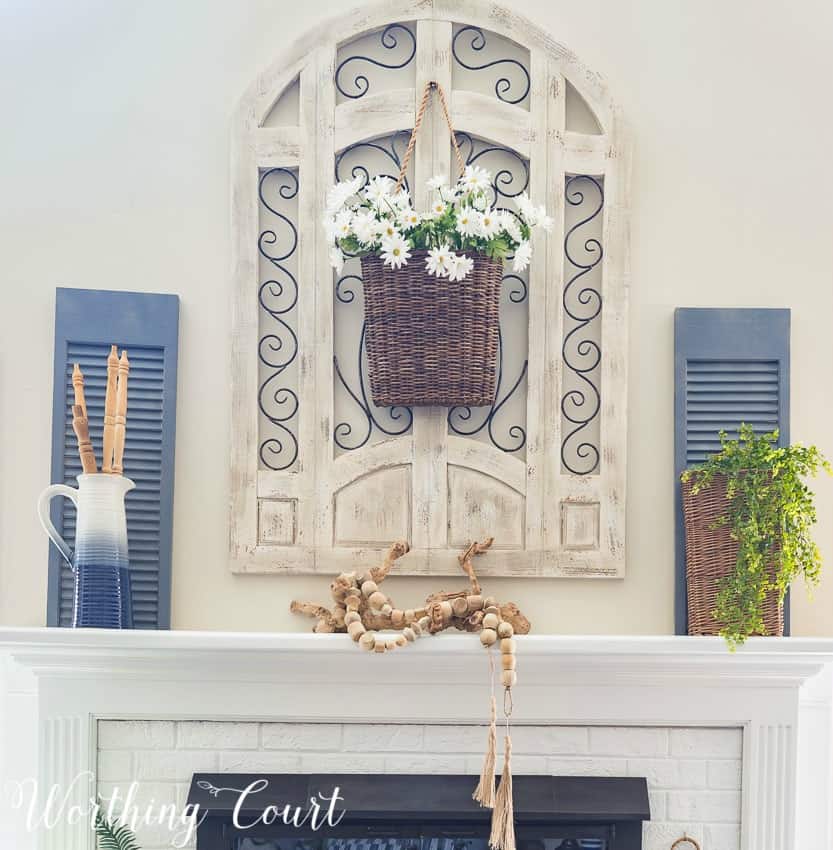 Pin
CHECK OUT THE RIBBON AISLE
Have you ever taken the time to really explore the ribbon options at your fave store? If you haven't, you NEED to – the choices are endless!  Adding blue striped burlap ribbon to this door basket gives it a bright pop that makes my front door more noticeable from the street.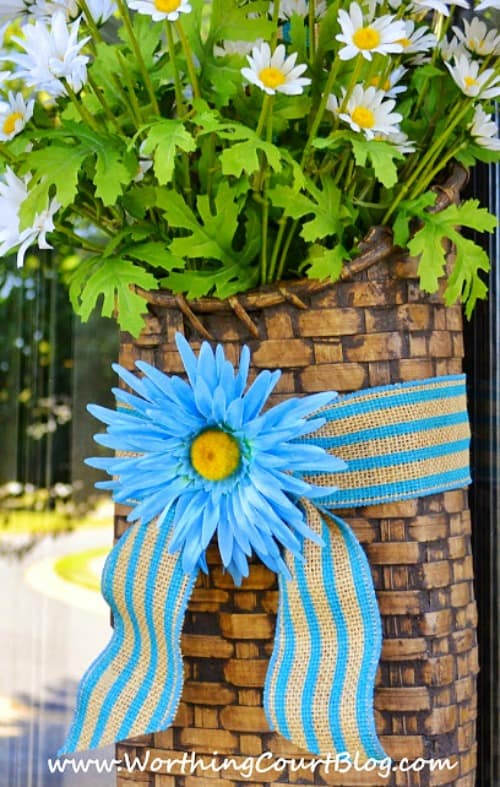 Pin
DON'T BE MATCHY MATCHY – MIX ALL THE BLUES
There's hardly a shade of blue that I didn't incorporate into these shelves in my breakfast nook!  Repeating the various shades over and over causes the shade mixing to look intentional instead of "I just didn't have anything else to use". And who says you can't put a lantern inside another lantern? Not me because I actually love this crazy idea that came to me when I was trying to think of a creative way to decorate the shelves for the summer.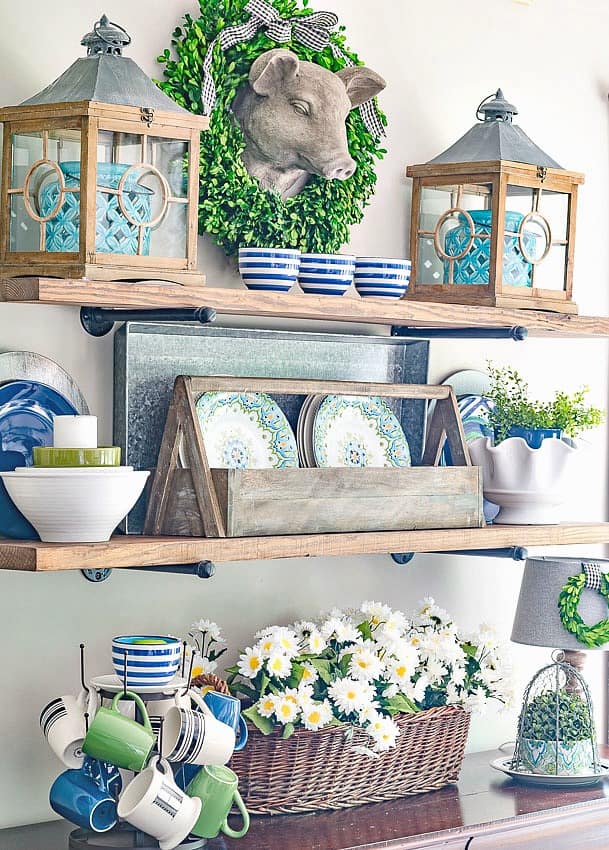 Pin
Needless to say, blue is a color that can be brought into your home this summer with countless shades in numerous ways. Decorating should be fun, not a chore!  So, no matter what shade of blue you choose, have fun with it and mix and match without fear of breaking any set design rules.