Budget Friendly Window Treatments For The Family Room
I'm happy to report that I'm at the point in decorating our family room, that I'm ready to start pulling it all together with some finishing touches. The addition of some budget friendly window treatments to the french doors on either side of our fireplace goes such a long way in giving the family room a completed look. They frame out the whole fireplace wall and help to cozy up the space and soften the hard edges of the door frames.
UPDATE: Click HERE to take the before and after tour of our finished family room!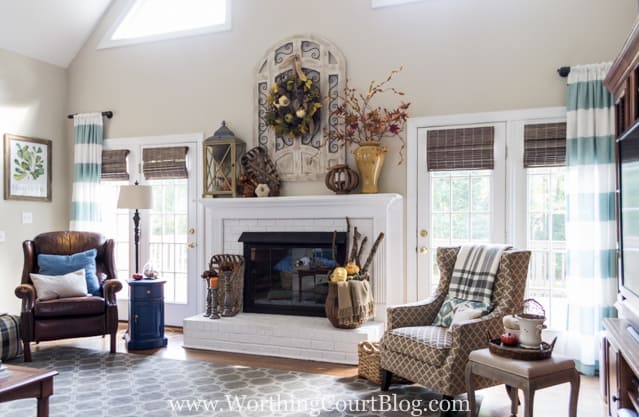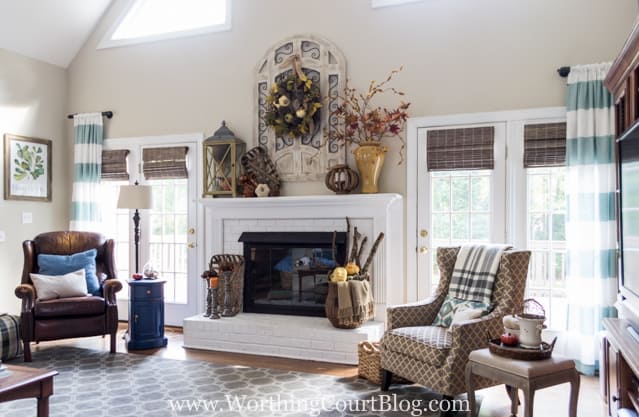 Pin
I tried so many different drapery options on these windows. I thought that something in gray would surely be the way to go, but nothing ever looked quite right. These curtains with the wide blue and white stripes were bought on a whim. I just knew they wouldn't work, but you never know unless you try – right? BTW – I found them at TJ Maxx for $30 for the pair.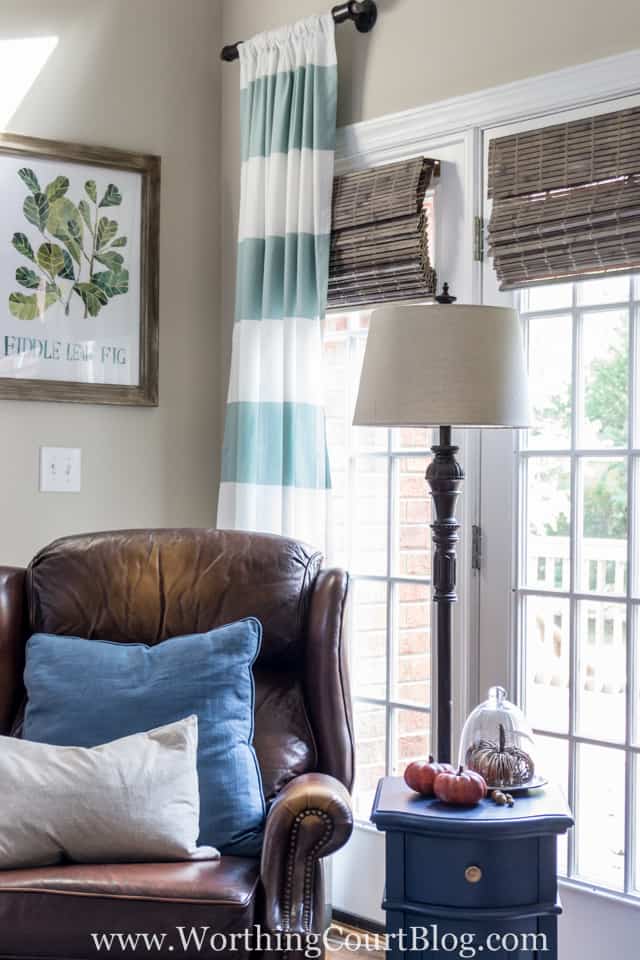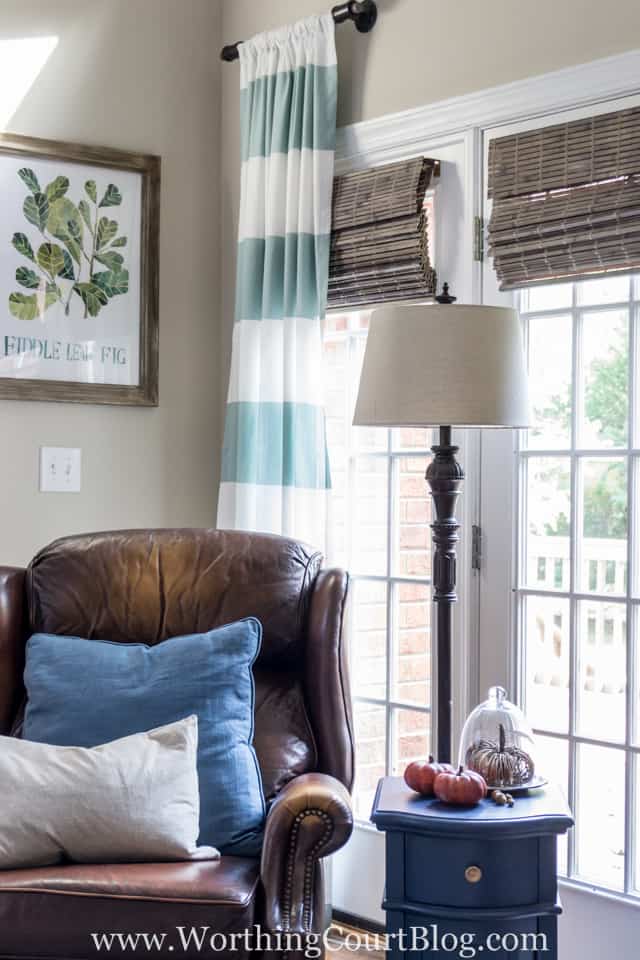 Pin
As soon as I held them up to the windows, I knew they were perfect for this room. The soft blue with gray undertones was just right for pulling more of my accent color over to this side of the room.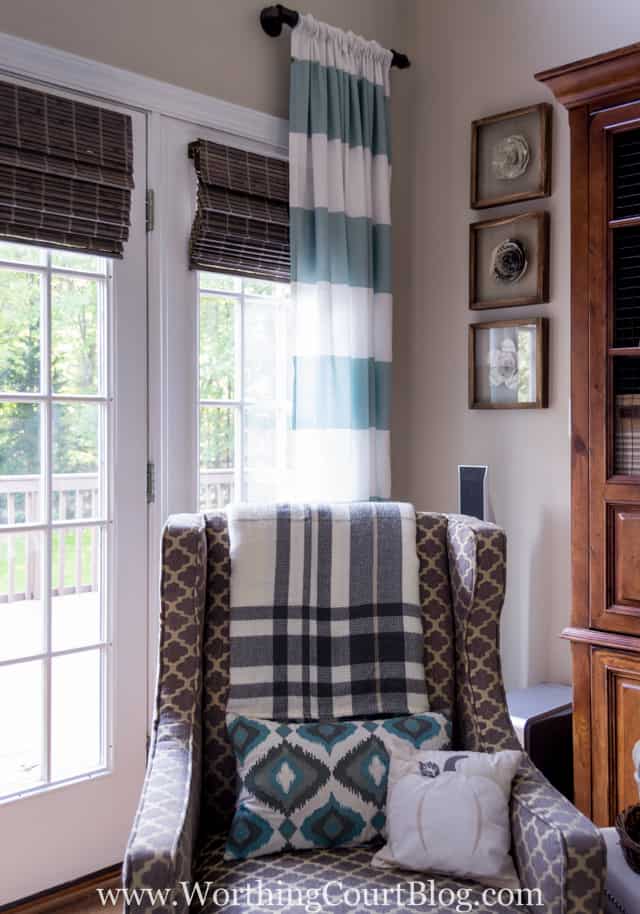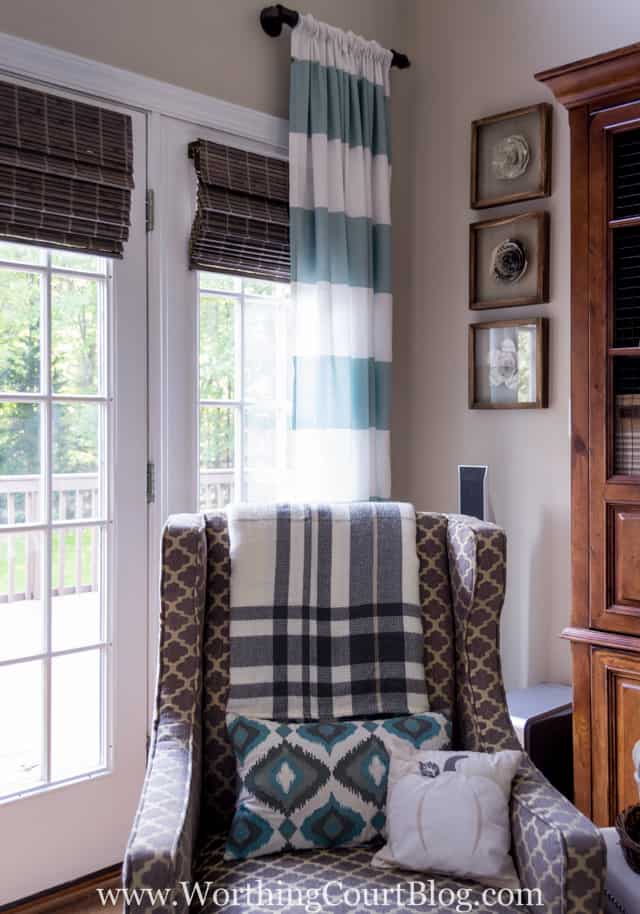 Pin
If you have sharp eyes, you might also notice the cute trio of framed paper flowers, that I picked up from Target, and that I hung on the wall beside the entertainment center. They do a nice job of helping to fill an empty corner and come in a set of three for under $25. Each frame measures 11″ x 11″ and is stained to look like old wood.. You can order them HERE (affiliate link, see my full disclosure HERE).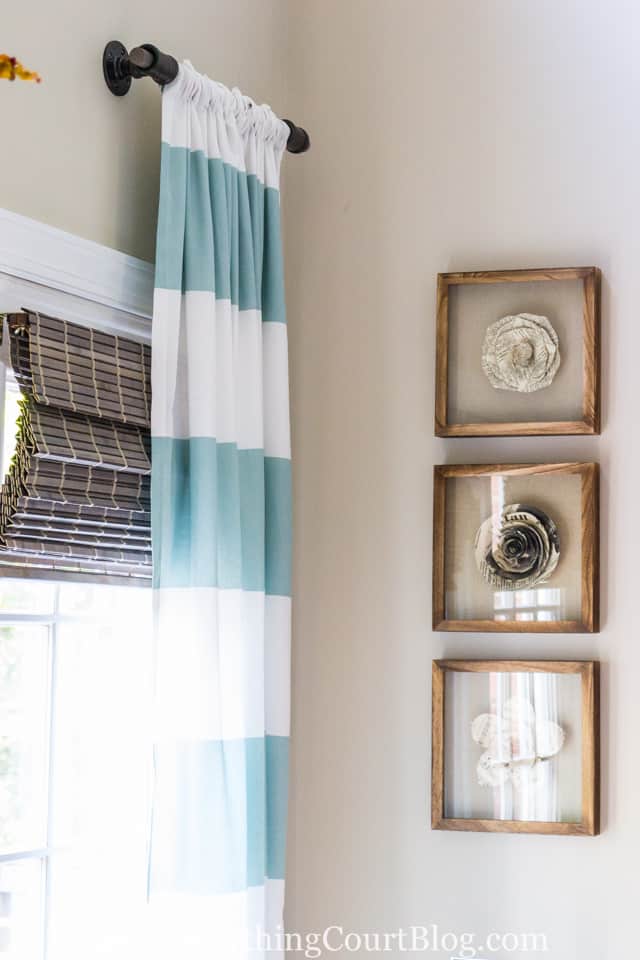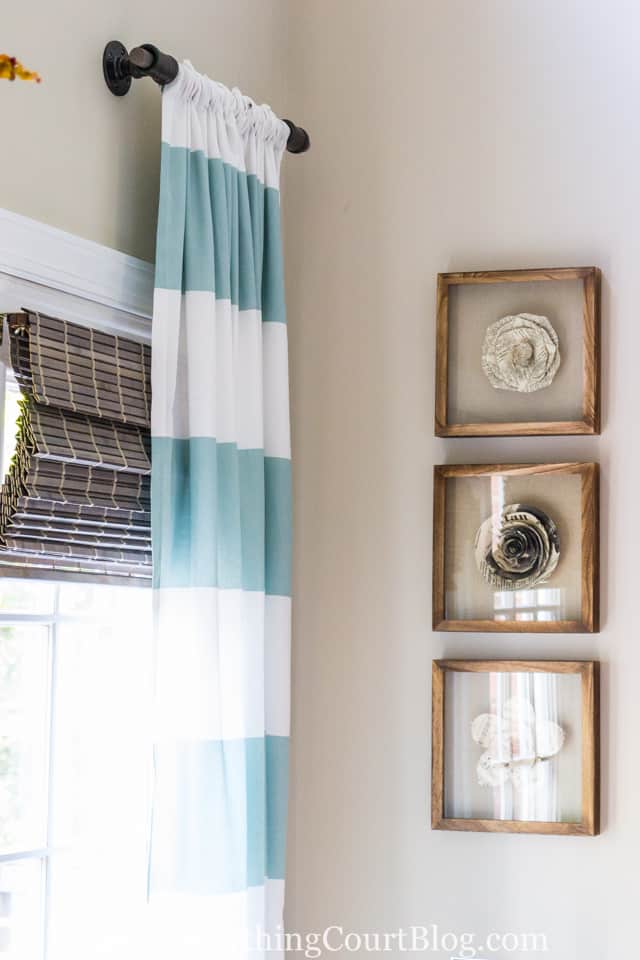 Pin
My panels are hung from diy curtain rods that I put together using a 1″ wooden dowel that I painted to look like driftwood/aged wood. The brackets are made from plumbing parts and are painted with Rustoleum's ORB spray paint. I really like the slight rustic/industrial vibe and think that they fit well in this room.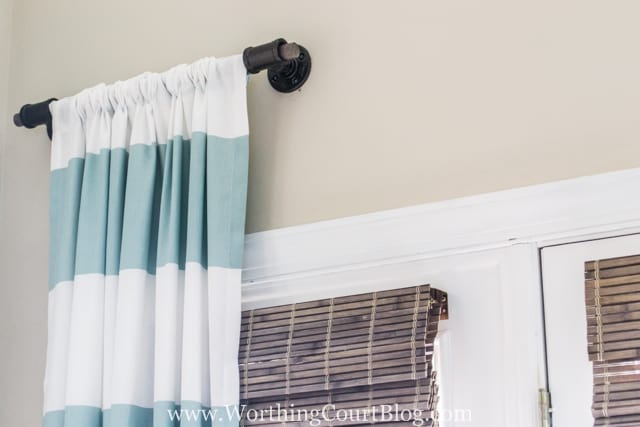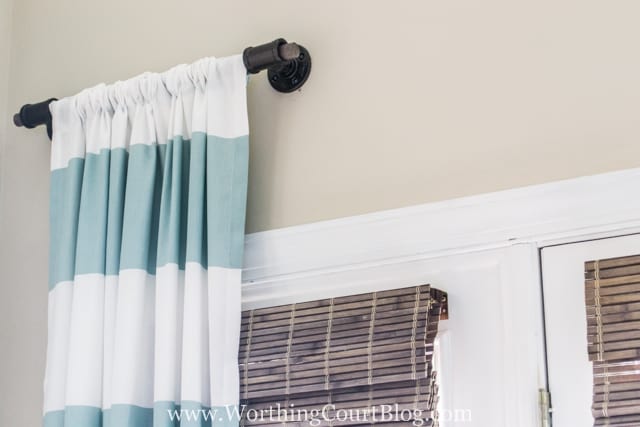 Pin
You've probably seen lots of people using plumbing parts to make budget friendly curtain rod brackets, but just in case you haven't, these are all of the parts that I used to make four brackets. The one in the upper right corner has been put together so that you can see how everything needs to be assembled to form a bracket.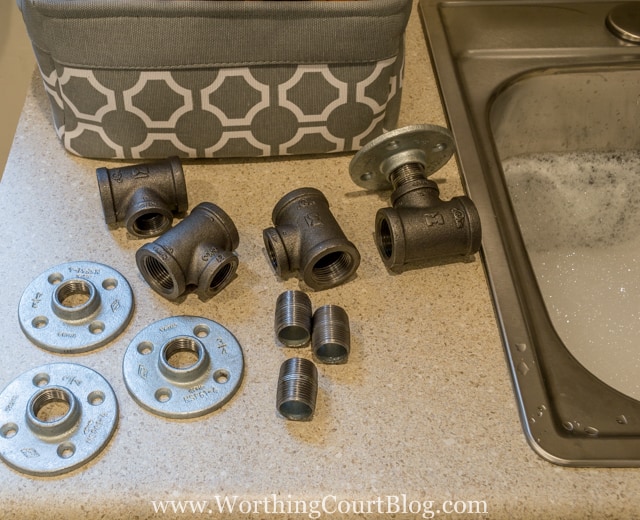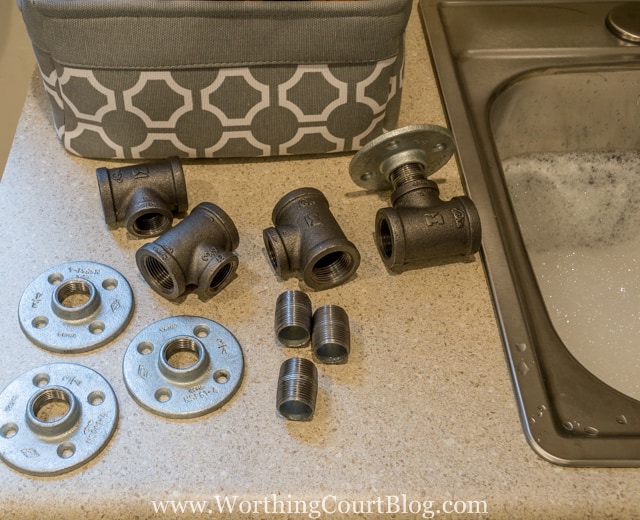 Pin
If you go this route, here are some tips for you: 1) remove the stickers and wash all of the parts in warm sudsy water prior to assembling – these things are oily and filthy!, 2) assemble the pieces prior to spray painting – if you don't, some of the paint may chip off during assembly, 3) make sure that the plumbing parts have an opening large enough to slip your dowel rod through, 4) as you are assembling the parts, check to make sure that the 'T' part of the bracket is the same distance from the round flange on all of the brackets or else you'll wind up with curtain rods that stick farther out from the wall on one side vs the other.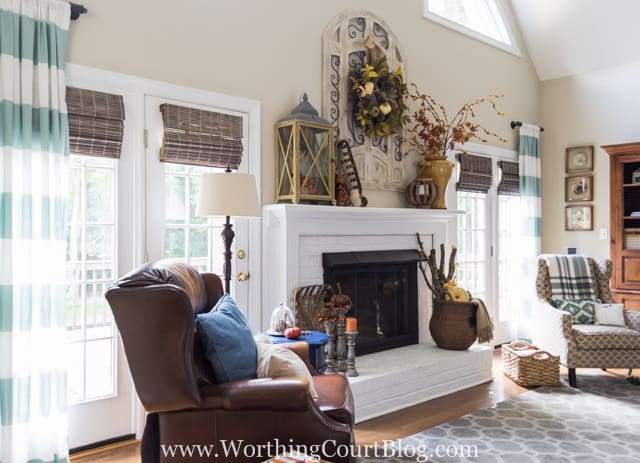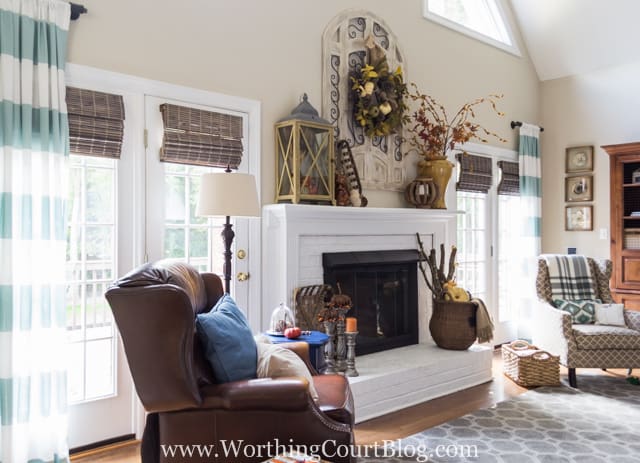 Pin
To complete the finished look on the windows, I also added some natural wood woven roman shades in a driftwood color. They came from Home Depot and you can find them HERE.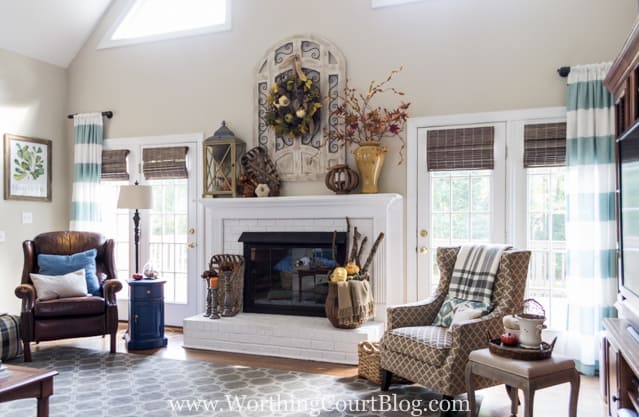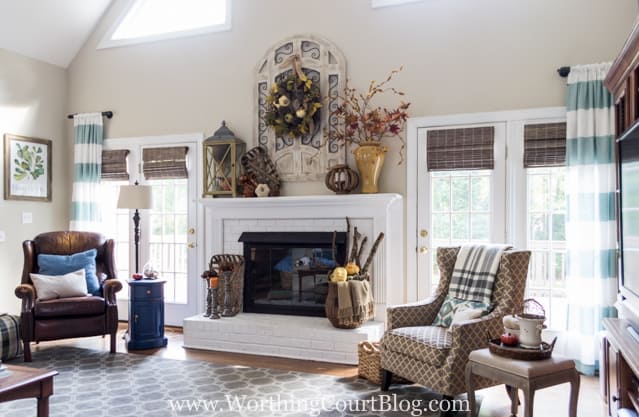 Pin
This room has come such a looong way from when we first purchased our home. For kicks, check out these before and afters.
Previous owners furnishings and decor.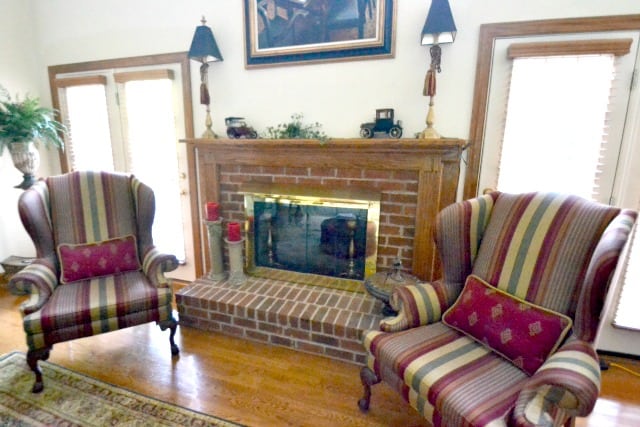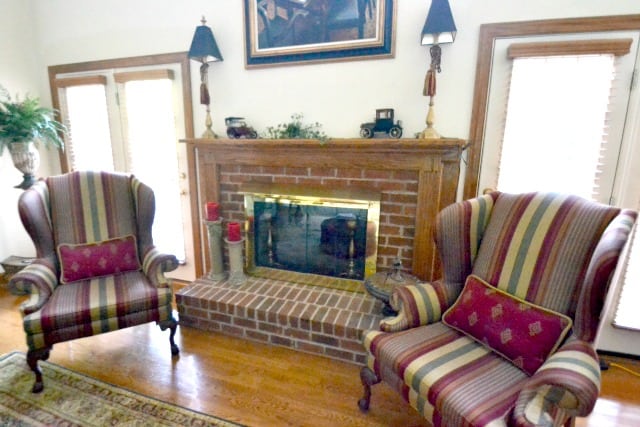 Pin
During the remodel with my ever present sidekicks.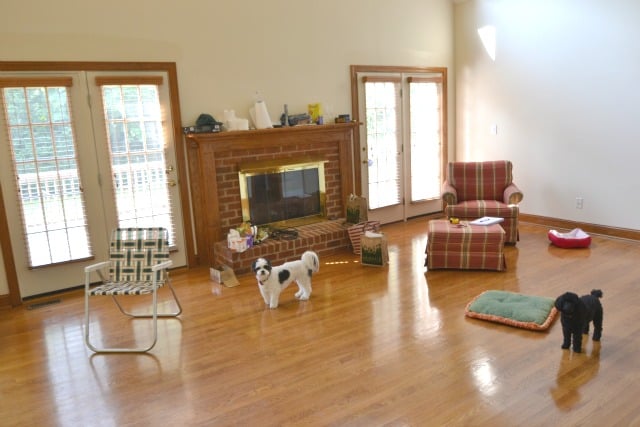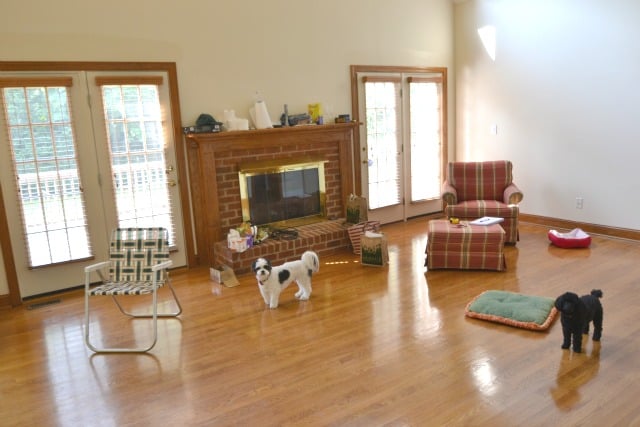 Pin
And today.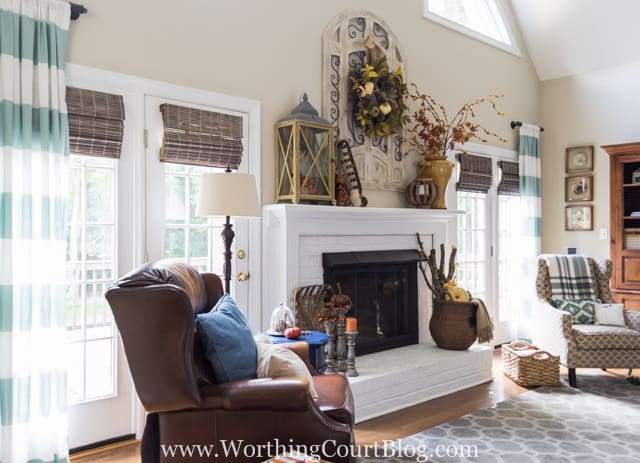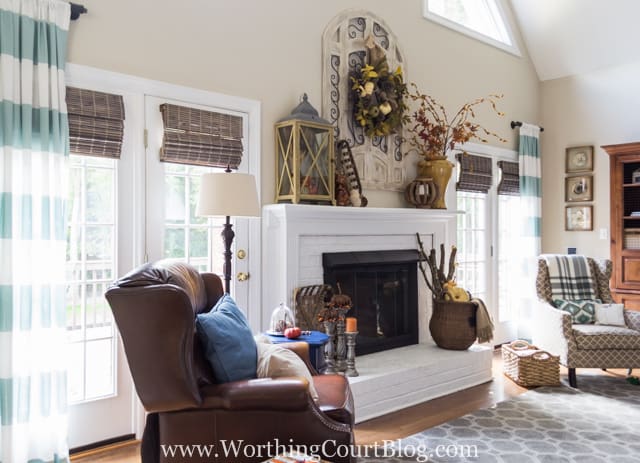 Pin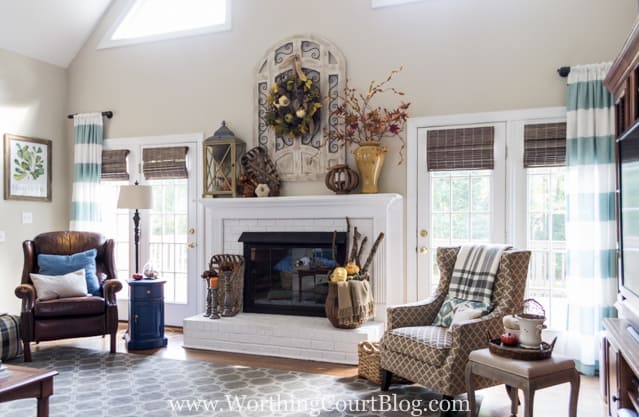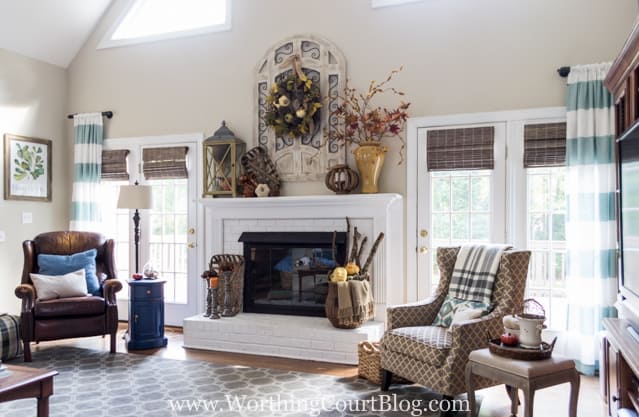 Pin
I'm in love with how this side of the room is coming together! Just a few more touches and I can call my family room complete!
Pin it for later!


Pin