Hello all you lovlies!  Are you up to your elbows in Christmas decorations?  Are you feeling tired just thinking about all that needs to be done?  Need a little inspiring pick-me-up?  Well, I have just what the doctor ordered!
Caryl is the owner of a most wonderful Christmas store called  Caryl's Christmas Shop.  A visit to her store is the unofficial kick off to my Christmas decor planning every year.
The store is wonderfully orgainzed.  Trees and ornaments are grouped together so that you don't have to go hunting all over the store for that ornament you saw on the woodsy themed tree, for example.  And of course, everything on the trees is for sale – they will be picked nearly clean by Christmas.
Grab yourself a cup-a-somethin', sit back and relax, cause I took lots of pictures to share with you.  There is soooo much fabulous inspiration in this store!  I took lots of close-ups of all of the trees so that you could get a better idea of how they're decorated in case you'd like to duplicate any of the looks.
Whimsical red and lime green.
See that table runner?  It's made from interwoven Christmas ribbon.
I just know that some of you could diy this!
Caryl has had the Christmas shop for 22 years.  Trust me, this lady and her staff know their stuff!  It is a pool and spa store year round, but come August 1st, the transformation begins!  By the time that October 1st rolls around, it is filled to the gills with everything Christmas.
Woodsy theme
Early in the season, Caryl hosts a wonderful, very popular, by invitation only, open house.  Everyone who attends is given a $20 gift certificate that can be used toward anything in the store!
Purple and silver.
Purple looks wonderful with lime green!
Caryl's is not a repeat of what you'll see in every other Christmas shop.  She works hard to offer unique, beautiful, top quality items.
Blue and silver.
Caryl's staff is so talented and willing to share their knowledge with you.  In addition to the open house, free seminars and classes are offered.  This year there has been a class on "How to Make a Unique Tree Topper" and "How to Make a Mesh Wreath".
Classical
I love this urn wired to the tree.  The candle is battery operated and remote controlled.
Red, green and gold.
Can you see the reindeer?
Snowman theme
I love the decorations spilling out of this top hat.
Blue and gold.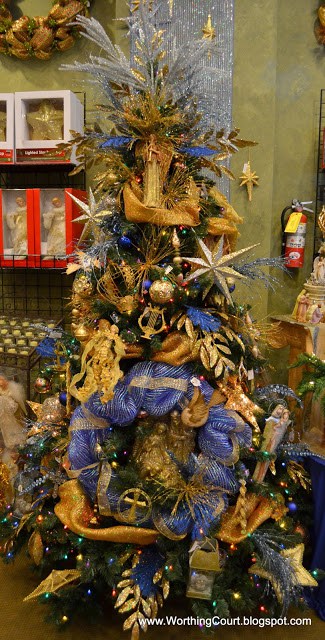 Victorian
There is so much more to show you in this wonderful store!
Be sure to come back on Wednesday when I'll share tips from Caryl's designers on decorating your tree, creating your own tree topper and creating wreaths and garlands that you'll love.