Christmas at Nancy's – The Kitchen
We're continuing the Christmas tour of Nancy's house in her kitchen today.
Nancy's kitchen is such a cheery, light filled room.  There's a bay window in the breakfast area and windows across the back that look out over…oh wait…what am I doing????  I almost forgot that I'm only giving you a little peek into her home right now.  You'll have to wait until later for the rest!
The kitchen table is all set for Christmas breakfast.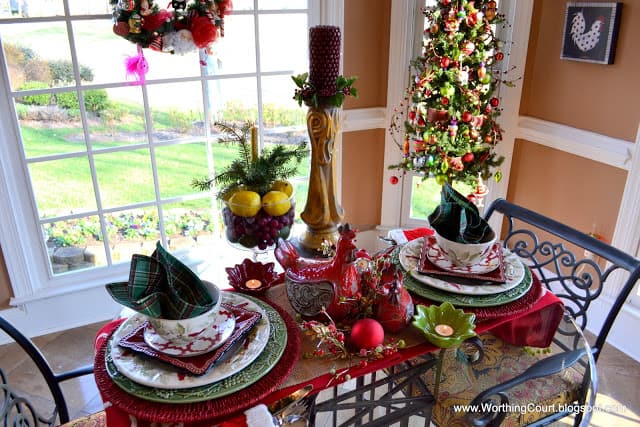 I'm so in love with the table runner that came from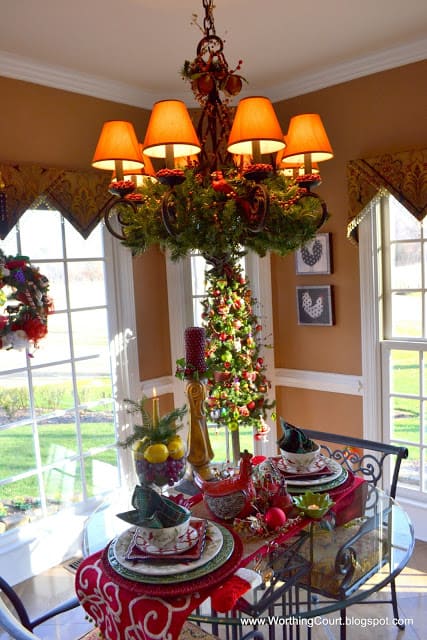 Here's a picture of it from the Willow House website.  I want it!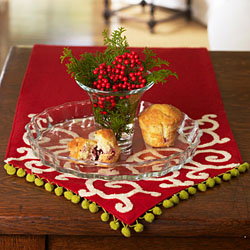 The mix of wicker chargers, burlap, berries and frosted and shiny ornaments adds great interest and texture.
The stacked dishes are so, so pretty!
Pretty Christmas plaid napkin tucked into the bowl.
The cute tree is decorated with a dog and cat theme in mind.
Here's another one of those hats!  Remember the green one on the tree in her living room?
Here kitty, kitty!  Did you notice the fish buttons on the kitty's jacket?
The puppy dog has bone shaped buttons on his jacket.  Gah!  So stinkin' cute!
The yorkie ornament is for her baby, Natalee.
A wreath filled with more cute ornaments hangs in the bay window.
I like the positioning of the cow right next to a grill.
Funky chicken!
And last, but not least, these citrusy ornaments make my mouth water.
Come back on Thursday when we'll get a peek inside Nancy's fabulous office!
In case you missed it, you can see Nancy's outdoor decor here, and the living room and dining room here.