Christmas in the Dining Room
I'm going to show you my Christmas decorations starting in the dining room so that I can participate in Layla's Christmas Tables party over at The Lettered Cottage.
I used the same deer that were in the centerpiece on my Thanksgiving table as part of this Christmas centerpiece.
I've had the containers that the berry topiary trees are in for years.  I love them as much today as the day that I bought them.
I started the centerpiece by placing the deer in the center, then layering a mixture of different pieces of faux greenery and berries that I had in my Christmas stash.    I added two strands of tiny battery operated lights, but you can barely see them in these pictures.  The urns were placed at each end and a few cranberry red Christmas ornaments were added.
Here's how it looks from the back.  I like to use Spanish moss to fill in the empty spots in the containers.  I think it helps keep the whole thing from looking too formal.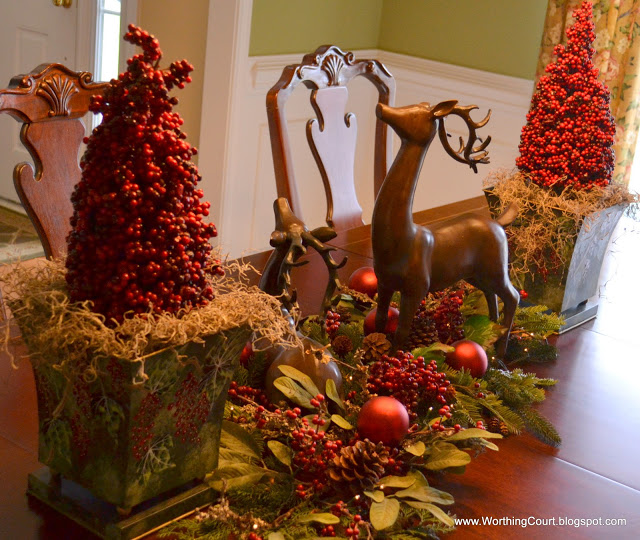 Pin
I placed my nativity scene over on the sideboard.  I purchased this nativity at Caryl's Christmas Shop.  The star is actually a tree topper, but I like the way that it works with the nativity scene.
I display this in a different spot every year and have never been quite satisfied with how it looked until I tried it out on the sideboard.  I think this is the perfect spot for it.  I added a few faux palm trees and filled in around the figurines with faux cedar.
The mirror above it was looking a little empty so I added a wreath made with beaded fruit.
Thank you for stopping by for a visit today.  It's been a pleasure to have you!