Styling Our New Coffee Table
Enjoy this project for the family room of our previous home.  We're currently remodeling a new-to-us home.  Click HERE to see how I'm totally changing my decorating style!
I've been busy, busy, busy playing in my family room for the last few weeks!
The latest addition is a new coffee table and my newly reupholstered couch.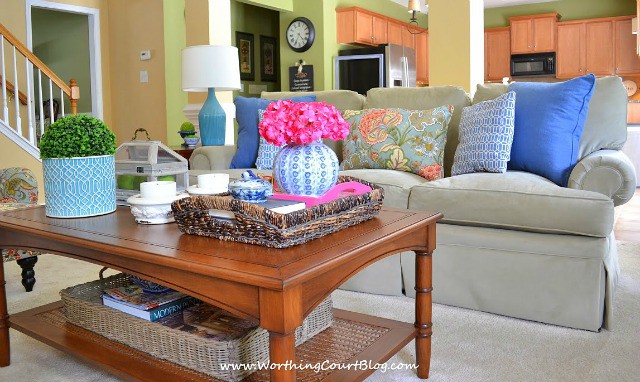 Let's talk about the beautiful reupholstered couch first.
The whole color scheme and feel of this room was inspired by these two stunning chairs from Pier I.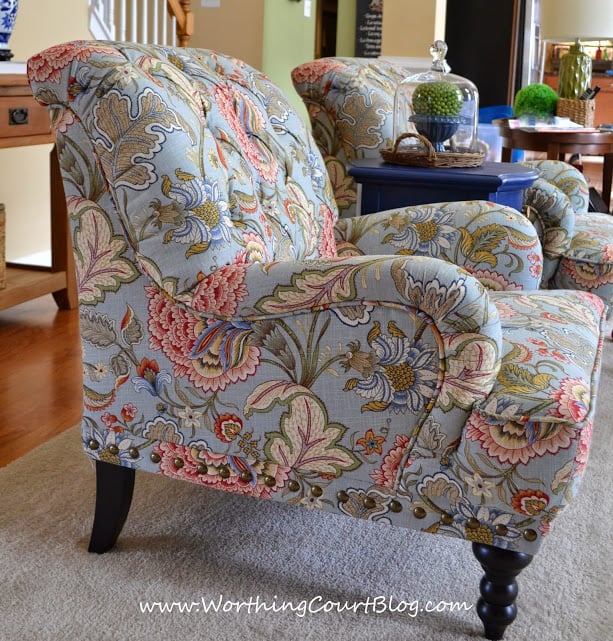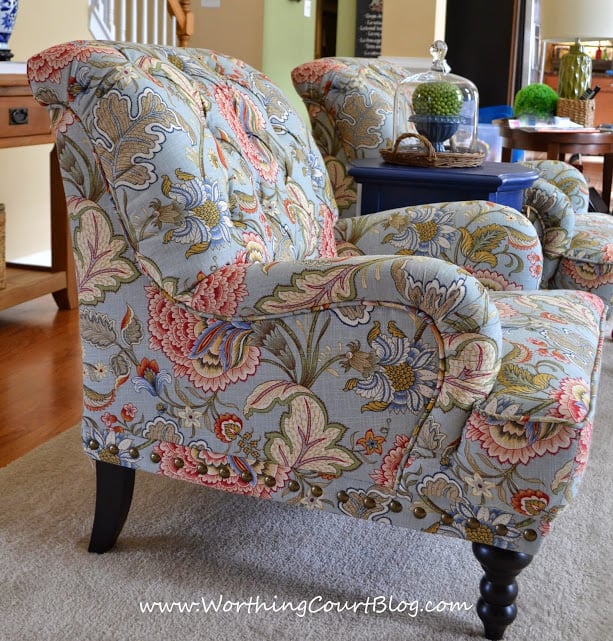 You can see that the chairs have blues, greens, pinky red and some neutral colors in the print.  My couch was red previously and it really dictated what went on in the whole room.  This time around, I wanted to go for a neutral color for the couch that would go with absolutely anything.
 So I wound up with this soft, dove gray microsuede and I couldn't be more pleased with my choice.  This is where the evidence of why it pays to invest in a good couch comes to light.  I bought this couch in 1999 and this is the second time that I've had it reupholstered.  My upholsterer told me that it (the frame) should last me for the rest of my life.  BTW – let me know if you're looking for a good and affordable upholsterer in the Greensboro, NC area.
I made the chambray blue pillows on either end from fabric at a local store.  The smaller blue trellis pillows came from Christmas Tree Shops and were only $3 each!  I made the large pillow in the middle too.  When I saw that Pier I had drapery panels that match my new chairs, you better believe that I ran right over to snatch one up!  Drapery panels are a great source for fabric to make pillows with and are often less expensive than buying the same fabric by the yard.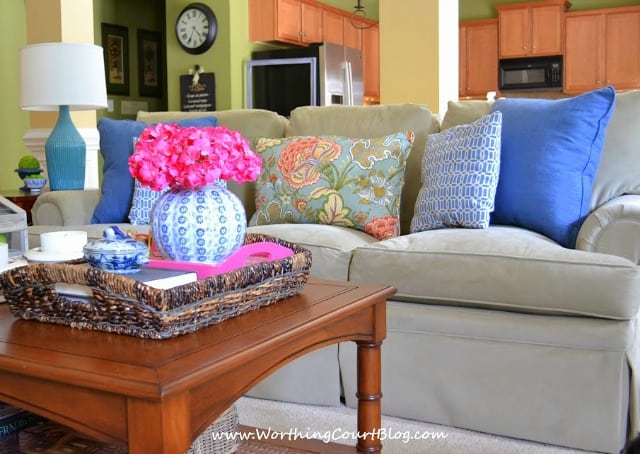 The wooden coffee table is everything that I wanted in a new table – larger than my old one, rectangular in shape with a bottom shelf and a "light" feel.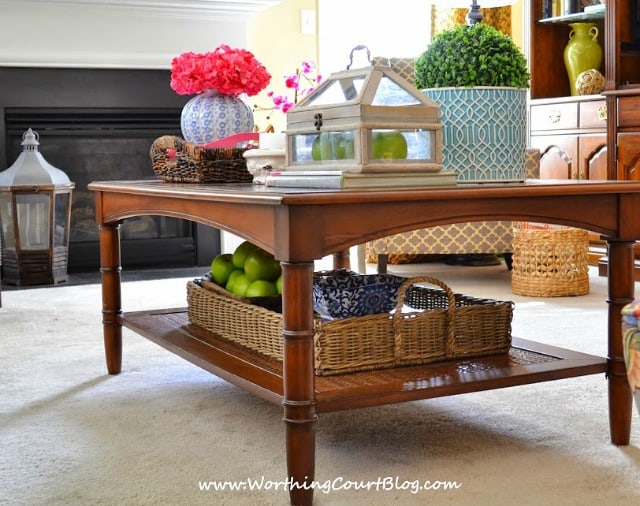 I snatched up the ginormous basket on the bottom shelf when it was on sale at Pottery Barn.
It holds books, recent magazines, a blue and white container and my dough bowl filled with those awesome faux apples from Walmart.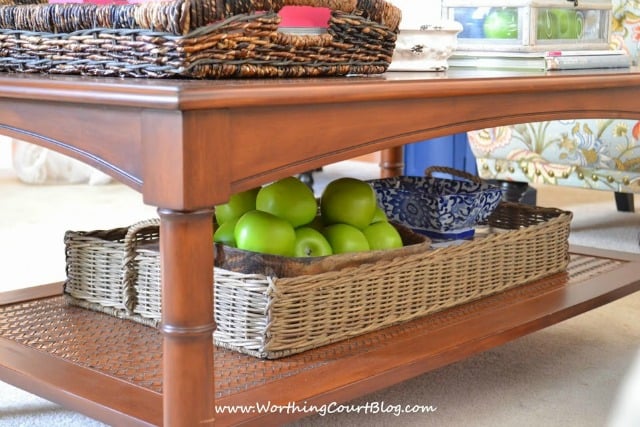 I was able to use a lot of items that I already had on hand for the coffee table decor.  It pays to pick up things that you fall in love with when you're shopping and thrifting around, even if you don't necessarily know where you'll wind up using them.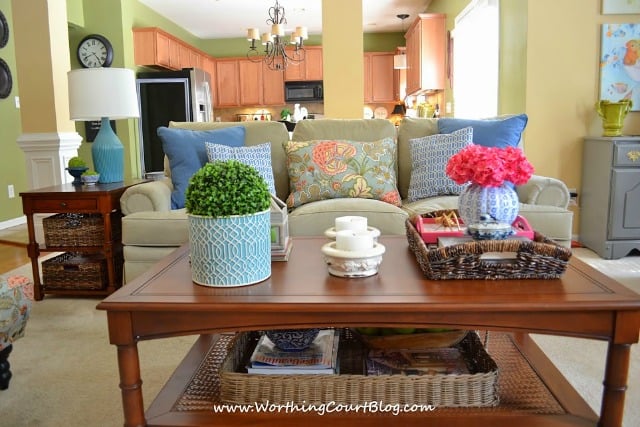 Oh and did you notice the new end table to the left of the couch?  It is so much more serviceable than my old one.  I added baskets from World Market that hold my laptop and various other items.  Since this is where I blog, it keeps everything right at my fingertips, but is so much tidier than before.
The lamp came from a Goodwill on my shopping trip to Atlanta a couple of weeks ago.  It was half of what the Goodwill's where I live price their lamps.
A coat of gloss spray paint, a bit of wrapping paper and a piece of glass transformed an unfinished yardsale tray into a great addition to the table.  The blue and white vase came from a Goodwill in Atlanta too.  The gold grasshopper came from Hobby Lobby.  Metallic gold spray paint transformed it from the original dull brown that it was.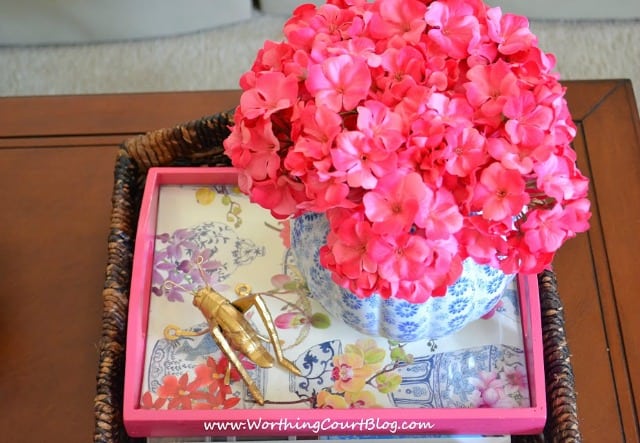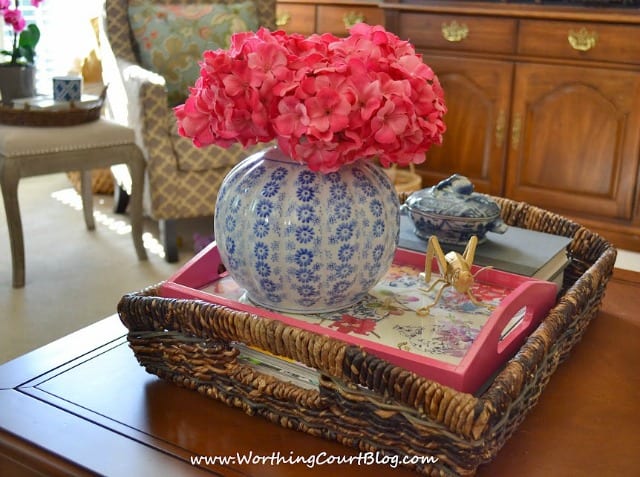 I know you're seeing little peeks of other changes in the background of some of these photos, but I can't show you the whole thing yet!
I searched high and low for a terrarium to use and finally found the perfect one at Garden Ridge.  I was at a loss for what to put in it though until I realized that three of my faux apples would look pretty cute.  The pops of green help to pull in the green from my kitchen since this is all one large room.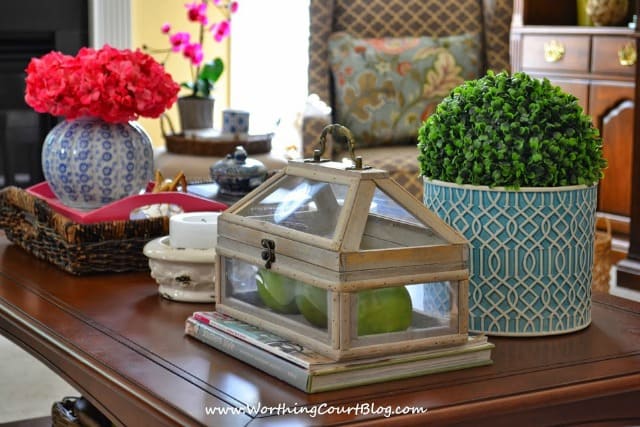 Remember that decorating your spaces are all about layering and texture.  The baskets and raised pattern on the blue planter bring in texture and the layered books and accessories create a finished look.
Check out the before and after of this same space.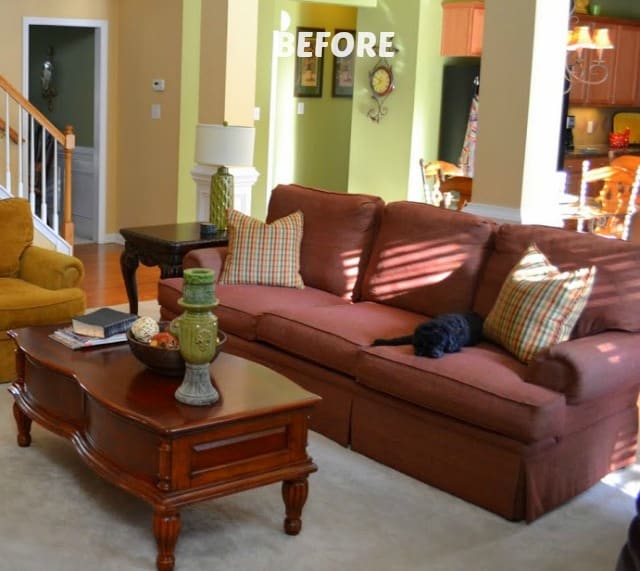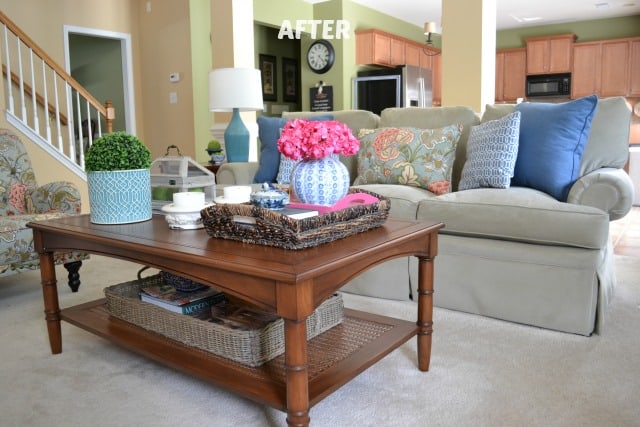 If you missed them, check out the other changes that I've made in this room so far.
New Chairs And A Transformed Table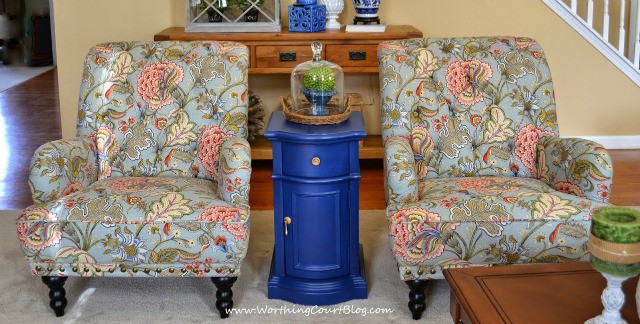 A New Console Table And How To Layer Accessories For A Finished Look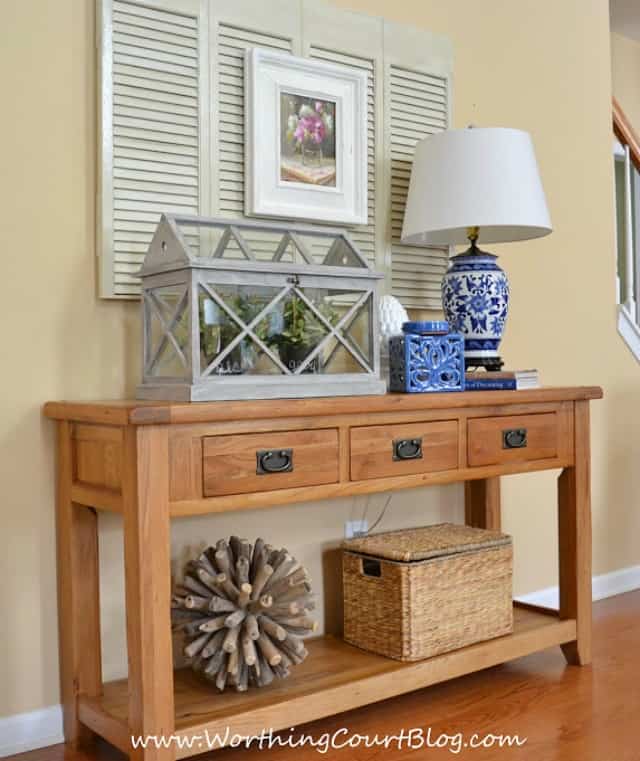 Thank you for stopping by!