I admit it. I have been TERRIBLE about sharing what's been happening at our new house, but I keep getting requests for updates, so I'm going to try to do better!
I'm using much of what we already owned in our new-to-us house – cause that's what I'm all about! But – I banished the dated looking green, gold and red late 90's decor from my old house and am determined to give my style a new lease on life.
I'll start off with the console table that was a late addition to our former house. I bought this table a few months before we knew that we were going to sell and move. I had already started on my plan to de-goldify, de-greenify and de-redify our house. Don't get me wrong – I adore those colors. I had just used them for so long that I was uber tired of them.
In the new house, the console table sits against a wall next to the opening between the kitchen and family room and is perpendicular to the end of our couch. It's impossible to get a full shot from the front without capturing one end of it and the coffee table.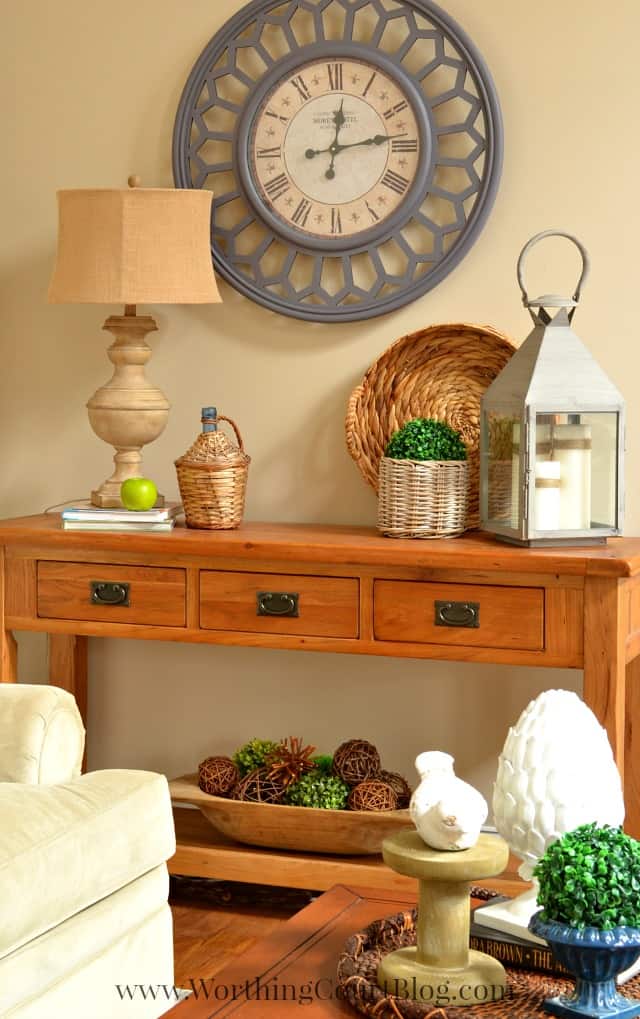 To start with, I had the table styled with the same things that I had used in the old house. But I knew that I wanted to change things up a bit. A Restoration Hardware look lamp from HomeGoods aimed me in the direction that I wanted to go.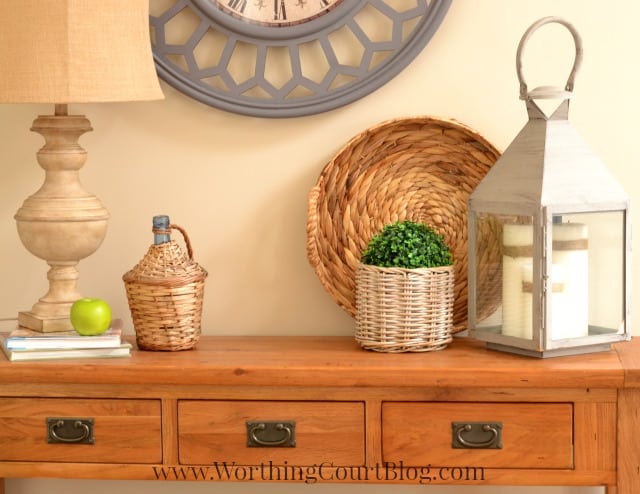 Before, I had the bottom shelf completely filled with stuff. Now there's just a dough bowl (from a local place called Golden Oldies) filled to overflowing with natural and boxwood orbs. Altogether the table is looking much more open and airy – just like I want it for the warmer months of the year.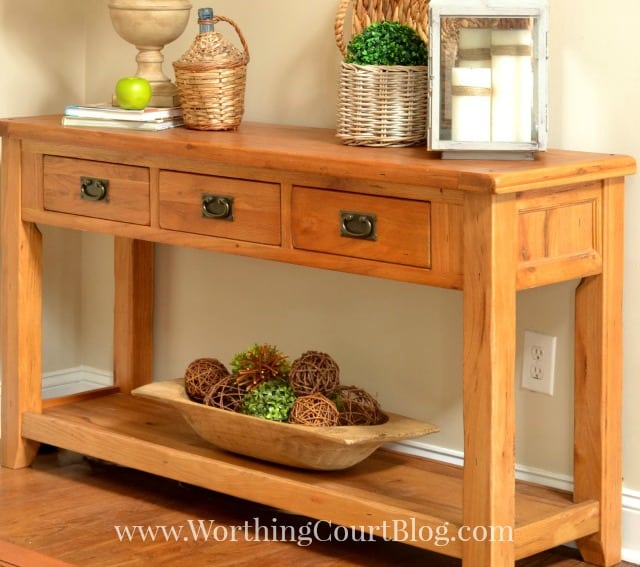 Everything else on the table came from my stash. Right now it's decked out with a look that will carry me through the spring and summer. I'm sure that I'll change it up some for fall and Christmas.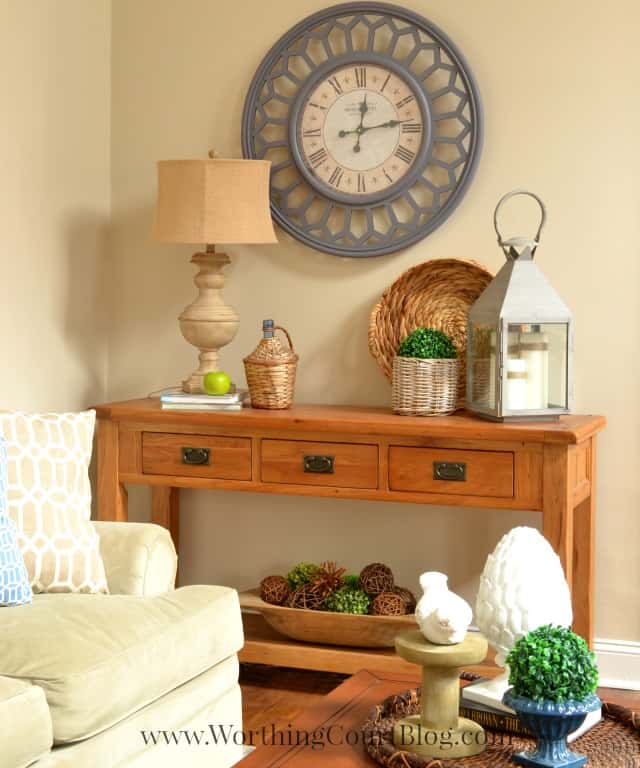 Here's a before shot of what the console table looked like our old home. Not bad – in fact I loved the look of it. It was sooo much better that the table that used to be on that wall. Click HERE to see what I'm talking about.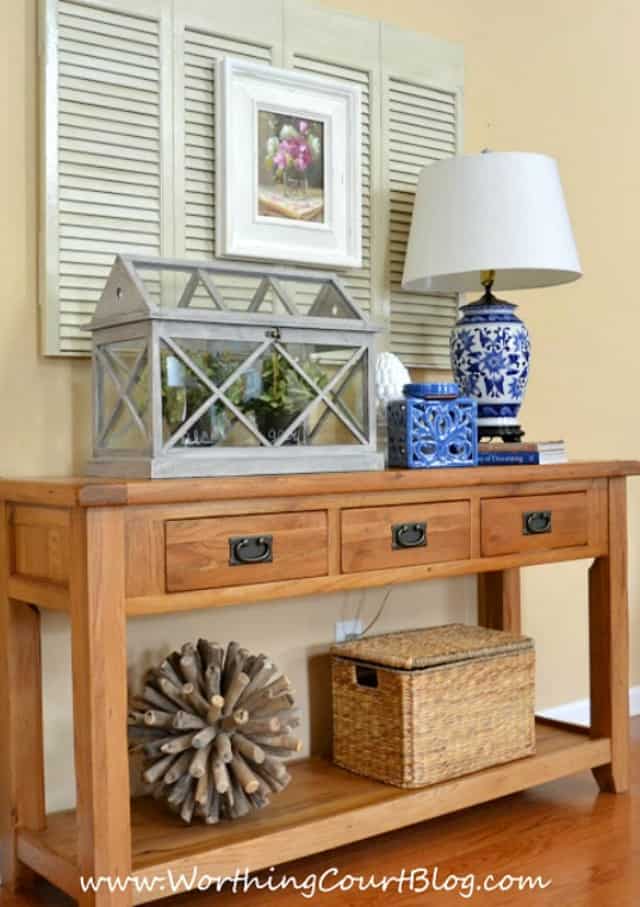 The clock came out of our basement at the old house. Click HERE to see the complete makeover of that space. We took it from a rarely used spot to one that we really enjoyed spending time and watching movies in.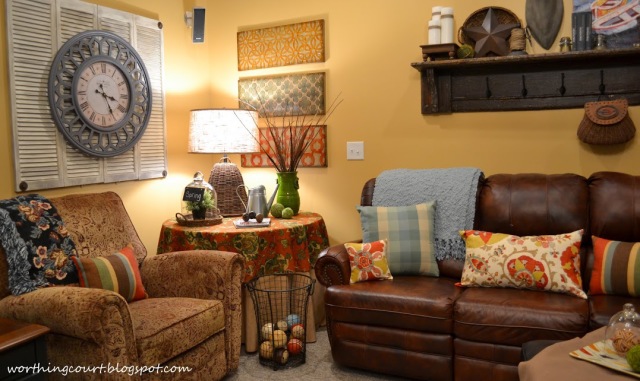 Have you changed out accessories and given any of your furniture a whole new look?
Click HERE to see all of the awesome places where I party.