Decorating the Basement Media Room
If you follow Worthing Court on Facebook, then you may remember my post a couple of weeks ago saying that I was excited to be starting to work in our basement.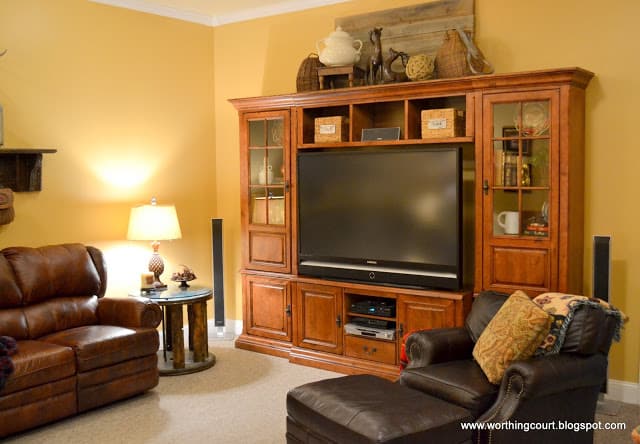 The basement was unfinished when we purchased the house.  We've lived here for six years and beyond a few pieces of furniture, the ginormous tv and a pool table, it has pretty much been a dumping ground ever since Pookie worked so hard to finish it.
I am finally making it a priority to get this space more attractive and functional and  am having lots of fun in the process!  Shame on me for waiting so long.
I'm tackling one room at the time.  The media room is first on the hit list.  Below are before pictures taken from two different angles.  I didn't remember to take any photos til after we had already moved the tv and its oh-so-ugly, cheapo stand away from the wall.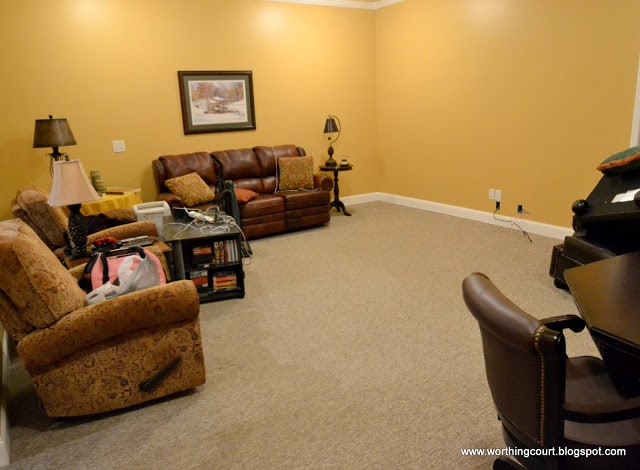 That big black square thing on the table is the tv.
All that furniture was shoved aside to make room for this!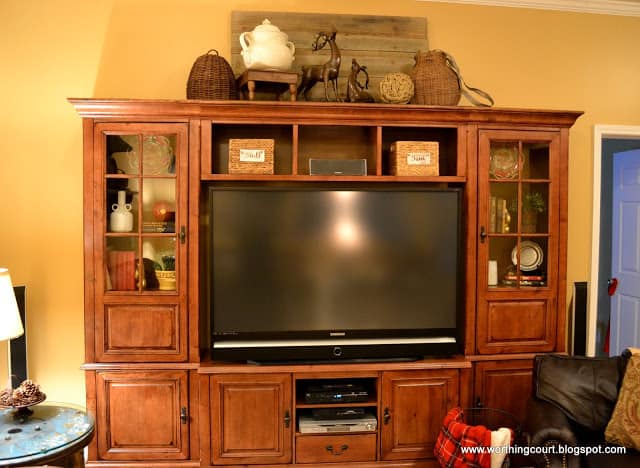 I can't tell you what a happy day it was, when the new entertainment center was delivered!
I knew that when I ever got around to getting my act together in the basement, I wanted to go with a rustic style with some industrial thrown in.  I've been collecting tidbits here and there for the last couple of years, so it was tons of fun when I could finally drag all that stuff out and play.  😉
I made my own "barnwood" to act as a backdrop to the vignette on the top.  I'll tell you all about how I did it in another post.  It was super easy.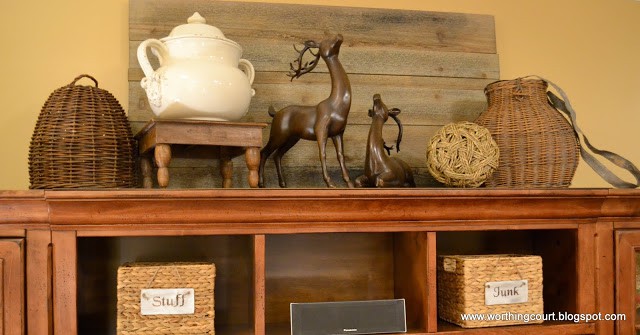 I found a couple of simple baskets at Hobby Lobby to fill the upper spaces on either side of the center speaker and dressed them up a little by attaching some easy-peasy wooden tags that I made.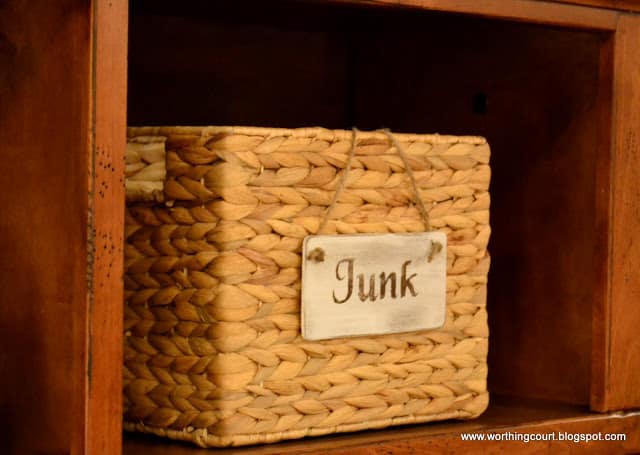 The tags are made with using wooden plaques that I picked up at Hobby Lobby for next to nothing.
  To give them a worn look, I first stained the wood using leftover stain, then painted them with some leftover ASCP in Pure White, sanded them here and there for a slightly distressed look, stenciled the words that I wanted to use with brown acrylic paint and topped them off with a tiny bit of dark wax.  To attach them to the basket, I drilled a hole in each corner and ran a bit of twine through and then knotted it on each end.
I'm really pleased with how the whole thing came together and am actually enjoying spending time in the basement for something other than dumping more junk!