Farmhouse Dining Room Makeover Reveal – Before And After
How to turn a dark and dated dining room into a bright and inviting space ready for entertaining!
Now that I've put the finishing touches on the dining room, I'm finally ready for the big reveal of the finished product!  It's a great feeling to be able to show you a completed room after chipping away at the space for months.
I'm going to be a bit of a rebel again.  Just like when I shared the before and after reveal of my family room, I'm going against the "blogging rules" and showing you the not-so-great before's first, instead of a beauty shot.  This is the dining room as it looked on the day that we first looked at the house.  The owner had the room decorated in a very traditional style, with dark trim and heavy dark furniture.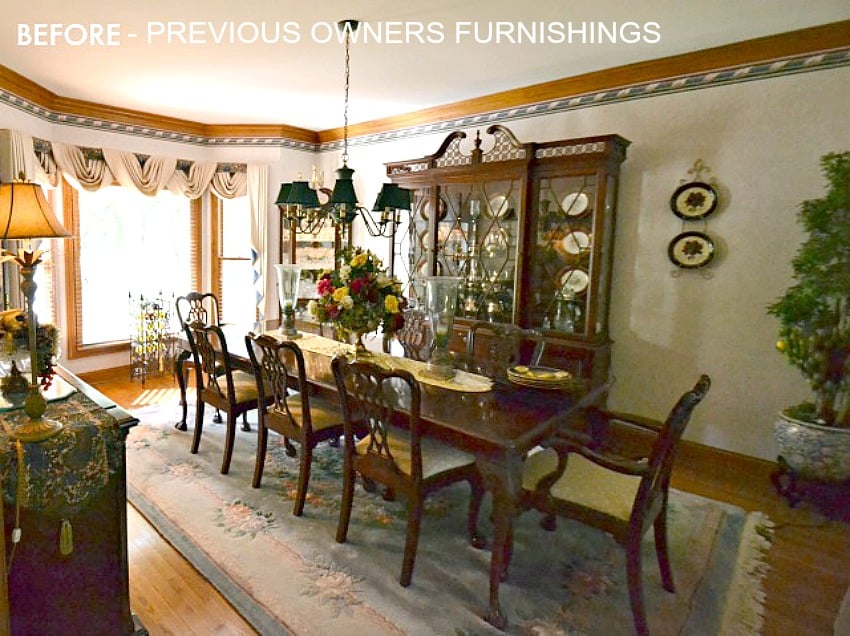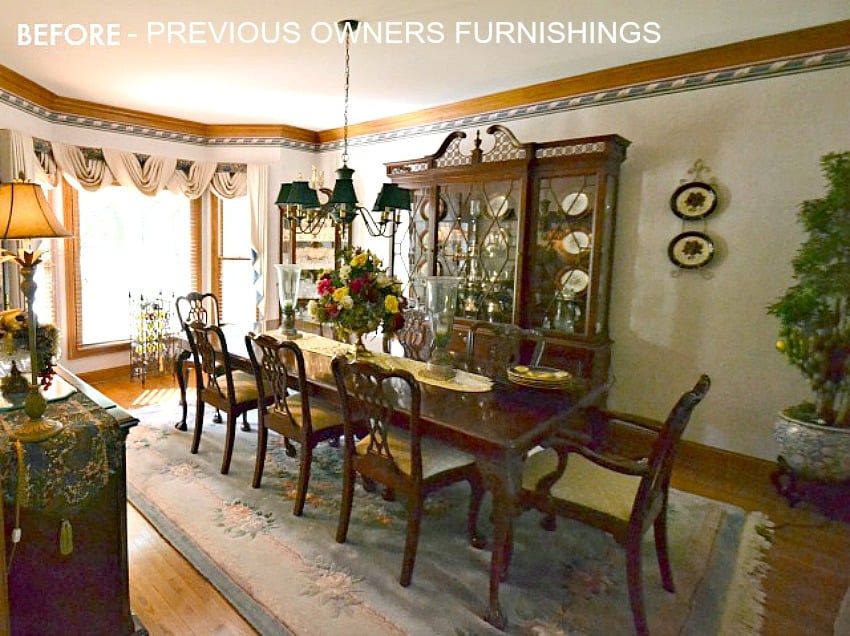 This shot is taken looking back toward the doorways to the kitchen and office.  Good grief, it's hard for me to even remember the room looking like this.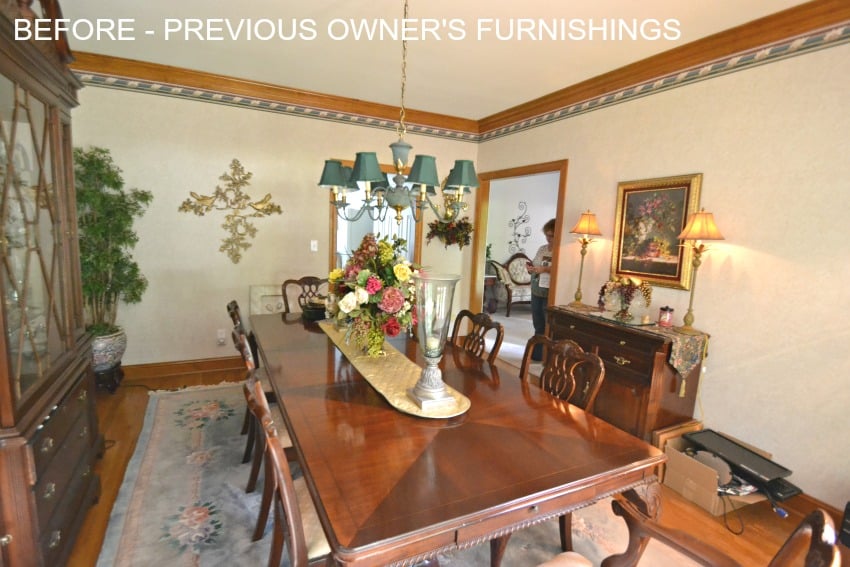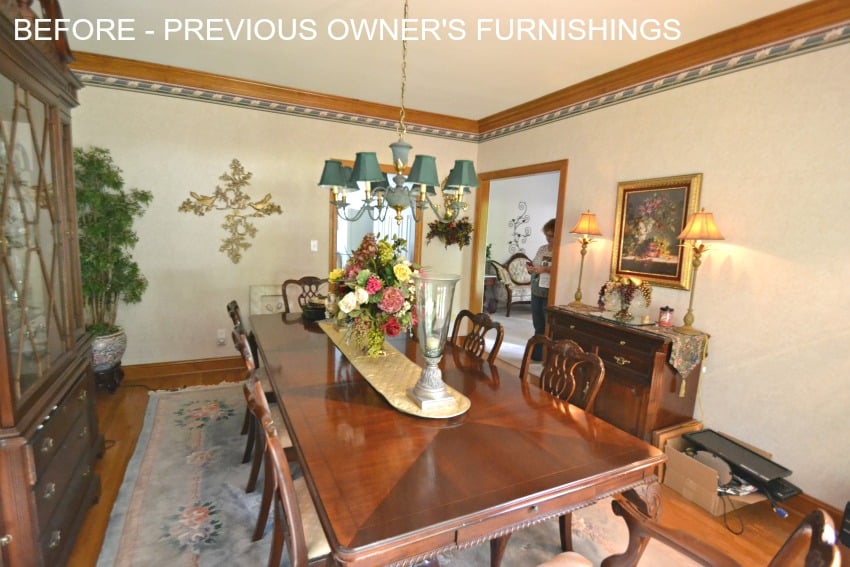 And this is how the room looked before we started the makeover.  At this point we had removed the wallpaper, repainted the trim and walls, replaced the chandelier and refinished the hardwood floors.  This is how the room looked for about 18 months, while we finished up remodeling the kitchen, breakfast area, laundry room, screen porch and family room.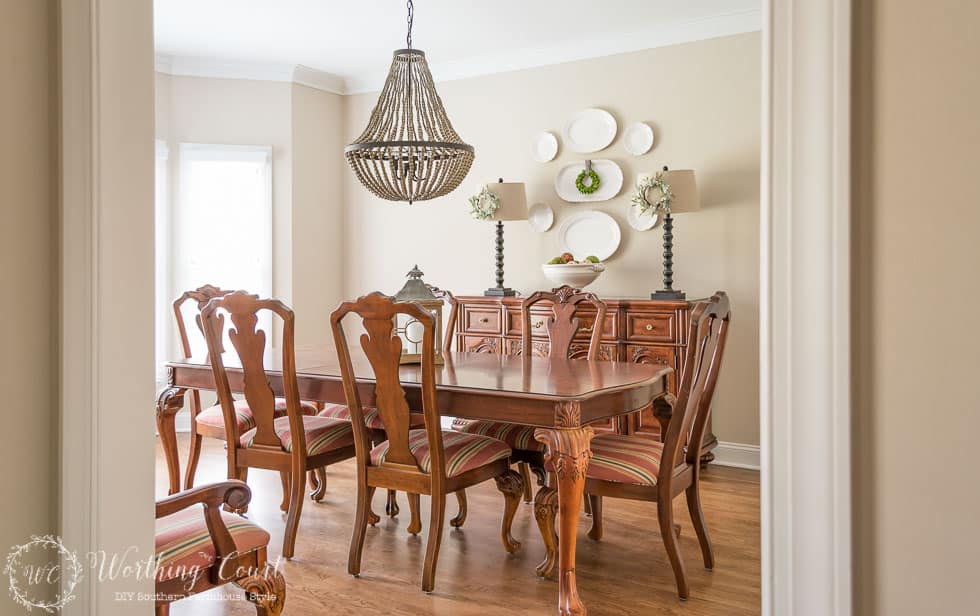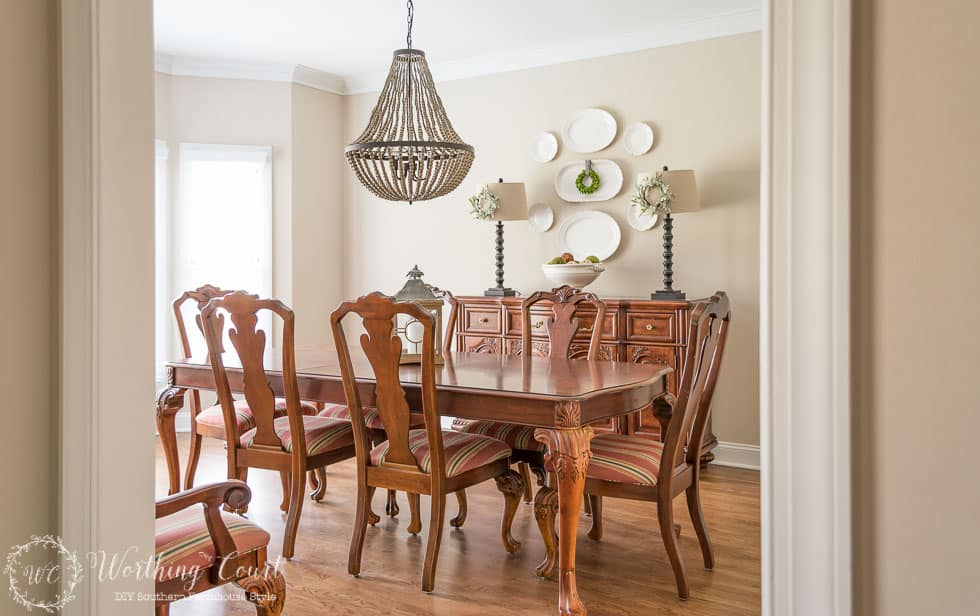 And, here's how the room looks today.  So much brighter!  We completely remodeled this house when we bought it, but this is one of the rooms that, thankfully, only needed cosmetic changes.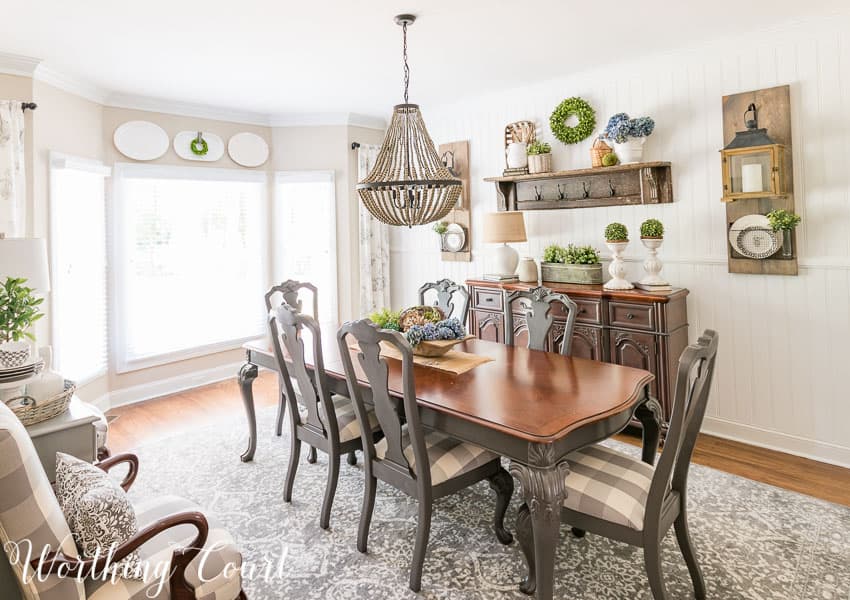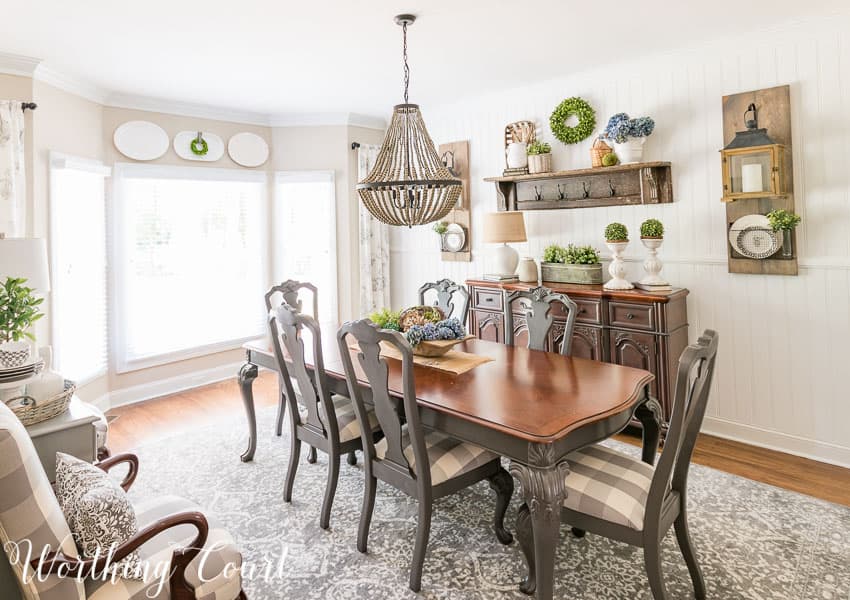 The super fast and easy planked wall was one of the very first makeover projects that we tackled and boy, what a difference it makes in the room.  I'm calling it vertical shiplap and it says instant farmhouse to me! Click HERE to read all about how we created this planked wall in one afternoon.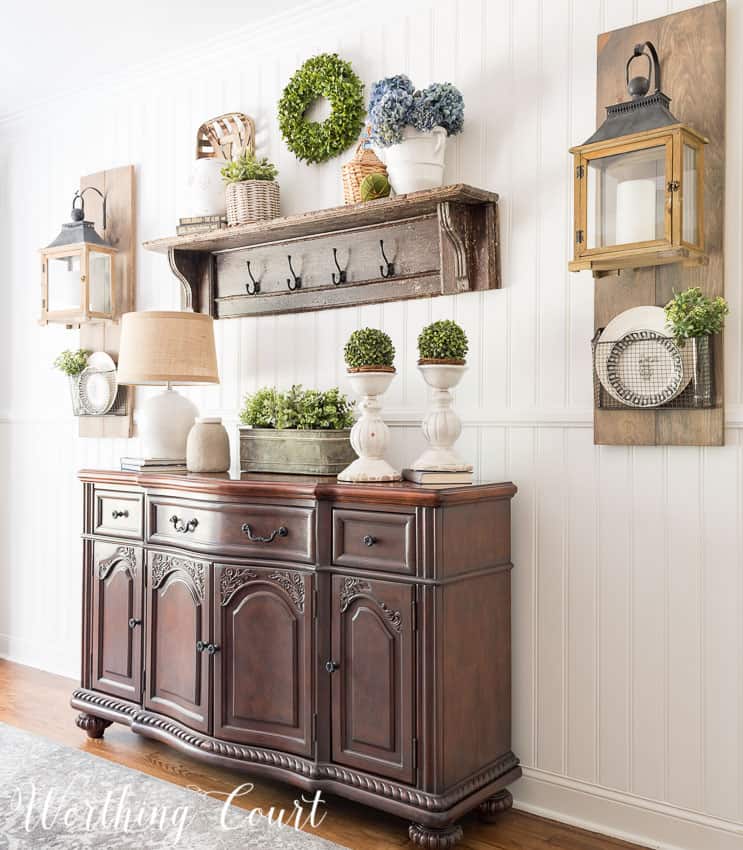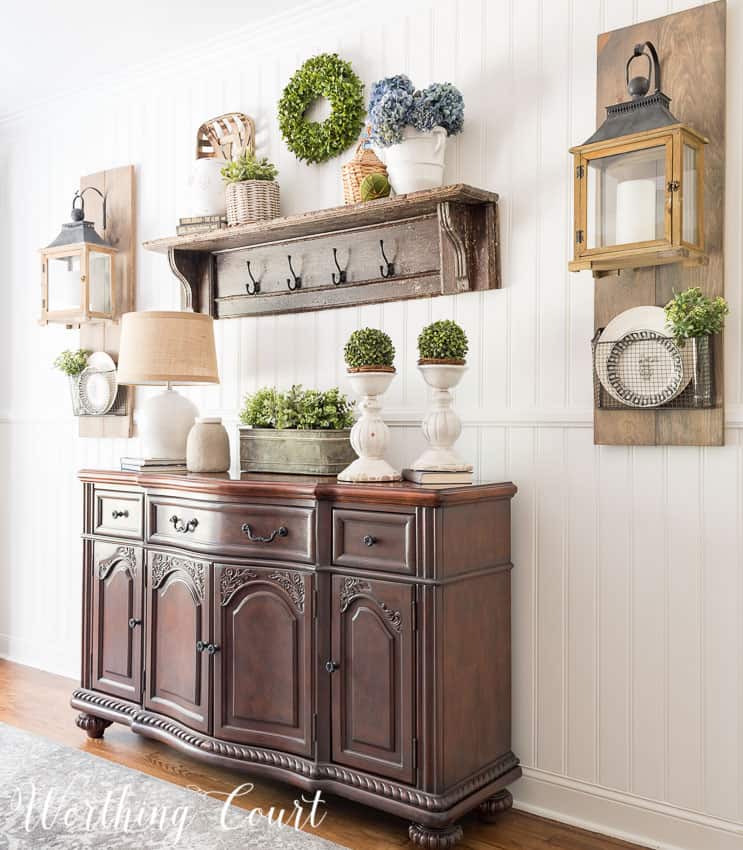 Maybe you remember my post about the diy Fixer Upper style hanging lanterns that I made for either side of the sideboard.  Well, I knew that I would have fun changing up what is displayed in those baskets beneath the lanterns.  I replaced what I originally had in the baskets with a couple of plates and just one vase with greenery.  In case you missed it, click HERE to read the step by step tutorial.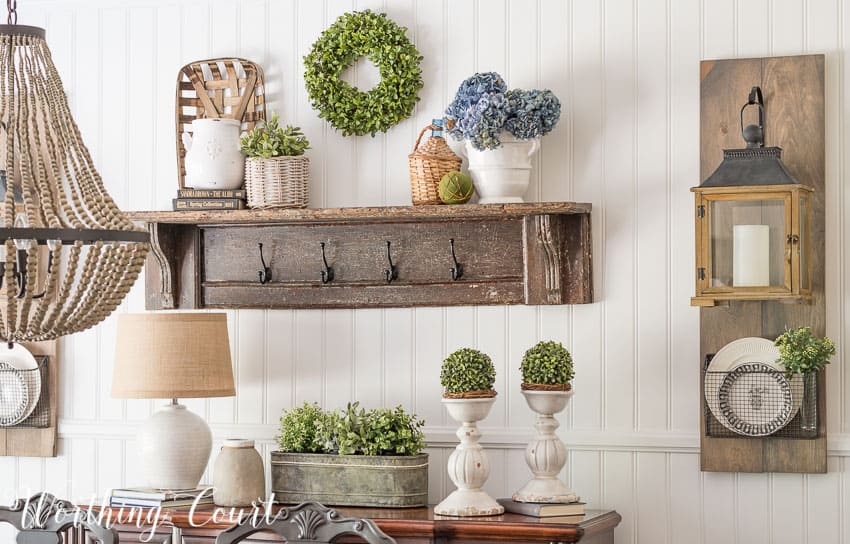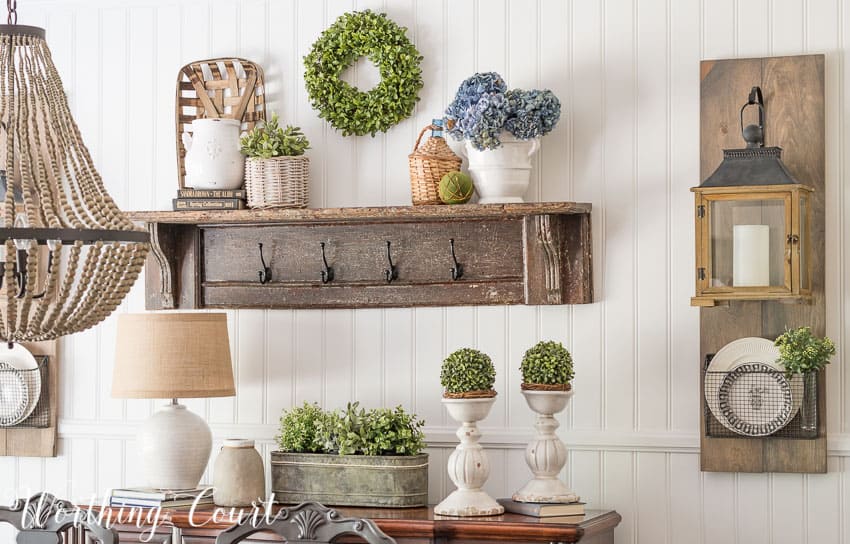 I'm still in love with the large wall of botanical art that I added to the wall beside the door going into the kitchen.  I think that it adds a lot of life to the room and fits in well with any greenery that I have in here.  You can read all about how I created all of the art for only $75 by clicking HERE.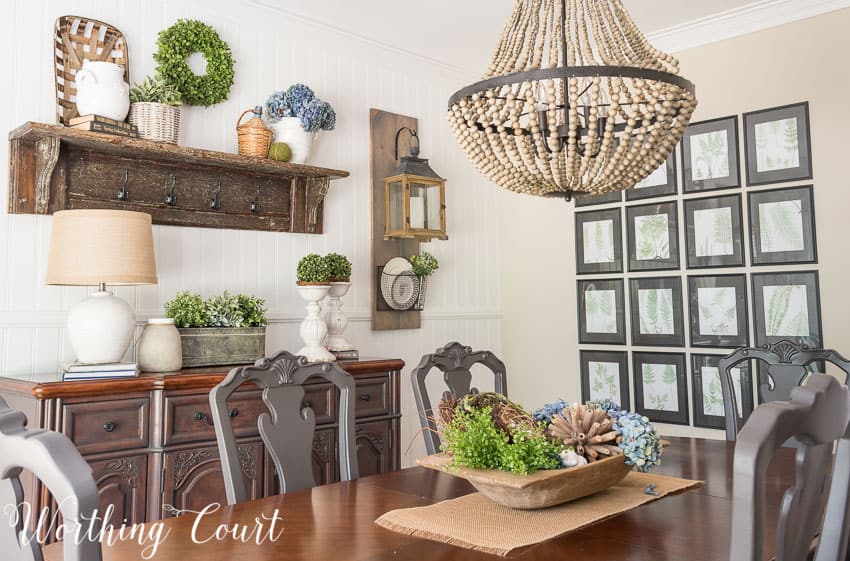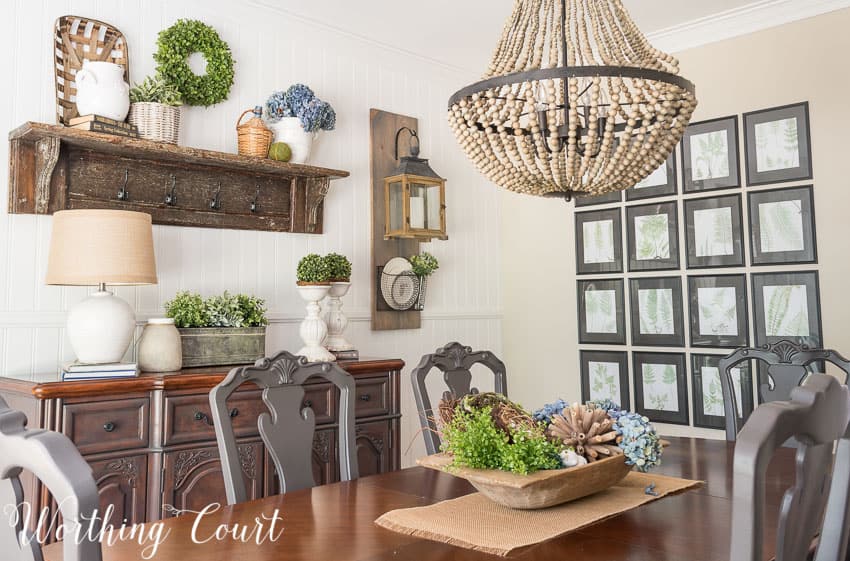 I decided to simplify the centerpiece on the table and replaced the large lantern and topiaries that were on it with my doughbowl filled with all sorts of summery goodies.  We'll take a closer look at that on another day.
One of the more dramatic changes to the room took place on the wall opposite the sideboard.  I had agonized so much about what to do with the little cherry chest that used to live under this mirror, but it finally occurred to me that my already-gray chest, that was in the foyer, would be perfect in here.  And then – it was pretty much a no brainer when Pookie asked me what I wanted for my birthday…to recover our old office chairs!  I used two euro shams from Ikea to make the lumbar pillows for each chair.  I love their pattern mixed with the buffalo check.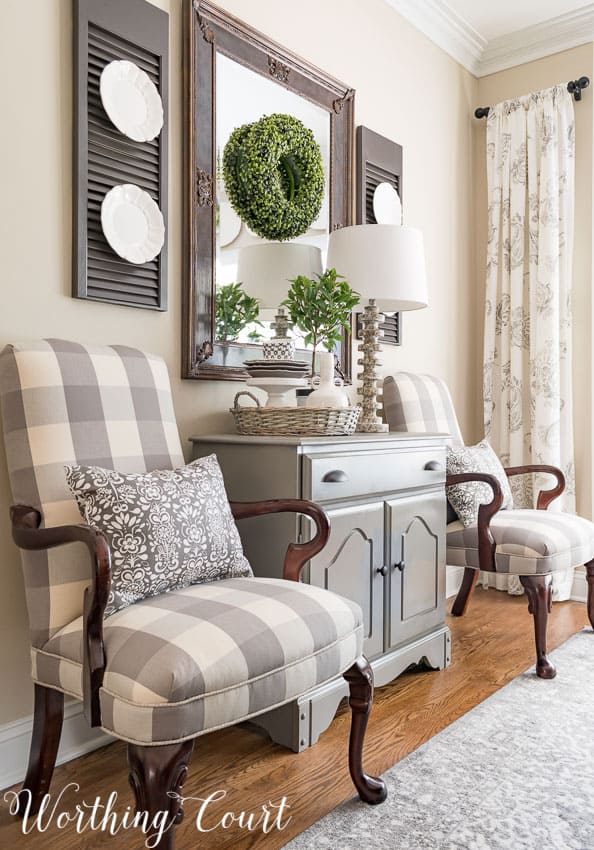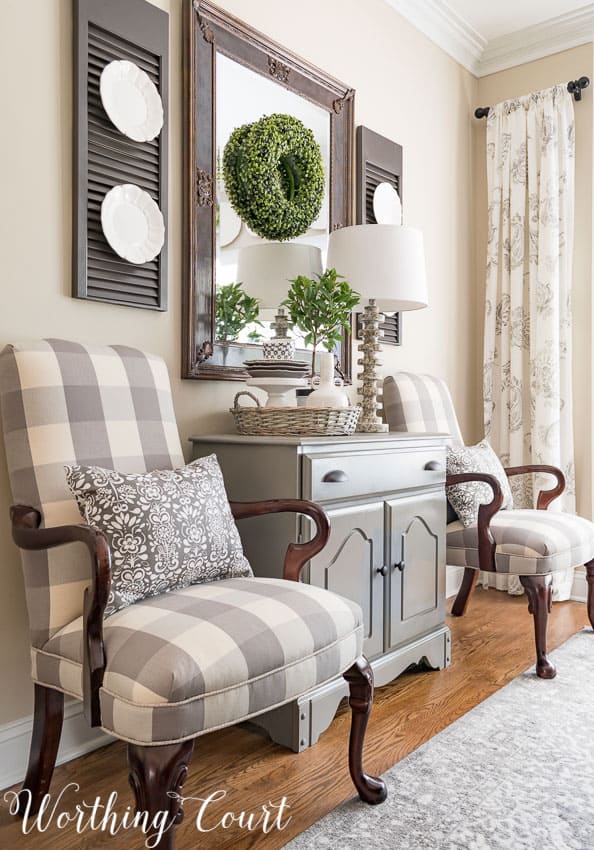 Because of the additional bit of light that it adds to this sometimes dark room, I decided to keep the mirror above the chest instead of replacing it with a chalkboard.  The newly painted mirror blends wonderfully with the rest of the room now.  Plus, I really like the way that it reflects the sideboard vignette on the other side of the room.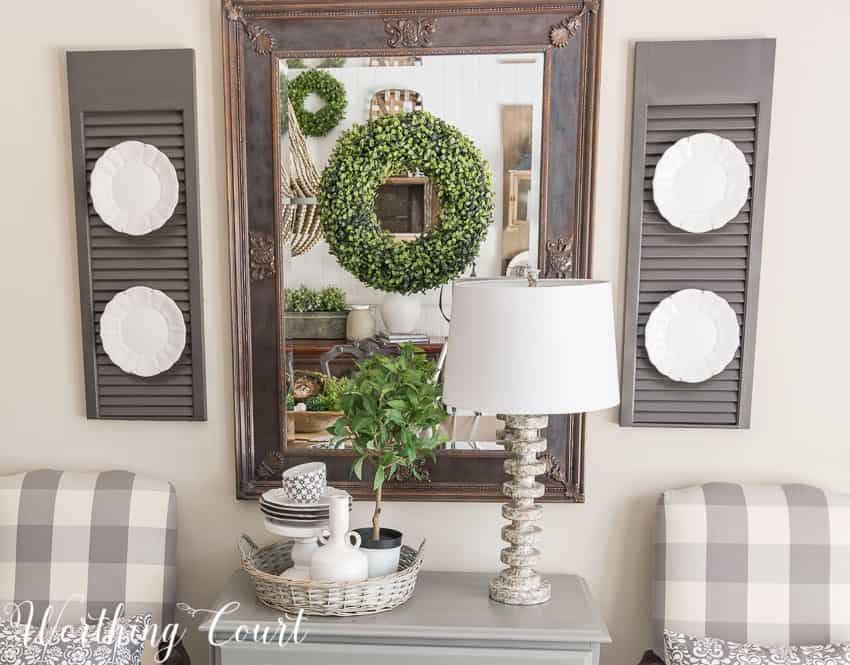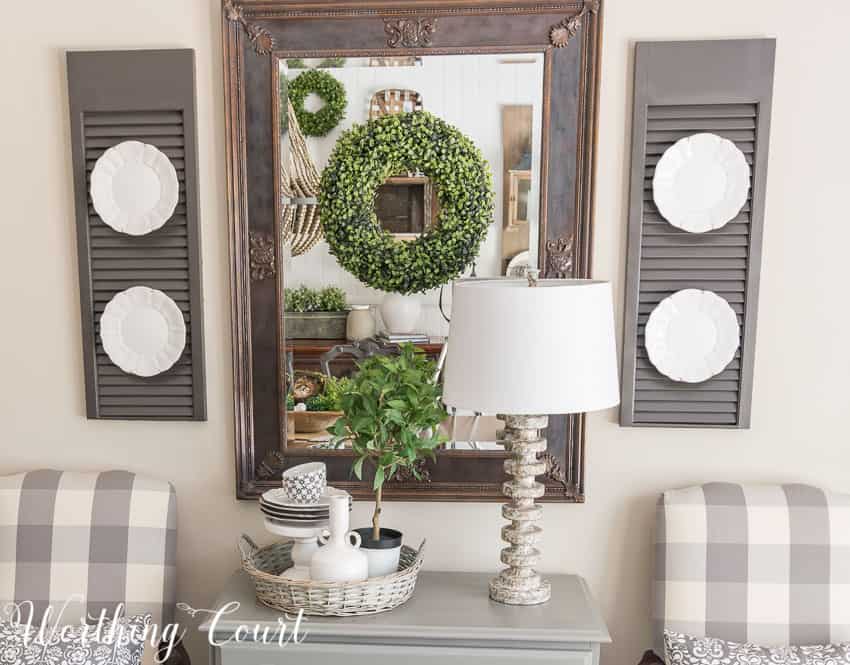 And btw – I get asked about these shutters a lot.  They actually aren't shutters at all, but are two parts of an old pair of bi-fold doors that I cut down.  They're spray painted with Rustoleum's Anodized Bronze and I attached two D ring hangers to back of each one to hang them on the wall.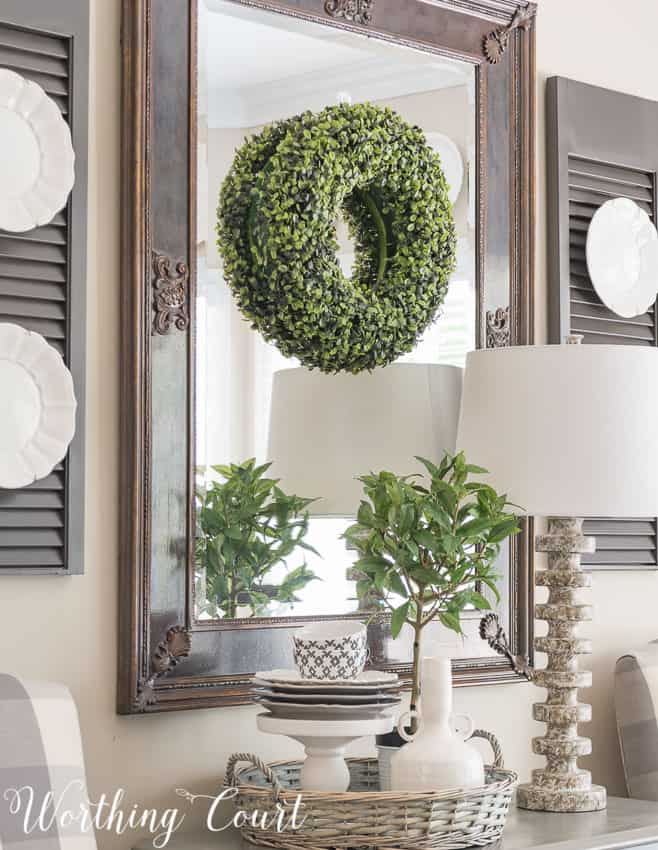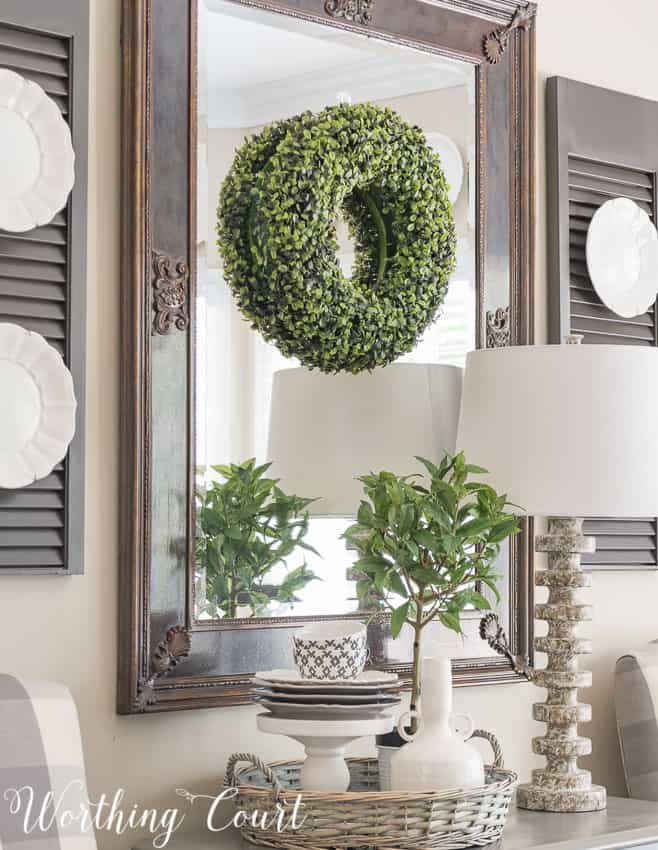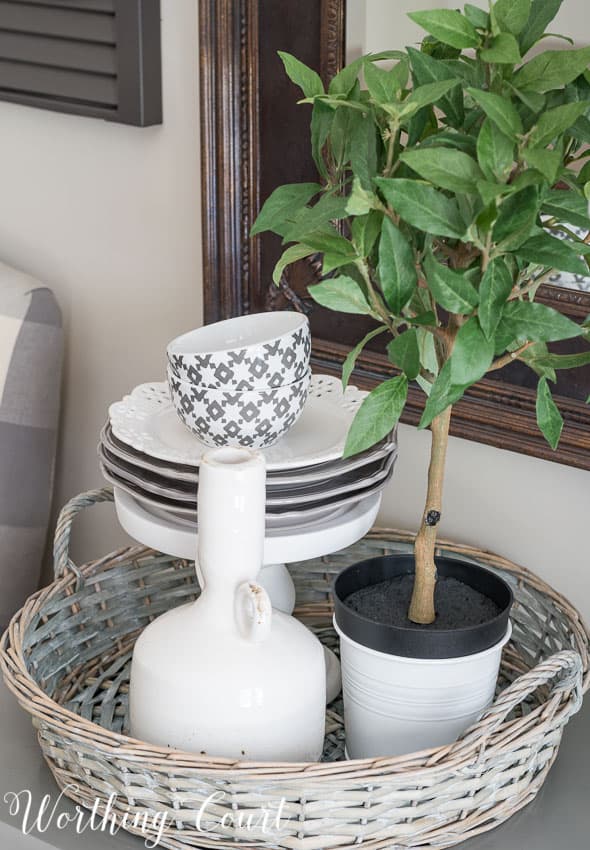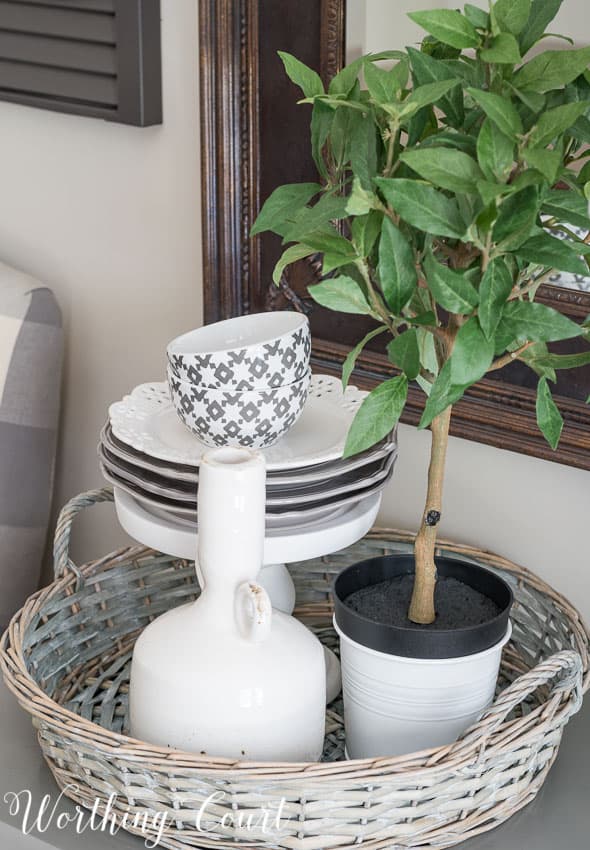 I was very afraid of doing two things when it came to the makeover of this room.  One was whether or not I would be totally wasting my money and regret adding a rug to this room.  I don't believe I would love the final result nearly as much if I had opted not to take a chance! The rug is great quality and was a super deal for such a large one – under $300 for a 9′ x 12′.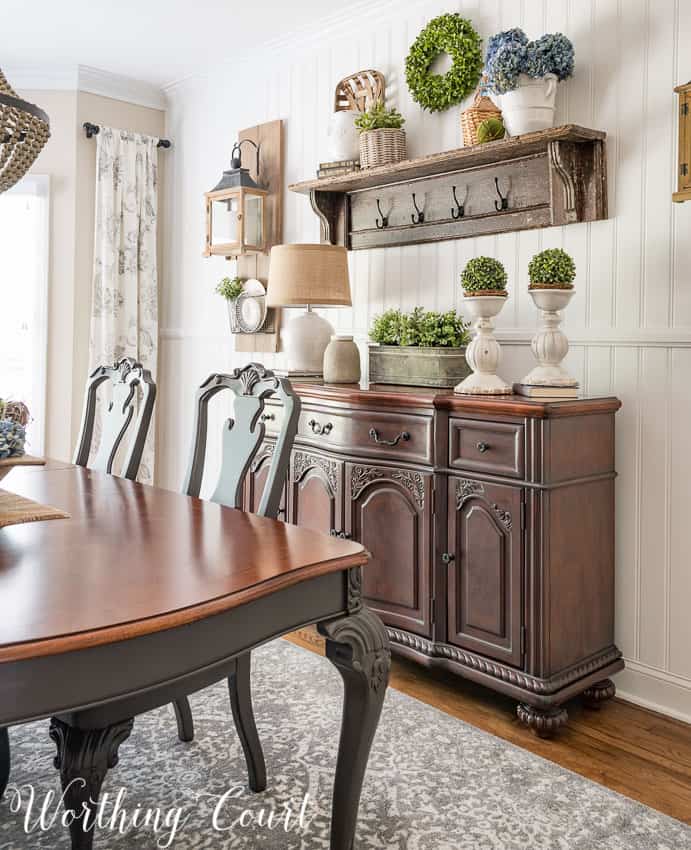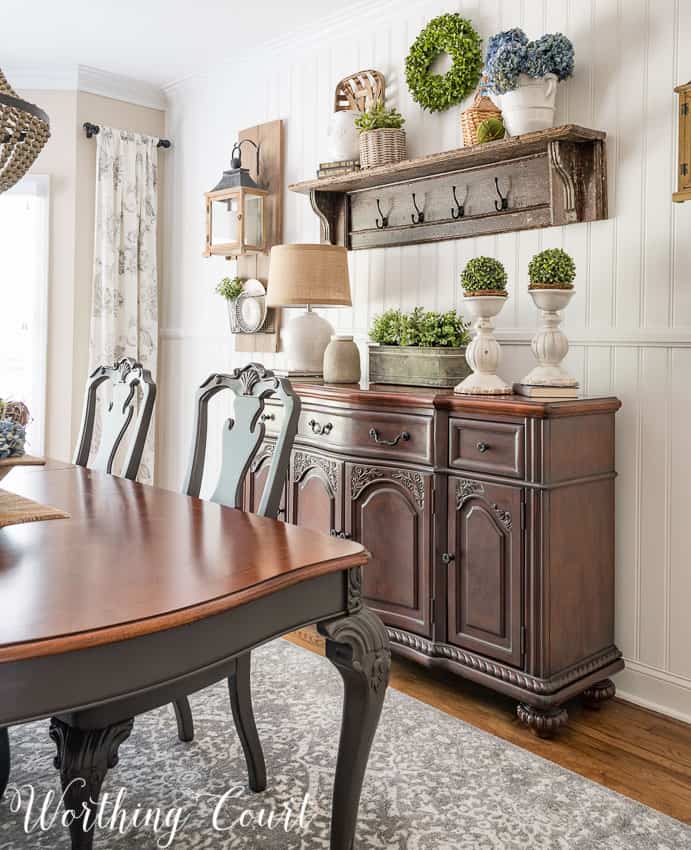 The rug has the slightly faded, worn vintage look that is so popular right now.  It's available in multiple sizes and can be found HERE.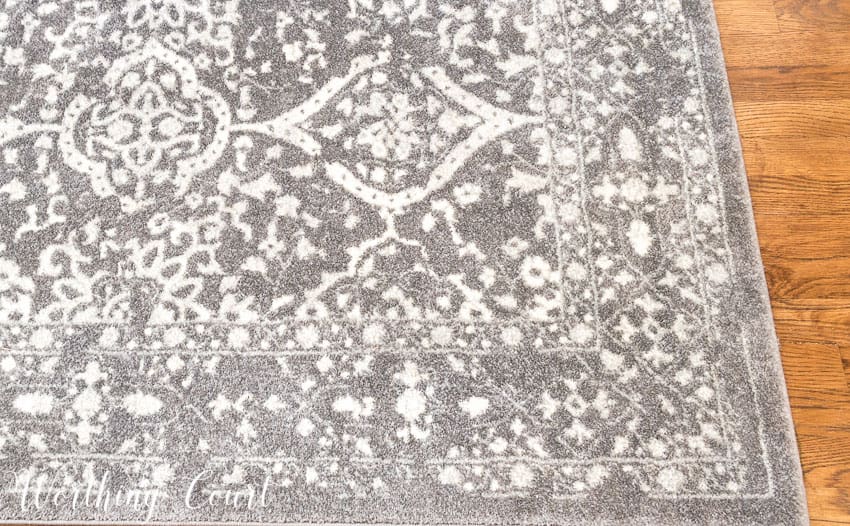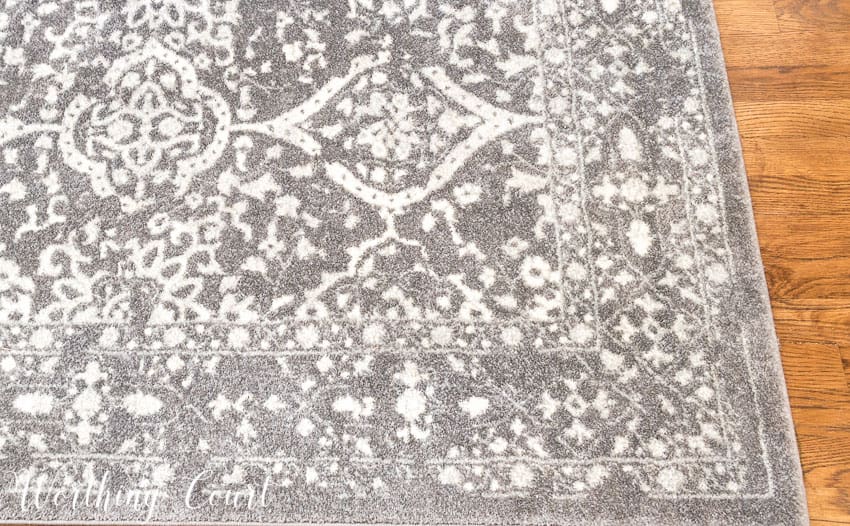 My second fear, and the biggest one of all, was whether or not to paint my table, chairs and sideboard.  I mean, once it's painted, it's painted – right?  My furniture wasn't all that expensive when I purchased it back around 2004, but neither was it the least expensive I could have bought.  I was so afraid of ruining it, but with encouragement from friends and family, I finally realized that it was the right thing to do for this makeover.  I'm sooo happy that I took the plunge!  Click HERE to take a closer look at all of the pieces that I painted and the various techniques that I used.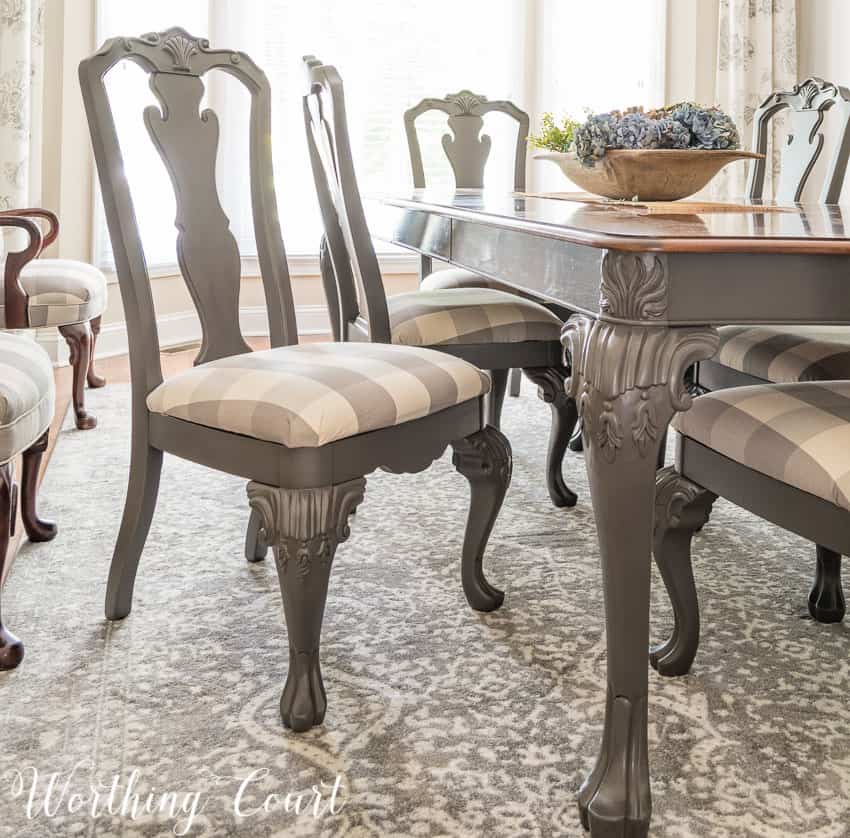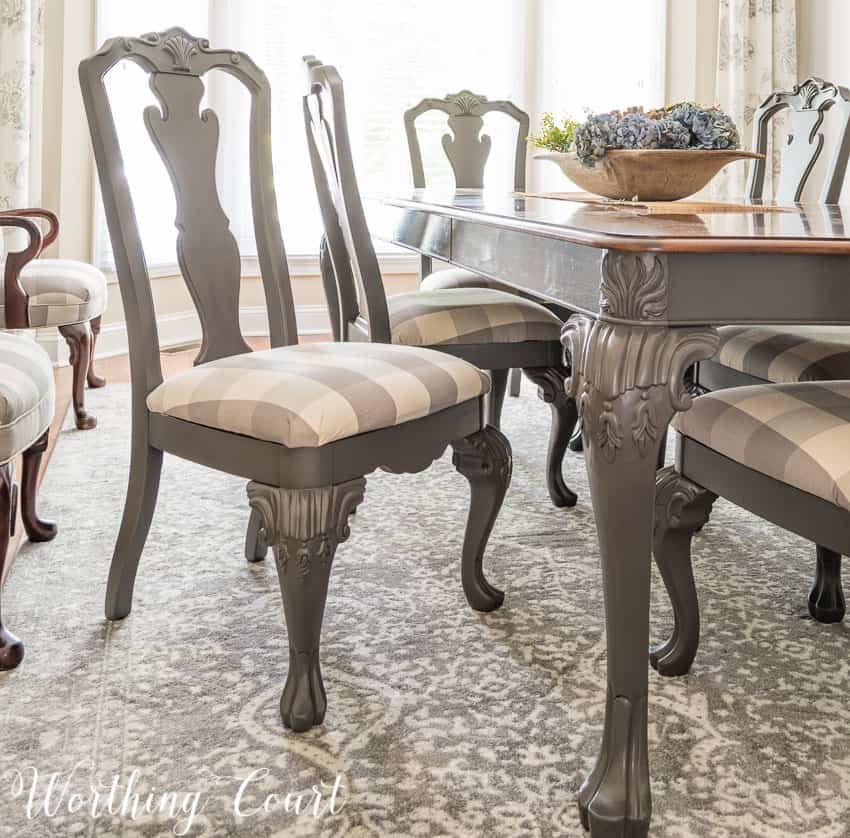 So for those of you who are contemplating any sort of a makeover, my advice is this – TAKE YOUR TIME.  If you're unsure of anything, just complete one step at a time and you're bound to be pleased with the end result.