More Dining Room Makeover Progress – A New Rug
I am sharing all the details and progress of my dining room makeover!
It's been a while since I posted anything about my dining room makeover.  The first part of the makeover came together quickly, but once I reached a certain point things kind of ground to a halt.  I needed time to think and mull things over.  When I started this makeover, I envisioned a dining room in a real farmhouse – the room where the "good" furniture went.  A room that felt like a special gathering place for family and friends.  A room that holds traditional "fancy" furniture, but still reflects the farmhouse feel.  Do you know what I mean?
Dining Room Makeover
When I shared the makeover plans with you, I mentioned that I was on the fence about whether or not to add an area rug to this room.  I was afraid that getting the proper size rug (so that the chairs don't fall off the rug when pulled out) would fill the room up too much.  All of my hesitation flew out the window when I came across a super deal on the perfect vintage, faded looking rug on Rugs USA.  I immediately ordered that puppy and oh, I am so in love!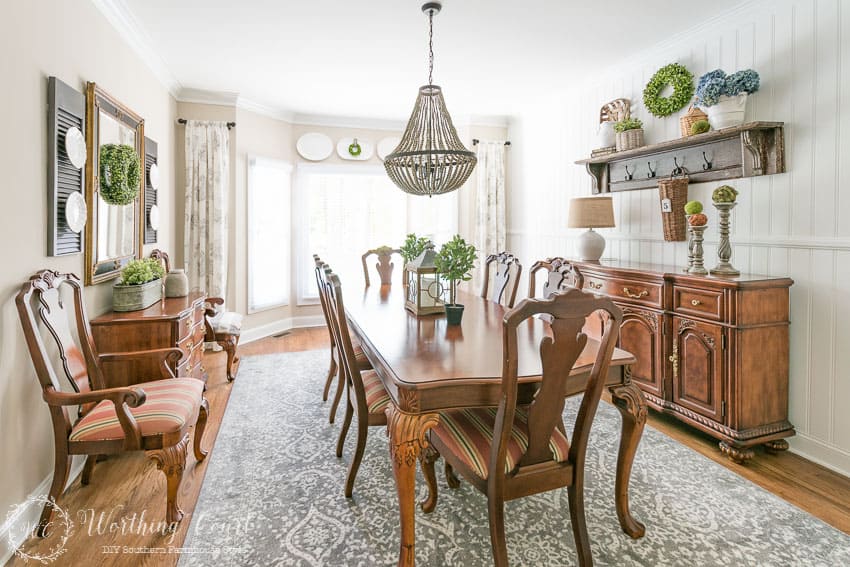 Now, I know that the red striped fabric on the chair seats is totally off, but I've been on the hunt for the perfect fabric to recover them with and finally found it last week.  You can get a little glimpse of it on the chair on the left side, closest to the draperies.  It's a wonderful gray and creamy white buffalo check.
Back to the rug.  Friends, if you are on the hunt for a large room size rug, then Rugs USA is definitely a place that you want to shop.  They aren't paying me to say this – I just think that their selection and prices are great!  My new beautiful rug is a large one – 9′ x 12′ and was under $300.  Click HERE for a link to the rug.
The area rug is the perfect shade of medium gray, is soft and plush underfoot and appears to be well made.  Even though it has quite a bit of pattern, the faded appearance of it keeps the pattern from being in your face.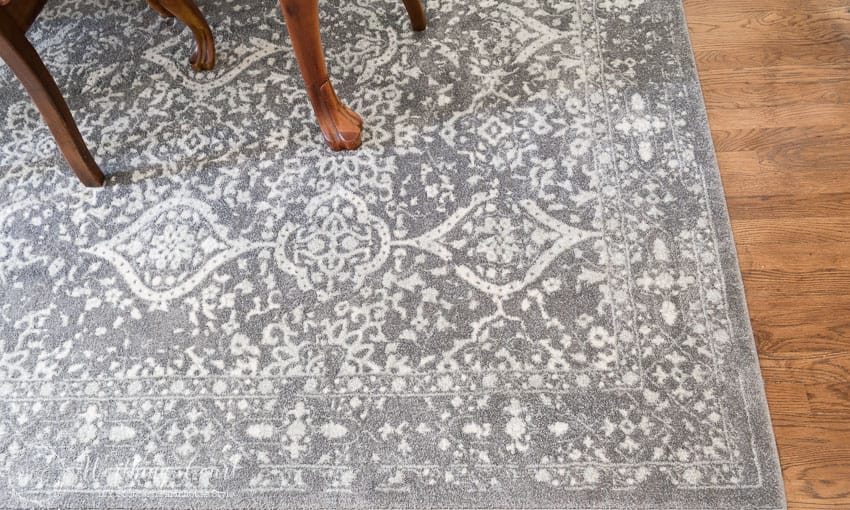 In this picture, you can see that I made a decision about whether to put a plate rack or a gallery of botanical art on the wall to the right of the buffet.  I'll have to save that for another day though.  I cannot for the life of me figure out how to get a picture of the prints without so much light reflecting in the glass.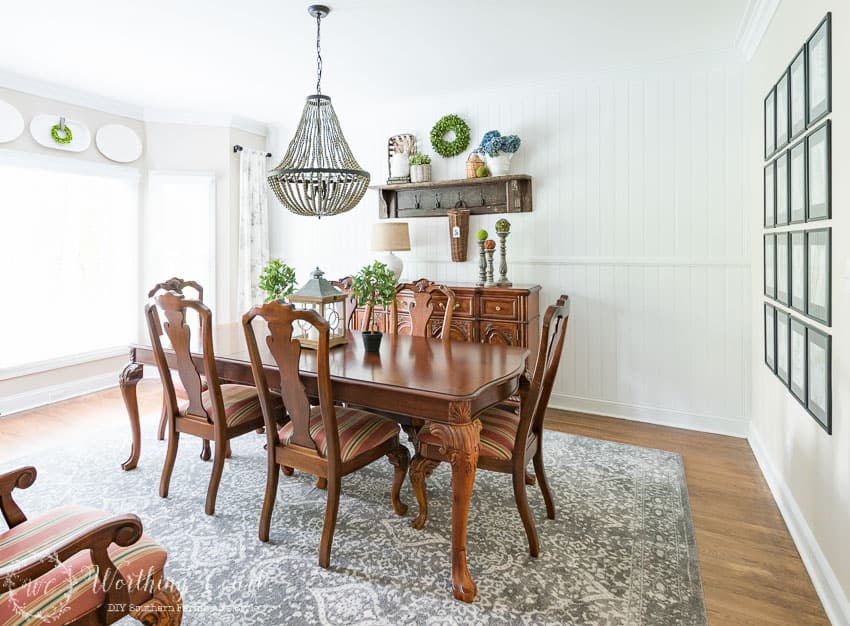 As a reminder, here is what the dining room looked like before I started the makeover.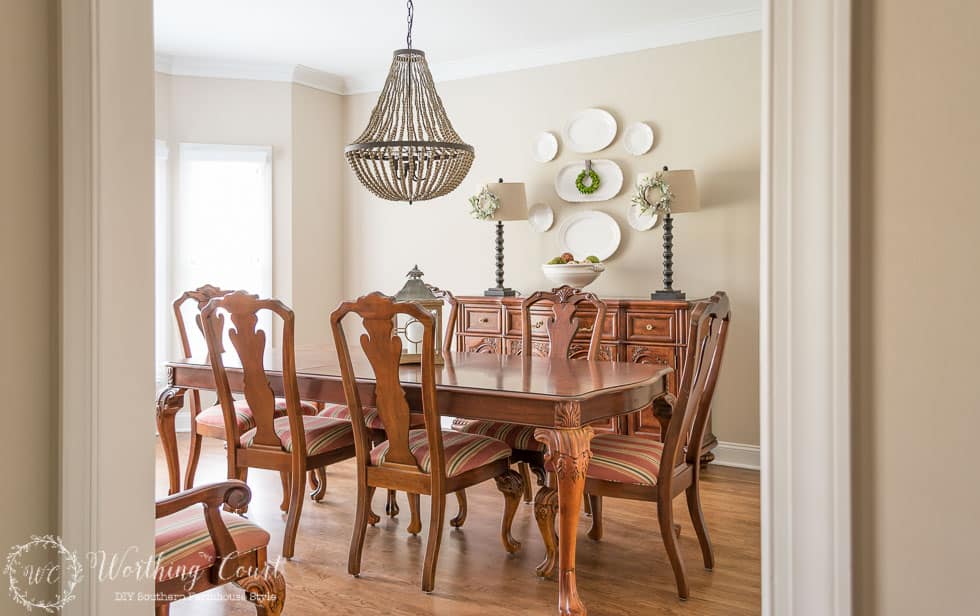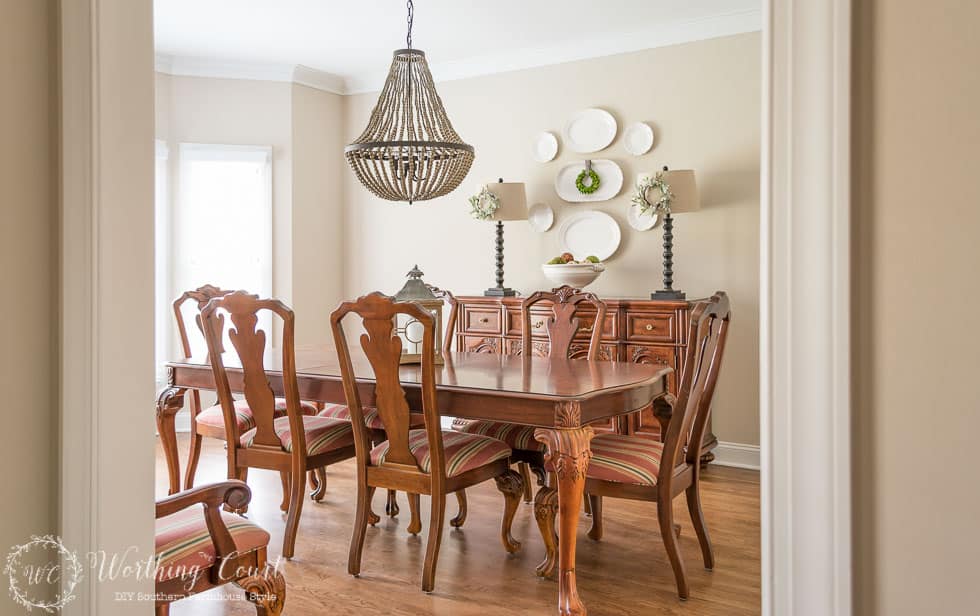 I still have to figure out what to do with the little cherry chest.  I'm pretty sure that I'll be painting it, but what color?  And do I keep the mirror or replace it with a chalkboard?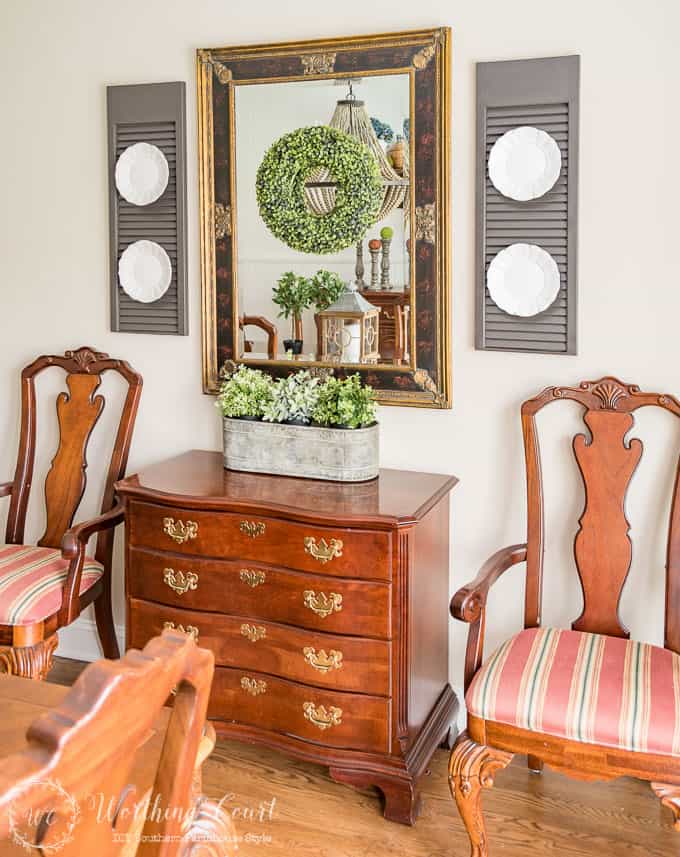 Click on the links below to catch up on the progress:
The Easiest DIY Planked Wall In The History Of Ever
Progress is slow, but I have high hopes that I'll love it all in the end!  How about you – do you take your time when it comes to decorating a room or giving it a makeover?