Remodeling and updating a house pretty much from top to bottom and trying to keep up with seasonal decorating is no laughing matter. And having a front and back yard where you have purposely killed every. single. blade. of. grass. isn't funny either. #uglyyard Yup – our neglected, twenty year old lawn, developed a fungus that wiped most of it out, so we're starting from scratch and totally reseeding the yard this fall. So that is why, when I show you my fall front porch and new door, you won't see any photos of the whole front of the house. Photos of brown and dead grass does not a good blog post make.
Nobody wants to think about the word fungus – yuck and ew. So in spite of my ugly yard, I'm pretty tickled to share my fall'ified front porch and our new front door!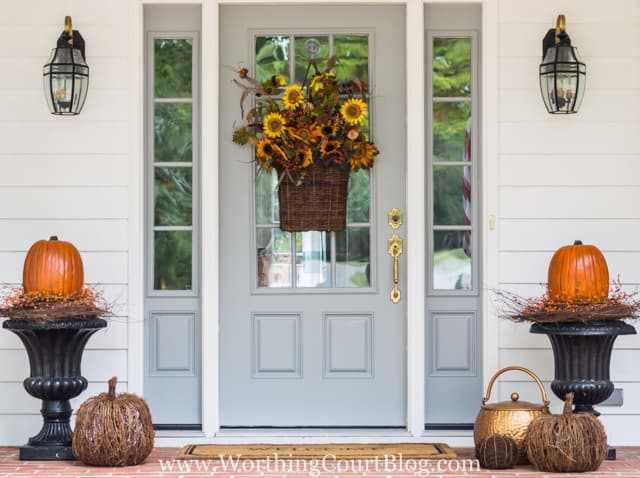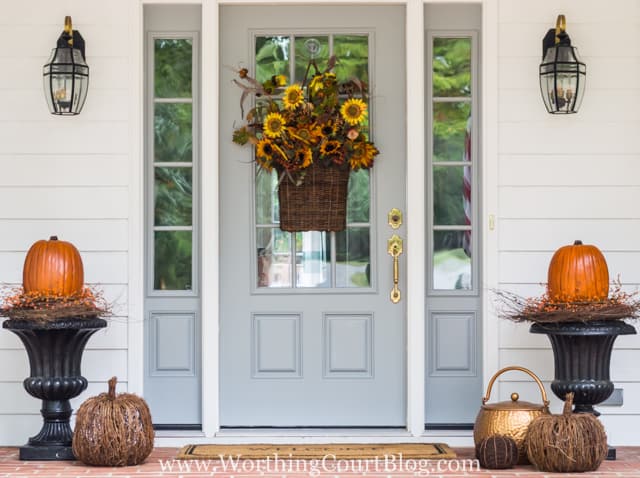 Let's talk about the decorations first and then I can show you the before and after door.
Because of the above mentioned time consuming remodel, I wanted to keep the fall decor on my front porch simple, fast and easy. I started off with a wicker hanging door basket and filled it with floral bushes.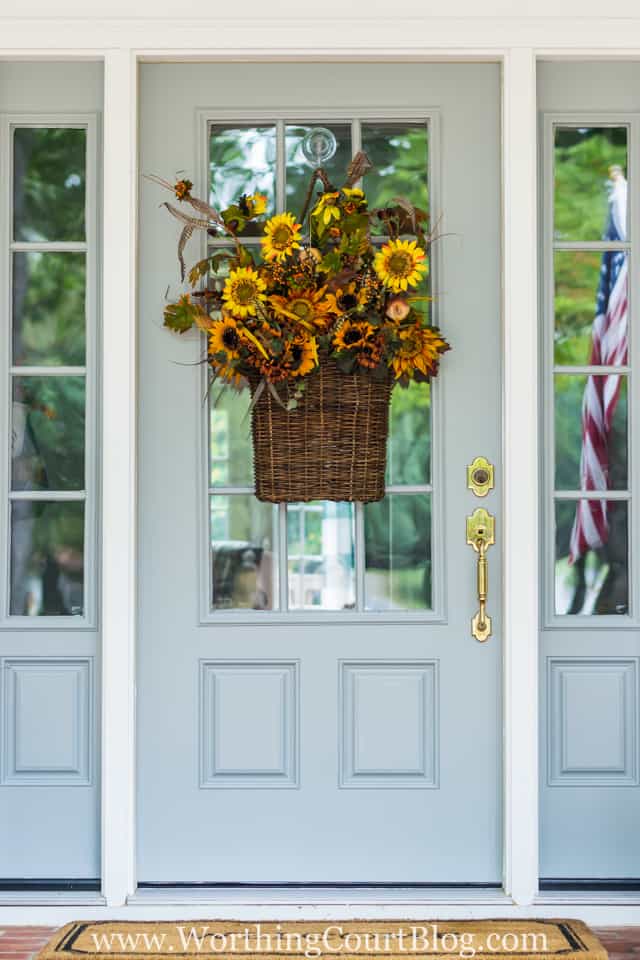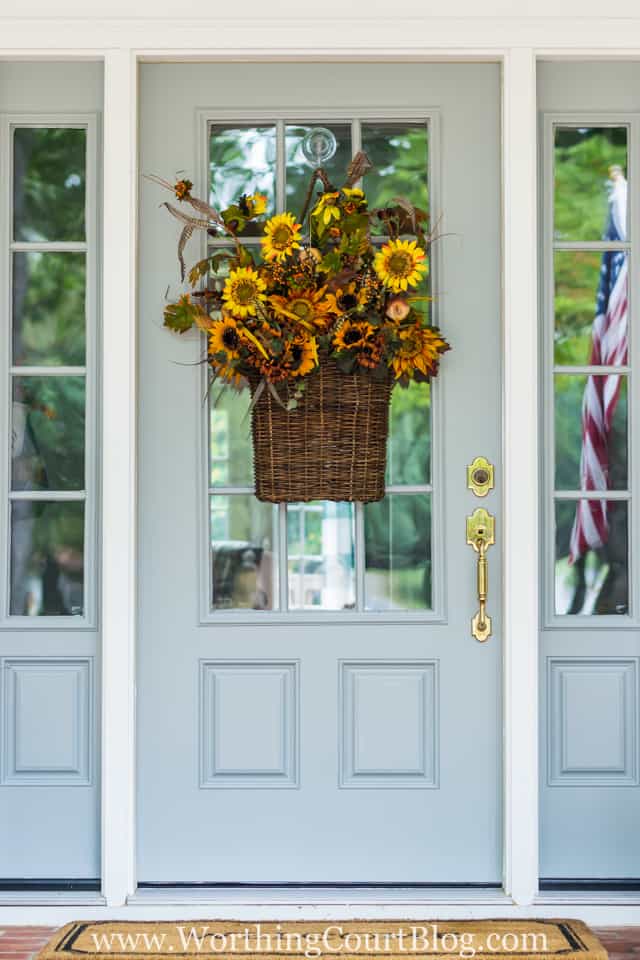 To put this together, I placed three tall floral bushes toward the back of the basket and filled the front of the basket in with two shorter ones.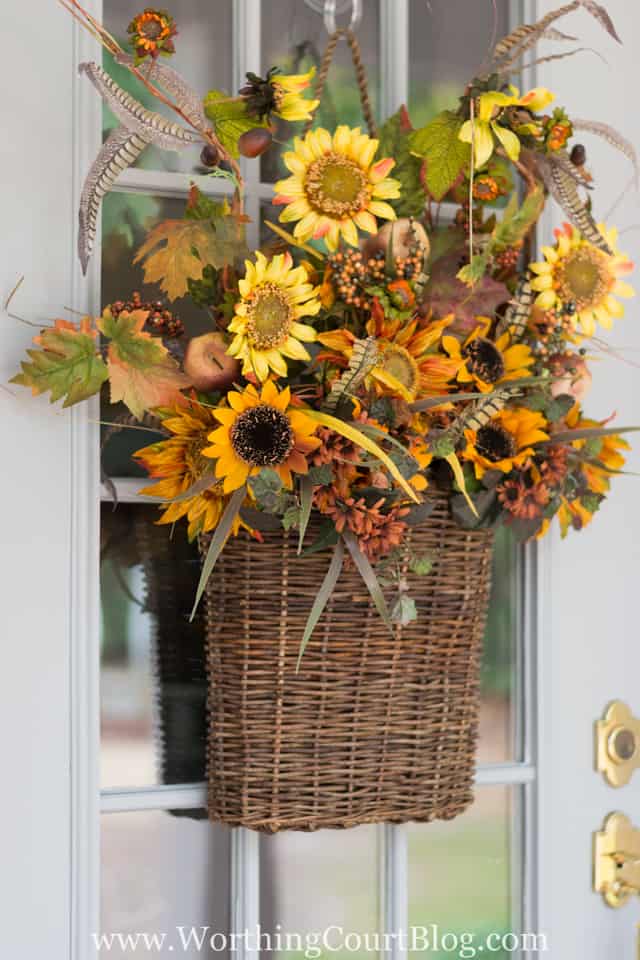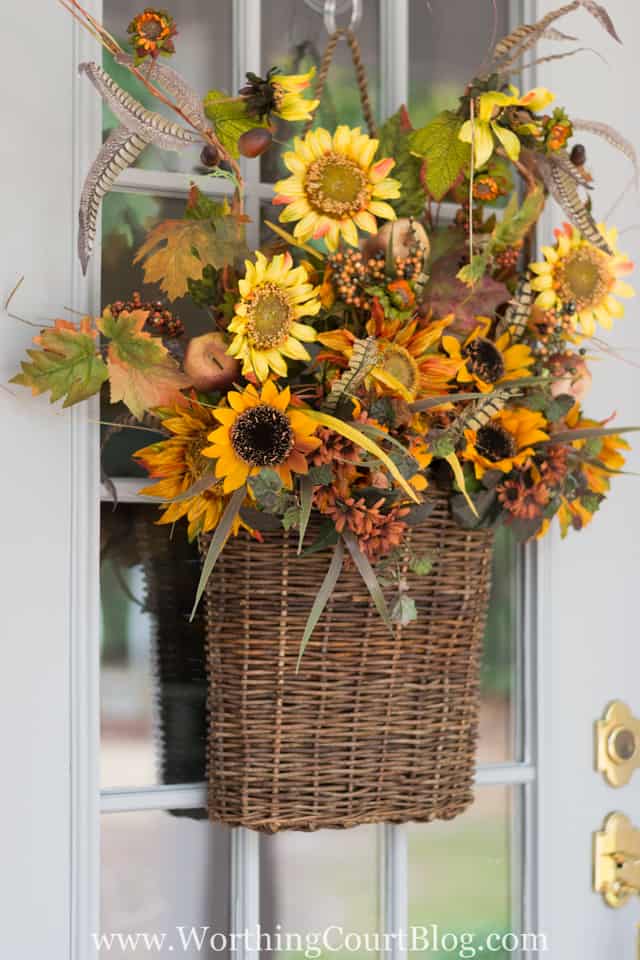 I love all of elements of these bushes – the showy sunflowers, faux leaves tinged with fall color, acorns and even some feathers – yum.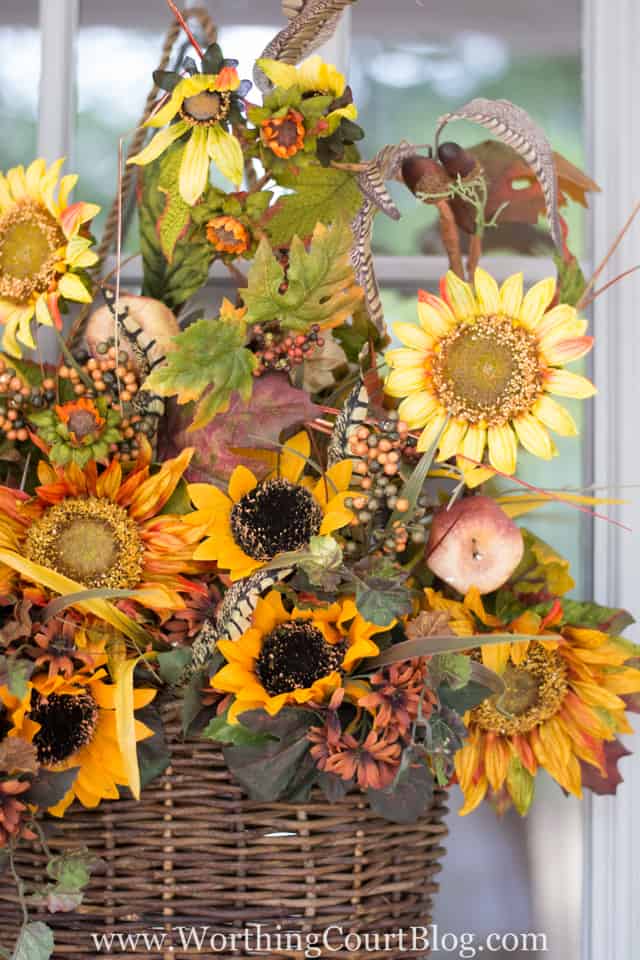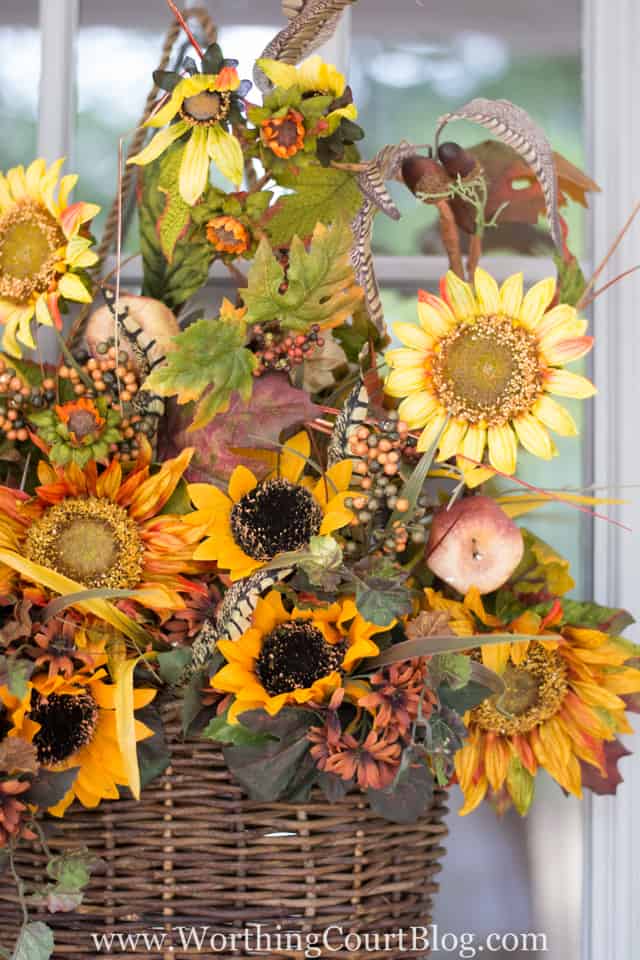 Next up were the black urns that flank my door. Over the summer they were filled with beautiful, ginormous Boston ferns. They were so pretty and I would have kept them there forever, but the seasons are a changin' so it was time for something different.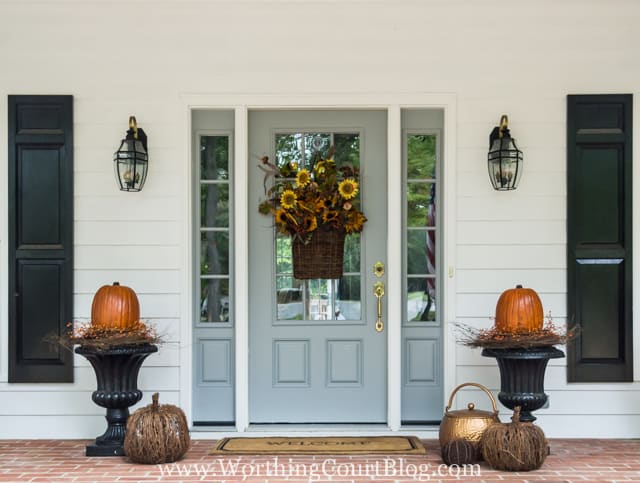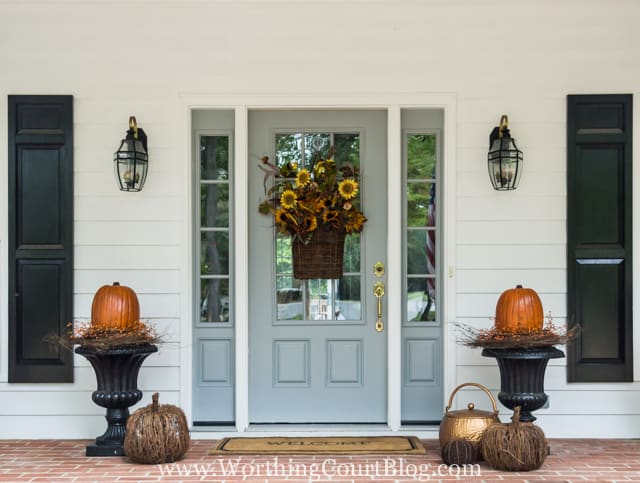 I filled in some of the empty space around the urns with twine pumpkins and a lidded copper pumpkin container that I already had in my stash. The pumpkins have orange lights on them and look really cool after dark. The urns were another super easy to do project. Come back on Friday and I'll show you exactly how I put them together.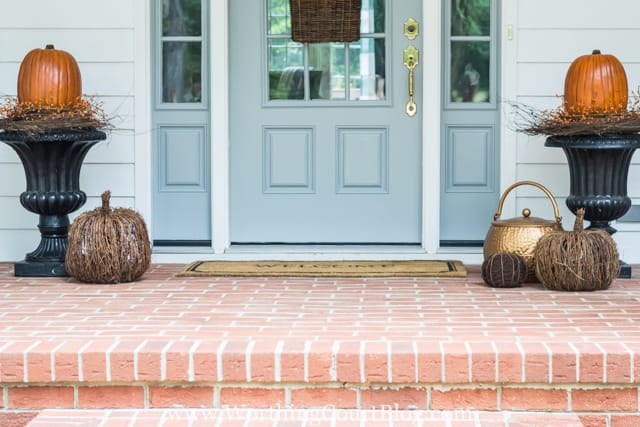 In all, I probably spent about thirty minutes putting my fall front porch together. Most of the time was spent fiddling with the fall garland that is wrapped around the pumpkins.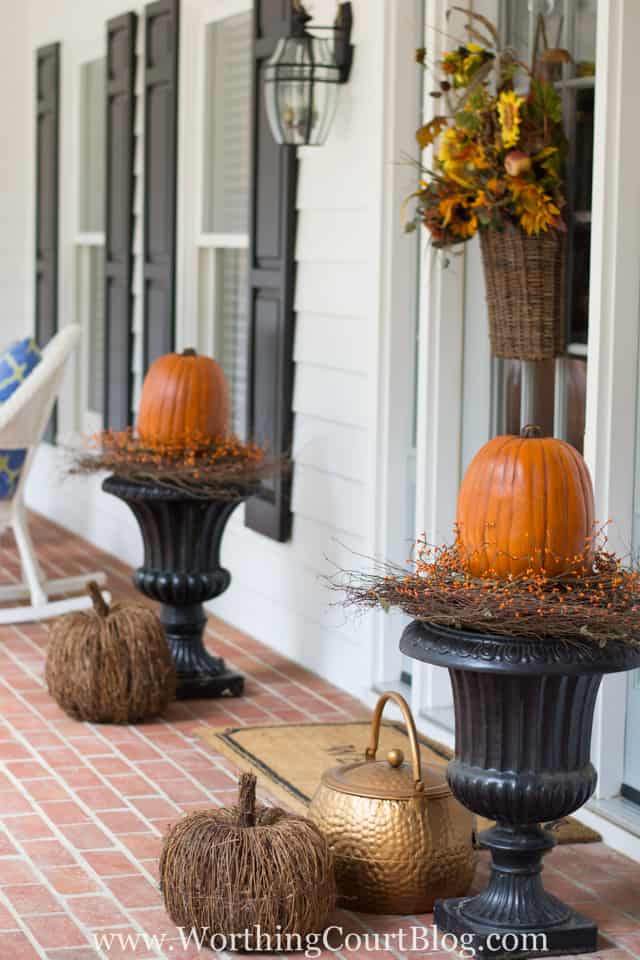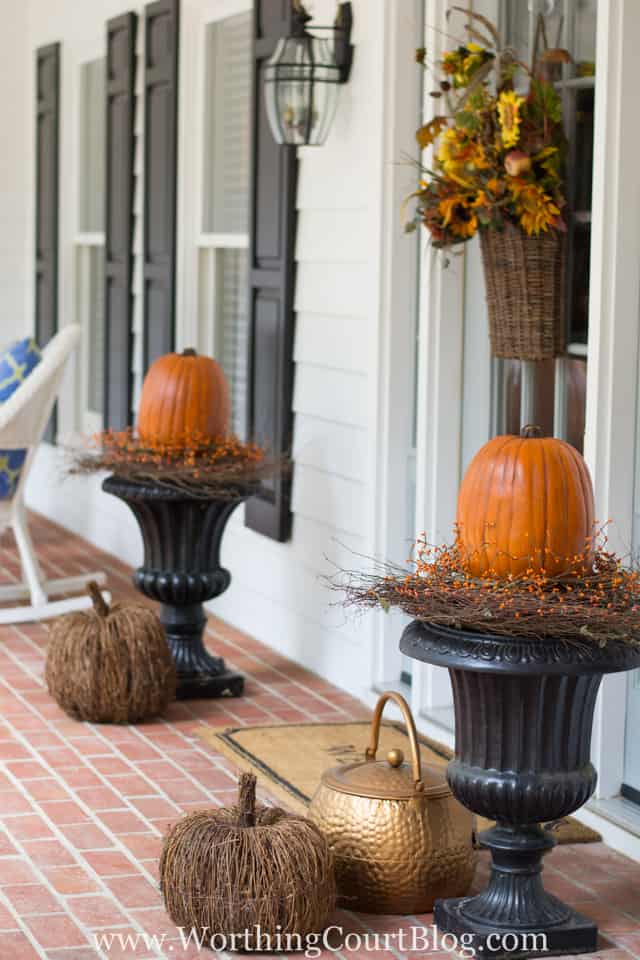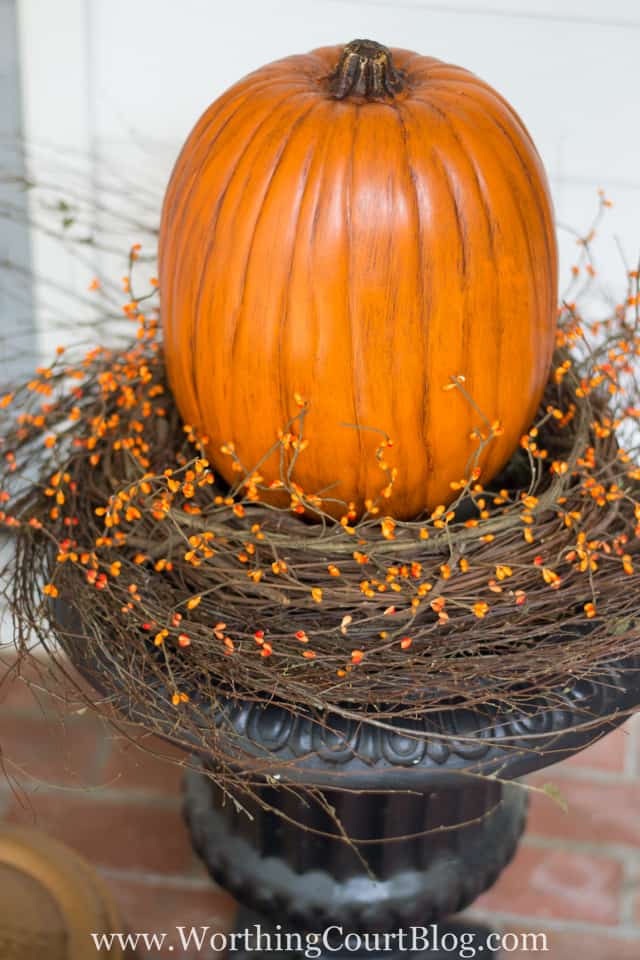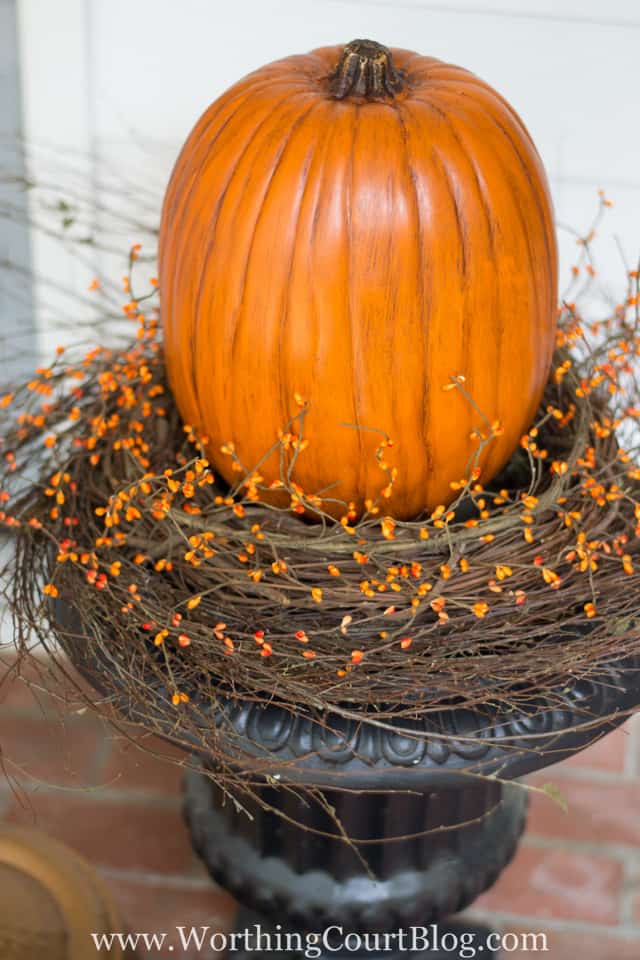 And now, back to the door. There was nothing wrong with the door that was on this house when we bought it. Nothing. It just wasn't the style that I was after. Excuse the cleaning stuff on the floor.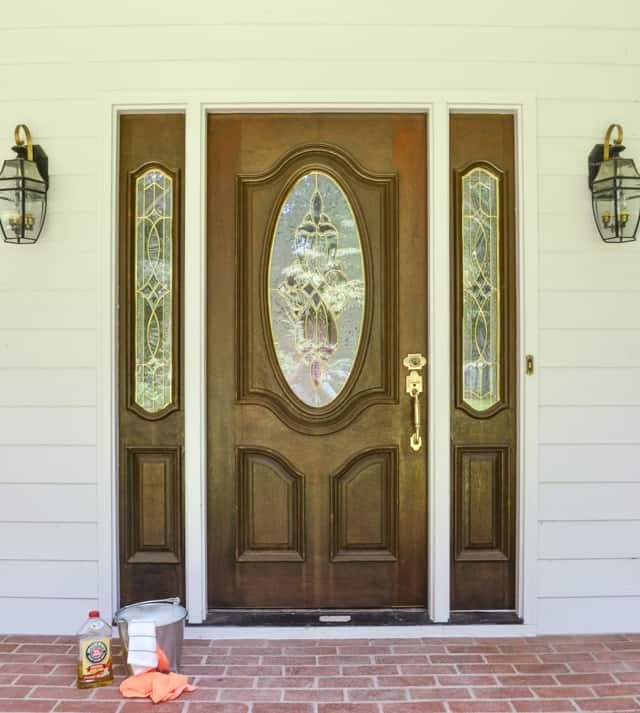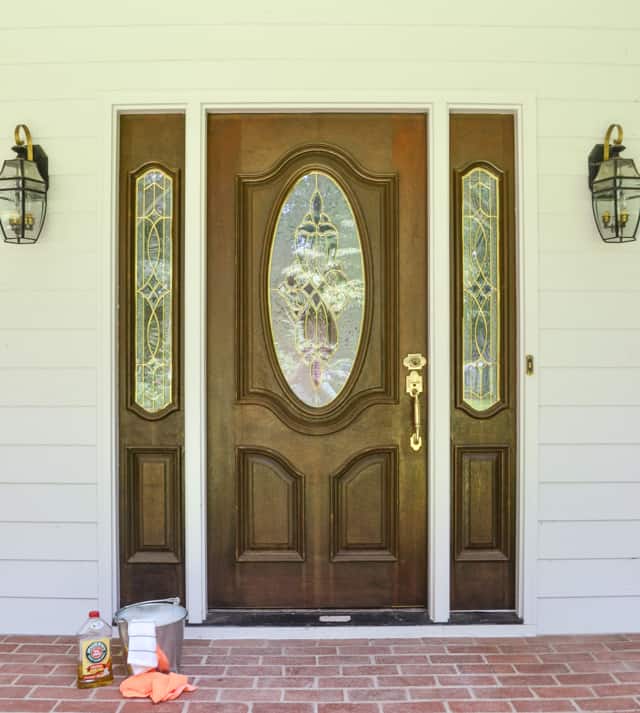 I was perfectly willing to live with it, but when Pookie offered to replace it with what I wanted for my birthday, well…how could I say no?!?
I tried out a quite a few colors on the door while trying to decide on a final color. Neutral or something that pops? Blue, aqua or bluish-aqua? Those were the things I was considering.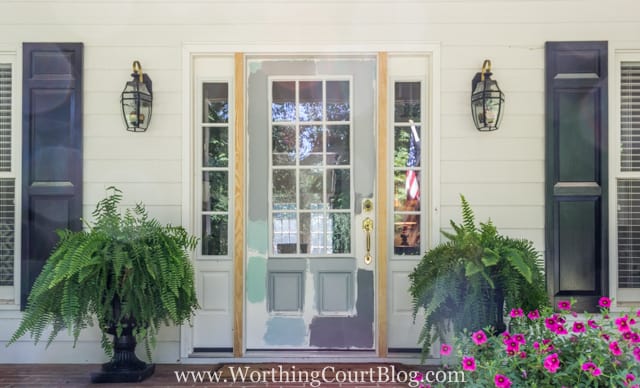 It turned out that no matter what color I put on the door, they all looked gray from the street. Plus, I was a little concerned that any color, other than gray, would dictate how I decorate the door for the seasons. So gray it was, Sherwin Williams Network Gray, to be specific (the sample in on the raised panel on the lower left of the door). So far, I haven't regretted my decision one bit!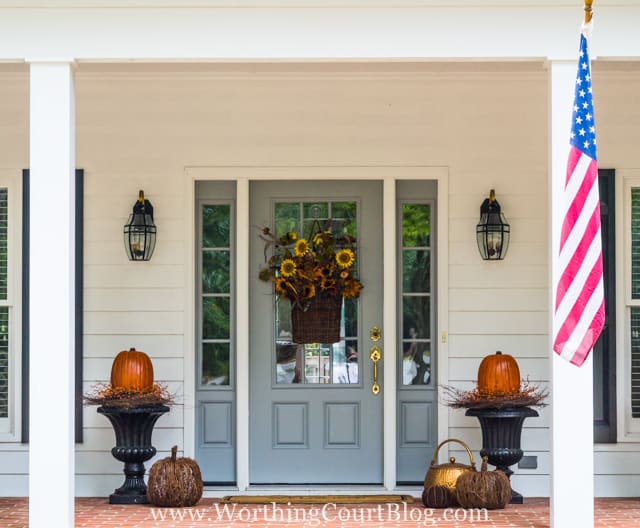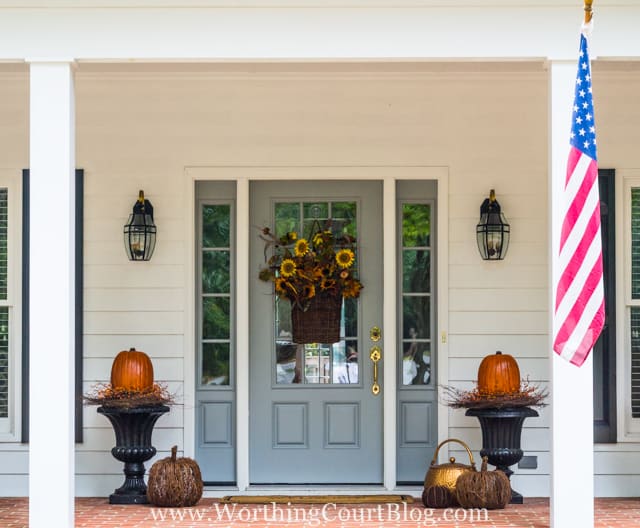 Pssst! If you need a little help creating a fall urn like the ones above, click HERE. I'll show you how I did it step-by-step.
I spent a little more time decorating the sideboard and changing up the gallery wall in our kitchen. Click HERE if you'd like to take a look.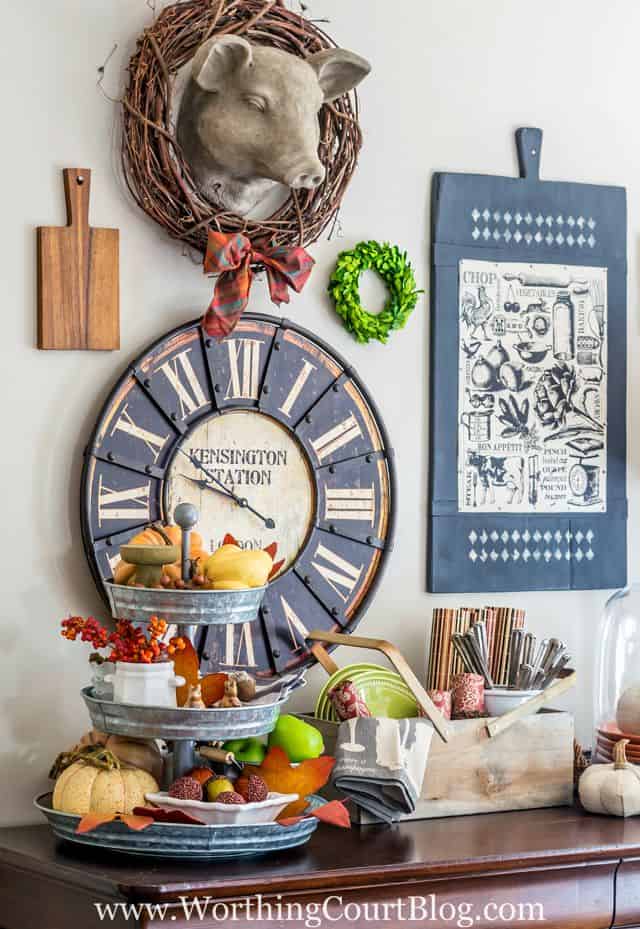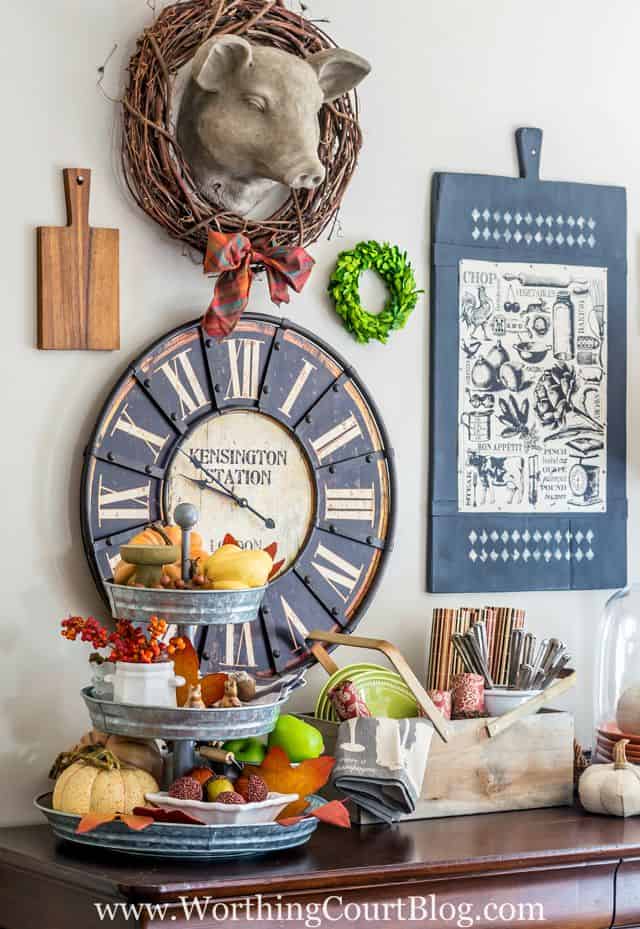 And click HERE if you'd like to take a look at my fall table centerpiece.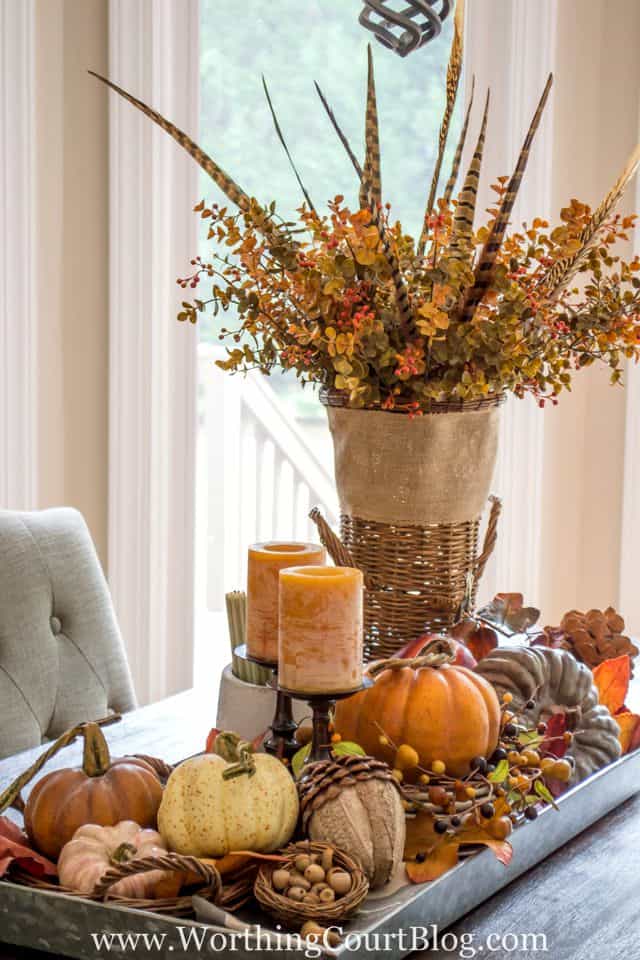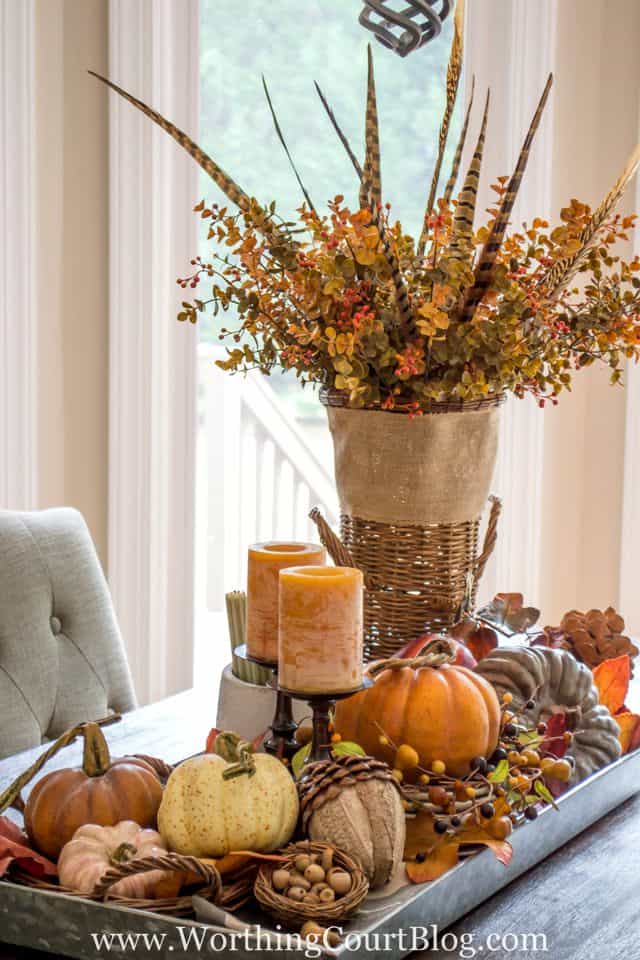 For more fall inspiration, click HERE to see my Fall Home Tour from our previous house.