Pretty, Easy and Affordable Christmas Gift Wrapping
If you are looking for Christmas gift wrapping ideas then look no further because I will show you an easy and affordable way to wrap gifts!
I feel like I must be the only person who's still wrapping Christmas gifts!  Moving into a new house, that is still under going renovations, a few weeks ago has thrown me so far behind this holiday year.
It took me a while to figure out how to decorate this year's tree, but in the end I decided to go with a rustic Christmas tree vibe.  But most of the wrapping paper that I already have is bright and colorful.  I needed something more subdued and rustic to go with my decorated Christmas tree. It also needed to be quick and easy, because did I mention – I'm running so far behind???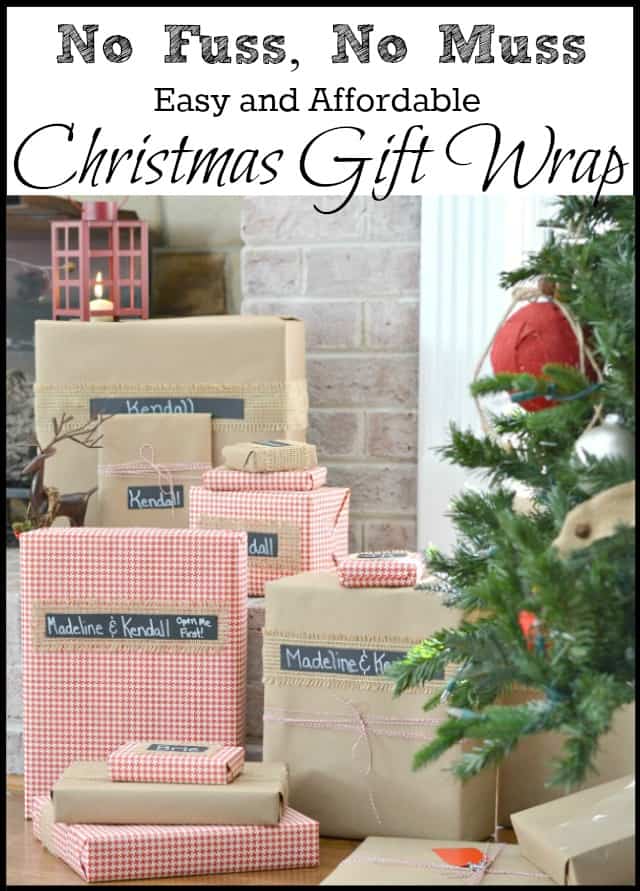 To keep the gift wrapping fast, uncomplicated and inexpensive, I kept the number of wrapping supplies to a minimum.  I only used a couple of different wrapping papers and embellishments on all of the Christmas gifts.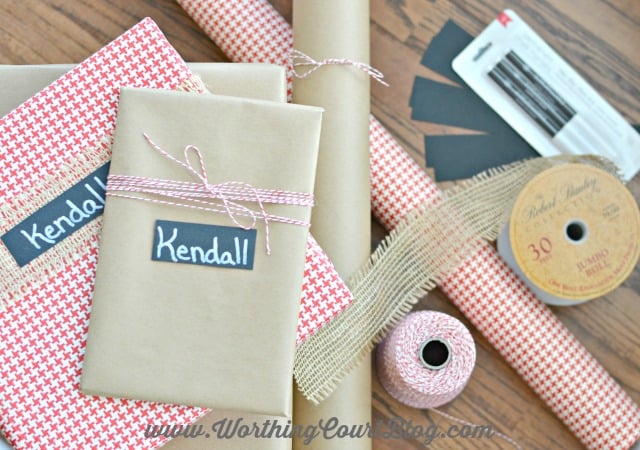 You'll need:
brown poster paper (can be found at paper supply stores, school supply stores and office supply stores)
one roll of regular wrapping paper
one roll of burlap ribbon (unwired)
bakers twine that coordinates with the wrapping paper (I found a large roll at a cooking supply store)
chalk markers (mine came from the office supply section in Target)
several sheets of black cardstock, cut into strips
hot glue gun and glue sticks (not pictured)
scissors (not pictured)
If you aren't able to locate brown bulletin board paper, you can always use regular brown craft paper.  I much prefer the bulletin paper though, because it's thinner and so much easier to work with.  Plus it's 48″ wide as opposed to the typical 30″ width of craft paper.
Wrapping Christmas Gifts
All it takes to wrap the brown paper package is a length of burlap ribbon that is long enough to completely wrap around the wrapped gift, a strip of the black cardstock with the recipients name already written on it with a chalk marker and enough baker's twine to wrap completely around the gift several times plus some extra for tying a small bow.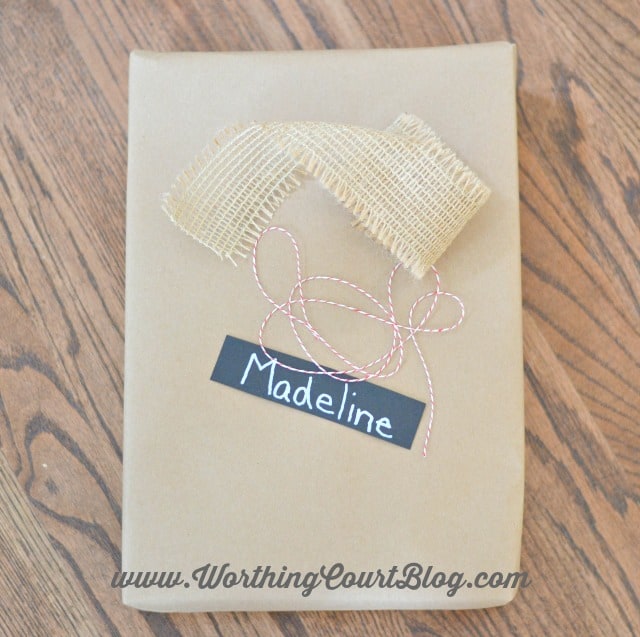 Wrap the burlap around around the gift and secure it on the back side with hot glue. Once the glue has dried, flip the gift over to the front side and hot glue the name tag to the ribbon.  Wrap baker's twine around the gift several times and tie it into a small bow.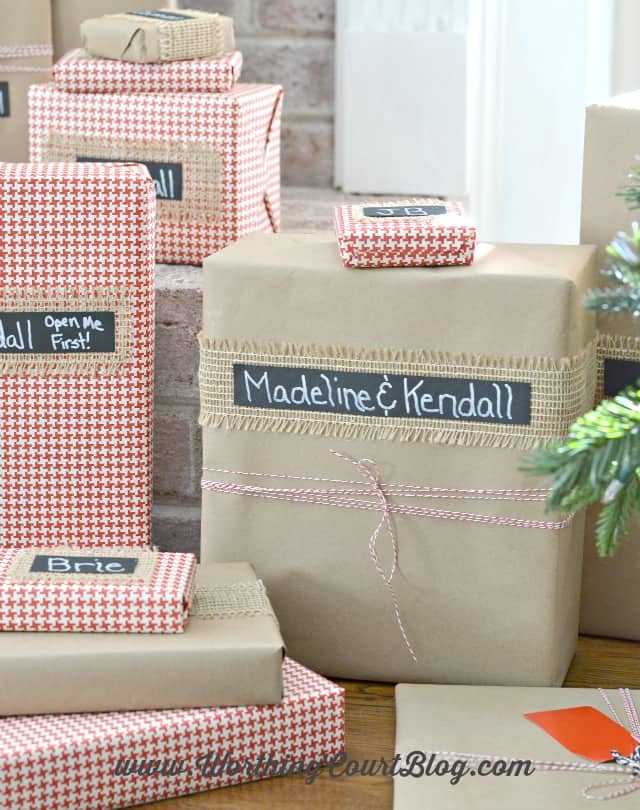 The gifts wrapped with the Christmas red houndstooth paper were wrapped in a similar way.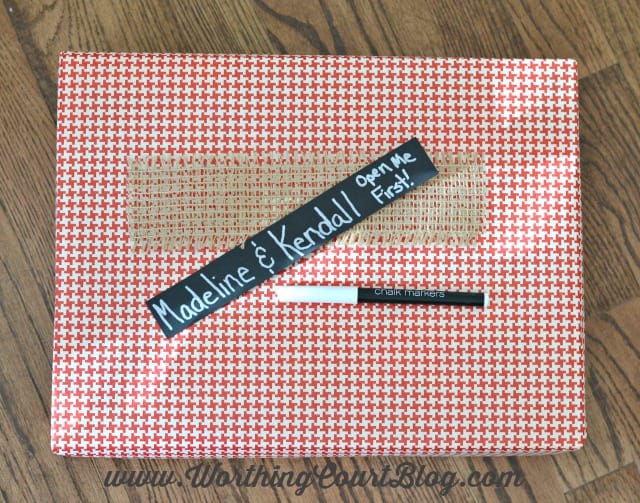 The only difference is that I didn't wrap the burlap ribbon completely around the gift and I didn't use any baker's twine with the red paper. To change things up a bit, I only used a piece of burlap ribbon long enough to reach most of the way across the front of the gift.  Both the ribbon and name tag were applied with hot glue.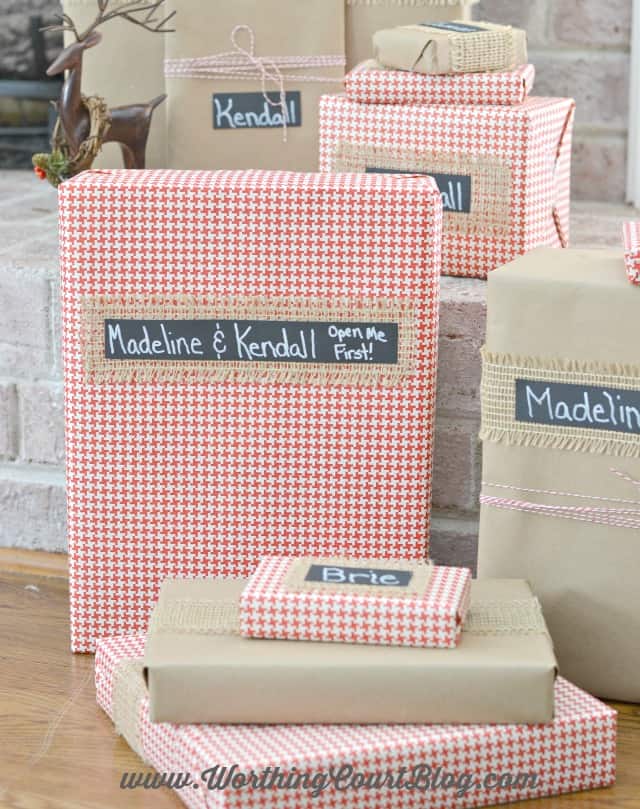 In the past, my gift wrapping seemed to take forever and often felt like such a chore. But this was so quick and easy and totally enjoyable!  Plus the presents looked so rustic with vintage character!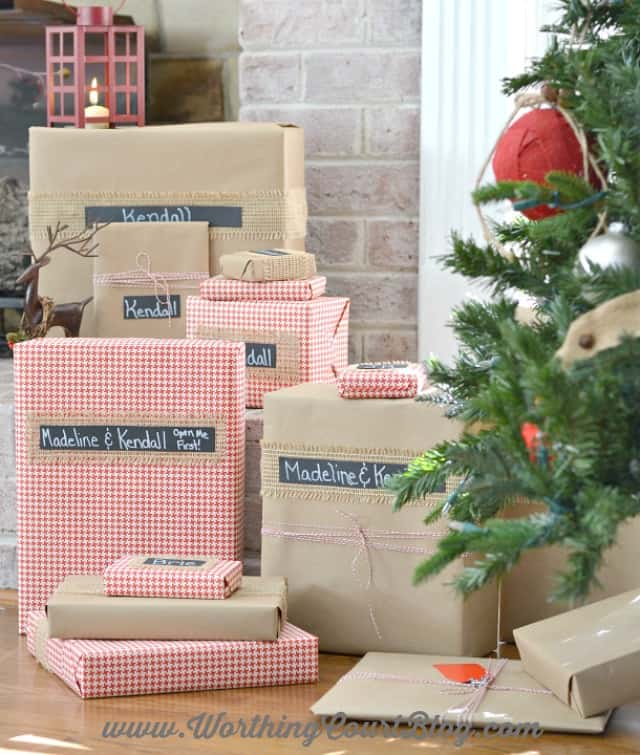 Just a few more gifts to wrap and I'll be ready!  How about you?