Dining Room Makeover – The Fastest And Easiest Planked Wall In The History Of Ever
Remember last week when I told you all about my dining room makeover plans?  Well, I'm excited to share the first DIY project to be completed!  If you missed the dining room plans post, you can see it HERE.
Say hellooo gorgeous to my new planked wall!  I'm excited because I love the planked wall, but I'm even more excited because it was so fast and so easy to do that I couldn't wait to share all about it.
Maybe you dread all of the work that would be involved in cutting sheets of plywood into strips or hanging tongue-in-groove planks one by one.  There's no long drawn out project here – this method is incredibly easy!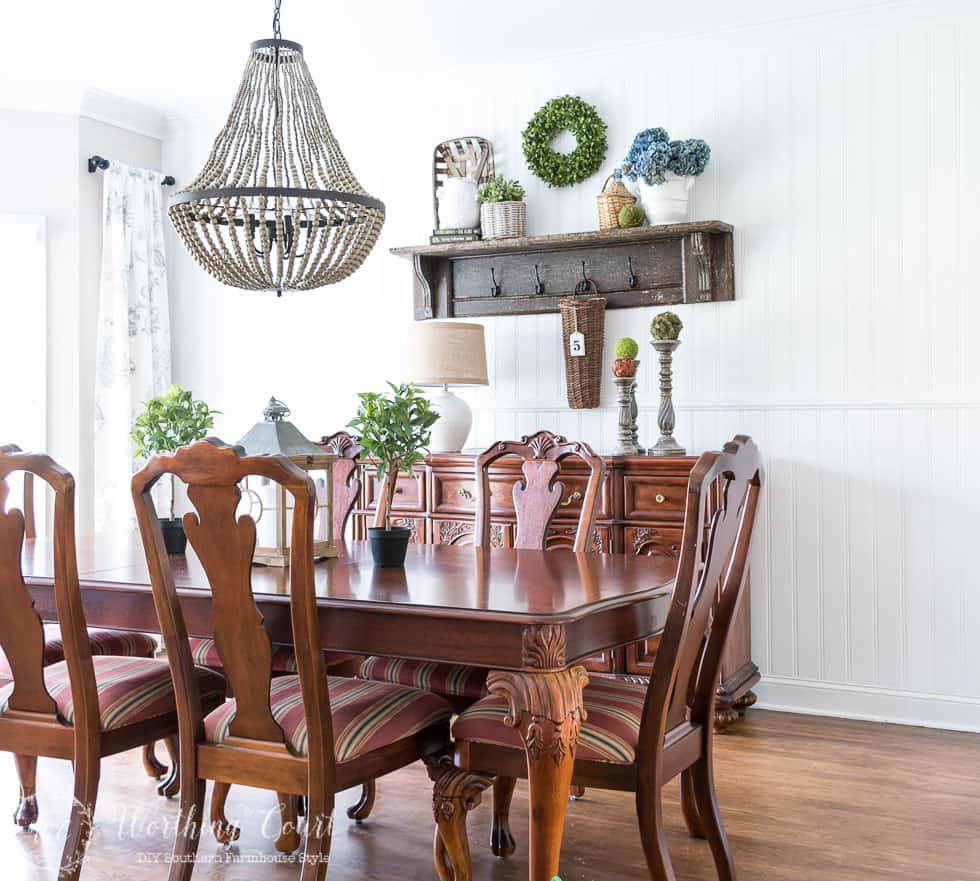 Pin
Pookie and I completed this wall in roughly two – three hours (not counting shopping or painting).  What's the secret?  Paneling.  Yep, plain old ordinary, everyday paneling.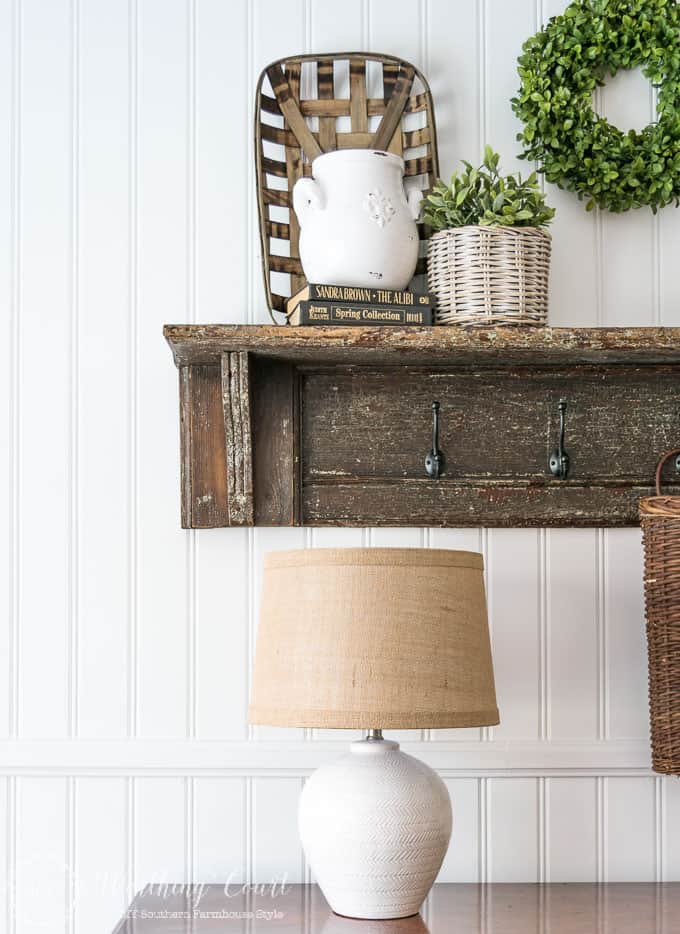 Pin
To be more specific, this is the product that we used from Lowes.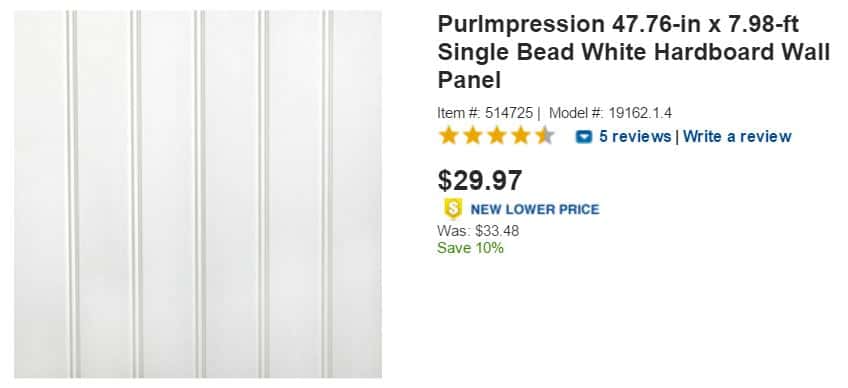 Pin
They do have flat paneling too (that looks more like wide boards with groves in between), but I thought that this single bead paneling looked more like individual boards.  Plus I really like the texture and dimension of it.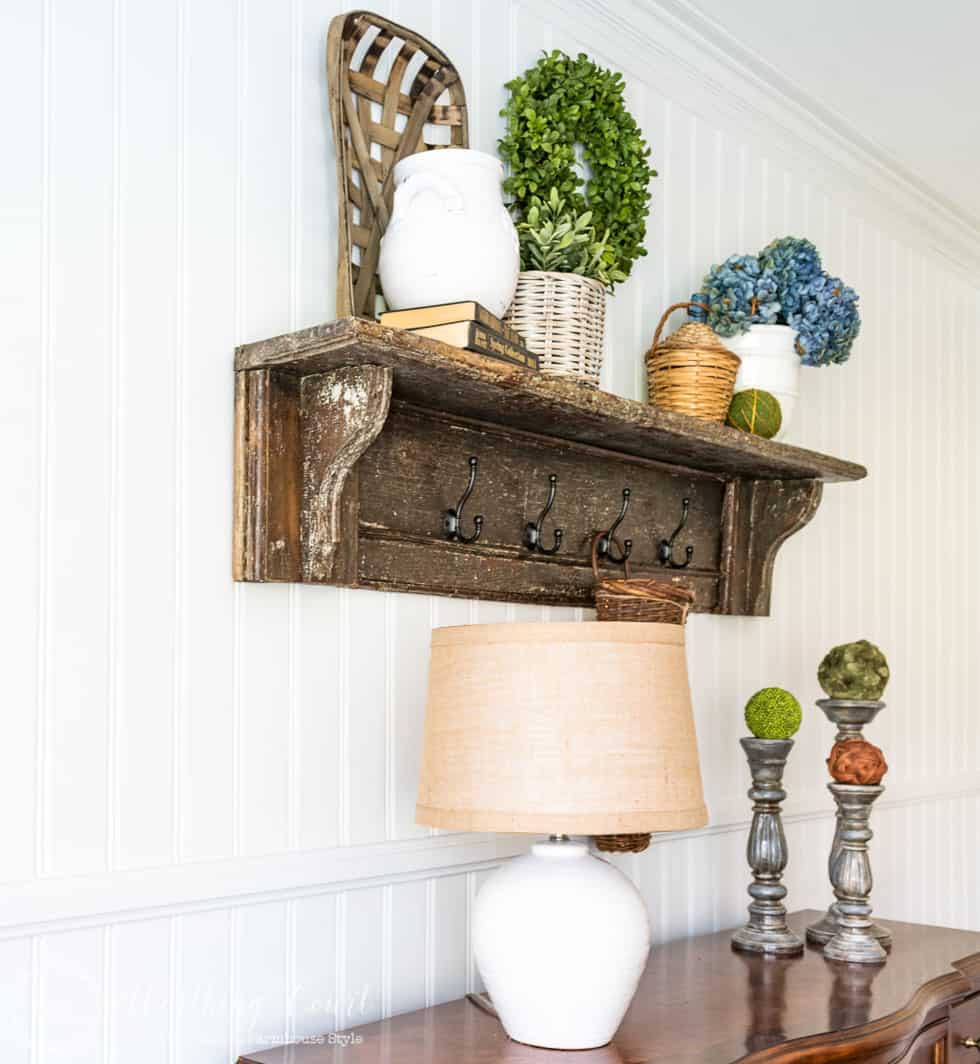 Pin
Now, I admit that I was a little scared at the thought of putting any kind of paneling on any wall in my house.  I kept having flashbacks to the 70's, when I had an entire den full of that cheap, awful brown stuff.  But, after thinking about it, I decided to take the plunge and see how it would look.  I'm so glad that I did!
Things that we had to consider:
Hang the paneling horizontally or vertically?  In the end, I decided that I liked the vertical look for the dining room.  In my mind, it seemed that horizontal planking would be a little more rustic looking and I wanted something a little dressier for the dining room.
How far up the wall to take the paneling – all the way to the top or only about 5′ or 6′?  I knew that I wanted to be able hang anything that I wanted to on the wall without some kind of trim getting in the way, so I decided to just mount it at the top of the baseboard and take it all the way up to the bottom of the existing crown moulding.
How to handle the fact that our wall space was 98″ tall, but the paneling was only 96″ tall.  We decided to cut the sheets into two 48″ tall pieces and hang them so that there was a 2″ space about halfway up the wall that we could cover with a piece of trim that resembles a chair rail.
With all of our decisions made and measurements in hand, we made our way to our local Lowes, where we were able to get the paneling cut into the exact sizes that we needed.  Our wall measured 177″ wide x 98″ tall (from the top of the baseboard to the bottom of the crown mould), so we had to buy four sheets of paneling that were then cut into a total of eight pieces.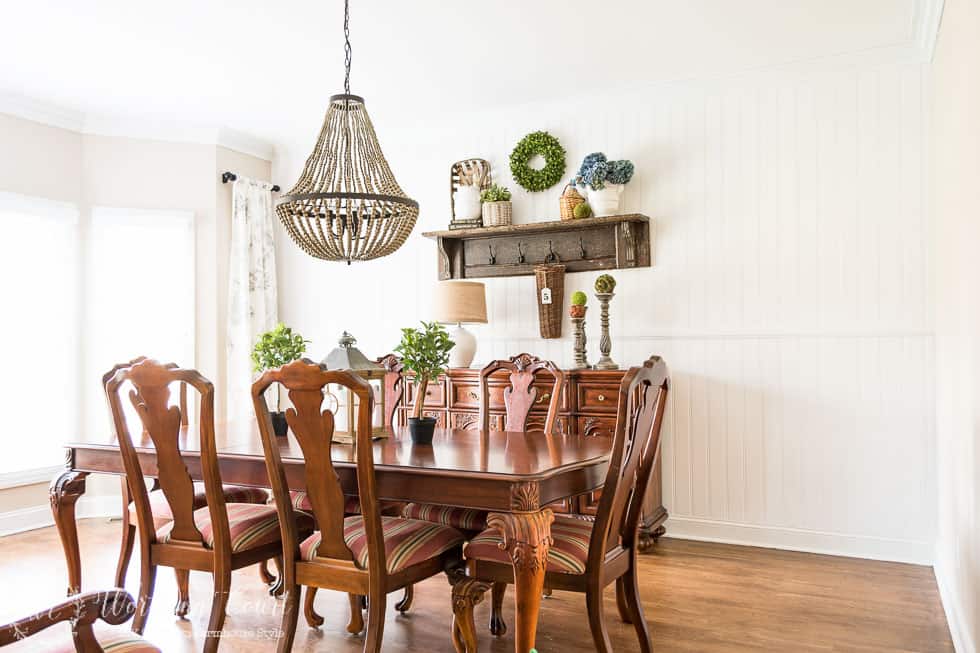 Pin
To attach it to the wall, we ran a bead of construction adhesive around all four sides of each piece of paneling, plus a few dabs in the middle.  Then used a few brad nails (with a nail gun) to hold it in place until the adhesive dried.  If you don't have a nail gun, they have small nails (that are made especially for paneling) that you can use with a hammer.
When the paneling was in place, every seam and joint was caulked and then the entire wall was painted the same color as the rest of the trim – Sherwin Williams Pure White in semi gloss.  I was a little worried about being able to see seams, but they aren't visible at all.
After the paint was dry, I didn't waste any time getting my vintage mantel hung and decorated!  Maybe you remember it from the basement of our former home.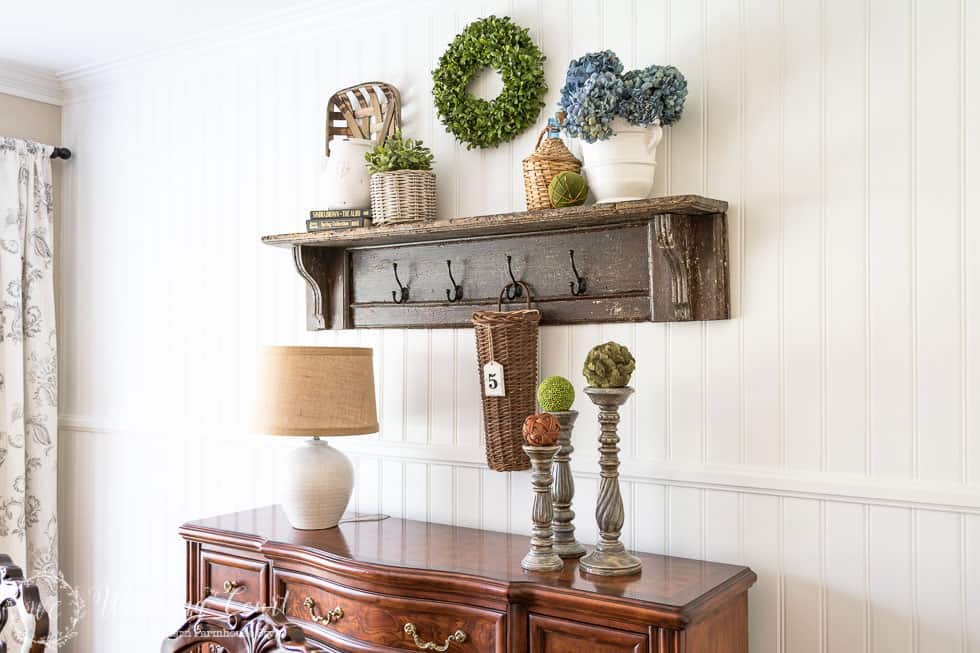 Pin
Want to see the before and after?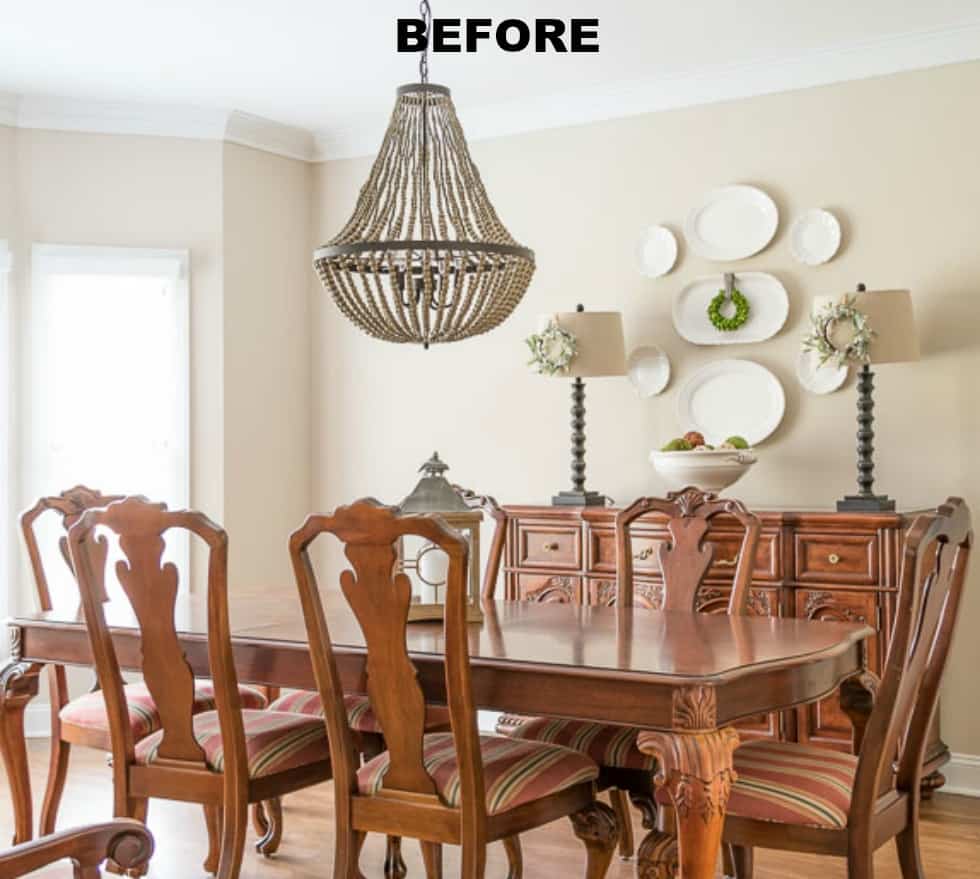 Pin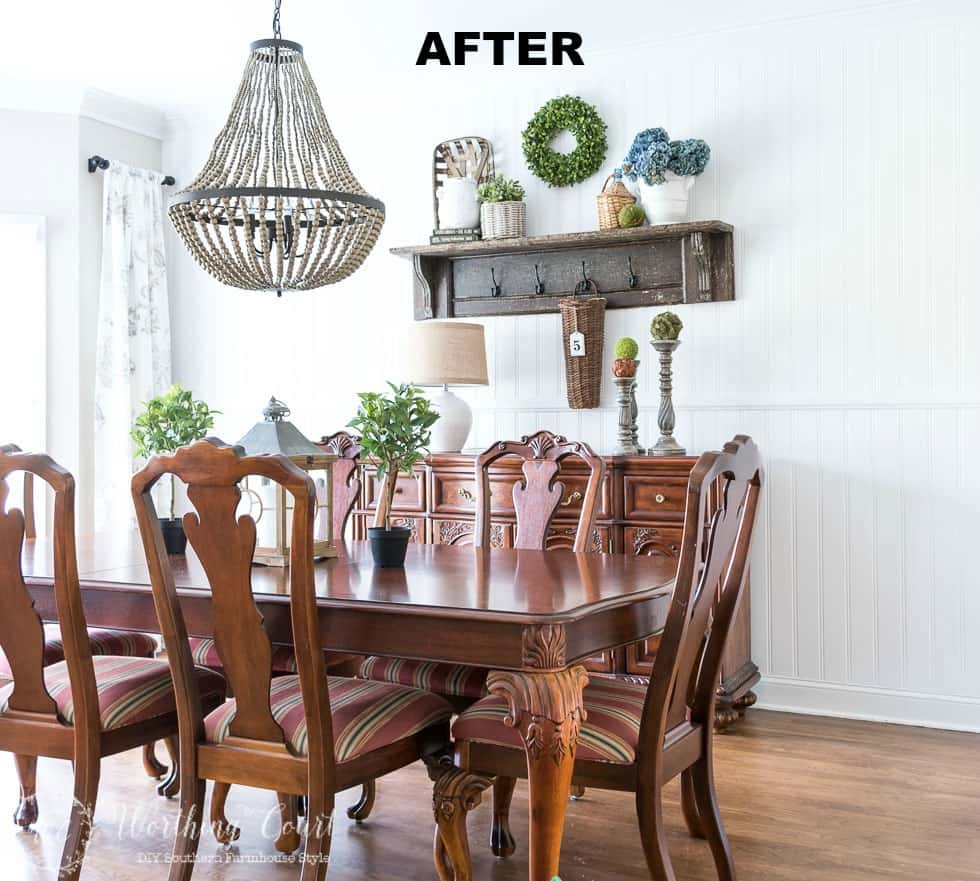 Pin
Pin it for later!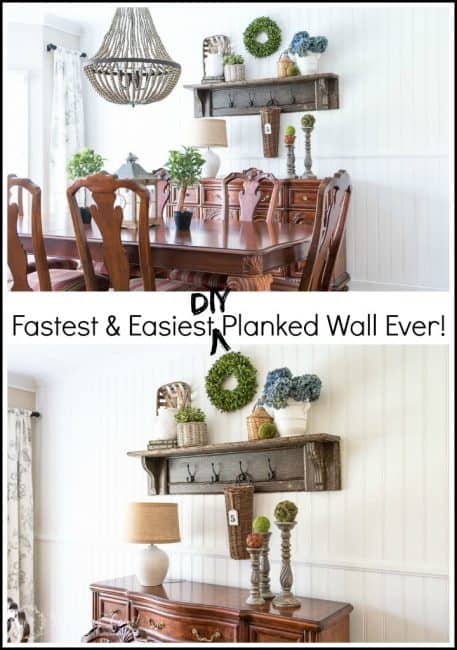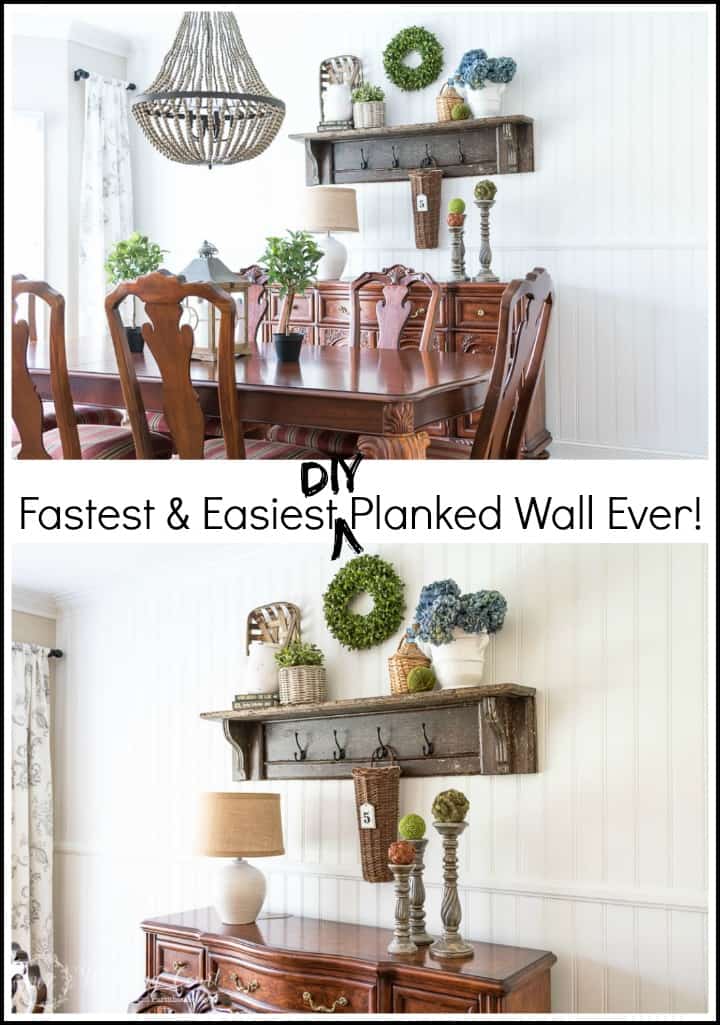 Pin
 I love the modern farmhouse look that this panelled wall has created!