Adding Just Enough Fall To My Front Porch
No need to go overboard when doing your seasonal decorating!  Check out these simple ideas for adding just enough fall decor to your front porch.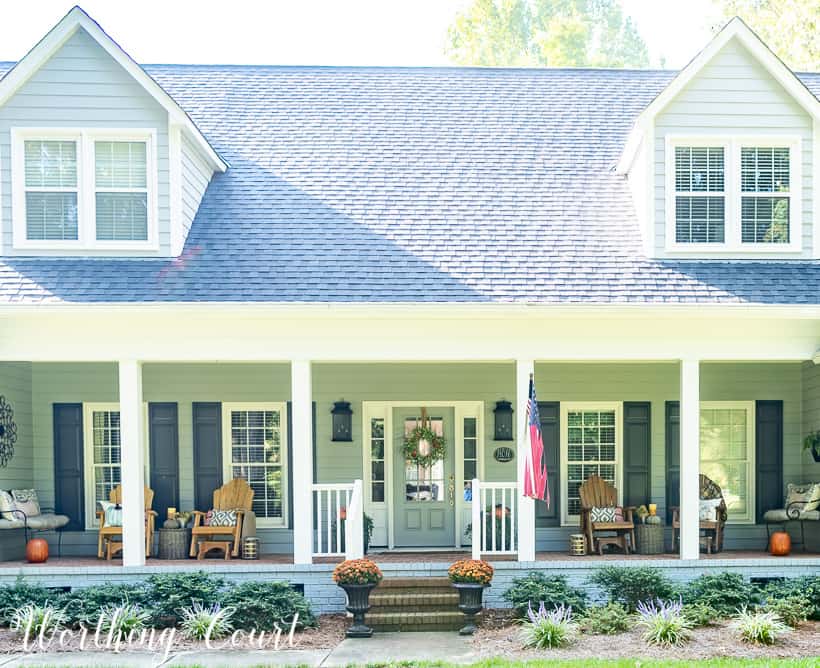 Pin
I have been known to decorate up to the rafters out on our front porch,  One Christmas, my neighbors went gah-gah over my decorations so much that they were even bringing their kids over to take pictures of our porch!  It's fun, but it's also a TON of work – dragging everything out of the attic and then putting it all away again.  Well….I've moved away from the "let's bring out ALL the things!" philosophy and have migrated to simpler times.  😀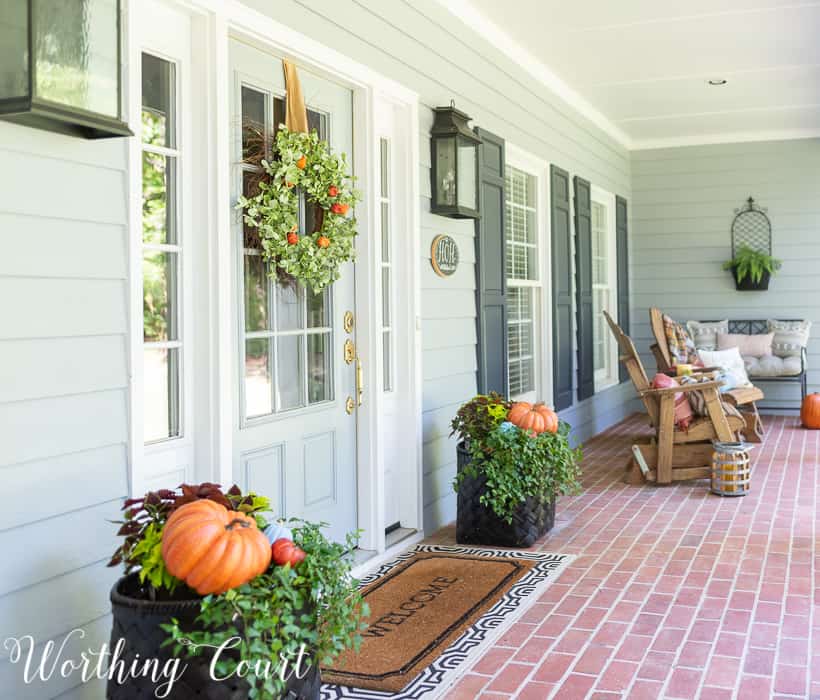 Pin

We've been slowly working on the curb appeal of our home ever since we had the red brick painted a couple of years ago.  One of my favorites additions to the space are four wonderful  wooden Adirondack gliders!  Our front porch is made for sitting and we love, love, love to enjoy a cup of coffee out here on cool fall afternoons.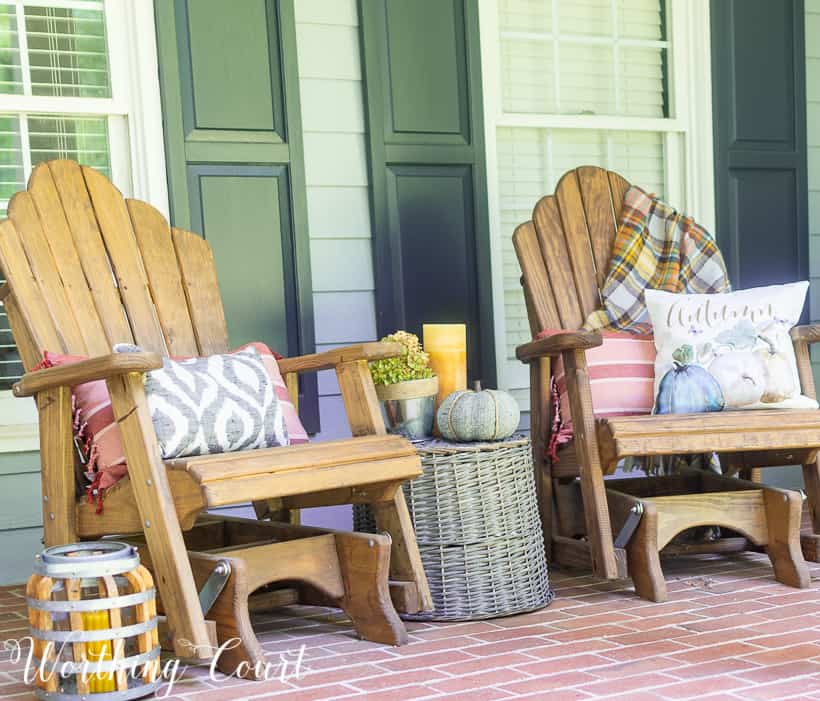 Pin
The fun braided tassel, striped throw pillows were a happy find a few weeks ago!  Paired with a warm and cozy fall plaid blanket scarf and cute pumpkin pillow covers, my front porch is an introduction to all the colors to be found on the inside of my home this season.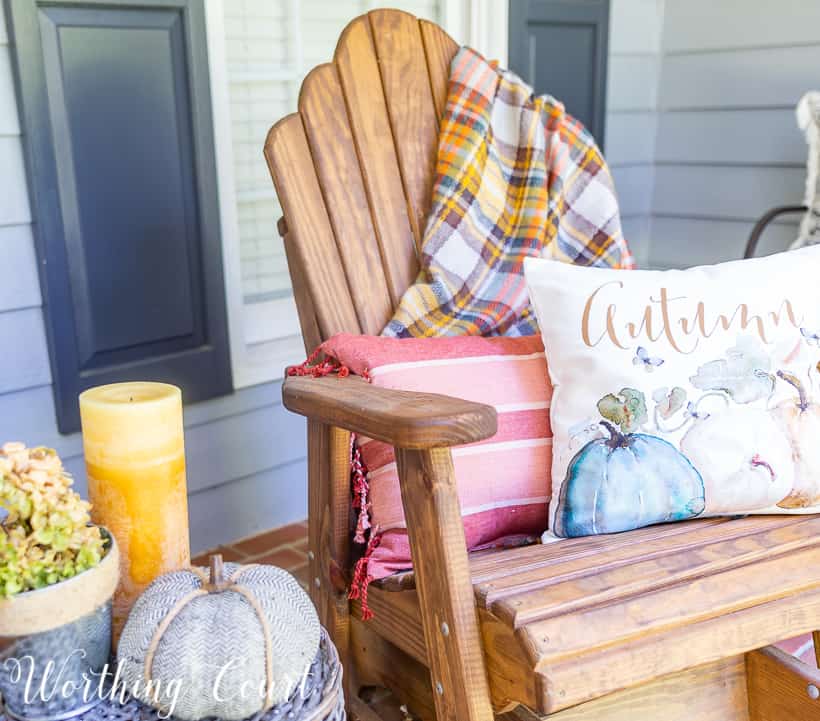 Pin
In keeping with my K-I-S-S decorating philosophy, have two baskets, that I turned into planters, that always flank my front door.  The baskets were originally white, but I spray painted them black for a classic look.  To keep the baskets from rotting, I added a large plastic container inside each stylish basket that holds the actual dirt and plants.  So far, they've held up great!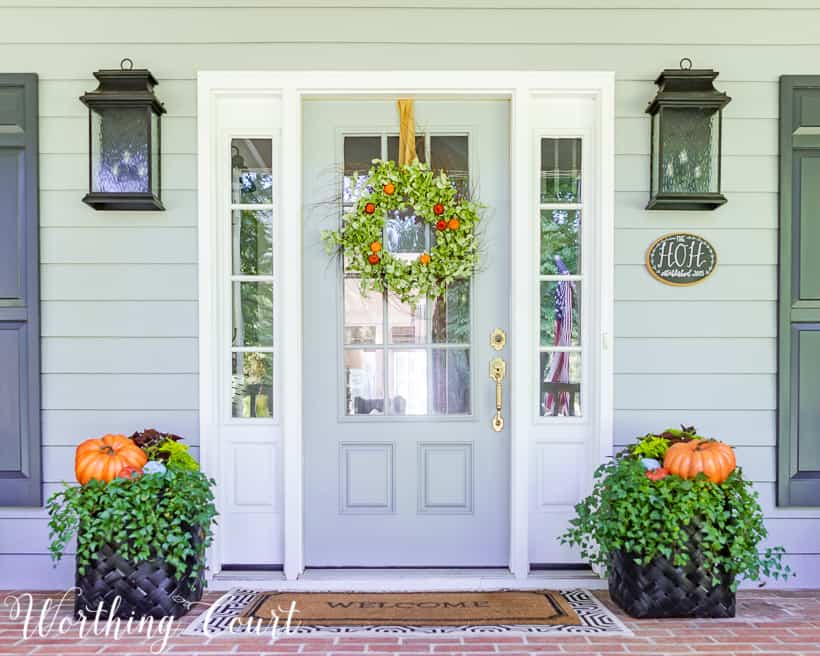 Pin
The green ivy spilling over the sides stays put year round and I simply change out the other plants, depending upon the season.  This fall, I added colorful coleus and tucked a few pumpkins into the ivy.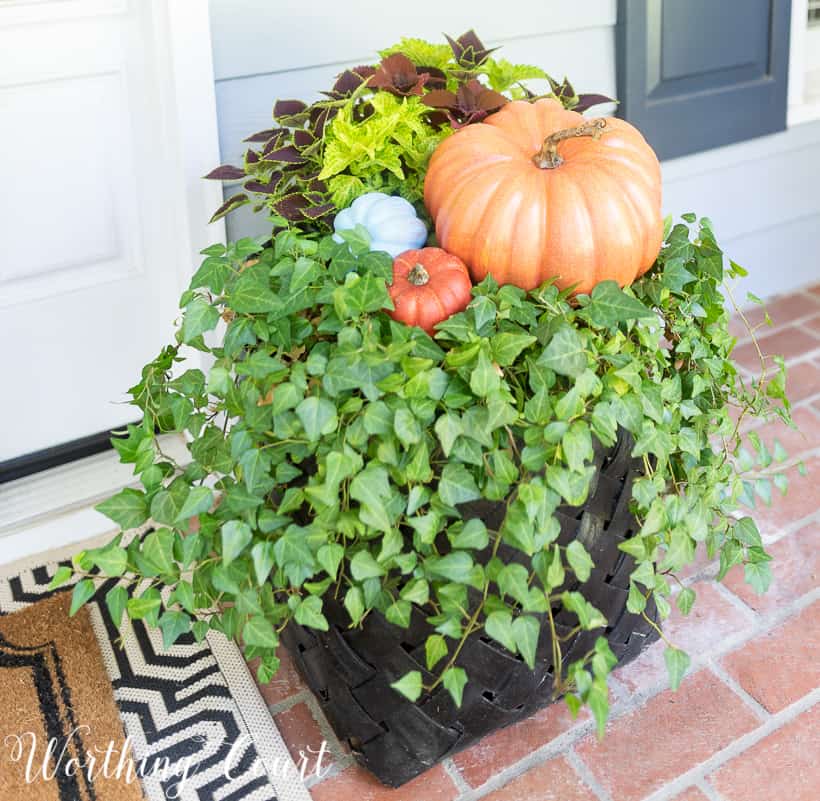 Pin
My symmetry loving self has two gliders, a small table and a bench on each end of the porch.  We've managed to stain two of the gliders, but still have two more chairs left to do.  Hopefully, that will happen this fall!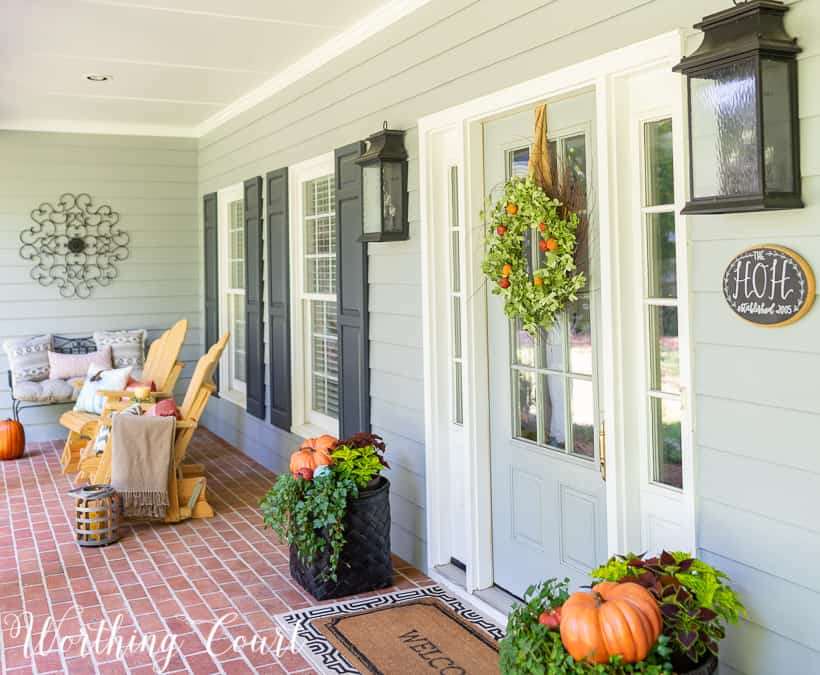 Pin
Here's a money saving tip: instead of purchasing actual tables, use a large basket turned upside down!  The basket makes a super table and you can even add a round wooden topper, from your local home improvement store, to make the surface completely flat.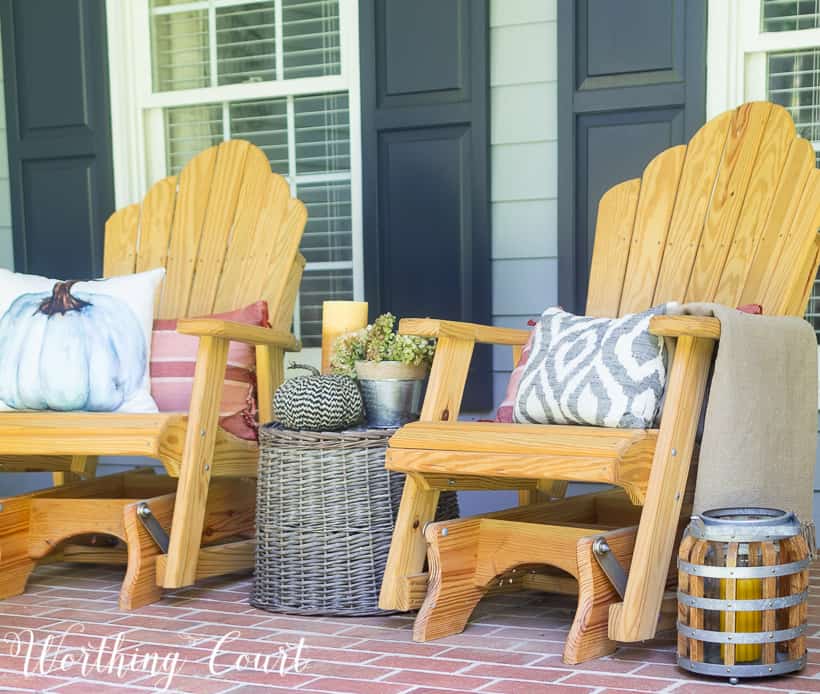 Pin
The wreath on the front door is a new one that I made using faux eucalyptus and some tiny colorful pumpkins.  I'll be back later this week to show you how I made it!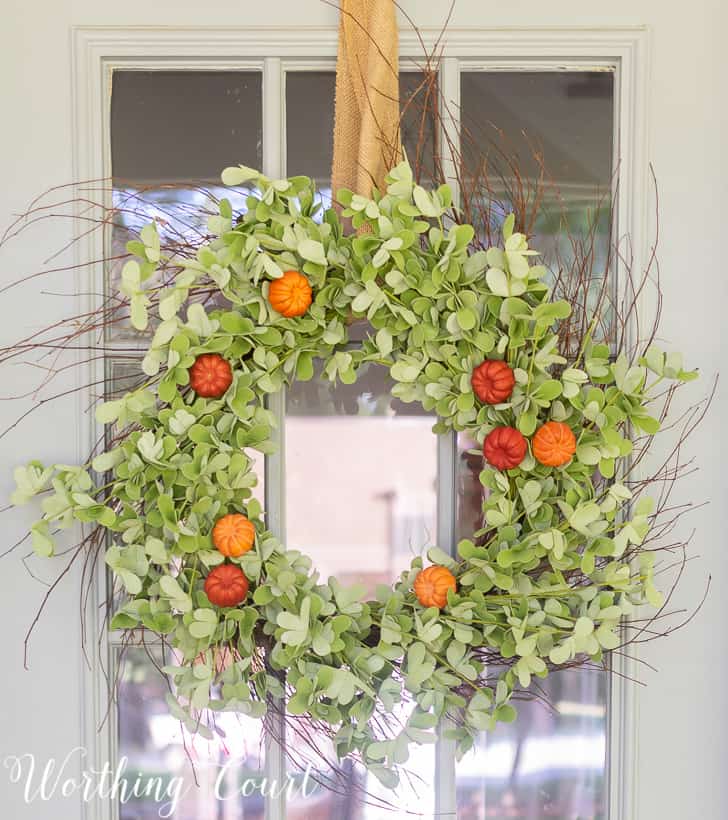 Pin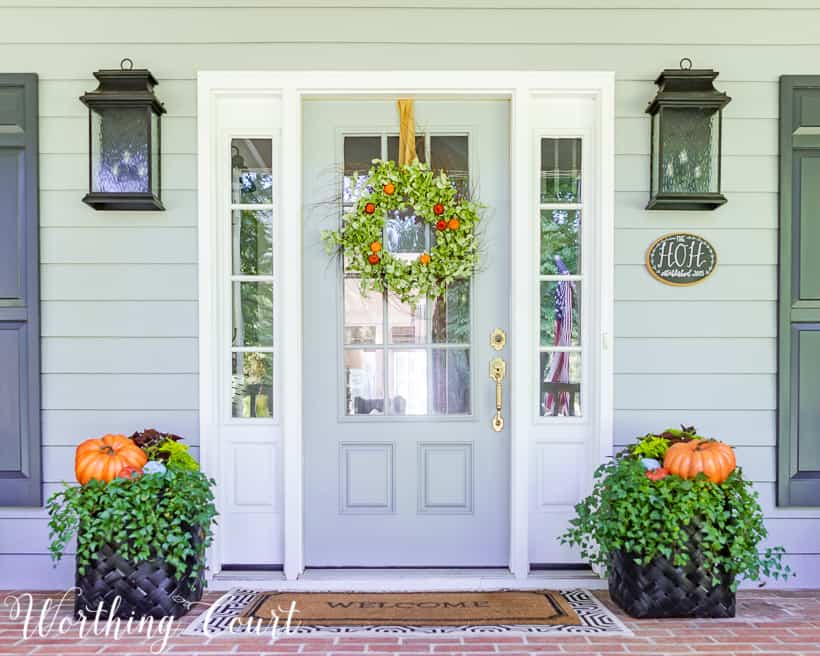 Pin
Happy fall – from my front porch to yours!