My Fall Decorations on the Front Porch
Most of you are probably way ahead of me and have had your outdoor Fall decorations put out for quite a while.  I just recently completed decorating my front porch and am finally ready to share it.  It really took me a long time to get my Fall decorating mojo on this year.  I had planned to get it all done over Labor Day weekend, but it's so hard to be inspired to decorate for Fall when it's 90+ degrees outside!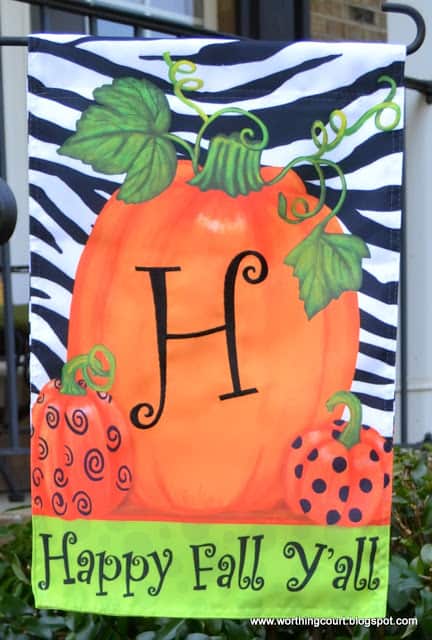 But, we finally had some cooler days and even cooler nights and that really revs my Fall engine, especially when it comes to decorating the front porch.  Knowing that I had a group coming to go shopping for Furniture Market samples in High Point was a big incentive too!
I was so tickled when I found this outdoor flag.  I've been looking everywhere for a cute one for Fall.
I hope it helps to make you feel welcome when you approach the house.
My pumpkin wreath has seen many a Fall season on my front door.  Every year I think it will be its last, but I spruced it up and here she is once again.
My front porch is long and narrow.  Plus it is surrounded by railing and shrubbery.  It makes it impossible to get a shot of the whole thing that isn't obscured by the railing, even with a wide angle lens.  So I'll show you one end at a time.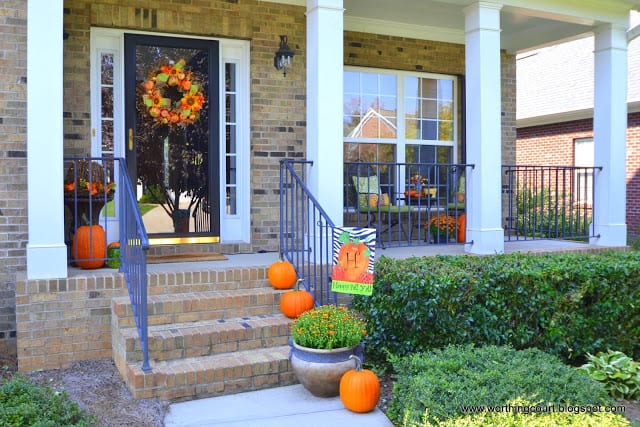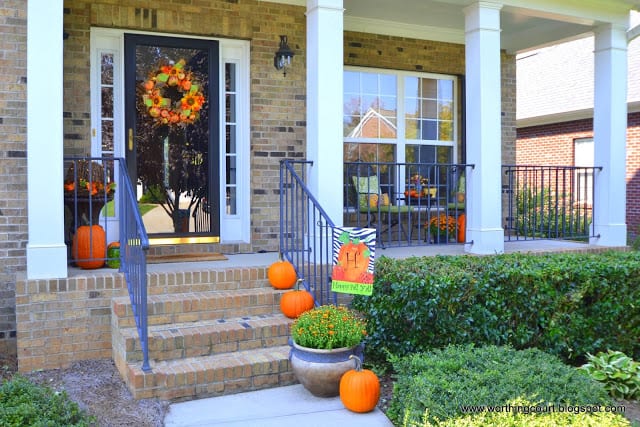 Pin
To the left of the front door, sits an urn with the grapevine pumpkin that I added this year.
And here's the little sitting area off to the right.
Totally off topic, but want to know a little secret about me?  I have trouble with my left and right.  I know which is which, but I have to stop and think which hand I write with – that would be my left.  Can't tell you how many times I've given people the wrong directions!
I would sure love it if you'd come set a spell!
I just had to show you a picture of it at night so that you see the grapevine pumpkin lit with its orange lights.