Friday Favorites: Digest #8 – The Ultimate Guide To All Things Plaid For Fall
Welcome to the plaid lover's paradise!  I've scoured the net and have put together the ultimate shopping guide for all things plaid to decorate your home with this fall.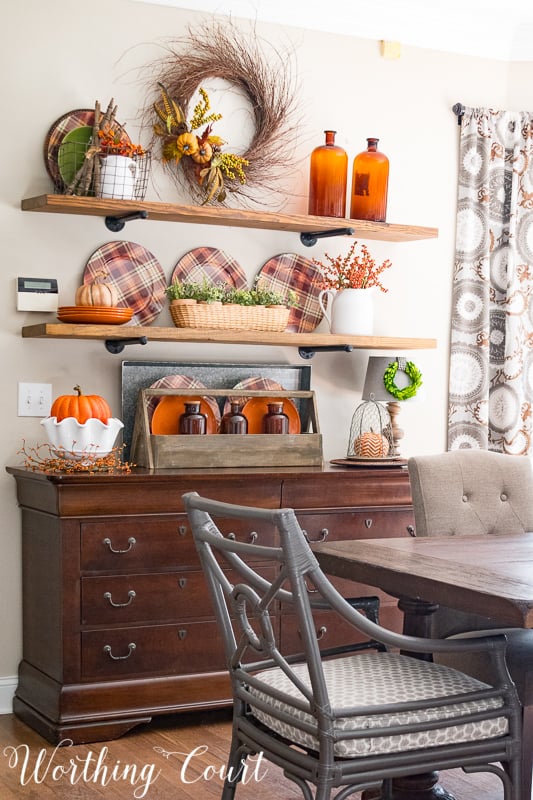 For this week's edition of the Friday Favorite's Digest, I'm talking all things plaid for fall home decor!  I LOVE using plaids of all varieties when decorating for fall around my home.  Plaid has to be the most cozy pattern ever and is perfect for incorporating into your seasonal decor, when the weather starts to turn and there's even the slightest hint of a wonderful nip in the air.  I love plaid so much that it even made its way onto my list of My Favorite Fall Decorating Staples.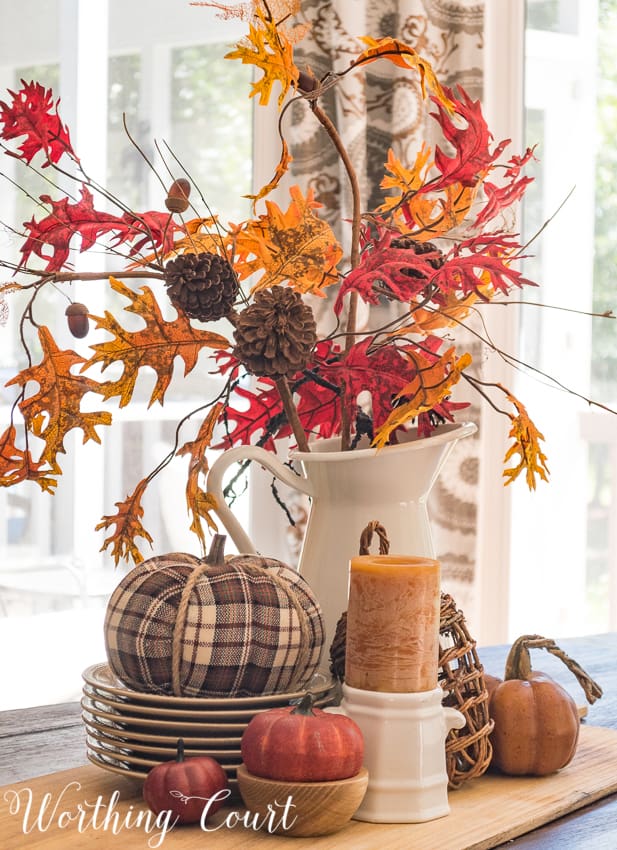 This post contains affiliate links, which allows me to make a small commission from your purchase, but at no additional cost to you.  See my full disclosure HERE.
Plaid is easy to find in a variety of colors, so you won't have any problem at all finding a pattern that will easily blend into the shades that you're currently using around your home.  Not sure about how to mix plaid with other patterns?  Here are a few tips:
The key to mixing patterns is to vary the scale – from small to large.  Too many large patterns in a room and it becomes overwhelming,  Too many small patterns can make an entire room feel cluttered.  For example, don't mix a large scale plaid with a large scale floral (or any other type of print).  If the large scale floral remains in your room year round, consider mixing in a medium or small scale plaid.
Be sure that your plaid includes colors that are either in the other patterns in your room or are in the other fall elements that you're decorating with.  I don't keep orange and gold in my rooms year round, but when I add traditionally colored fall decorations to my room, plaids in combinations of orange, russet, gold, brown, etc. fit right in.
Plaids mix well with florals, paisley, toile, ikat, polka dots, animal prints, stripes, herringbone, solids, small prints and the list goes on.  But – my advice it to be careful when mixing them with geometric prints such as triangular shapes.  There's just something about all of the angles that seem to fight with one another.
I literally spent hours scouring the web and found some really great plaid products for your home!  I've separated them into four different color groups for you too.  If anything interests you, simply click on the name of the item below the image.
BLACK AND WHITE PLAID
Plaid Pillow | Plaid Bear Pillow | Plaid Picnic Set
Throw Blanket | Plaid Pumpkin Mug | Plaid Arm Chair
Plaid Upholstered Bench | Plaid Serving Trays | Plaid Wallpaper
TRADITIONAL FALL COLORS PLAID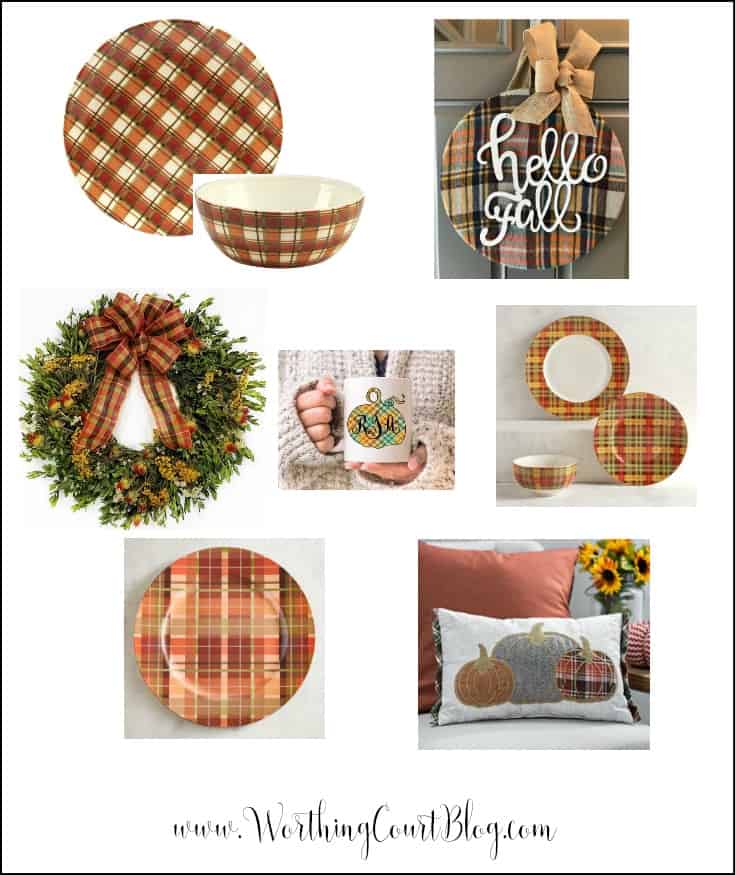 Round Platter | Serving Bowl |Hello Fall Wreath
Plaid Ribbon Wreath | Personalized Plaid Pumpkin Mug | Plaid Dinnerware
Plaid Charger | Plaid Pumpkin Pillow
BLACK AND TAN PLAID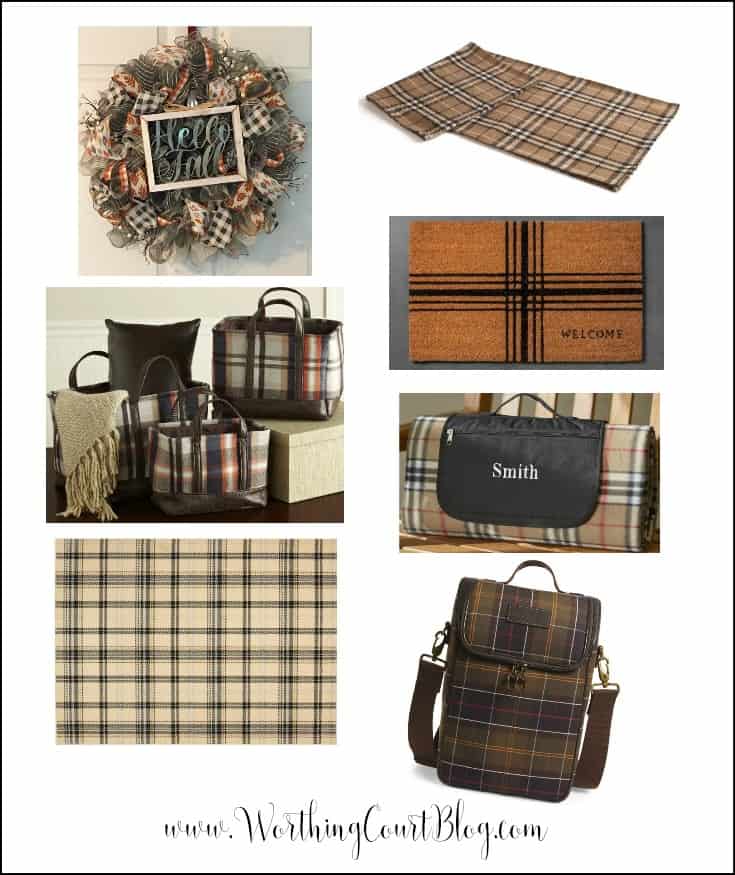 Hello Fall Wreath | Plaid Table Runner
Plaid Baskets | Plaid Door Mat | Personalized Picnic Blanket
Plaid Area Rug | Plaid Cooler Bag
GREEN, GOLD AND BLUE PLAID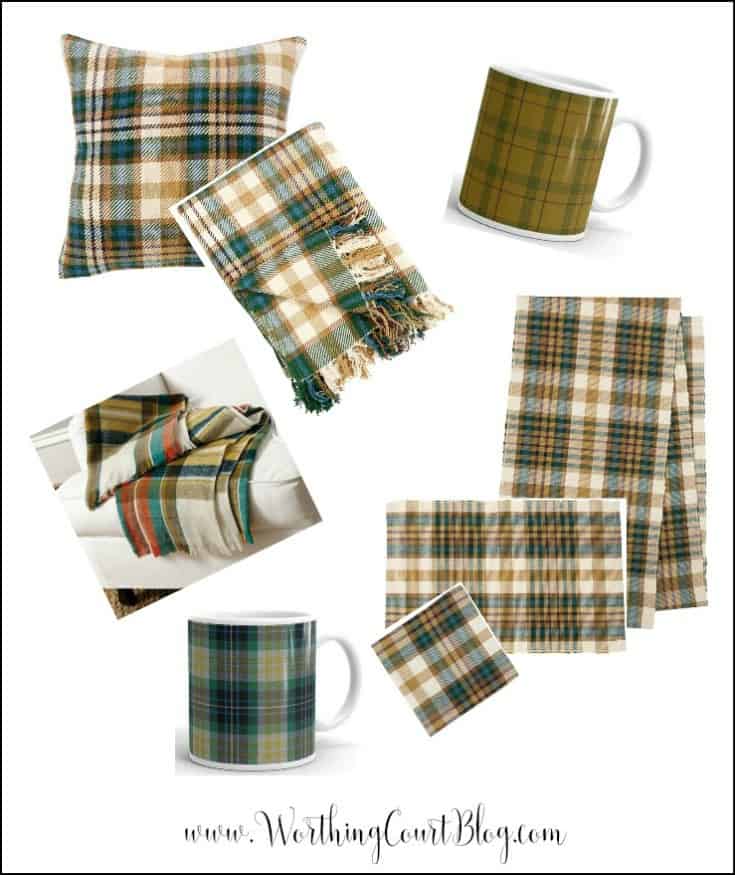 Plaid Pillow | Plaid Throw Blanket | Green and Gold Plaid Mug
Multi Fall Color Throw Blanket | Plaid Table Runner | Plaid Placemats | Plaid Napkins