Celebrate Spring With Farmhouse Florals
Bring the outside in, with fresh and beautiful farmhouse florals for spring!
No matter what the weather may be throwing at us, I am d-o-n-e with winter.  I'm ignoring the cold, gloomy, gray and dreary days outdoors and am gettin' my spring on!  I starting out in my farmhouse breakfast area, where the sun finally came out today and was pouring into the room.  Such a treat after all of the gloom and rain.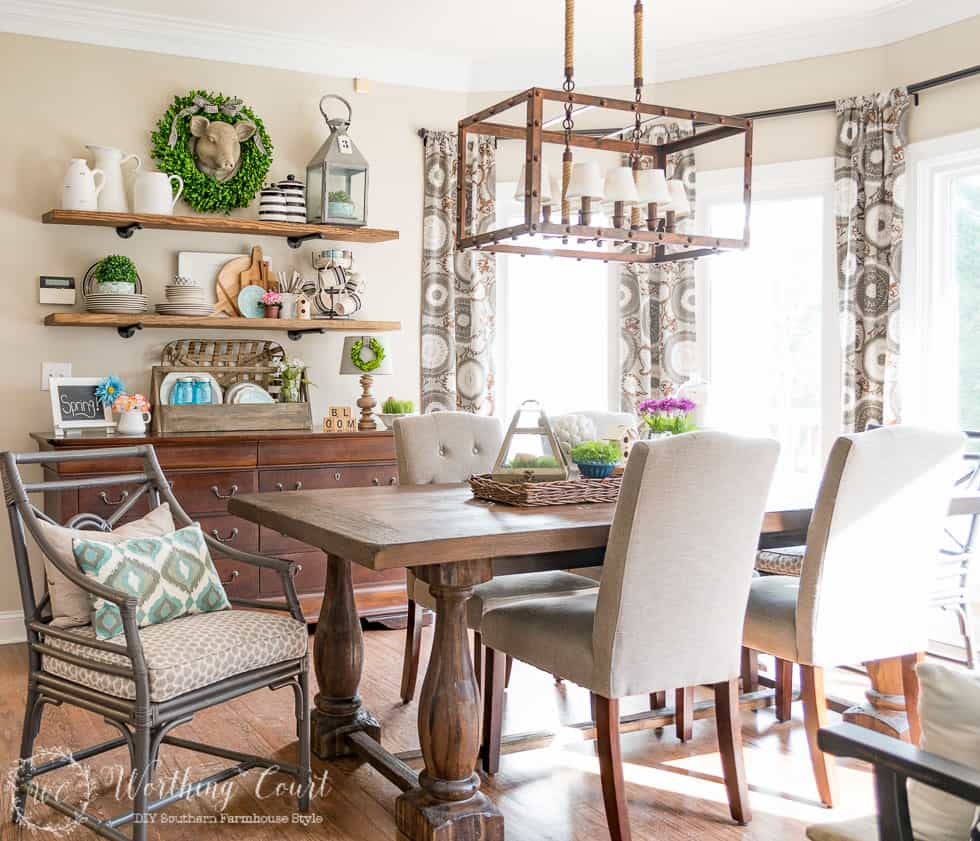 Pin
Before I go any further, let me say how thrilled I am to be joining the talented group of ladies who've been bringing you Farmhouse Friday once each month!  I'm secretly a little intimidated (shhh – don't tell!), but am so honored to be joining in on the fun.  This month's theme is Farmhouse Florals and you'll find a link to everyone's projects at the bottom of this post.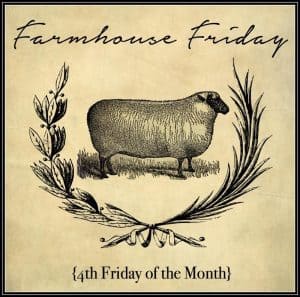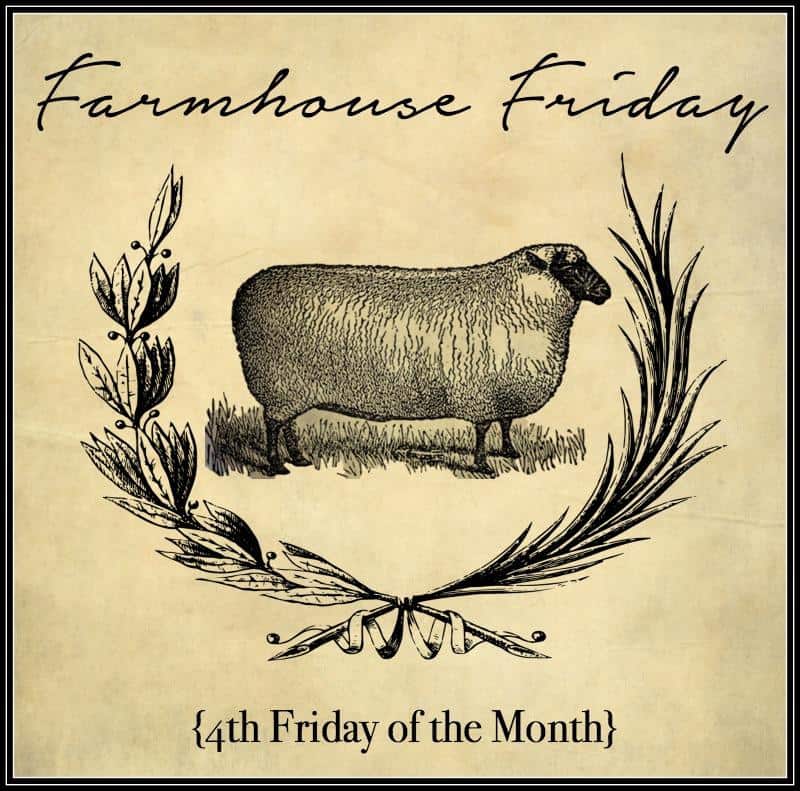 Pin
Back to my breakfast area.  I didn't want to go overboard with adding flowers, so I just put a few small touches here and there – just enough to say 'Welcome Spring!'.  I'm notorious for not keeping up with the water for fresh flowers, so faux it is for me.
My kitchen table centerpiece only has one small grouping of flowers in it, but there are plenty of other elements that speak to spring too.  If you follow me on Instagram (I'd love to have you join me – you can do that HERE), you already gotten a peek of it.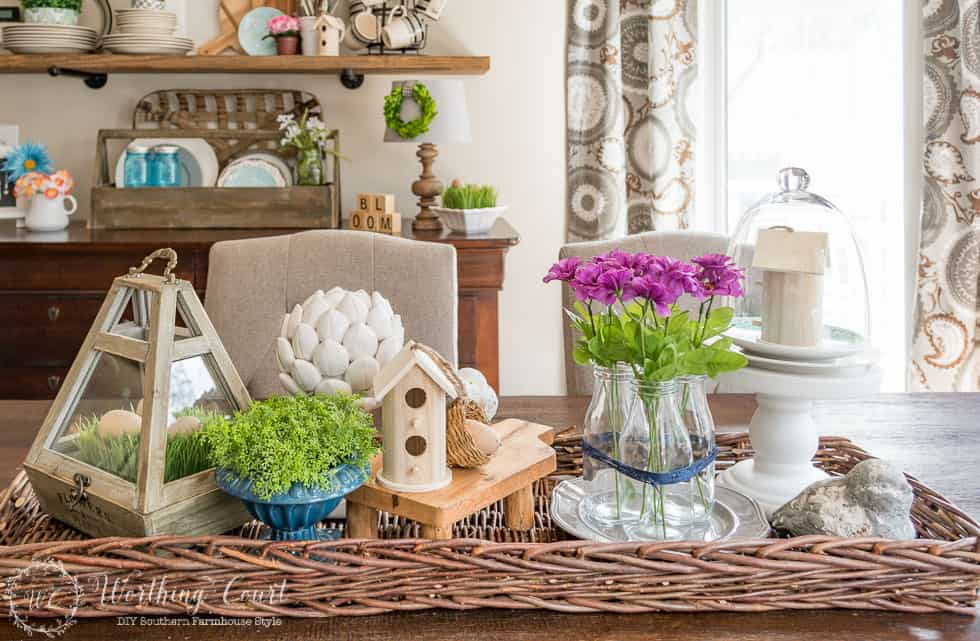 Pin
Simple sprigs of dollar store bright flowers fill three glass jars.  The grouping is made a little more noticeable by tying the bottles together with a bit of colored twine.  That little white bird looks like he photo bombed my picture!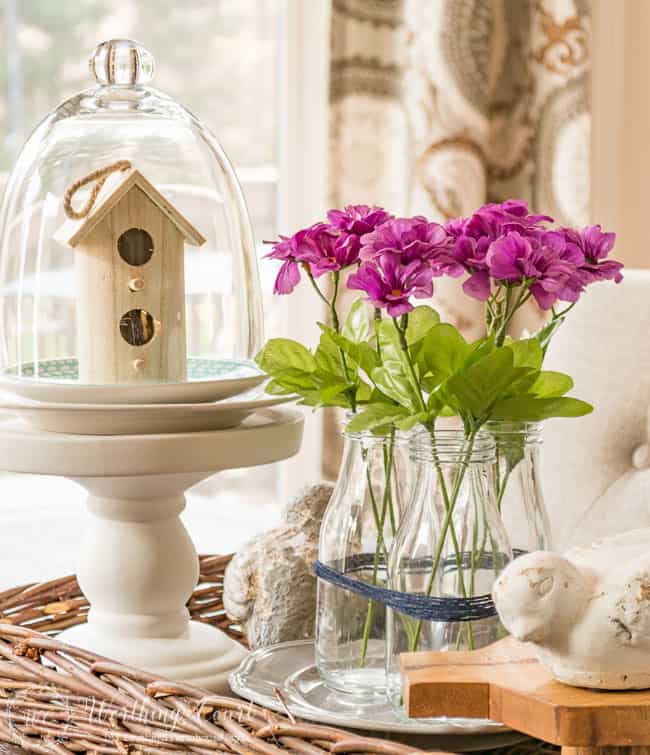 Pin
I picked up several of these cute little birdhouses at Michael's the other day for only $1.  I left them unpainted because I really like the natural color of the wood.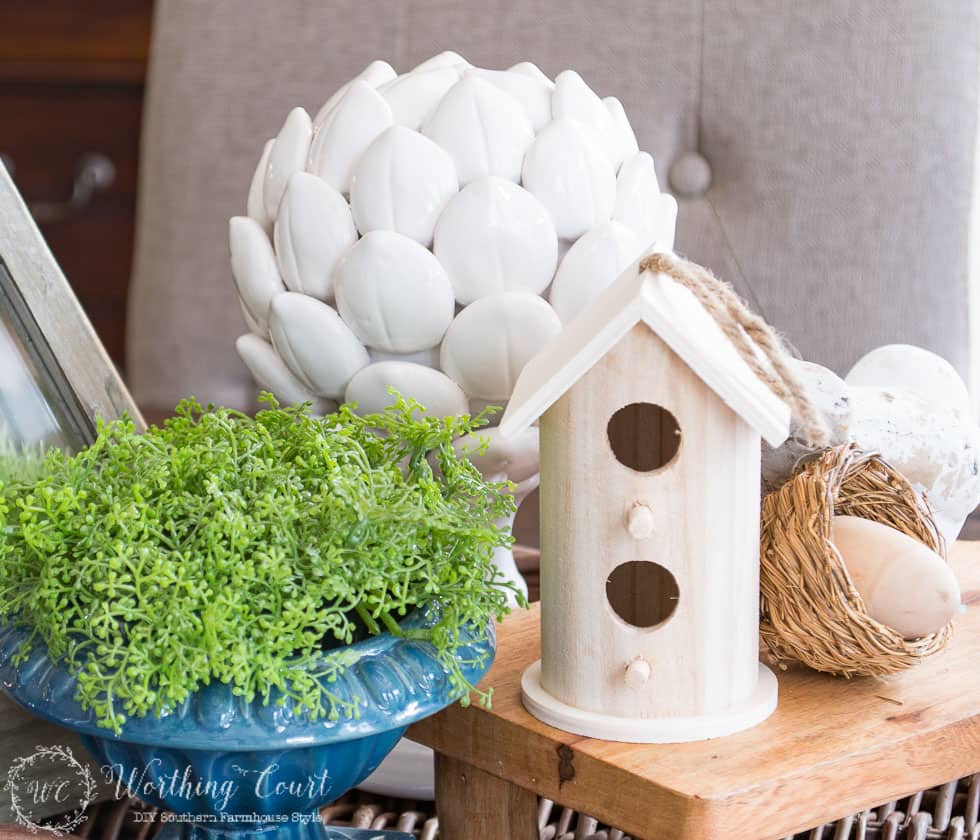 Pin
The other end of the table centerpiece is filled out with another Michael's purchase – a terrarium filled with faux grass and some eggs.  Easter is just around the corner, ya know.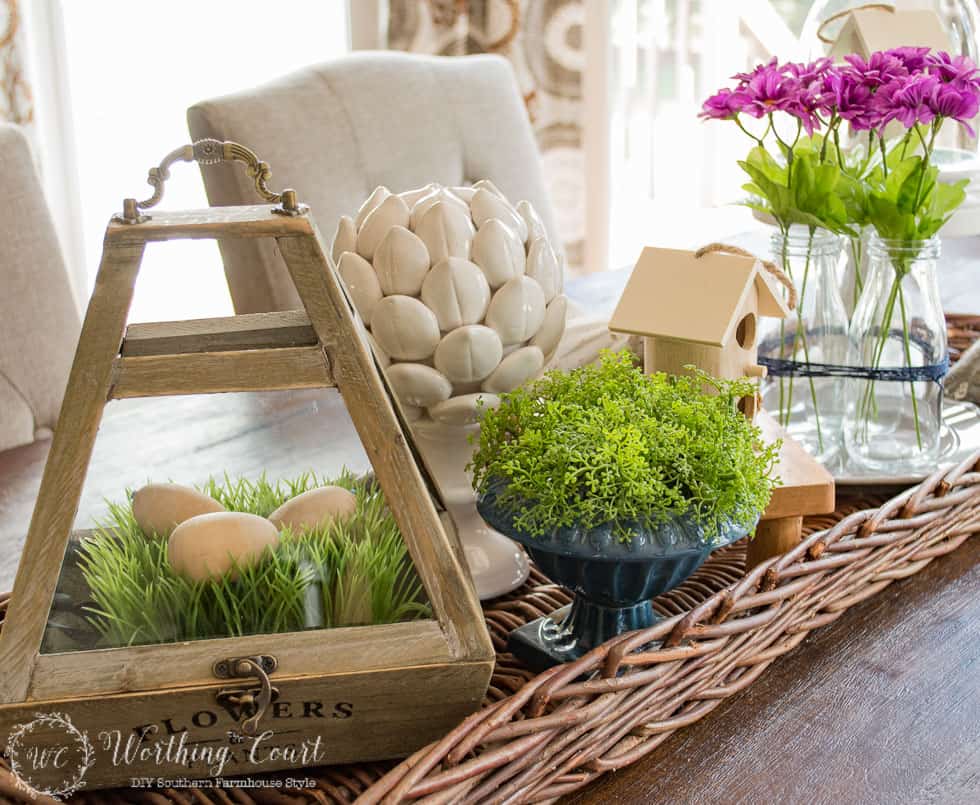 Pin
I know that putting together a centerpiece can seem intimidating sometimes.  My best suggestion is to wait until you're in the right frame of mind, pull out all of your stuff, dive right in and play away!  I wound up using only a small fraction of the stuff that I actually pulled out of my stash.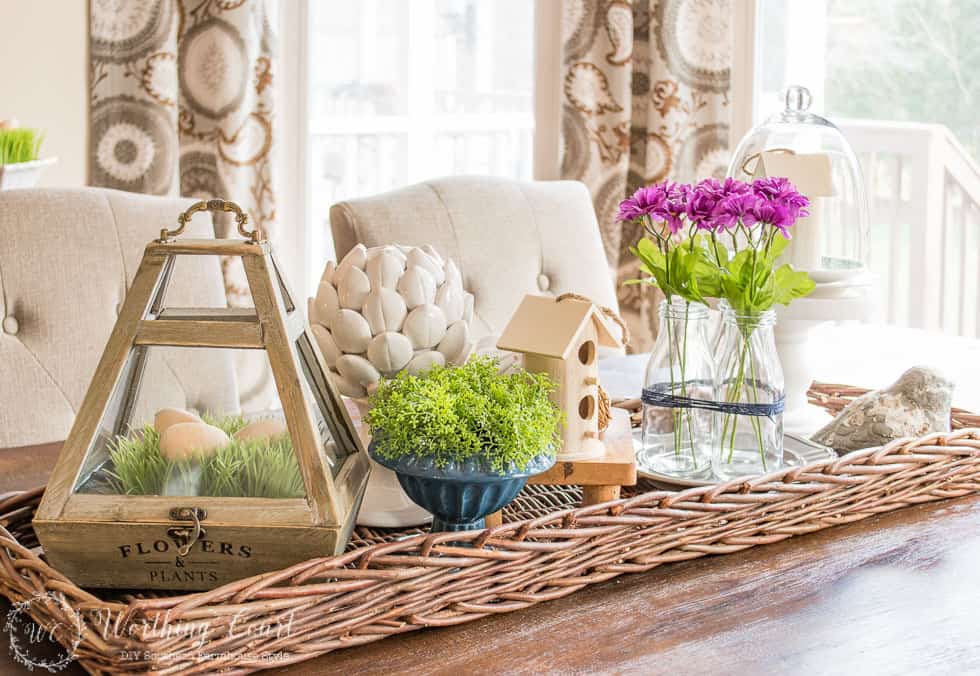 Pin
Over on the open farmhouse shelves, I only switched out a few of the items to give them some spring fling.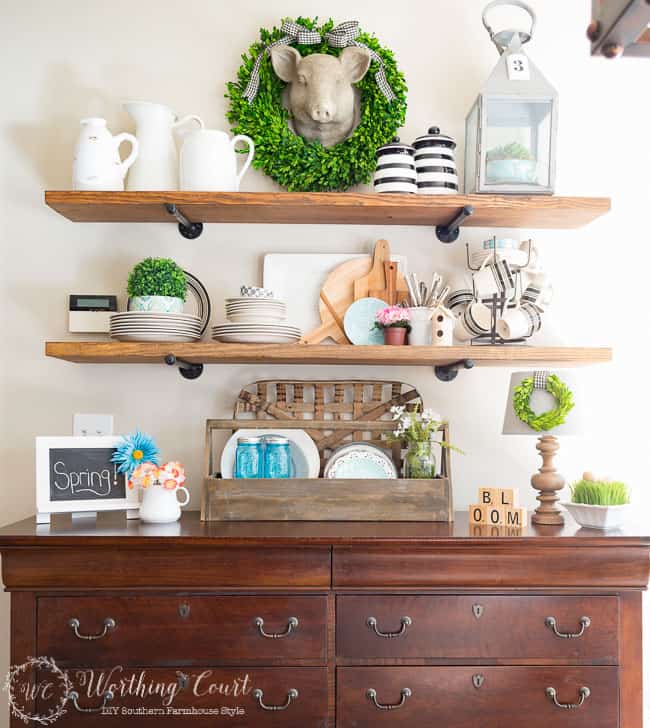 Pin
I took it easy on the florals on the shelves too, so as not to overdo a good thing.  A couple of bunches of sweet daffodils from the dollar store fill a little country pitcher.  The stacked black and white plates and bowls (from the dollar store) remained.  An added easel chalkboard with a clip-on flower completes this spot.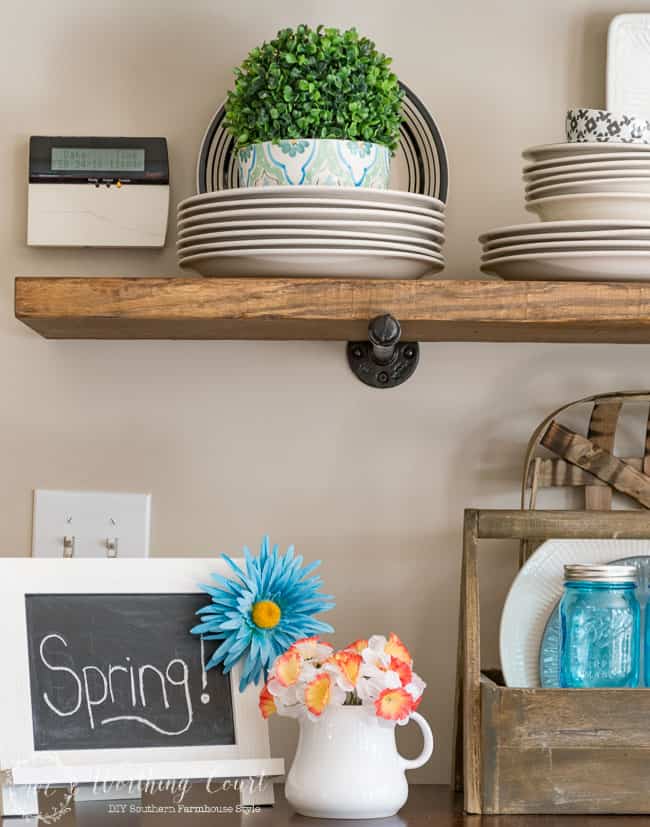 Pin
The other end of the sideboard/dresser/linen storage is still sporting my little lamp that stays on 24/7. But, I added cute letter blocks (another Michael's purchase) to spell out BLOOM, and a bowl of faux grass sporting more wooden eggs.  One more of the little birdhouses made its way to the shelves too.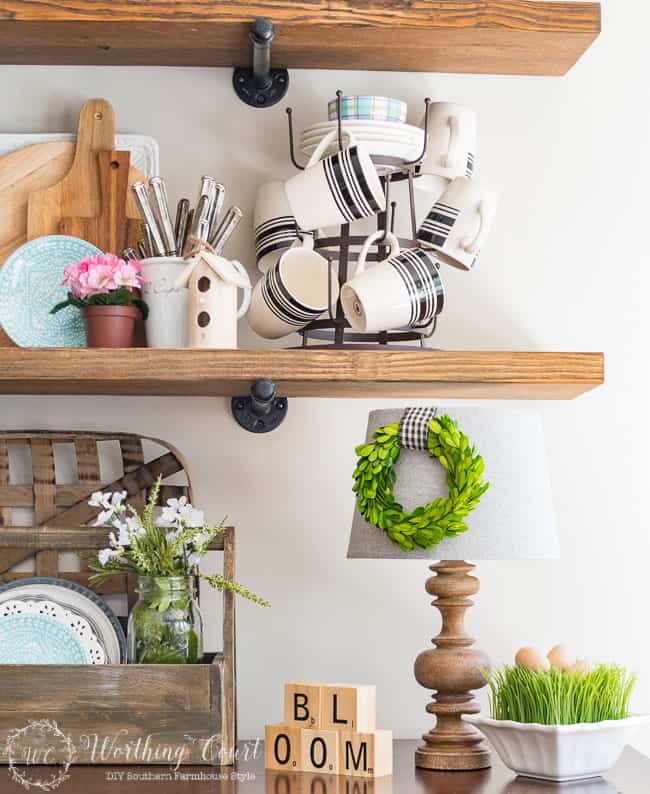 Pin
I kept the reproduction toolbox in its spot, but I switched out a few of the plates, added a few blue touches and a mason jar filled with, you guessed it, more dollar store faux flowers.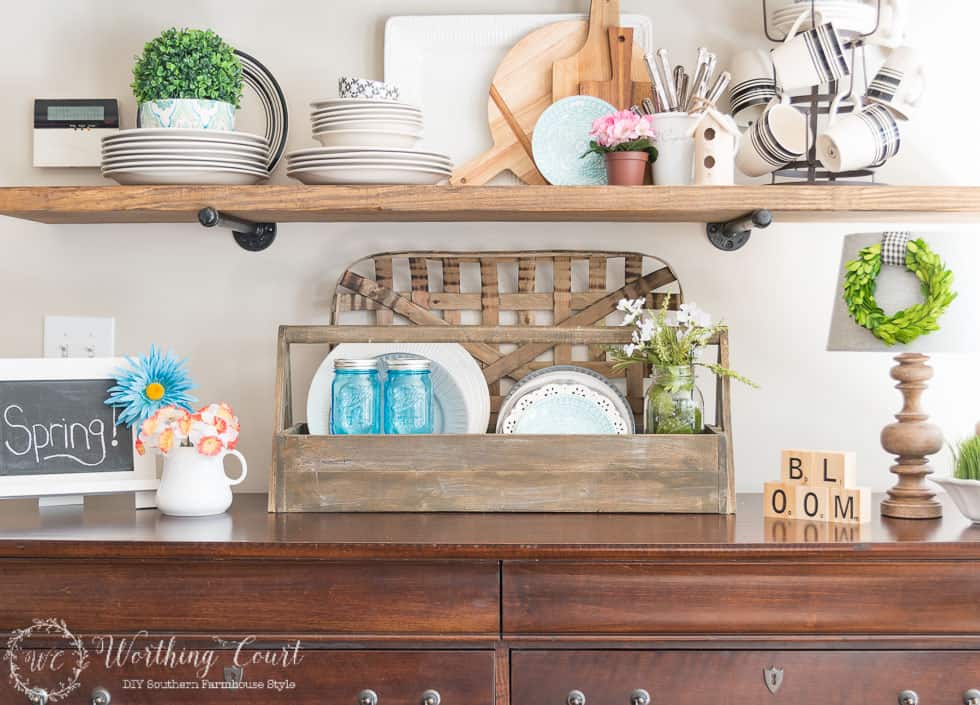 Pin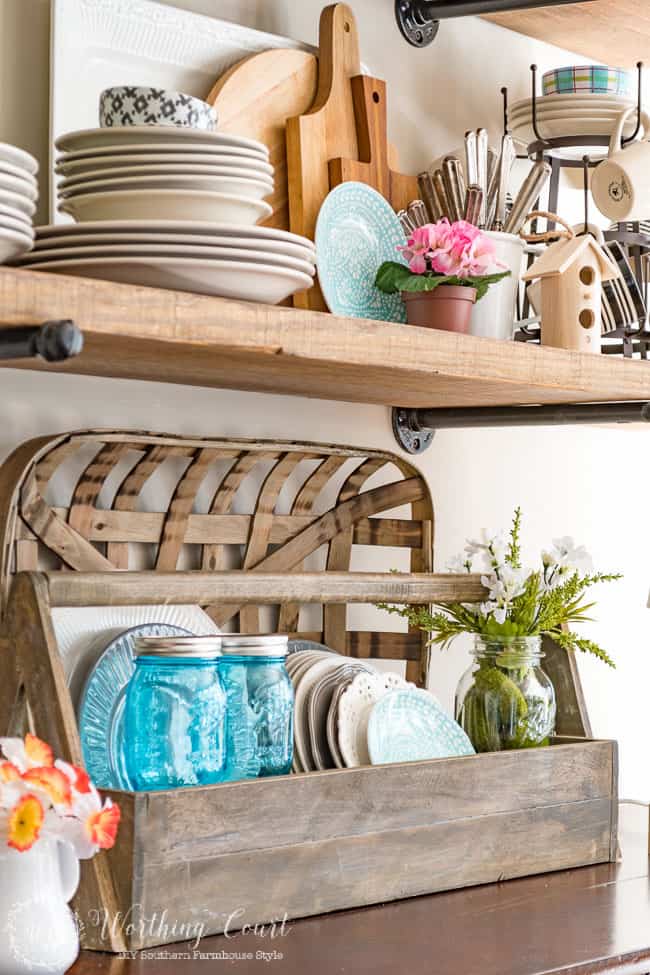 Pin
Thank you for stopping by my farmhouse kitchen today!  Have you started decorating for spring?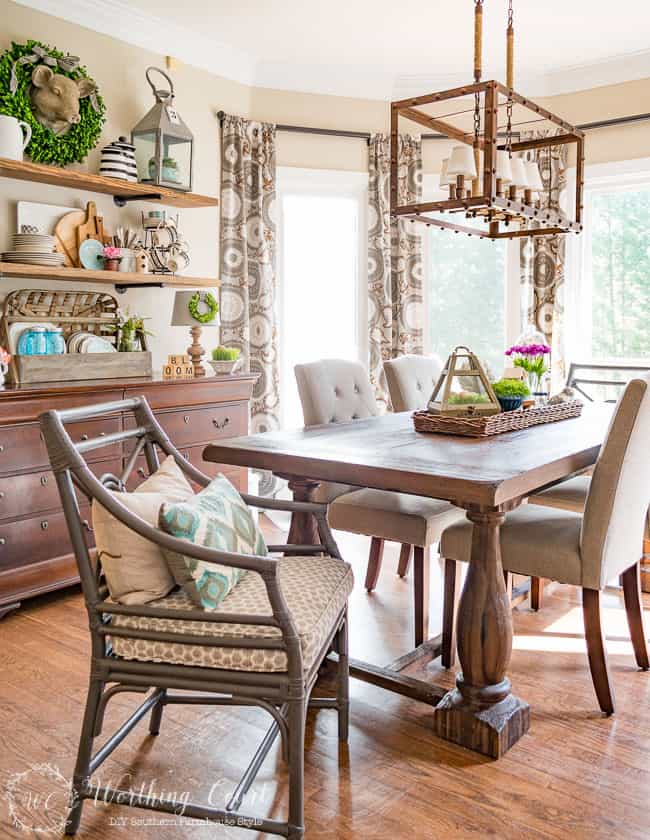 Pin
Sharing at THESE great parties.
Don't miss the other fabulous projects!