Red Brick Fireplace Makeover Before And After
I will show you how to give a very dated red brick fireplace with an oak surround a more updated look.
Maybe you remember seeing a tiny snippet of our painted fireplace when I shared how I put together a corner of our family room a couple of months ago.  The fireplace was waiting for me to complete one more portion of the makeover and finally, at long last, it's ready for its reveal!
But – I have to show you the before picture first because the difference is nothing short of amazing! You'll have to excuse the photo quality. I was snapping these pictures on the run.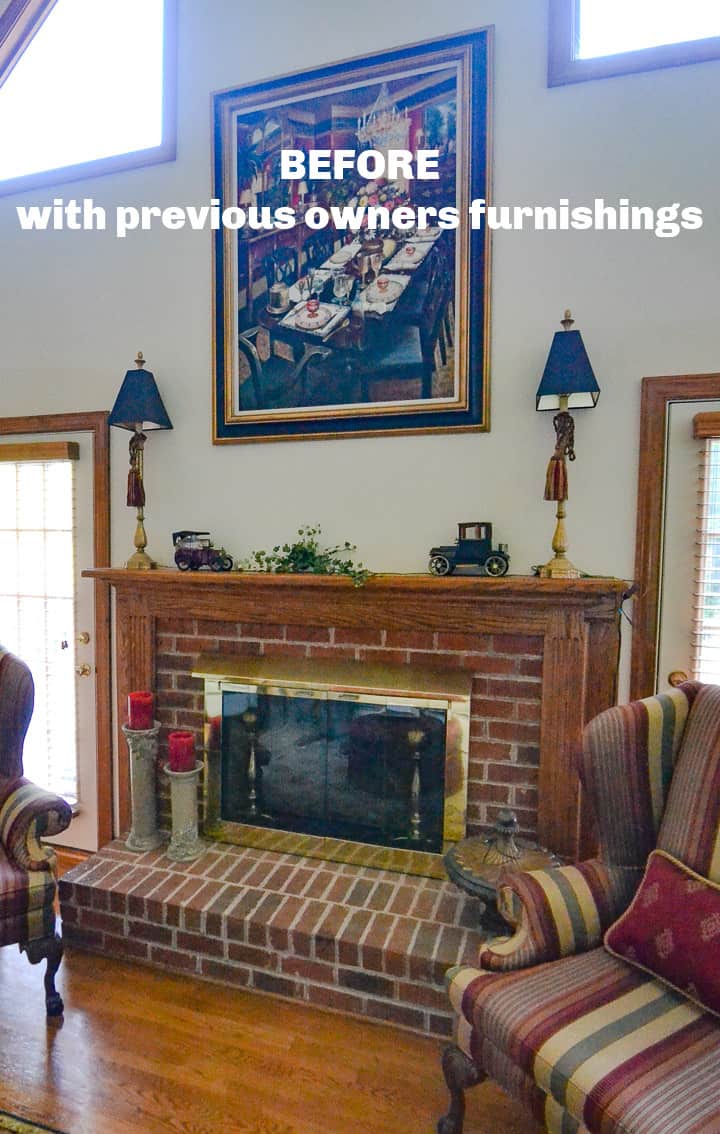 Pin
This is how the fireplace looked on the day that we looked at the house. There was nothing wrong with it, it was just much darker and had a more traditional look than I was after.
It was hard for me to be patient during the remodel of the house because I knew how amazing  the fireplace was going to look  once it received its makeover!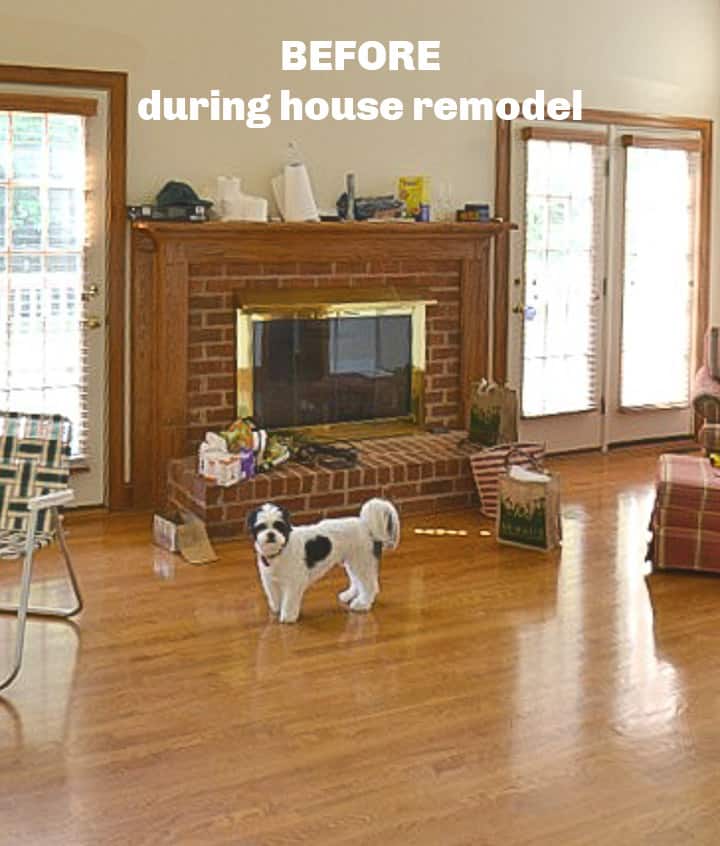 Pin
And this is how the dated fireplace looked once we gave the brick a couple of coats of airy white paint and painted the brass doors enclosure with high temp black spray paint! (Scroll down to see how I've updated it since this post was originally written.)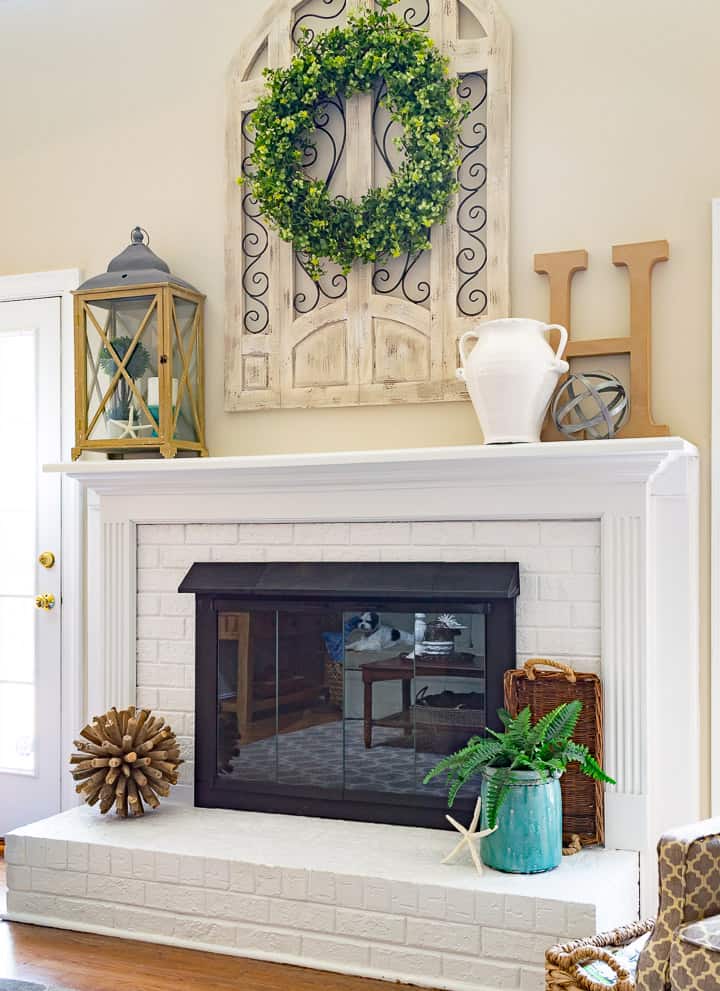 Pin
I toyed with the idea of white washing the brick instead of painting it solid white, but because our brick had so much red in it, it came across as pink'ish. Not a look I wanted at all.
We didn't use any type of special paint on the brick – it's just Sherwin Williams Extra White interior latex paint in semi gloss.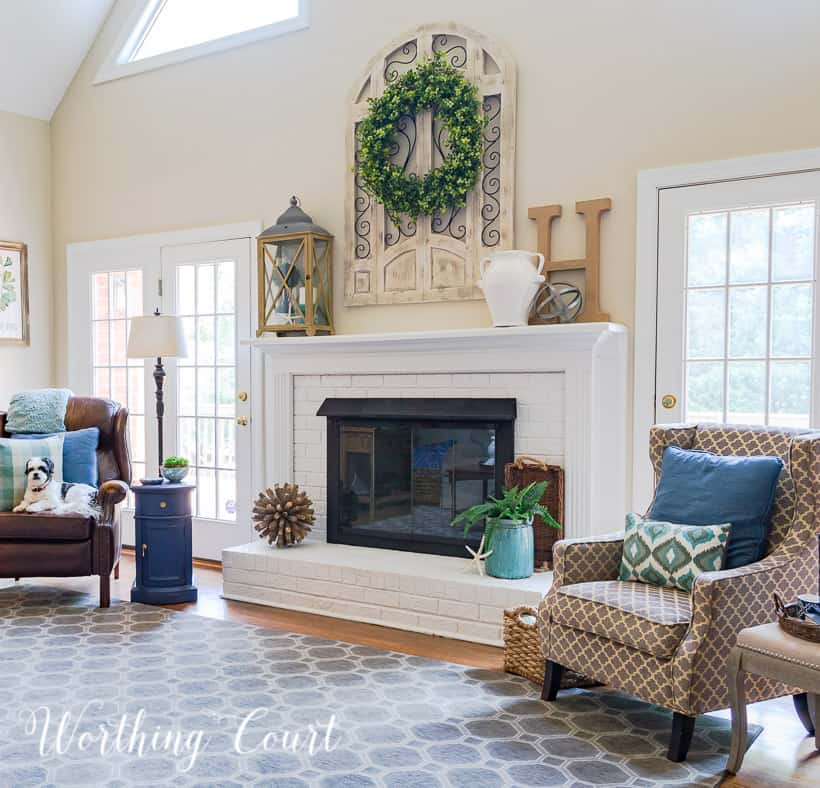 Pin
This is what greets you when you enter our home through the front door and then come on through the foyer.  Not only did we paint the fireplace – we got rid of the rest of the brown trim in the room by painting it with the same white paint.
Because of the tall ceiling in this room, I needed something large to hang on the wall above the fireplace to create visual interest.  This architectural piece from Kirkland's (no longer available) is exactly what I envisioned.  It already had a slightly distressed finish, but it wasn't quite the color that I wanted, so I dry brushed some gray and white paint all over it and wiped some of the paint off while it was still wet.  I'm very happy with how it turned out.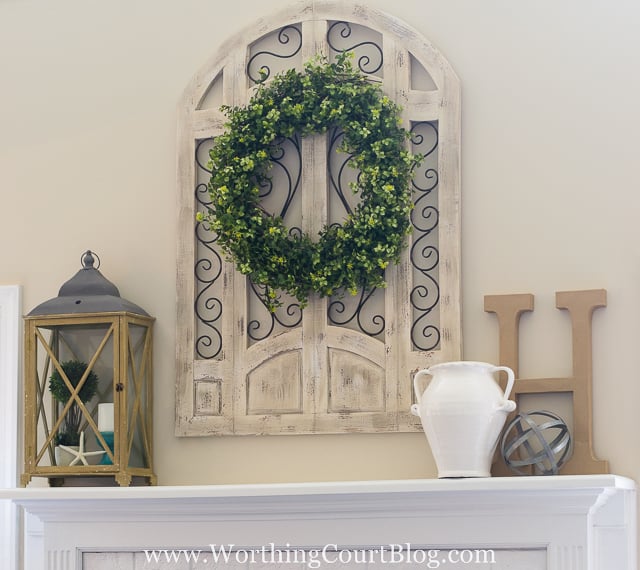 Pin
The beautiful wreath was made by attaching three faux greenery garlands to a grapevine wreath and is attached to the "gate" with floral wire.  I'm looking forward to changing it out with the holidays and seasons.  This look will carry me straight through the rest of the summer.
Because of the overall size of the room, the mantel and hearth called for large decorative pieces too.  The lantern and large white urn came from HomeGoods, the metal orb came from Target and the large H is just a cardboard letter from Hobby Lobby.  I didn't bother to paint it as I like the color of it just as it is.
Down on the hearth, I kept it simple with a ginormous spikey ball from West Elm and a blue urn and basket from HomeGoods.  Add a starfish to the display and you have instant summer!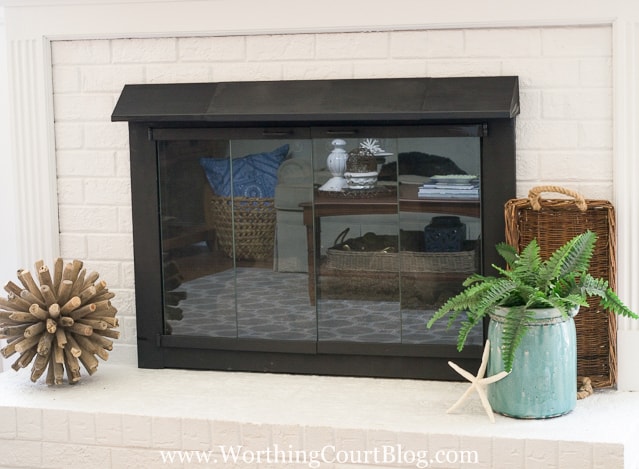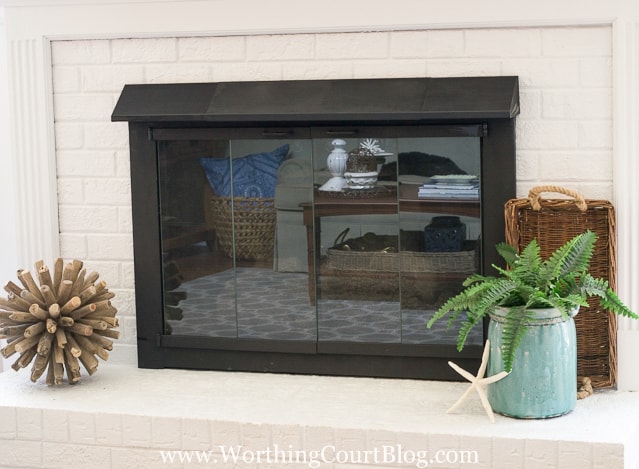 Pin
You can't really tell it in these photos, but we painted the inside of the fireplace black too – using high temp paint, of course.  It's makes such a huge difference!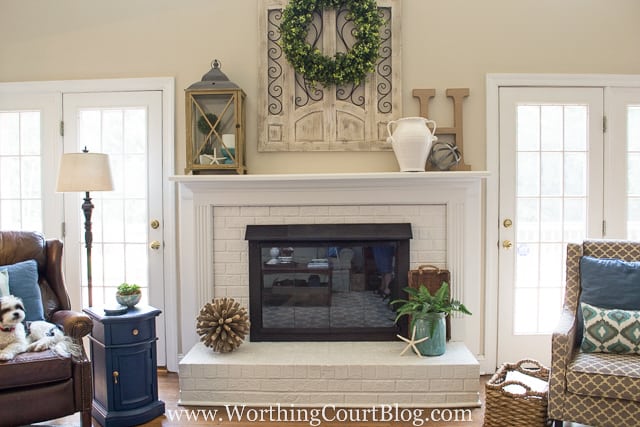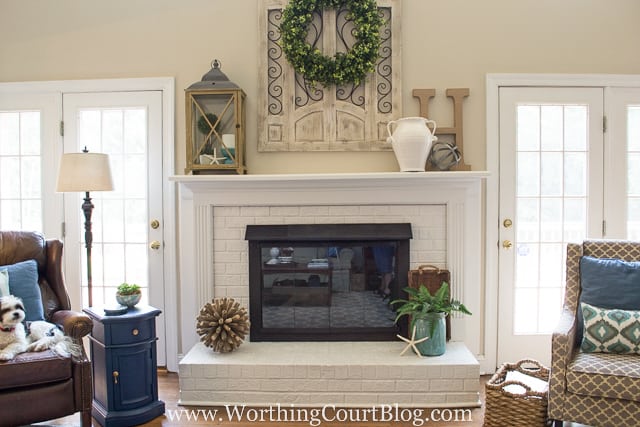 Pin
This is the view walking into the family room from the kitchen.  In case you're wondering what that is hanging on the door frame above the chair, it's a pair of curtains that I think I'm going to use in here.  Check out my budget friendly window treatment solution HERE.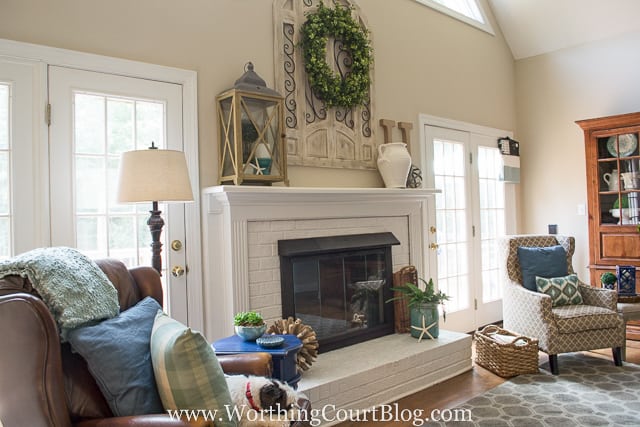 Pin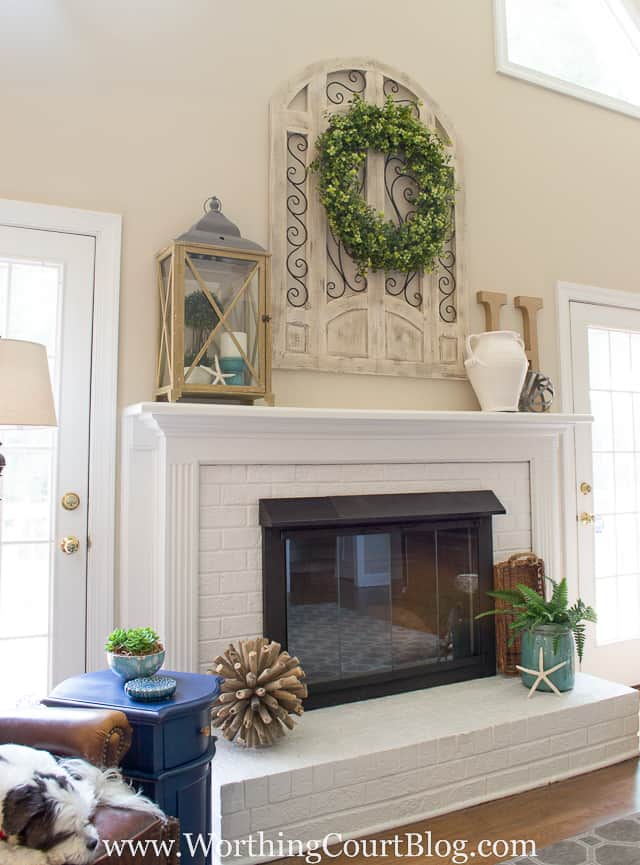 Pin
I'm really, really happy with how the fireplace makeover turned out and I'm really, really happy that I have one more project crossed off of my list!
UPDATE: I wrote this post in 2015 and and wanted to let you know that the paint on the brick has held up fantastically!
I regularly run a vacuum cleaner over the hearth and wipe it with a damp cloth as needed and we haven't had any chips at all.
The high temp black paint on the brass surround does have a couple of chips that need touching up though. I may just trying using a black magic marker to see if that will work instead of dismantling the whole thing to take it outside to spray paint.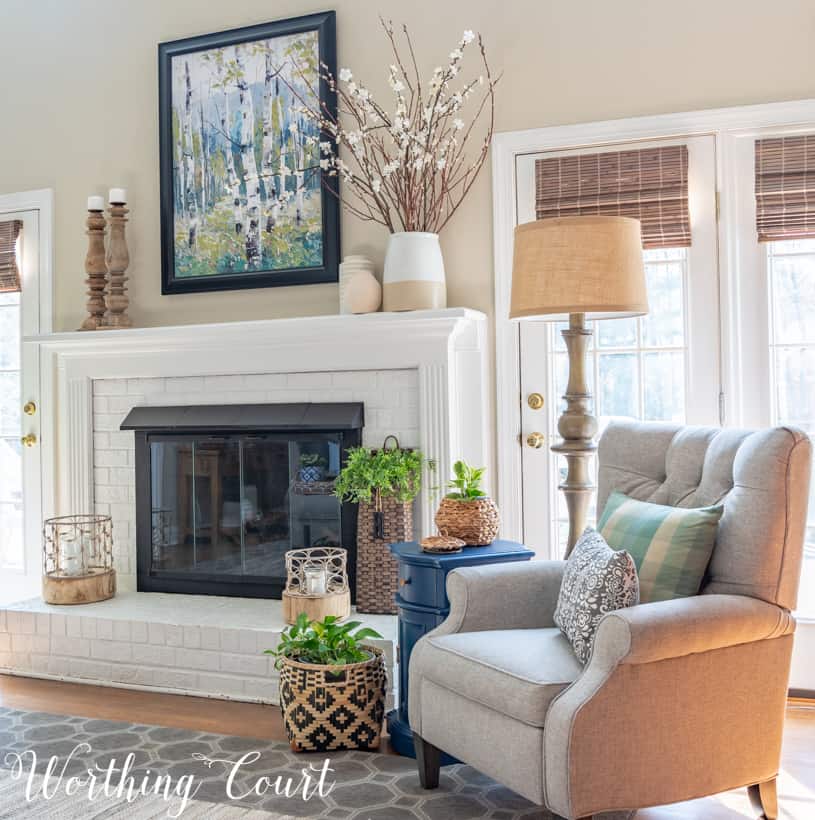 Pin
You can see that I was ready for change and replaced the arched wood and metal piece with an art canvas that I plopped into a frame that I already owned.
I have a love/very-strong-don't-like relationship with the triangular shaped windows that are up near the ceiling.  I love the light that they let into the room, but I don't like the shape of them.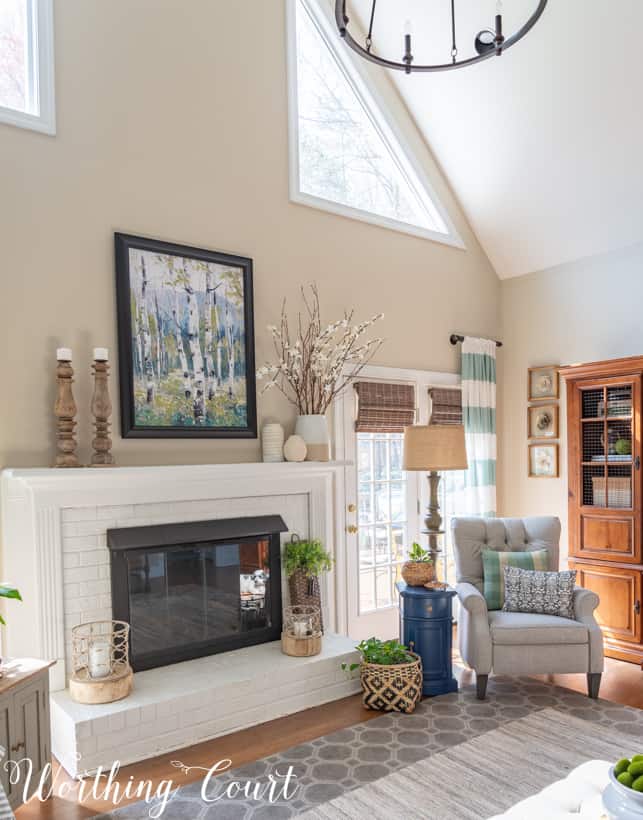 Pin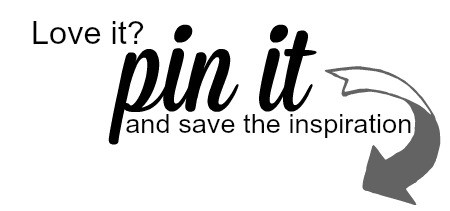 Pin