Fixer Upper Style DIY Hanging Lanterns For My Dining Room
I love my indoor hanging lanterns that create just the perfect ambience my dining room needed.
I've learned that to make my rooms feel complete and pulled together, I need to add layers to my decor.  I can't just place the furniture, hang a little artwork on the wall and call it done.  I need to go a few steps further.
Such was the case on our diy planked wall in the dining room.  The vintage mantel shelf and the buffet are all well and good, but they weren't enough to properly fill the wall.  The wall measures about 15′ wide, not counting the bay window, so I had these two rather large blank areas on either side of the buffet.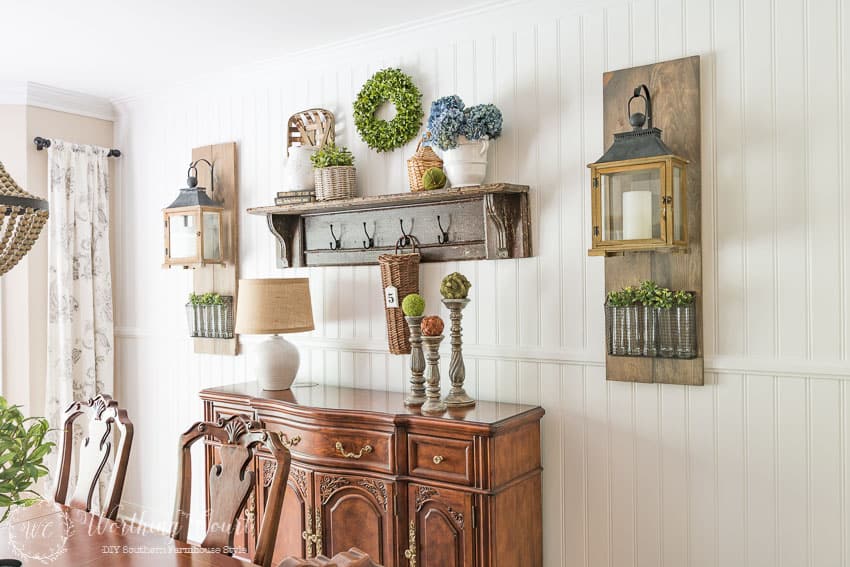 I felt like a couple of indoor hanging lanterns, to flank the shelf and buffet, would be just the perfect thing.  But lanterns hanging by themselves would have been too dinky, sooo…after picking up a couple of lanterns at At Home, I channeled my inner Joanna Gaines and made large wood plaques to hang them from, along with a wire basket filled with glass vases and little sprigs of greenery.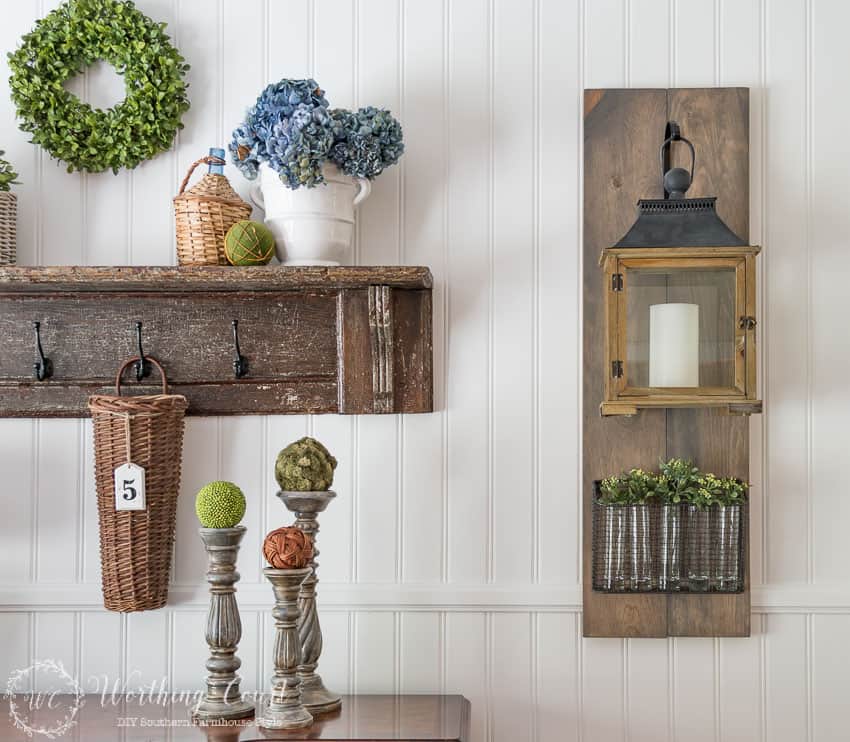 BTW – At Home is pretty much my go-to place when I'm specifically looking for lanterns.  No, they aren't paying me to say this.  I just think that they always have a good selection and their prices are very reasonable and I want you to know about it!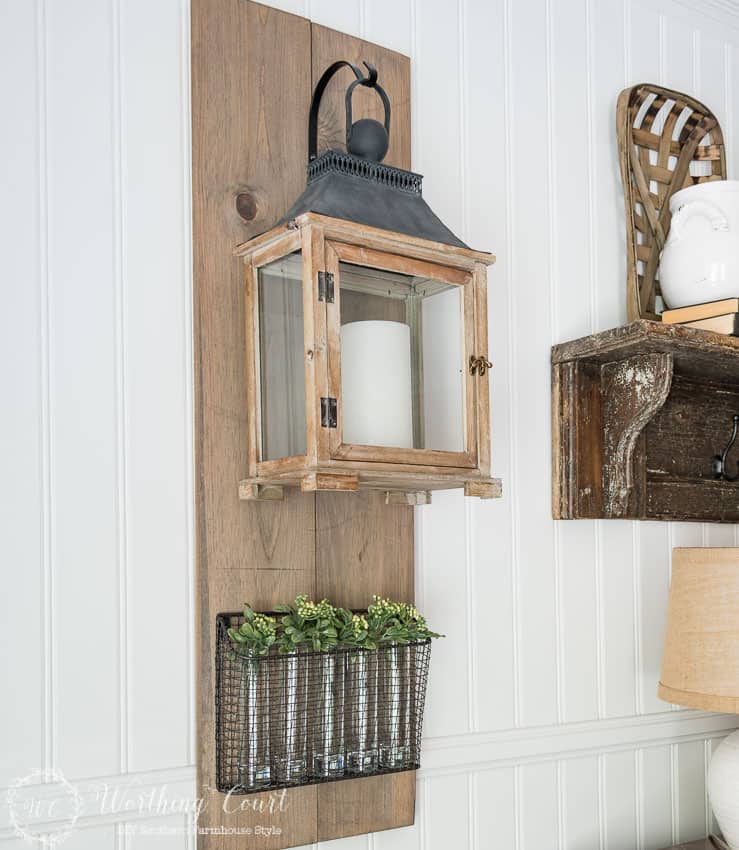 I placed a  battery operated candle with a timer (also from At Home) in each hanging lantern.  The candles won't give off a ton of light, but their glow will add a nice ambiance to the dining room at night.  And I think the wire baskets will be fun to change out seasonally.  I can think of all sorts of items to fill them with.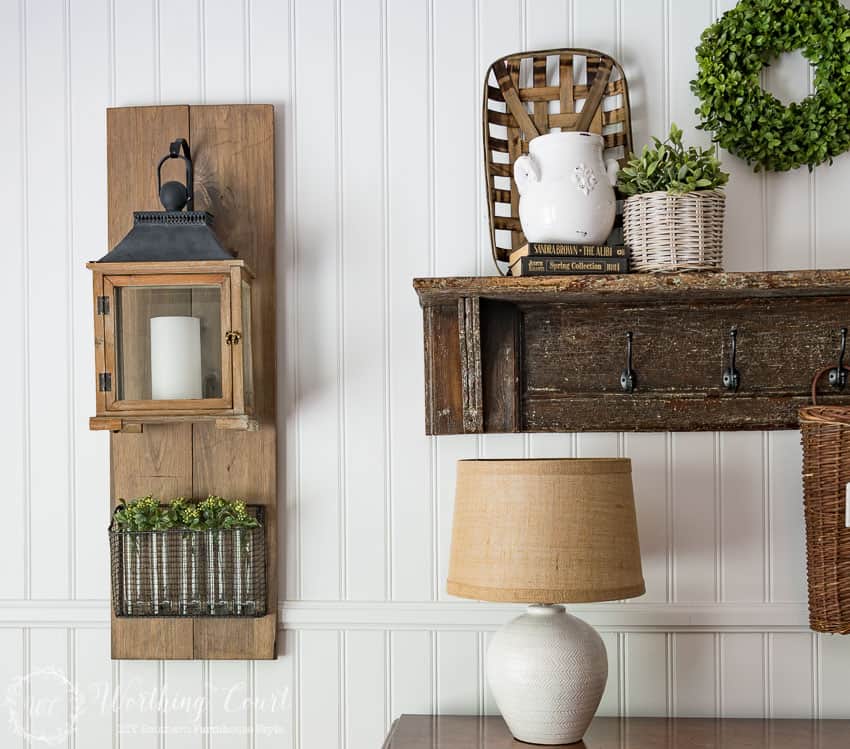 I think that I just might be ready to call this side of the dining room makeover complete!  I'll share exactly how I made the plaques in a couple of days, in case you'd like to try this project yourself.  Don't worry – they're easy and budget friendly – just like the rest of my projects are.
UPDATE:  Click HERE for a step-by-step tutorial for how to make these for your own home!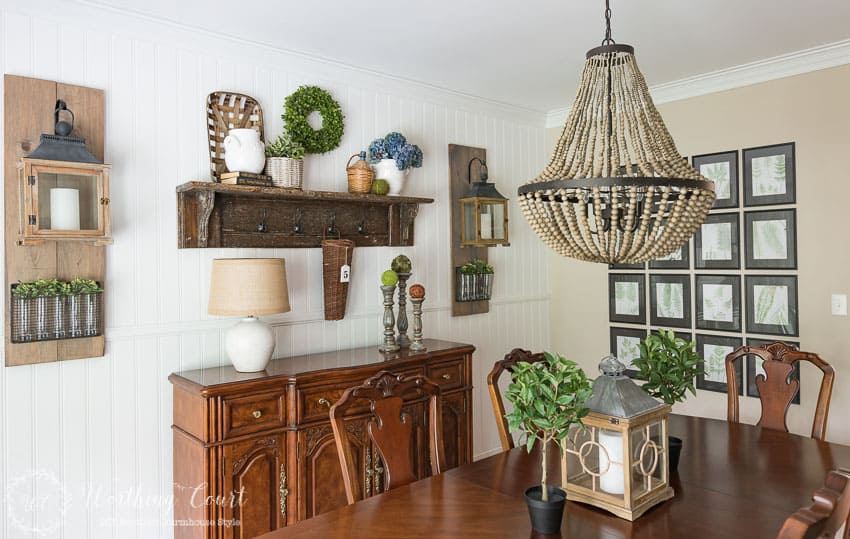 Catch up on all of the dining room makeover progress from conception to now by clicking on the below links:
PLANS FOR MY DINING ROOM AND MY DECORATING DISORDER
THE FASTEST AND EASIEST DIY PLANKED WALL IN THE HISTORY OF EVER
MORE DINING ROOM MAKEOVER PROGRESS – A NEW RUG
HOW TO FILL A LARGE WALL WITH ART FOR UNDER $75
HOW TO BUILD A FARMHOUSE HANGING LANTERN DISPLAY
PIN IT FOR LATER!


Sharing at THESE great parties.