The wall above the sofa in my family room is a bit of an odd one and had me stumped for a while. There is an overhang above the sofa that is created by the upstairs hallway. You can see it in this photo that was taken not long after we moved in. I was just barely starting to put the room together when this photo was taken.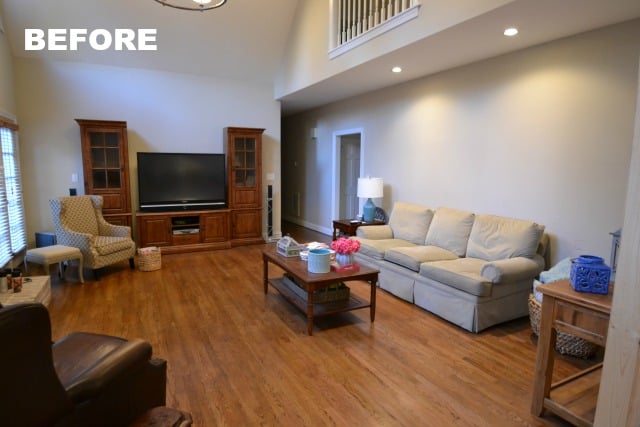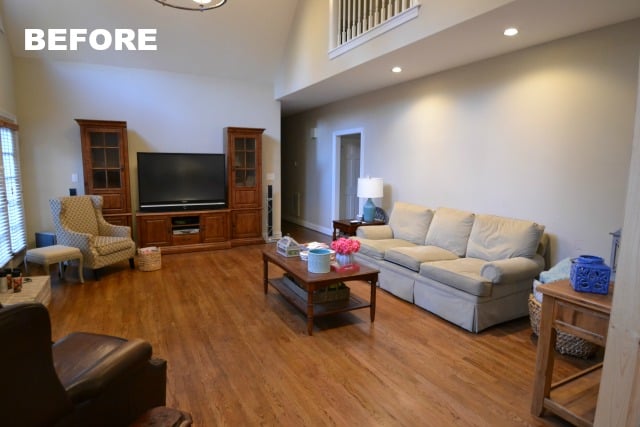 The problem wasn't that there wasn't enough room to hang anything – it was figuring out what to hang. I pretty much knew that I wanted to create a gallery wall of some kind, but I just wasn't coming up with any inspiration for it. So…the wall stayed empty for months and it bugged Pookie every.single.day.
I came across a mirror at TJ Maxx and just like that, inspiration struck. Do you remember the clock that previously hung above my console table? Well now, the mirror has taken its place and the clock became a big part of the gallery wall.
UPDATE: I've beefed up my gallery wall and it has a whole new look! Check it out HERE.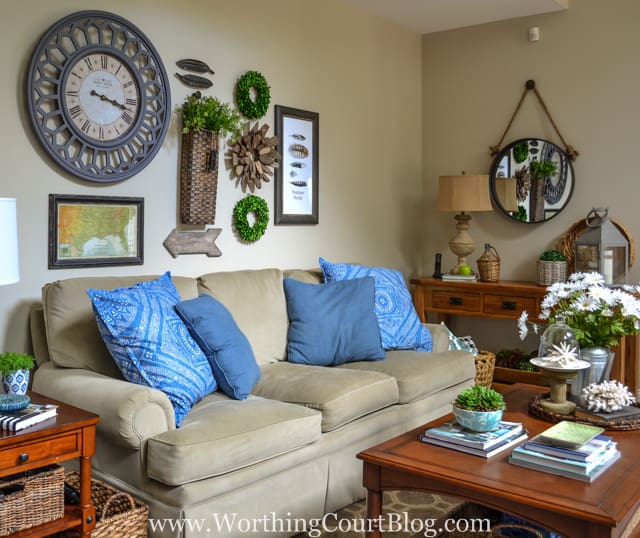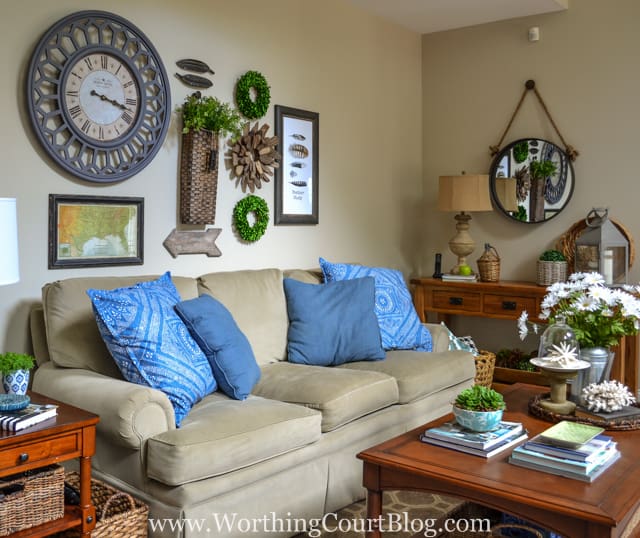 Here's a look at the wall from the other side of the room. The doorway at the end of the sofa leads to the foyer.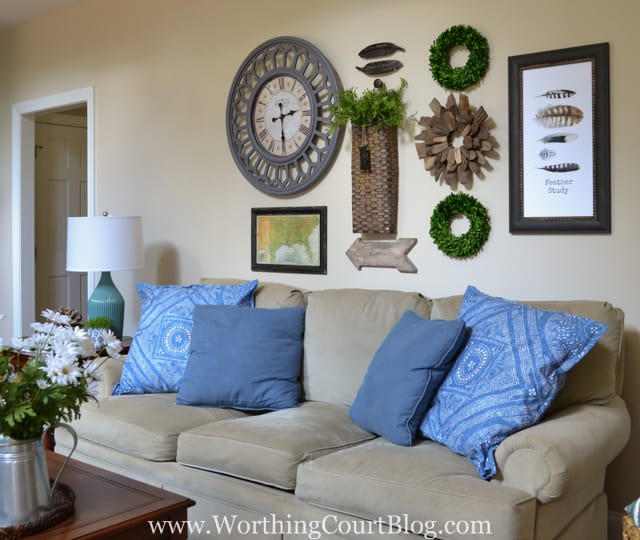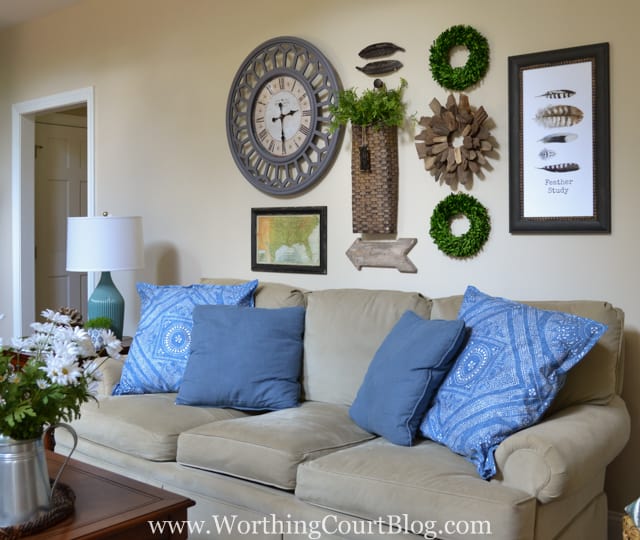 I first experimented with the layout by arranging everything on the floor in front of the sofa. Once I came up with an arrangement that I liked, I determined that the long basket would be the anchor of the grouping and should be hung so that it was centered on the sofa. It took me a couple of tries to get the height just right. The basket is hanging from a wooden cabinet knob that I painted black. I purchased a wooden letter "H" and painted that black too and hung it from the front of the basket with a piece of jute twine. The greenery in the basket is faux.
Two pottery feathers are hung together above the basket and an arrow is below it. The arrow was an unfinished wood one that I roughed up and gave a driftwood treatment to. I'll be posting a tutorial about how to do that.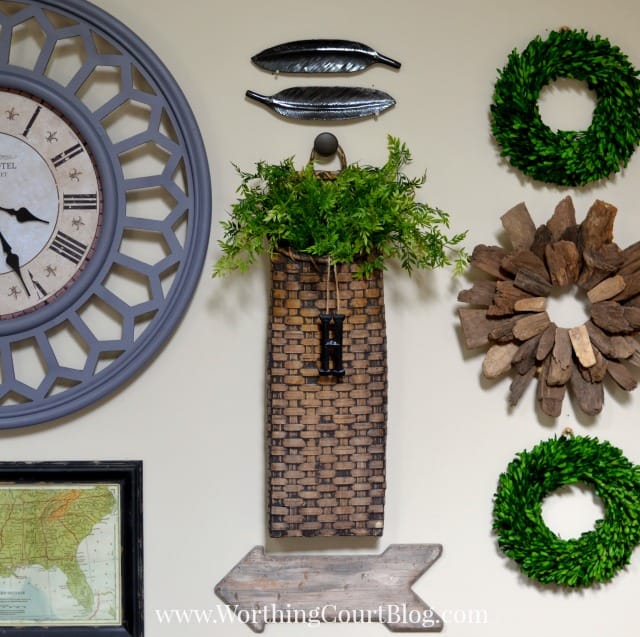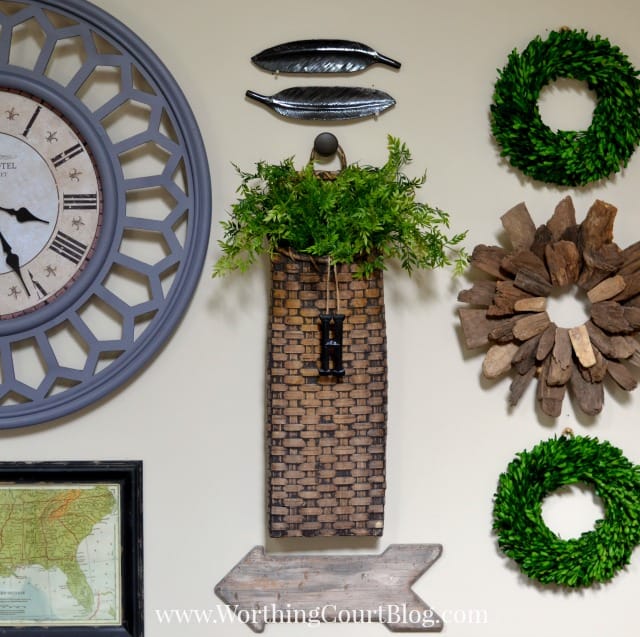 Because of its size, I decided that the clock should be the next piece to be hung. This is the clock that used to hang above the console table where the round mirror now lives. I've been waiting to find just the right place for the map of the southeastern US that Barb gave me and I finally found it right below the clock.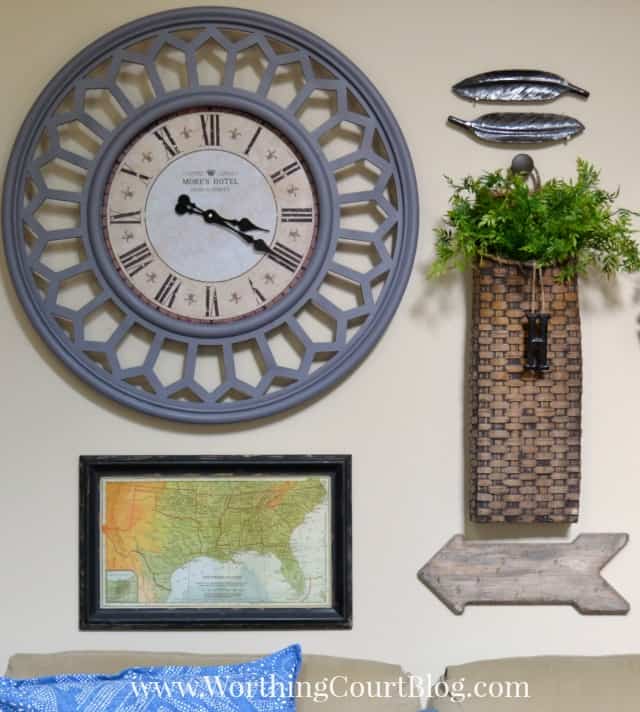 I hung a row of three wreaths on the other side of the long basket – one made from driftwood pieces and two that are preserved boxwood. This side of the gallery is rounded out with a feather print. I made it by using PicMonkey to add the words "Feather Study" to an image that I found online and took it to my local FedEx store for printing. I sized it to fit perfectly inside a frame that I already owned. I adore the print, but Pookie looked at me like I had two heads when I showed it to him. I don't think he considers it real art.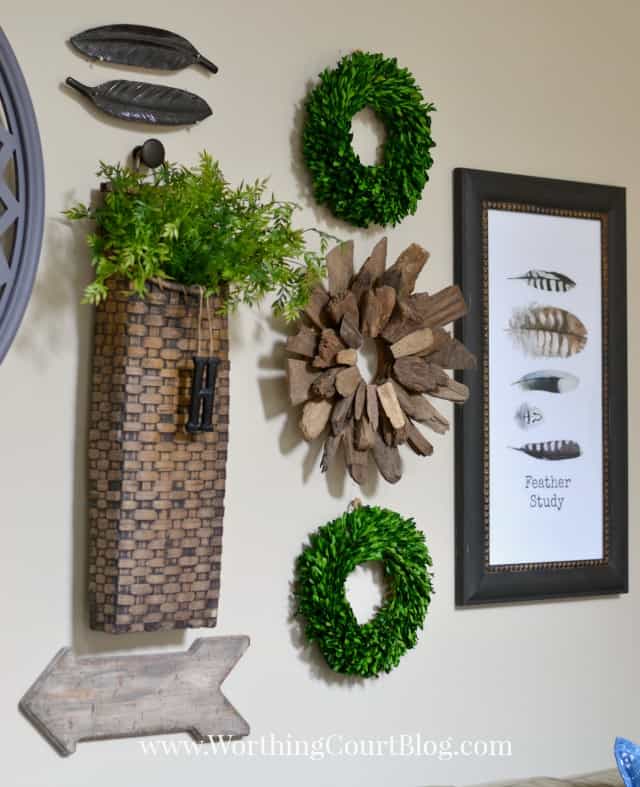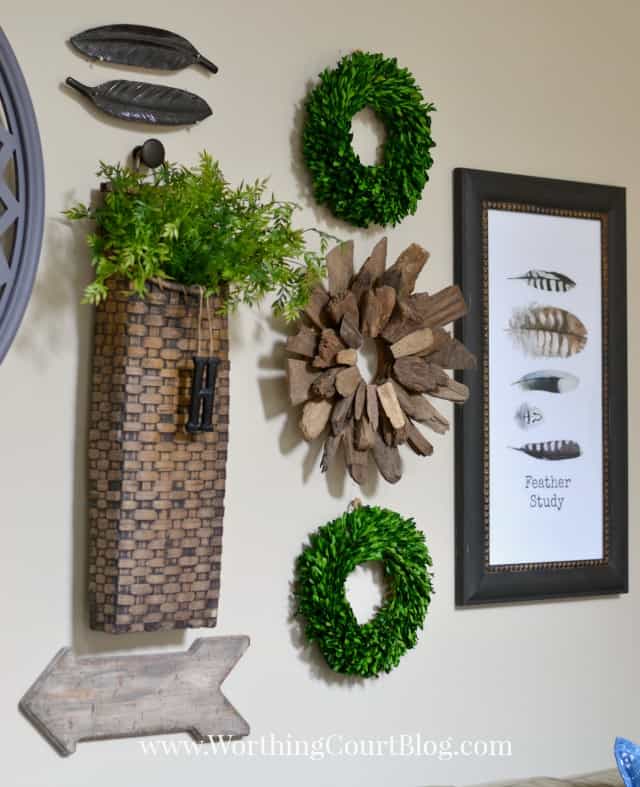 My number one favorite thing about this wall is all of the texture and dimension that it has. My second favorite thing is that it looks like it is made up of pieces that have been collected over time.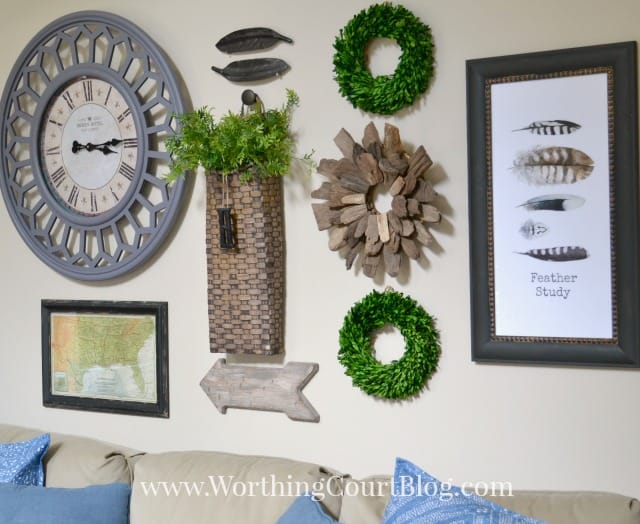 I especially love the way that if reflects in the new mirror.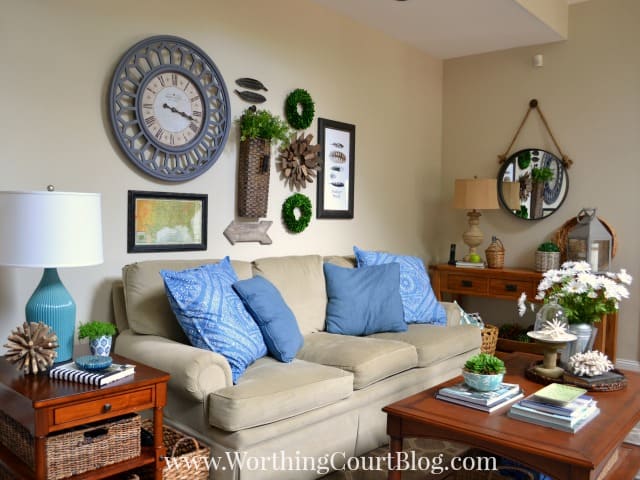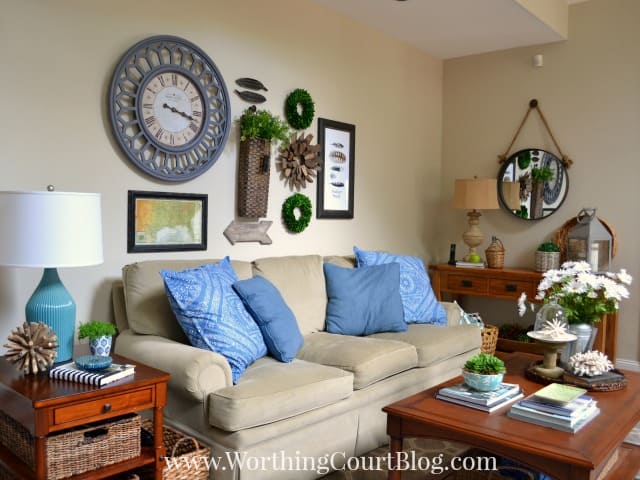 I decided that small throw pillows tend look a dinky on this sofa, so I replaced the ones that I had with two euro size ones. I found a pair of shams that have a great batik'ish pattern printed on the fabric. We really do use these pillows a lot – the grands use them on the floor, everybody uses them for arm props on the sofa and they're perfect for a nap. The nice thing about using euro pillows is that I can easily replace them if they start to get flat.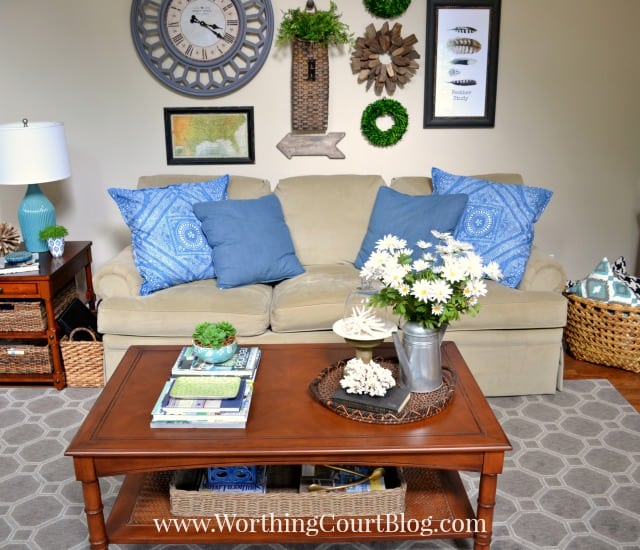 As a nod to summer, I've added a very simple vignette in a round wicker tray to my coffee table.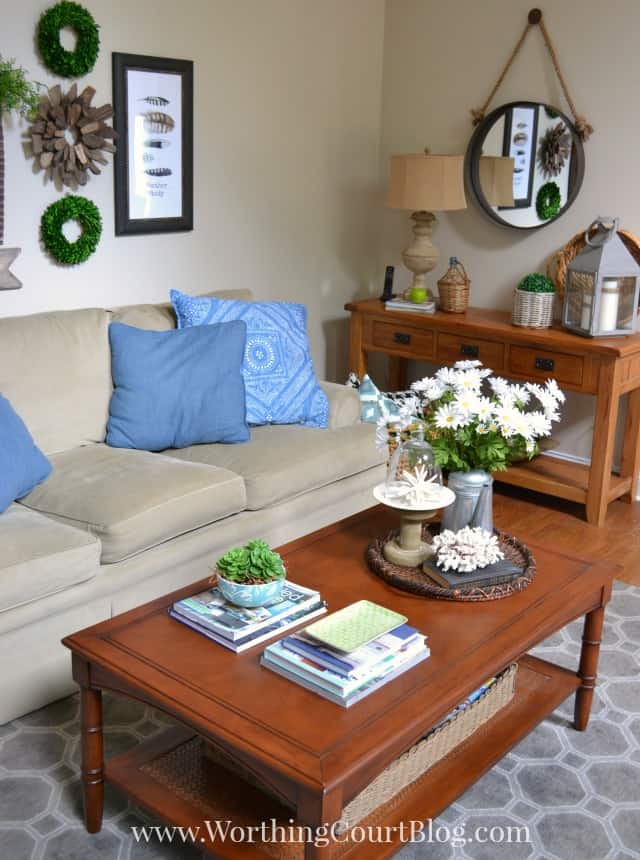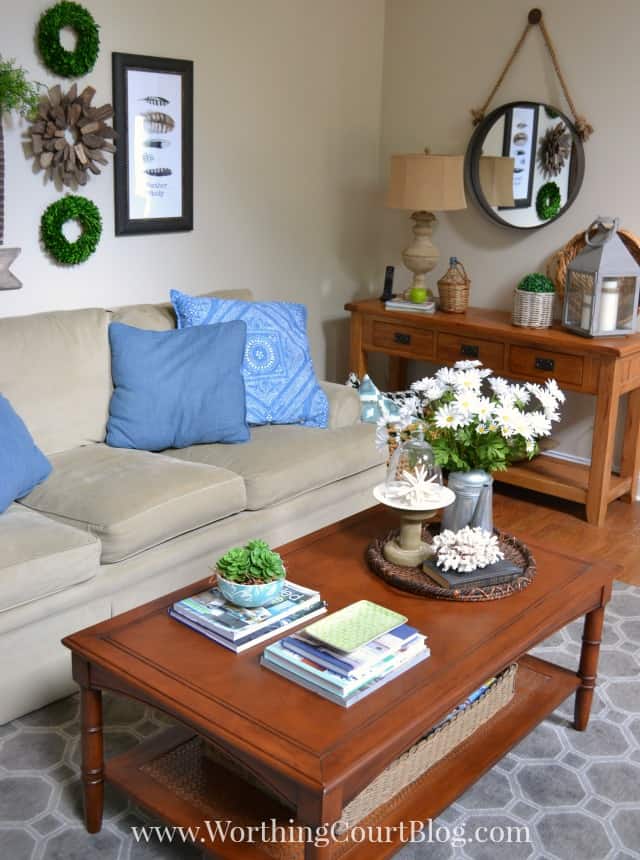 Of course daisies are a summer flower staple around here and a stack of starfish under a cloche and an old piece of coral from my mom yell "beach!".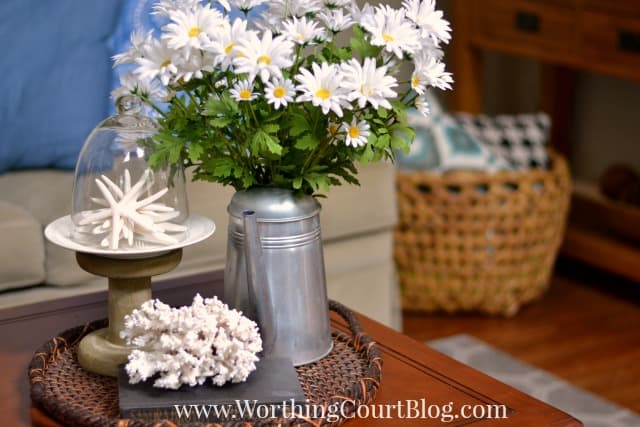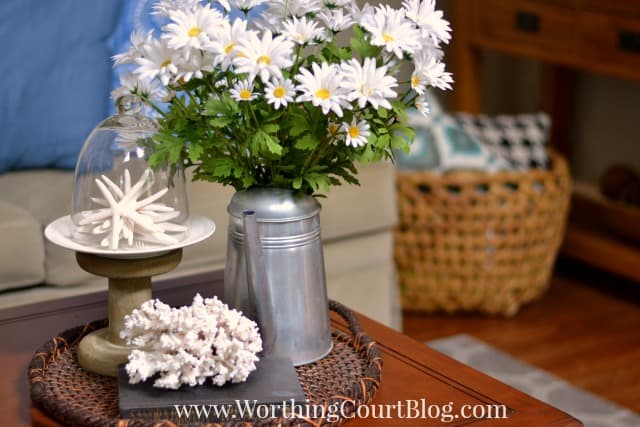 I kept the accessories on my end table simple too.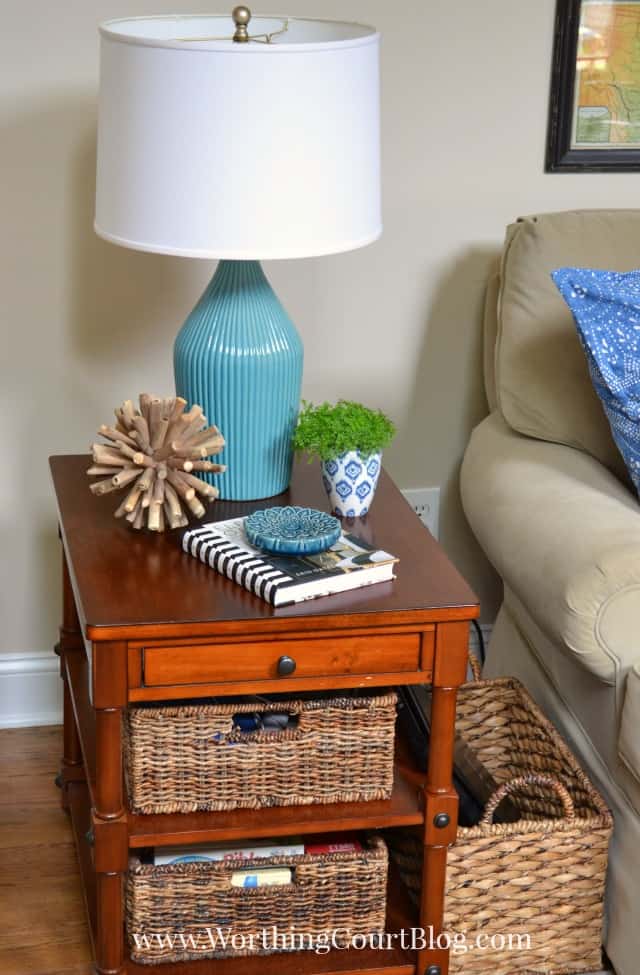 That driftwood orb gets moved all over the place and I love the floral coaster that I recently found at HomeGoods. The blue and white cup is from Christmas Tree Shops.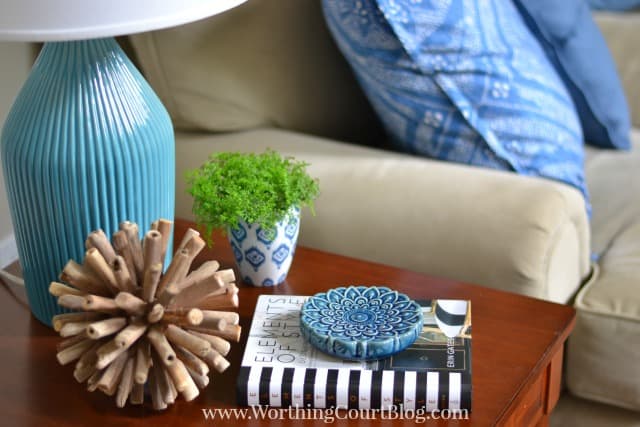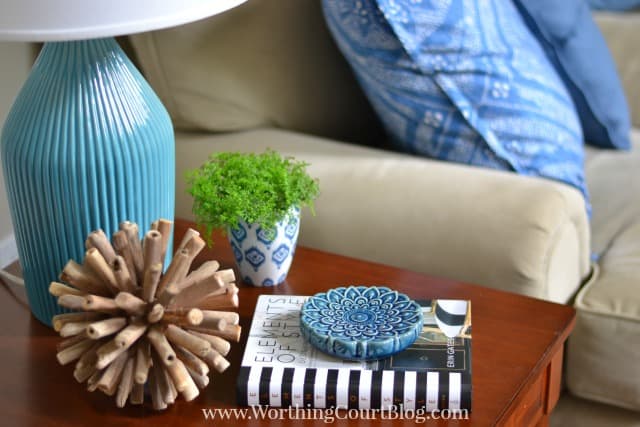 It's a good, good feeling to finally have this side of the family room put together!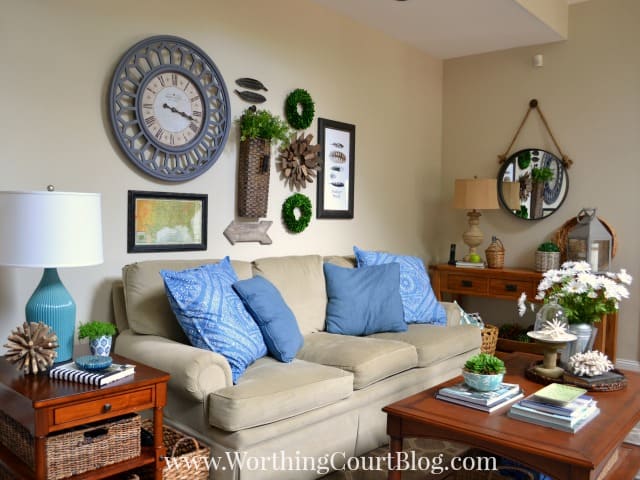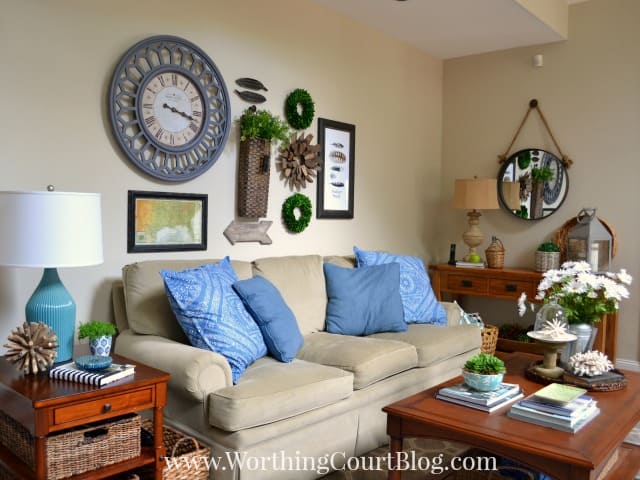 I don't quite have my family room ready for a full reveal, but you can see more of it by clicking on the links below.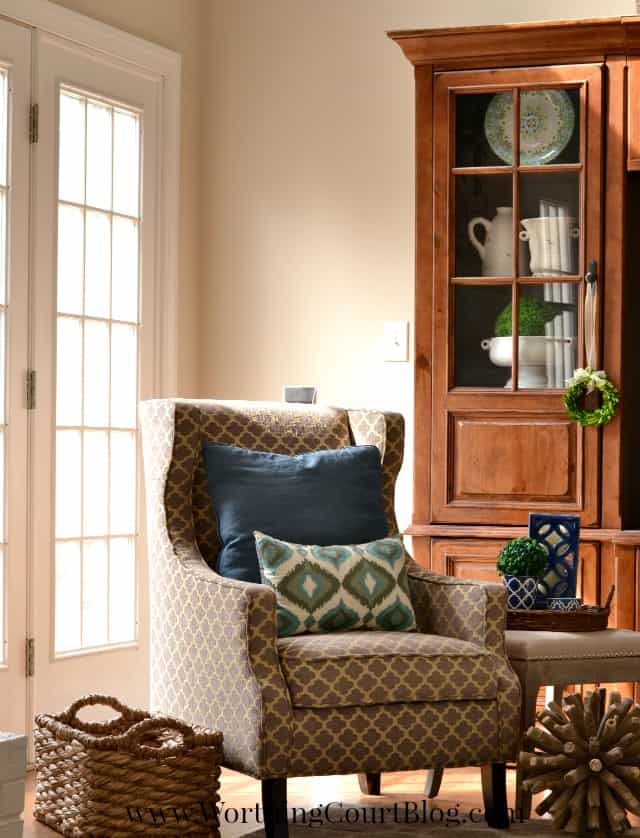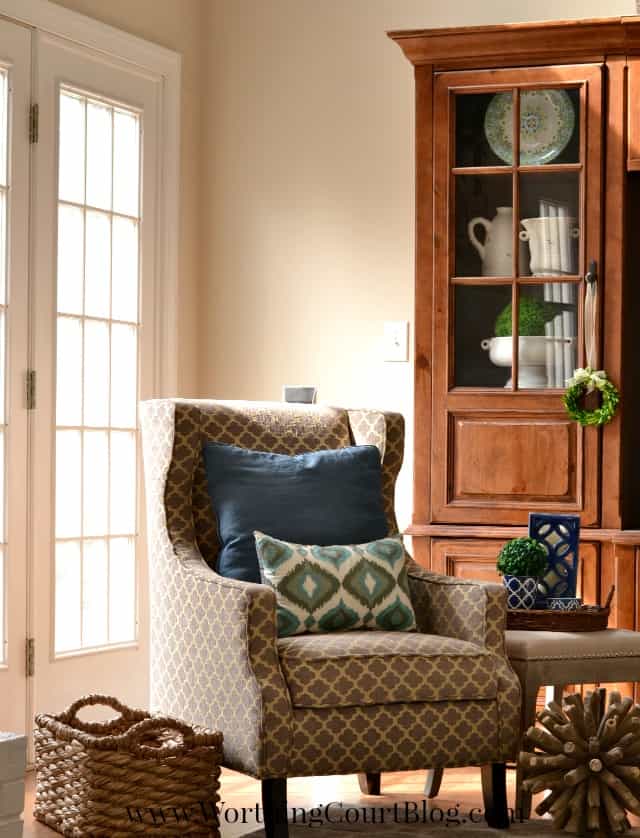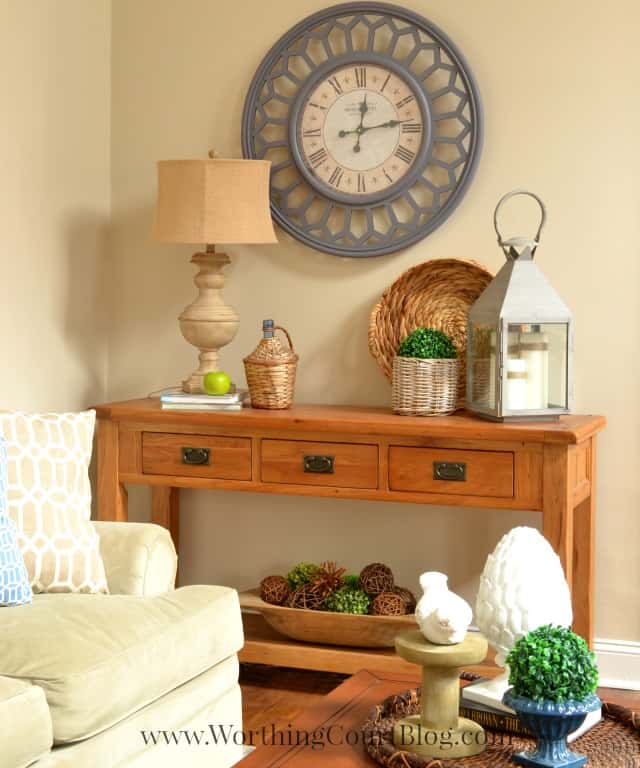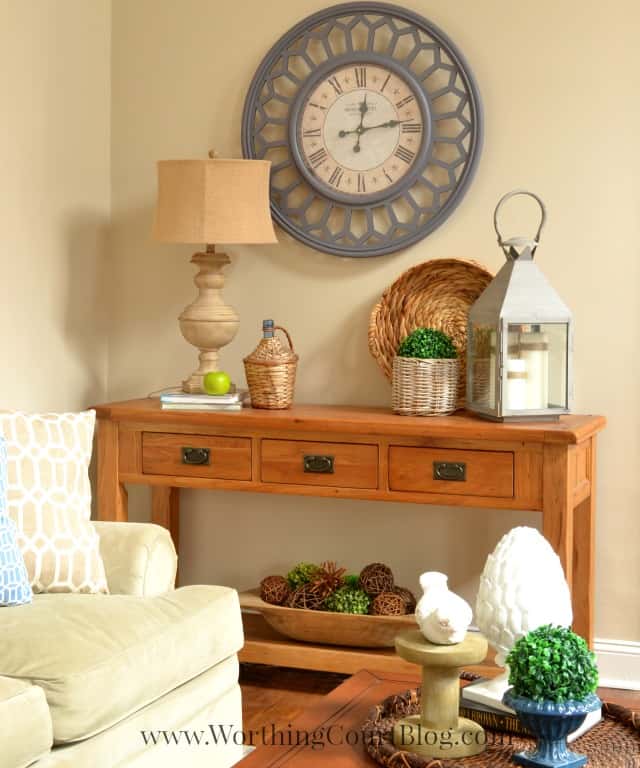 Thank you for stopping by! Click HERE to see all of the fabulous places that I party.