Guest Room Makeover Update + Beautiful New Bedding
Turning a ho-hum bedroom into a pretty, welcoming and cozy retreat.  It all starts with the perfect bedding.
Pin
Y'all, I have been plugging away in my guest room and am so tickled with how it's coming together!  It's turning into the pretty, welcoming and cozy space that I always envisioned it could be and it all started with my beautiful new bedding from Emory Valley Mercantile.  (I was compensated for this post, but all opinions are entirely my own.)
Pin
This post contains affiliate links.  See my full disclosure HERE.
Just like with anything, to get a beautiful end result, you need to start out with the right base, so I chose the gorgeous white Andrea Quilt and two gray Andrea Euro Shams from Emory Valley Mercantile to go along with and serve as the perfect base for my accent bedding pieces.  If you're looking for some great quality bedding, now is the time to purchase these two items as they are currently on sale for a great price!  The white Andrea quilt can be purchased by clicking HERE.  The gray Andrea Euro Shams (standard shams are available too) can be purchased by clicking HERE.
Are you familiar with Emory Valley Mercantile?  It's an amazing online shop that specializes in unique farmhouse, French country and vintage style items for every room of your home.  I love browsing their website whenever I'm on the hunt for something.
But back to the bedding.  Since the bed is nearly always the main centerpiece and the most important thing in a bedroom, it was important to me that the bed in my guest room be just so.  I wanted to create an inviting cocoon-like bed that would scream "come snuggle in me" and I did that with layers of cozy pillows and quilts.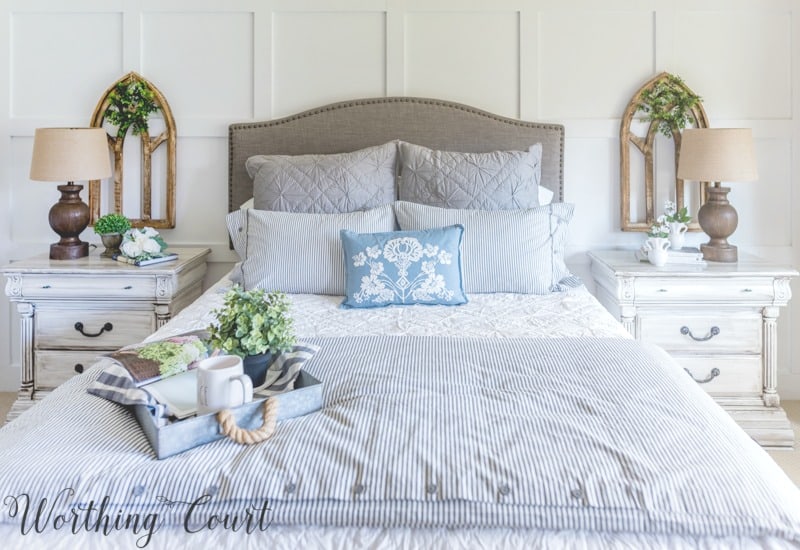 Pin
Much to my husband's dismay, I'm a pillow lover and the more the better!  I just about always use four layers of pillows on my beds – the first layer, against the headboard, is the pillows that are used to sleep on, the second layer consists of euro shams to add height, the third layer of pillows is placed in front of the euro shams and is something that matches or coordinates with the rest of the bedding and the fourth layer is a single accent pillow.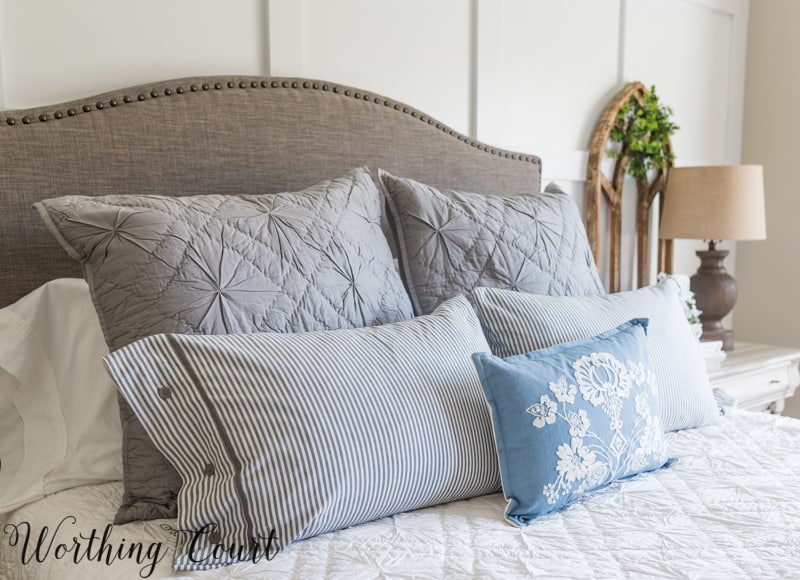 Pin
The next thing you'll almost always see me do is to place a folded comforter at the foot of the bed.  It's a great place for an accent and really does get used for additional warmth when the room is chilly.  And lastly, I love to add a bedskirt when I have a bed where I don't want to see the gaping dark emptiness under the bed.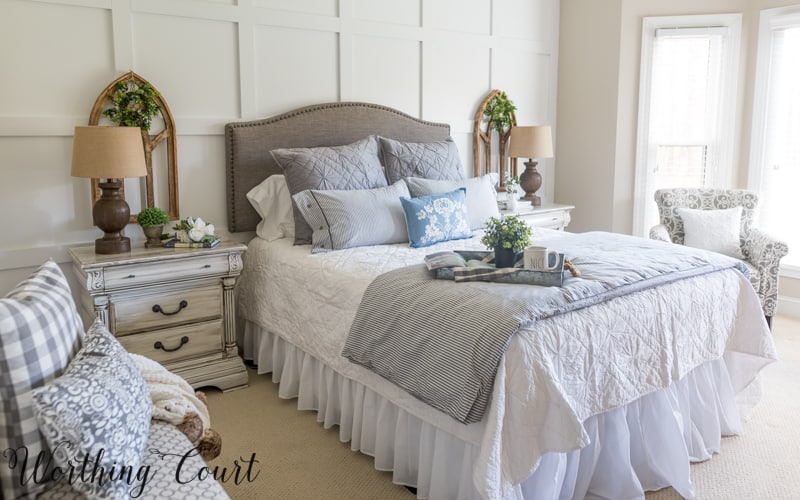 Pin  Use these tips whenever you're trying to put together a farmhouse style, cozy and welcoming bed:
I love to use plain white sheets with at least a 300 count or higher.  Plain white goes with everything!
Add a plain white blanket between the sheets and the coverlet.
Use mix and match bedding instead of a set where everything matches.  This ain't your grandma's bedroom!
For the most versatility, use a neutral color, with little to no pattern for the largest piece on the bed – the coverlet.
Add a folded comforter or throw at the foot of the bed.  This is a good opportunity to bring in pattern and color.
Add layers and layers of pillows.  Using plain white pillowcases allows me to simply "hide" the sleeping pillows behind the decorative ones without having to actually put them into a pillow sham.
Remember that on average, you'll spend 1/3 of your life sleeping, so strive to make your bed the best spot in your home!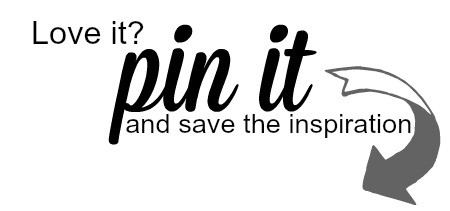 Pin
Pin