House Tour: House Snooping at The Happy Housie
Happy day everyone!  I hope your week has been fill with fabulousness!  Are you ready for our weekly house tour?
That's good, because today we're snooping around Krista's wonderful home.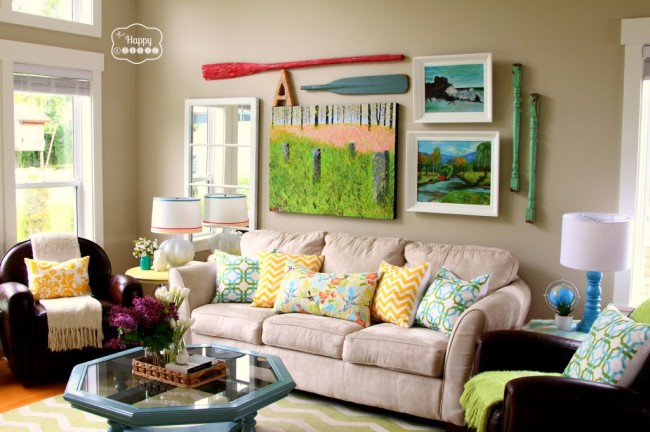 Pin
Enjoy!
~ ~ ~ ~ ~ ~ ~ ~ ~ ~ ~ ~ ~ ~ ~
Hello readers of Worthing Court!! I am SO excited to be here today to share a little House Snooping Tour with you. Thanks so much to Suzy for inviting me over here!
My name is Krista and I spend most of my bloggy time over at The Happy Housie. I called my blog this because I must admit to you that I am a bit of a "housie"… (think foodie but for houses). I love all things related to houses: decorating, DIY, organizing, crafting, gardening, and more. I love sharing projects and ideas, and especially love finding old pieces and fixing them up to make them vibrant and beautiful again. We live in a lakefront home so our style is kind of an eclectic modern lake cottage with lots of vintage and upcycled pieces throughout.
Come on in through our front porch..

Pin
You will know you are in the right place when you see our DIY Paddle Address Sign…

Pin
Come on in through the front door and walk straight into our entry hall…

Pin
Have a seat on my little DIY chalk painted mint chair and take off your shoes… Why don't you come sit down in the summery living room and have a fresh iced coffee?

Pin
I love making pillow covers and switch them out regularly with the seasons… see the blog for a couple of my favourite tutorials on them.

Pin
I've also been making wooden signs lately out of reclaimed wood and pallet boards.
Pin
Almost every piece in this room was upcycled and refinished… you can find many more details over at the happy housie. You'll notice that our living room is directly open to our dining room…

Pin
The dining room is currently in progress… here is a clip of my inspiration for the space.
Pin
Our kitchen is attached to the dining room and will also soon be undergoing some big changes…
Pin
From our kitchen you can access our deck… one of our favourite spots in the summer to relax and enjoy the view…

Pin

Pin
Come on back inside and head down the hall… we have two kid's bedrooms, both of which are 'in progress'… I can't wait to reveal more about them this fall. We also have a recently updated main bathroom….

Pin
And our laundry/mud room that was fully revamped last spring…lots of details about that on the blog as well!

Pin
At the end of the loooong hall is our summery master bedroom….

Pin
with a newly redone gallery wall…

Pin
in the winter it looked more like this…

Pin
We are so thankful that we have a lovely little ensuite attached to our Master Bedroom, that we revamped recently as well…

Pin
Thanks for snooping around today! There are many more pictures and details about the many projects we have done to our home over at The Happy Housie… I would love for you to come visit me over there! You can also connect with me through Facebook, Pinterest, Twitter, or Google+ if ya like!
Thanks again to Suzy for having me over here today!
Thanks for reading! And remember my housie friends, HOME isn't built in a day. Enjoy the journey.

Pin
~ ~ ~ ~ ~ ~ ~ ~ ~ ~ ~ ~ ~ ~ ~
Thank you so much for letting us snoop around your house today, Krista!  I just love your use of pattern and color – it's so "me".
Please feel free to grab the House Snoopers featured button for your blog.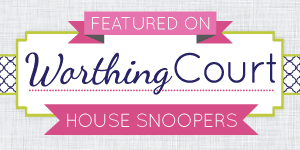 Pin
Pssst!  Do you love snooping around other people's houses as much as I do?  Click HERE to see lots more!