Homemade Coffee Creamer Recipes And Watching The Awards With Special Friends And Special Coffee
I am sharing my homemade coffee creamer recipes that add just the perfect touch to your coffee!
I was asked to participate in the #CappTheNight campaign, sponsored by Hills Bros. Cappuccino.  Although I've been compensated, all opinions are my own.
We love, love, love to open our home to friends here at Worthing Court!  We're coming up on the awards season – Golden Globes, Screen Actors Guild and the Academy Awards – and for us that means gathering close friends together for a fun night of award watching.
Before we get started, would you like a chance to possibly win a $2500 shopping spree?!?!  Make sure you scroll down to the bottom of the post where you'll be able to enter the Hills Bros. sweepstakes to possibly win the shopping spree or one of six awards season prize packs!  
It's an unbelievably elegant evening for all of the movie stars and movie moguls, so to have fun, "elegant awards style", we usually enjoy a meal at a favorite restaurant and then rush straight home, where I've set up a coffee bar with extra special ingredients.  We'll settle in with a hot beverage just as the awards show is starting.  Our beverage of choice for capping off our yummy dinner is Hills Bros. Cappuccino Single Serve Cups!
Don't own a cappuccino maker?  No worries – I don't own one either.  Hills Bros. Cappuccino comes in pods for Single Serve Cups that will fit into any k-cup brewer.  Just pop in one of the four single serve cappuccino flavors that Hills Bros. offers and you're set!  You can find Hills Bros. Single Serve Cappuccino in both 12 and 16 count packs at your local Kroger and ShopRite or you can order them online by clicking HERE.  Click HERE for a $1 coupon!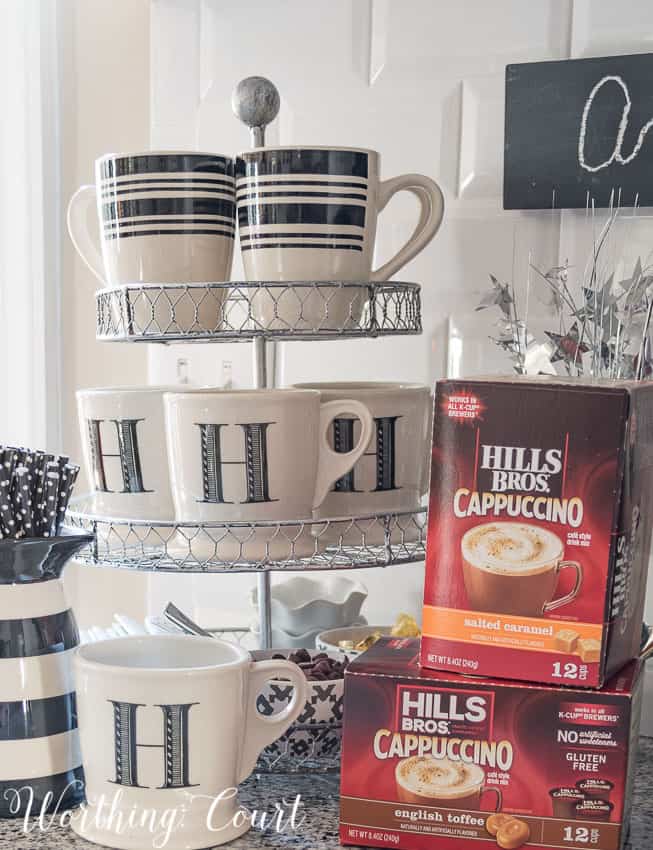 I make sure to include special yummy toppings and creamers to go along with the two flavors of Hills Bros. Single Serve Cappuccino that I'm serving – Salted Caramel and English Toffee.  Along with the creamers, I've included fun chocolate sprinkles, cocoa powder, chocolate syrup, toffee brickle bits and caramel syrup.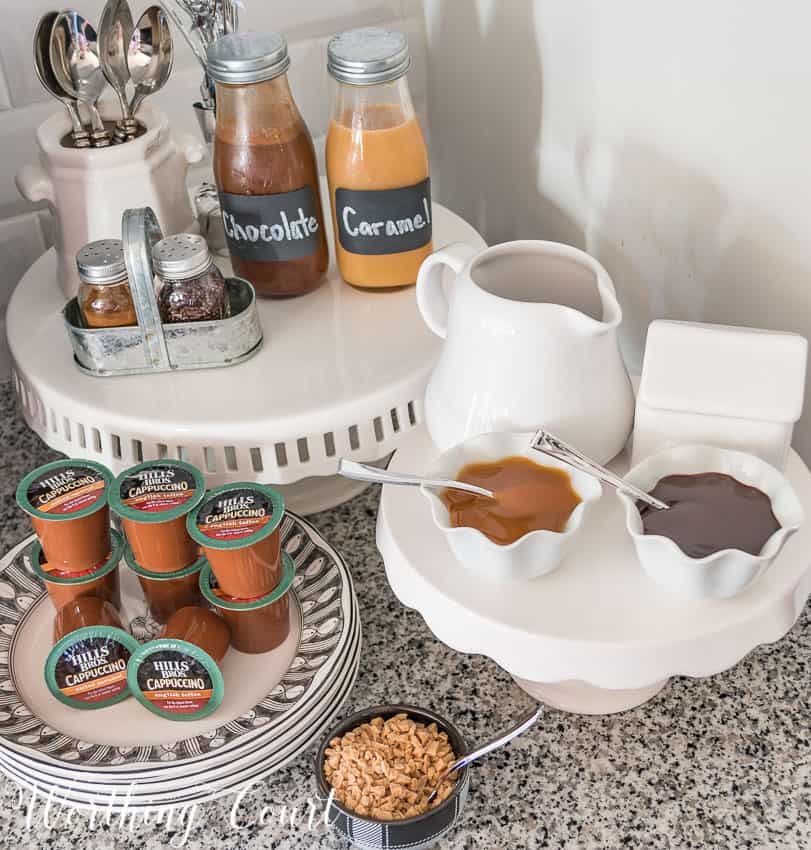 To make it even more special, I'll make a couple of homemade creamers to go along with the cappuccino flavors I'm serving.  To go along with those flavors, I'll offer homemade chocolate creamer and homemade caramel creamer.  Yum!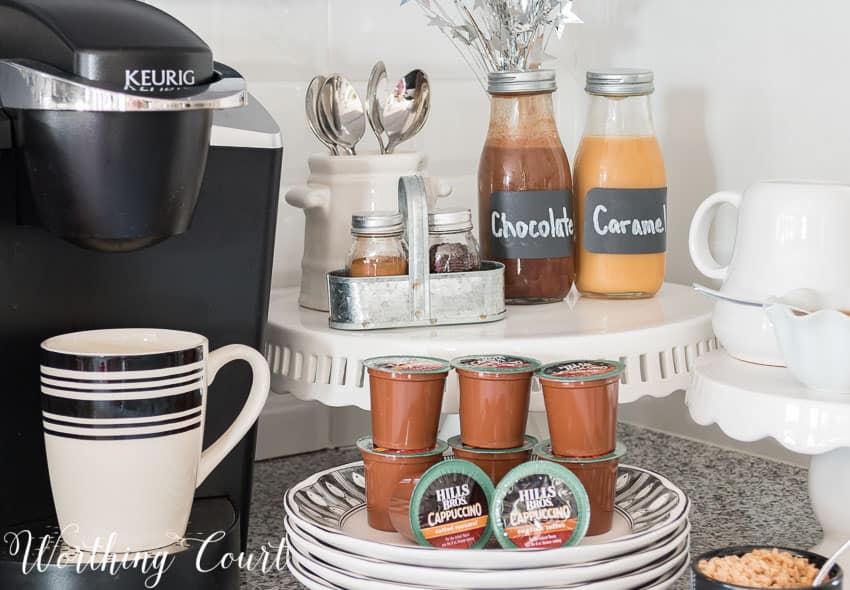 The basic recipe is the same for both creamer flavors.  You can enjoy the creamer as is, but why would you want to do that when you can make it even better by adding chocolate or caramel???  WinkWink
Basic Sweetened Coffee Creamer
Did you make this recipe? Leave a review!
---
Enjoy this basic coffee creamer as it is or add chocolate or caramel flavoring as specified in the recipe.
Ingredients
BASIC RECIPE
1 1/2

cups

half and half

1 1/2

cups

milk

1/2

cup

granulated sugar

1

teaspoon

vanilla extract
FOR CHOCOLATE FLAVORED CREAMER
add 1/2 cup chocolate syrup
FOR CARAMEL FLAVORED CREAMER
add 1 12 oz. jar caramel topping
Instructions
Place half and half and milk in a large saucepan. Heat until steaming, but not boiling.

Stir often to prevent scorching.

Add sugar to the cream mixture and stir until sugar is dissolved.

If making chocolate or caramel flavored creamer, add the chocolate syrup or caramel topping now. Stir with a whisk until well combined.

Remove from heat and stir in vanilla extract.

Pour into a container with a lid and refrigerate.

The mixture can be kept for up to 4 weeks.
Notes
For an extra special coffee treat - top with whipped cream.
When using the chocolate flavored creamer, drizzle chocolate syrup over the whipped cream and sprinkle with chocolate chips.
When using the caramel flavored creamer, drizzle caramel topping over the whipped cream and sprinkle with toffee brickle bits.
---
DISCLAIMER: I am not a Nutritionist. I rely on information from third parties to provide all nutritional information, which can vary depending upon brands of products used.
As an extra special treat, I'll add whipped cream to each cup of cappuccino.  Then I'll drizzle the whipped cream with either more chocolate syrup and a few chocolate chips or more caramel topping and a few toffee brickle bits, depending upon which flavor of creamer I'm using.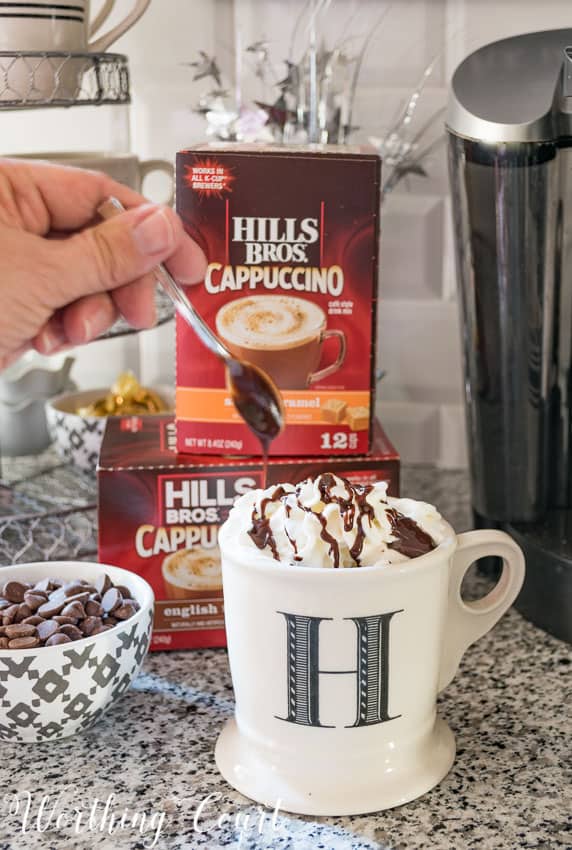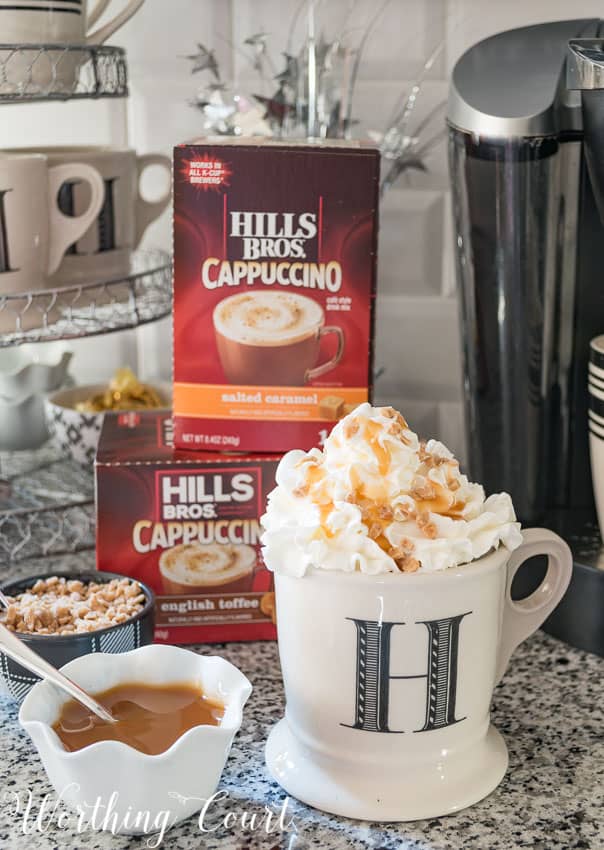 Sweet tasting Hill Bros. Single Serve Cappuccino is deliciously free of artificial sweeteners, gluten and trans fat.  Its smooth and creamy taste is perfect straight out of the coffee maker!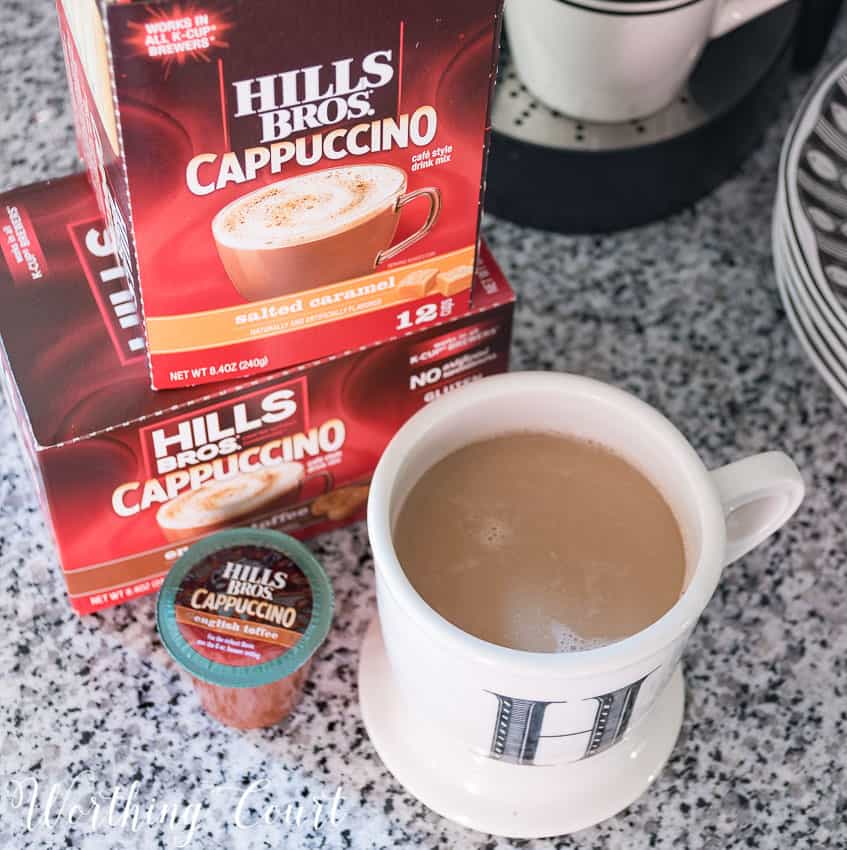 So tell me, what do you do to celebrate during the awards season?