House Tour: House Snooping at Adventures in Decorating
Is it Friday?
By now you should know what that means.
Another installment of House Snooping!
This week we're snooping around the home of Becca from
Adventures in Decorating
.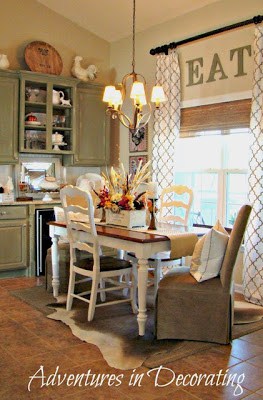 Enjoy!
Greetings, everyone!  I was truly flattered when the sweet and talented Suzy invited me on over to "Worthing Court" to feature our humble abode … thank you so much, Suzy!
Admittedly, you never know what you're gonna find when you enter our home, as my style always seems to be evolving.  Sometimes, my self-prescribed ADD (Attention *Decorating* Disorder) makes me feel like one big, eclectic *mess!* Can you relate?
However, if you were to knock on our door at this very moment, you'd see 
our great room where I recently "shopped the house" to give it a new look (do you do that?),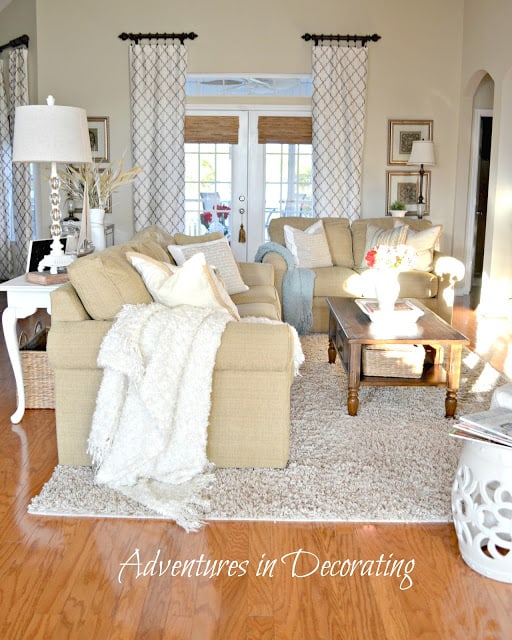 along with a secretary that I took from its original mahogany stain to "Pure White" chalk paint (oh, how I love that paint).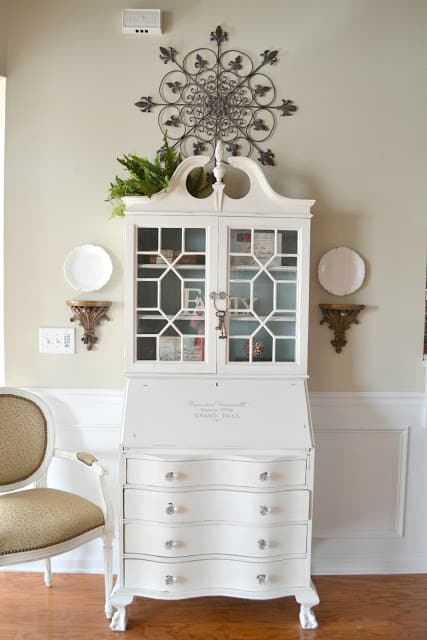 You'd also spy our Valentine's mantel, which is about to be splashed with bunnies, eggs and all things Spring!  Do you enjoy seasonal decorating?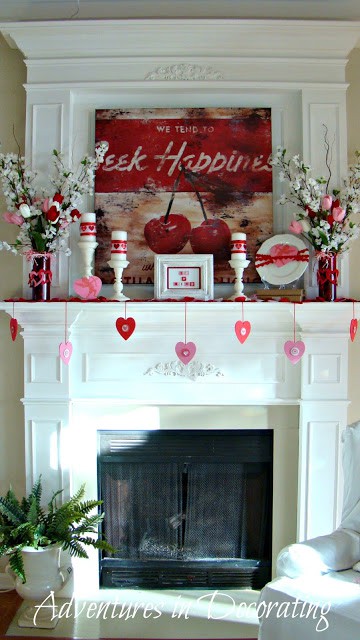 If you were to walk into our home today, you'd see our sitting room that I seem to be constantly "futzing" with in an effort to truly make it my "Mommy Cave" (that's only fair, right(?) since my husband has his "man cave" and our son has his "play cave," lol),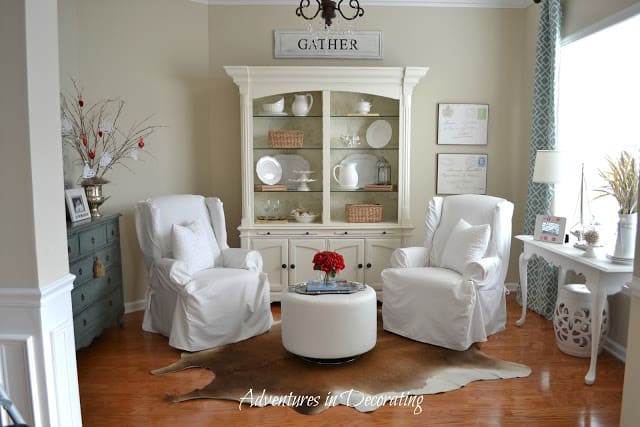 Pin
our dining room that is also ready for pops of Spring color,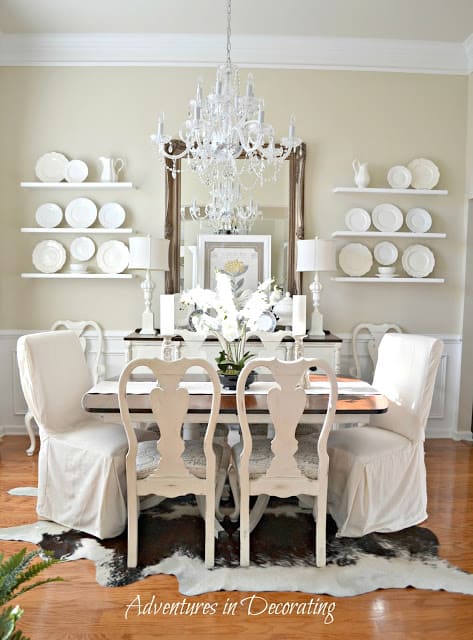 and our kitchen with a Christmas tree STILL standing (where elves and gingerbread men have been replaced with lots of hearts).  You'd also see my continued love for more chalk paint, having painted both our kitchen island with Annie Sloane's "Chateaux Grey,"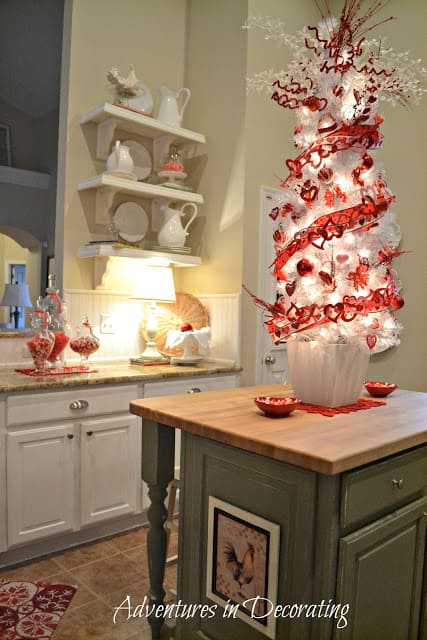 as well as our dry bar in the breakfast area.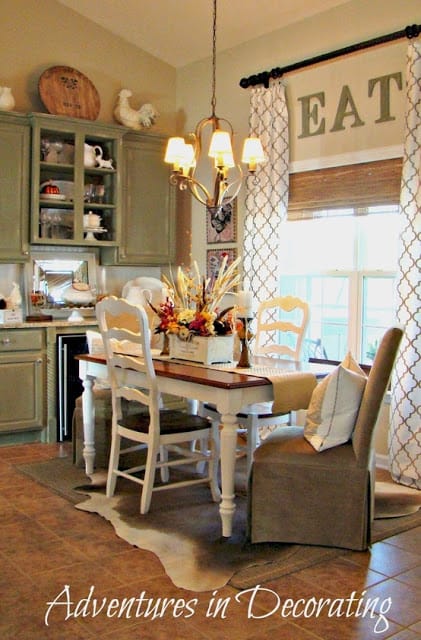 And, even though our main rooms are currently enjoying softer color palettes, my love for vibrant colors is apparent when you peek into our son's room, as well as his playroom (which I recently revamped and will soon share):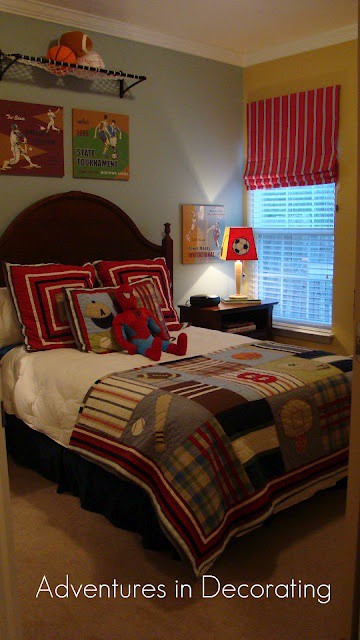 Admittedly, all of that energy spent on decorating makes me "tie-errrrd!"  And, as a result, I find myself sneaking into our master bedroom earlier … and earlier … every night! 
Hopefully, though, our weather here in Myrtle Beach will soon be warm enough to relax and unwind out here: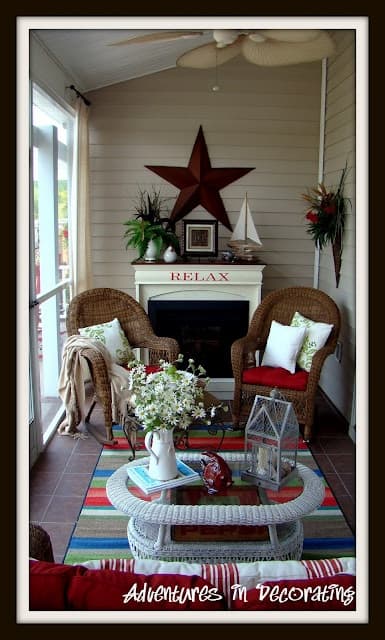 or here!  Although, a LOT of *not so* fun cleaning projects (to include power washing … replacing a few screens … and, repainting) will have to take place before THAT can happen!  Oh well.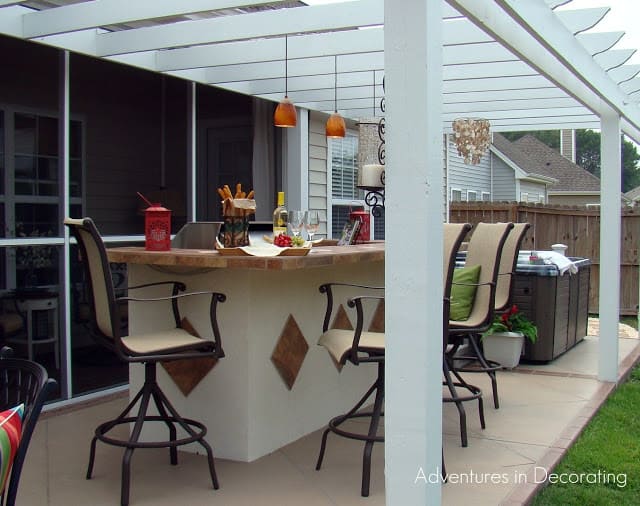 Thanks a bunch for taking the time to have a peek into our home … I've enjoyed your company!  And, thanks again so very much, Suzy, for inviting me to be a part of your fabulous blog … I truly appreciate it!
Pin
~ ~ ~ ~ ~ ~ ~ ~ ~ ~ ~ ~ ~ ~ ~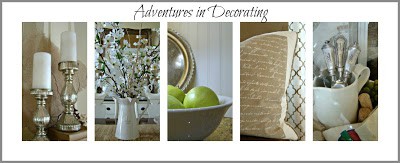 Thank you, Becca for taking us on a tour of your wonderful home.
Lucky you to live at the beach!
I've really enjoyed all of the projects that you've shared as you transform your home into a lighter and brighter space.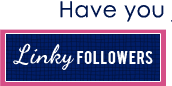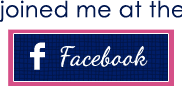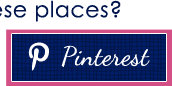 ***This original content was written by Suzy at Worthing Court. If you are reading this post using any method other than email notification or reader subscription, it is not from the author. Copyright (2011-2013) Suzy from Worthing Court @ worthingcourt.blogspot.com***