House Tour: House Snooping at Atta Girl Says
It's everyone's favorite day of the week!
Today we're headed over to Atta Girl Says to snoop around Amy's home.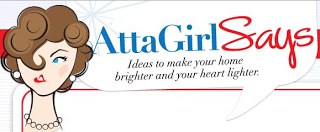 Enjoy!
~ ~ ~ ~ ~ ~ ~ ~ ~ ~ ~ ~ ~ ~ ~
Hello, house snoopers. I'm happy to have you visiting today. But before we start the tour, can I tell you a little story about how I came to meet the mistress of Worthing Court?
 I was doing a little house snooping of my own over at Debbiedoos one day last summer when Suzy's own home was being showcased, and I had one of those deja vu moments. I recognized that neighborhood, the name Worthing Court rang a bell and something about Suzy's floor plan looked awfully familiar. So, I fired off an email that began, "I hope you don't think I'm a stalker, but do you live in such-and-such neighborhood in…" Bless her heart, Suzy answered me and believed what I said about not being a stalker. And long story short – we live in the same North Carolina city. And we were almost neighbors.
 When we were house hunting a couple of years ago, it was a neck-and-neck race between a house in Suzy's neighborhood and the one we eventually ended up buying. So, Suzy and I aren't officially neighbors, but we live close enough to get into trouble. I've bent your ear long enough. Let the snooping begin.
Now, don't go thinking that I still have my Christmas decor up. It's been put up (mostly) but this is the best recent shot I have of the porch. Be sure to watch your eye as you come in the front door. You don't want to put your eye out on that antlers in evergreen wreath.
As soon as you walk inside my foyer, I think you get a sense of my style. I like vintage with a nod to traditional. I like the sparkle of mercury glass and the scent of fresh flowers. I think robin's egg blue is one of the most beautiful colors, and it features prominently throughout my home.
This buffet is one of my favorite pieces of furniture in the house. It awakened in me an obsession with painted furniture, which led me to open a booth at a local antique store where I sell painted furniture and other finds.
The dining room is just off the entry way. When we were house hunting, I fell in love with all the molding and architectural details that set this home apart from all the others we toured.
 As I paged through magazines and dreamed of our future home, I never thought I would live in a home like this. I try to count my blessings everyday that I'm able to live in such a beautiful home that so reflects my style and has been such a wonderful haven for our family.
 We've been in this home for almost three years, and the rooms are slowly coming together, though there are still many projects on my to list. (As I suspect there always will be!) But I checked off a big one just before the holidays when I finally added artwork and curtains to our formal living room – aka the "fancy room."
You can see my love of color and pattern in this room, from the traditional Amy Karyn floral print (Roxbury Antique) on the sofa to the Robert Allen geometric design (Metro Lines Tulip) on the ottoman to the Suzanne Kassler Ikat curtain panels (Ballard Designs).
My mom painted this vintage Duncan Phyfe desk for me in Annie Sloan's Scandanavian Pink, and it's the perfect spot to jot a thank you note. Or to gaze into the backyard, where all kinds of wildlife like to come play. We've seen deer, wild turkeys, lots of birds and even a fox.
But best of all are the horses from the neighboring farm, who like to come to the fence for a snack. Carrots are nice, but apples are their favorite.
This is the best way to have horses. We get to look at them but we have to do none of the handwork and upkeep such animals require.
Ah, life in 'burbs — hugging that border between country and city.
We actually have a barn in our neighborhood. It makes for some nice photo ops.
A page right out of Country Living but without all the Beekman messiness of actually farming and having a barn.
Sorry about that little tangent. I just wanted to show you more of why we love our house and our neighborhood.
Here's another view of the living room. I love my French settee, bought at a local consignment shop. And how do you like my repurposed armoire doors? You'll never guess what they're hiding.
Let's head into the heart of our home next.
Pin
We spend most of our time in our cozy keeping room and kitchen/breakfast nook.
This is where we get cozy and play with Legos and have our dinners together.
Where we fingerprint and do homework and spread out our crafts.
And where I'm constantly playing around with the mantel and obscuring our view of the TV.
My kitchen's not very big, but I have the white cabinets I always wanted. And I manage to cook up some pretty good homemade meals in this space.
We'll take a peek in the laundry room, too.
The picture rail is the perfect spot to showcase my artwork, my son's and my grandmother's paintings.
These babies get lots of action, several loads a day. My dad built me this nifty laundry pedestal so we don't have to bend to load and unload as we…
…wash, wash. Now, normally the laundry room is a private space, not part of the tour. But I know what snoops like. 🙂 So, I'm airing my dirty laundry.
 Speaking of private spaces, the downstairs powder room is my latest room redo. I was going for elegant glamour in shades of gray and silver with just a few pops of color via accessories, artwork and fresh flowers.
It's amazing what a coat of paint can do.
Now let me invite you into the master bedroom, our sanctuary.
This was the bedroom a few months ago, after we hung the Farrah Fretwork curtains that I had to traveling to eight different Target stores to find.
I've changed things up a bit since then, notably moving in the painted secretary I bought at Lucketts Market and nestling the matching nightstands on either side of the bed. We're lucky enough to have a sitting room and a fireplace in our bedroom, and it's quite a cozy place to hang out and read (or watch television.)
 I knew I wanted some French bergere chairs in the bedroom, but I always thought I'd go for some neutral natural upholstery.
Until I spied this pair of painted blue-and-white striped chairs at a local consignment store. They are perfect. We'll skip the master bath for today, because that room is still in need of a makeover to fit our style. But if you want a laugh, watch my shameless plea for a free bathroom makeover from Vintage Revivals. (I filmed my entry while taking a bubble bath. And I still didn't win.)
 Now let's head up stairs for a little more snooping and touring. First stop, the guest suite.
Inspired by some beautiful interiors I spied on Pinterest, I chose an aqua and pink color palette for the guest bedroom. The room is still a work in progress. I still need curtains and a headboard, but even so the space is comfortable and inviting for our guests.
With lots of vintage touches, like this floral metal tole table (and matching shelf in the bathroom), McCoy pottery and original artwork.
 I like to decorate with original artwork whenever I can — even in the bathroom. I've purchased a few paintings from artists whose work I admire. I also love vintage paintings, which can often be purchased inexpensively at yard sales and thrift and consignment stores. I also have some of my grandmother's artwork, which is very special to me, and I've done a few pieces in those wine and painting classes. (Most are in the laundry room, but a few are in public view!)
Next, let's head to my office and creative space, where I work and play.
I'm still working on this room, too. It needs more color, some curtains and perhaps a stunning chandelier. (A girl can dream.) But it is a wonderful place to work, to blog and to craft until my heart's content.
I've repurposed a display ladder (purchased at a yard sale) to store office supplies and pretty little knickknacks.
My old TV armoire, dressed up with a fresh coat of Miss Mustard Seed's Milk Paint in French Enamel, stores lots of craft supplies. I have a funny story about how I started out organizing my office one night and ended up painting this armoire while watching a Downton Abbey marathon.
I have entirely too much ribbon. One of my many obsessions.
Because my desk is usually cluttered with work, I have a separate crafting desk in my office. I applied a vinyl ruler decal right to the desktop so I wouldn't have to hunt for a tape measure or ruler when I'm crafting. It really comes in handy.
 Now, it's time for the last stop of our tour. It's the most important room in the house. The room where a little boy is growing up.
 And it's the room that sold us on this house over the one in Suzy's neighborhood.
Who could resist a room like this? A bedroom and playroom all rolled into one. With a fun mural painted on the wall. And a secret clubhouse door that is just kid-sized. A chalkboard and built-in shelving to hold a boy's collection of books and dinosaurs. A place where it's OK to leave your Legos on the floor. And where there's room for 50 stuffed animals and 100 more! (I think they're multiplying in the clubhouse.) You can read more about Jackson's room here. It truly is my favorite room in the house because it's such a special place for my son to grow up. I can't wait to see how it changes with him through the years.
 I hope you've enjoyed this looksee into our home. Come by for a visit anytime. I'm always changing things up around here, always working on a project, painting a piece of furniture in the garage, crafting up a storm or cooking a delicious meal for the family. Thanks again to Suzy for having me.
~ ~ ~ ~ ~ ~ ~ ~ ~ ~ ~ ~ ~ ~ ~
Thank you, Amy, for the wonderful tour of your home.
And by the way, I love "getting into trouble" with you!  😉