House Tour: House Snooping at Cottage at the Crossroads
Whew!  This has been a whirlwind of a week for me.
I thought that Summer is when you were supposed be able to kick back and relax!
You'll wanna do just that, at least for a little while today, while we snoop around Jane and Leo's lovely home.
Enjoy!
~ ~ ~ ~ ~ ~ ~ ~ ~ ~ ~ ~ ~ ~ ~
First I'd like to say that it was such an honor when Suzy asked if I'd share our home tour so you guys could do a little "snooping!" I don't mind snoops, in fact, our door is usually always open for visitors. So come on in!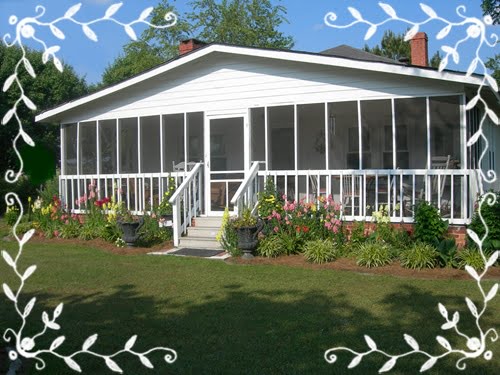 Welcome to the Cottage at the Crossroads! My husband and I moved here four years ago. This is the house that my husband grew up in and was built by his grandfather after whom he is named. It is sitting on land that has been in his family since the 1700s. The house was empty at the same time that we were making some life-changing decisions. So we decided to move here, and that has been the best decision that we've ever made.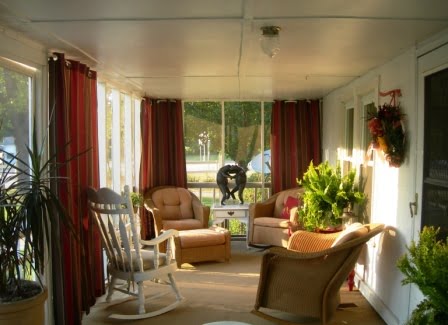 This is our front porch which is used about 10 months out of the year, weather permitting.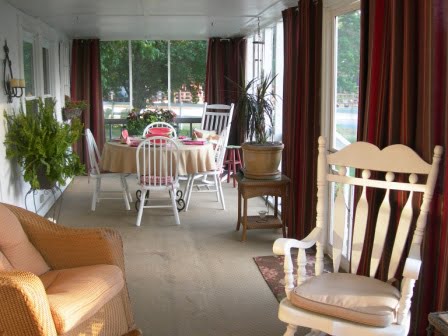 One of the first things we did when we moved here was to screen in the porch. You can read more about our porch
HERE
.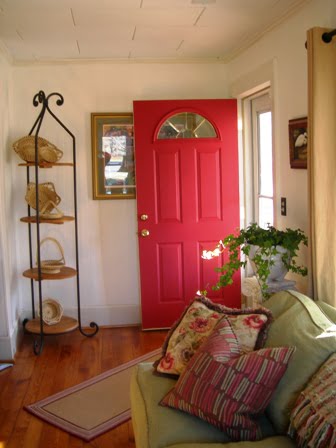 Our home is small. It is under 1400 square feet, which is half the size of the house we moved from. So all of the furniture that you see is what we already had. If it didn't have a place in the cottage, it was sold.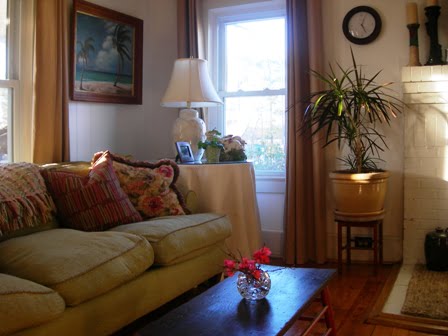 Prior to moving in, we had the entire house painted, inside and out. And when we ripped out the old carpet, we discovered these wonderful, old pine floors which we had refinished.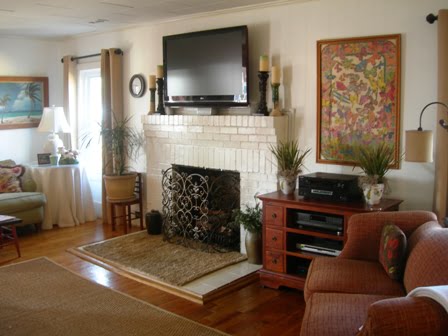 We also painted the fireplace, and we found this butterfly picture that Leo's mother colored about 50 years ago. You can read about that
HERE
.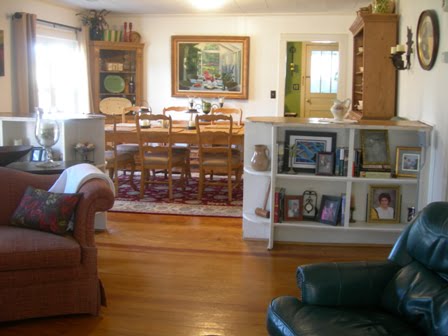 Our living and dining areas are one big room, which is unusual for such an old house. So when you walk into our home, you can see straight through from the front to the back.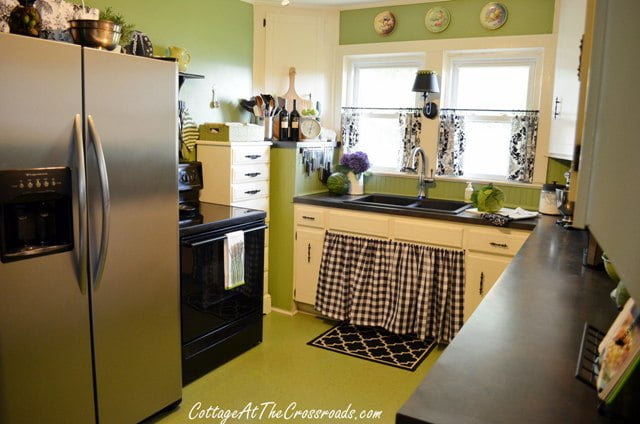 Here's our kitchen. We painted the cabinets white, installed beadboard and new countertops, and put in a cork floor when we first moved in. Just recently, the kitchen has undergone a few updates to give it even more of a cottagy feel.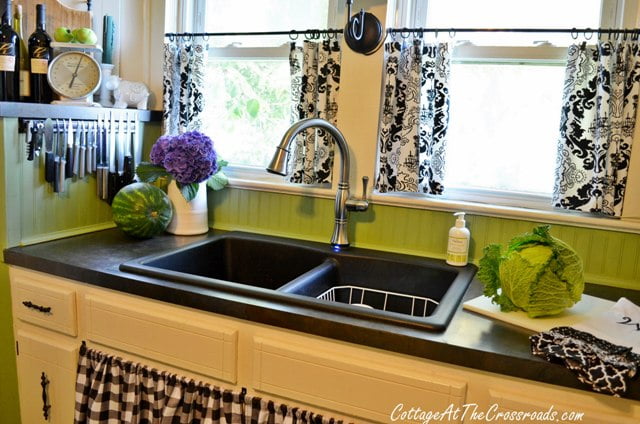 We installed a new sink and faucet recently.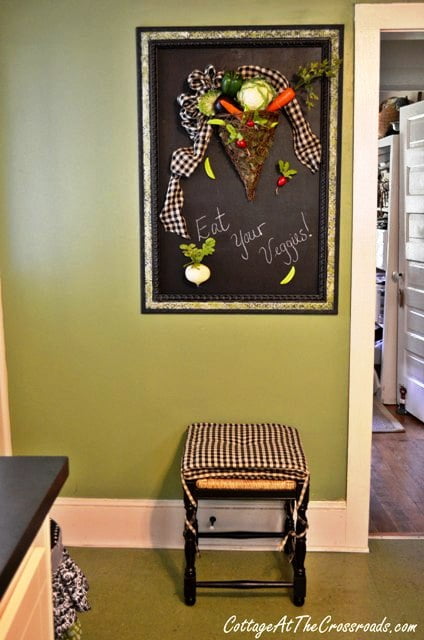 This chalkboard is always dressed for the seasons. Right now it has a veggie display on it for the summer.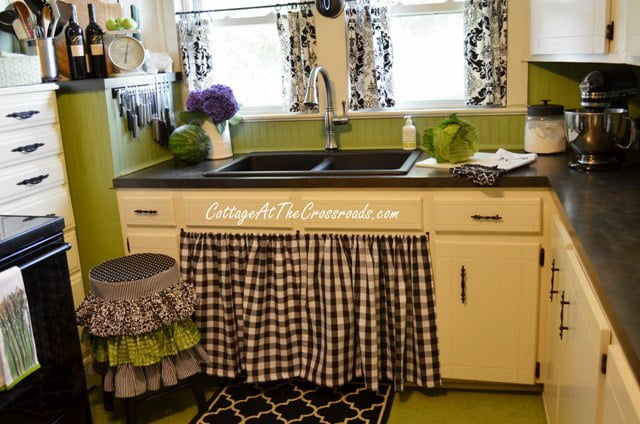 To me, nothing says "cottage" more than a sink skirt and the ruffled stool cover just adds even more cottage charm, don't you think?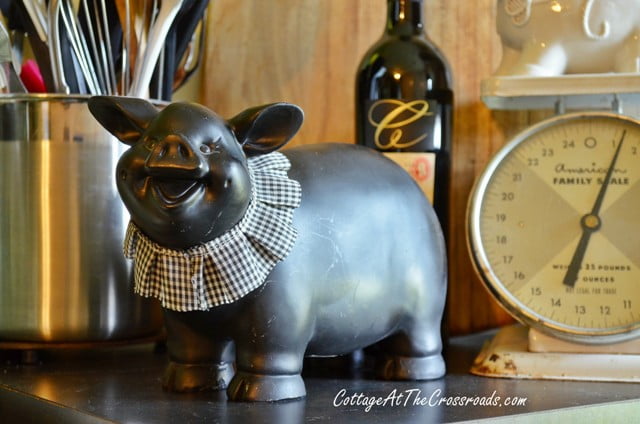 "Pork Chop" is hanging out in our kitchen.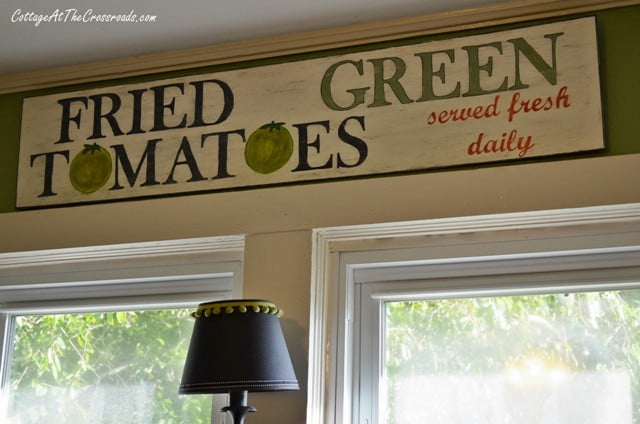 To go along with some of the other recent changes in the kitchen, I painted this wooden sign because…well, we grow a lot of tomatoes here at the Crossroads.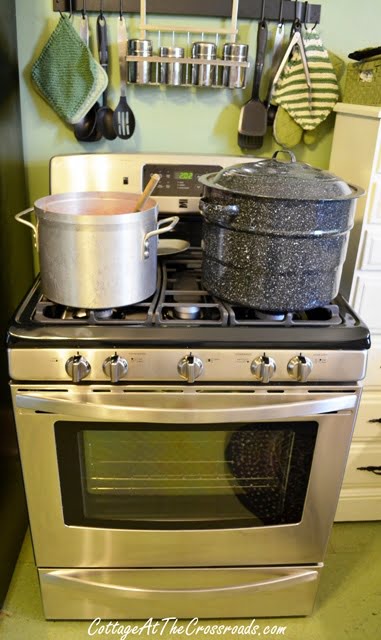 And the latest addition to our kitchen is this new gas range which I am loving!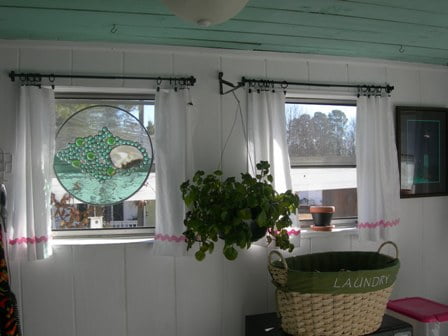 From the kitchen, there is a back porch where the washer/dryer is located.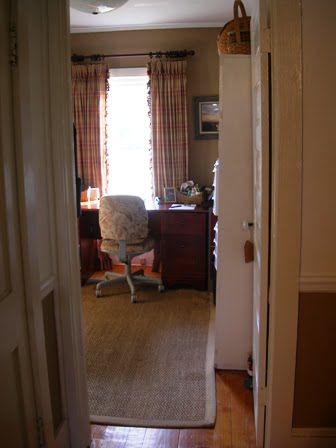 Next to the kitchen is our office. This used to be Leo's bedroom when he was growing up.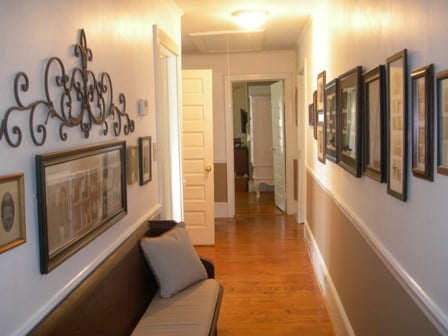 This is our hallway where we have a lot of family photos displayed.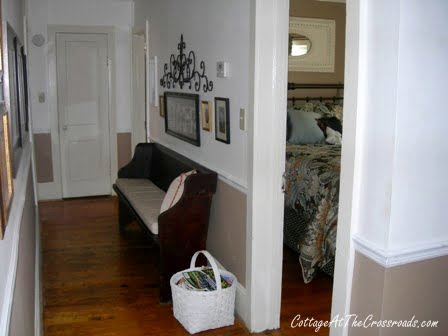 Halfway down the hallway is the guest room which is in the process of being redecorated. It's not anywhere near finished, but you can see more of how the guest room used to look by clicking
HERE.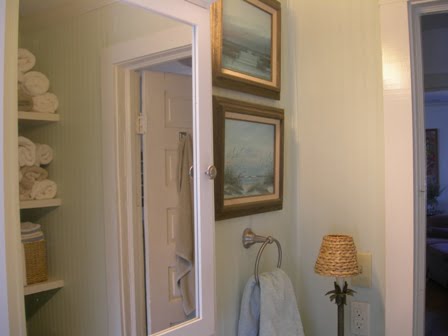 Next to the guest bedroom and our bedroom is our bathroom. Yep, there is only one of them, and that was the biggest adjustment that Leo and I had to make when we moved to the cottage!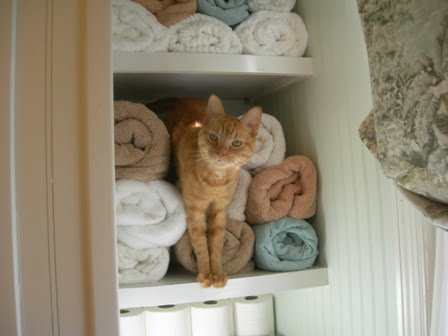 It's a small bathroom, and we did remodel it before we moved in. We added beadboard in here, too. Henry likes to nap on the shelves.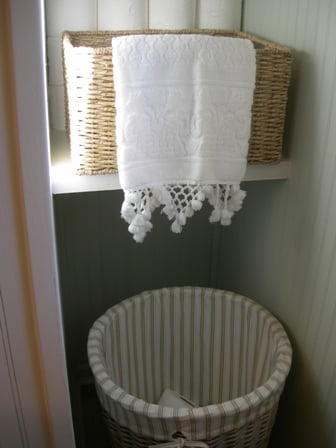 There are shelves on both sides of the shower, and a little area to tuck hampers into.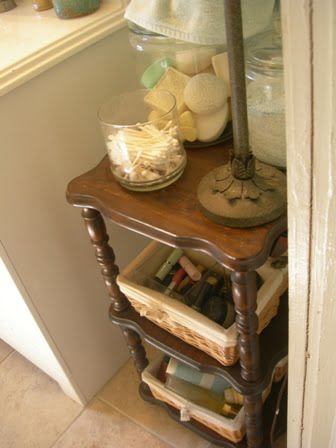 I use lots of baskets and jars for storage.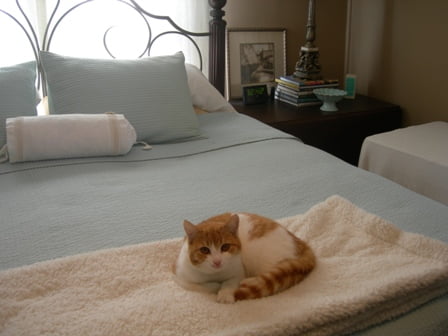 Looks like Juicy, our outdoor cat who stays inside more than she stays outside, has found a comfortable spot on our bed!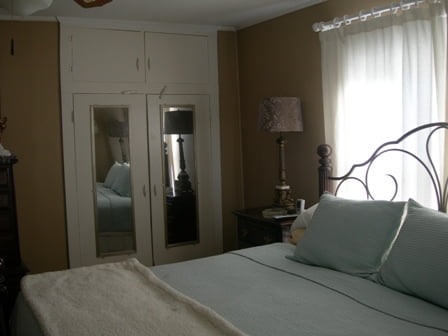 This is the only closet in our entire house! But that's ok.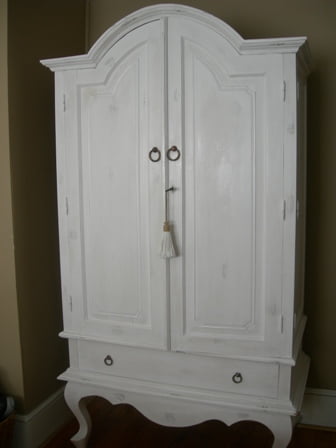 Most everything that we wear now can be folded and put into this armoire.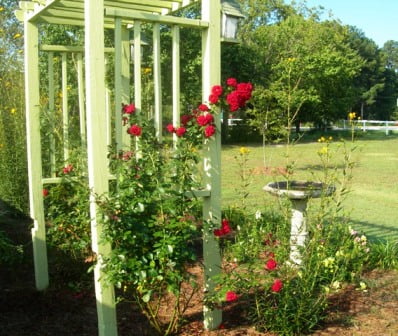 Most of our time is spent outdoors in our flower gardens or…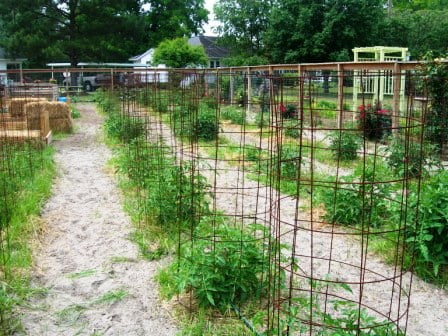 …in our vegetable garden.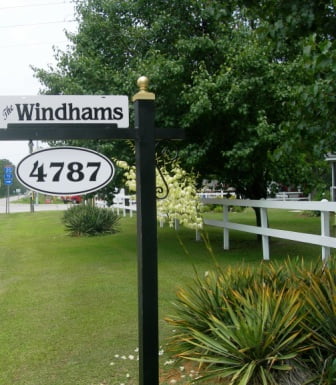 I hope you've enjoyed the tour of our humble cottage. It's a cozy haven for us, and please come back to visit again.
~ ~ ~ ~ ~ ~ ~ ~ ~ ~ ~ ~ ~ ~ ~
Thank you so much, Jane and Leo, for sharing your adorable cottage with us.  What a treasured place to live in!  Not many people can say that they live on property that has been in their family for hundreds of years!
Please feel free to grab the House Snoopers Featured Button for your blog.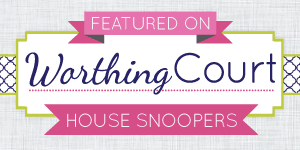 Pssst!  Did you know that we've snooped around lots of other houses?
You can check 'em all out by clicking HERE.