House Tour: House Snooping at The Endearing Home
Happy Friday all you peeps! I have a lovely home for y'all to snoop around today.
The Endearing Home
– after snooping around Lauren's home, I think you'll agree that her blog is very aptly named!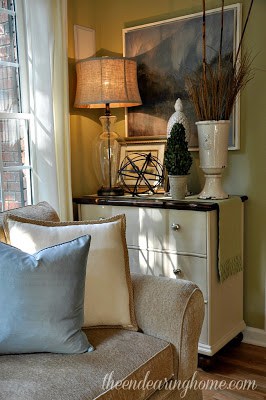 Hi everyone! I want to start by saying a great big "THANK YOU" to Suzy for inviting me to be a part of her House Snooping series, it is truly an honor!
I'm Lauren from
The Endearing Home
. Since starting my blog back in October I have been enjoying sharing budget friendly decorating ideas, updates to our home and meeting so many wonderful people along the way!
We moved into our home two years ago and have slowly been making progress on the project "to do" list. We still have lots to do and plans to improve the house, but it is finally starting to come together and feel like home! So welcome to North Carolina and hope you enjoy the tour!
Here is a little peek of the exterior. Our home is surrounded by trees and it is one of the things we love most! We recently updated the exterior with a new paint color and have plans to add a screened porch in the next few months, will be sharing more pictures soon…
Pin
When you step inside the front door there is a tall foyer. We recently had the foyer painted, added crown molding and bead board. I also put together a gallery wall. I am still looking for a light fixture and would love to replace the carpet on the stairs with wood someday. You can see the foyer updates
here
and
here
.
Since I took the photo above I have changed things a bit on the table. Most of the furniture stays in place around the house, but I always have fun moving the accessories around.
To the right of the foyer is the formal living area or as it is now known, Mac's room. Our poodle loves to lay on top of the cushions to take his many naps or looking out the window waiting for us to come home. The sofa and chair honestly never look this neat, the tops are always squished in. I gave up on trying to fluff them unless we have company.
Click
here
to read more details about the living room.
Pin
Pin
Pin
The dining room and living room are one big open space. Several months ago I painted both of the rooms and had "faux" wainscoting added to the dining room, you can see the before and after and more details
here
. Each room has it's own look, I tried to make them work together the best I could mostly with what we already had from our previous home.
Pin
Pin
Pin
Pin
The dining room connects to the kitchen and family room, the true heart of our home.
Pin
We were lucky we didn't have to make any major updates to the kitchen, just simple and inexpensive changes to give it a new look. You can see more of the kitchen
here
.
Pin
For me, an open floor plan is a challenge to decorate because I like to coordinate things around the house and that isn't always easy with this type of layout. I went with black and white because of the kitchen, it just seemed to work. By adding lots of black and white accessories in each room it helped to tie the two spaces together.
Pin
Come see more of the family room updates
here
.
Pin
Pin
I found this chair at Home Goods, it was a gift to me from my hubby for Mother's Day.
Pin
This is my husbands chair.
Pin
The last room to share is our
guest room
or "Grandma's room". This is one of my favorite rooms in the house.
Pin
Pin
Our home has come a long way since we moved in two years ago, but with an unfinished project in just about every room there is still so much to do and share. Hope you will stop by
The Endearing Home
to say hello and see what's new at our house! Thank you so much Suzy, I had so much fun sharing our home tour on your blog today! Have a wonderful weekend!
~ ~ ~ ~ ~ ~ ~ ~ ~ ~ ~ ~ ~ ~ ~
Thank you so much, Lauren, for letting us snoop around your home today!
It is truly a lovely and inviting home. I think I could move right in!

Did you know that House Snoopers has been snooping around other peoples homes since the beginning of 2013? We've snooped around all kinds of homes!
Click HERE if you'd like to see more.