House Tour: House Snooping at The Everyday Home
Yay!  It's THE day – Friday!  Can I get a woot woot!
Let's get to it, shall we?
Today we're going to snoop around the home of my friend Barb of
Enjoy!
~ ~ ~ ~ ~ ~ ~ ~ ~ ~ ~ ~ ~ ~
Hello Everyone! What an honor it is to be asked by my very dear friend, Suzy, to be featured at House Snooping.
 My name is Barb, and I am the host and very under-paid writer/blogger at The Everyday Home. In the past, Suzy has featured beautiful homes which had a distinct style to call its own. Well…not so much this home. 🙂 I am not exactly sure what style our home is, as I have yet to figure out a name. So I will just let the pictures speak for themselves. I hope you enjoy the tour.
Welcome to The Everyday Home Tour.
How would I describe the style of our home?
That's a very good question. Maybe even one I am not sure if I can answer.What happens if you mix a touch of  Traditional with some Urban Farmhouse influence,  bundled with touches of English-style, then throw in some Euro antiques and a twist of French?
It's The Everyday Home!
I'd like to invite you to come in and be our guest for a while…
No Southern home is complete without a
Front Porch, and although ours is small…I like to think I have  packed with a lot of attitude – or "Sass-itude!"
(that's Southern Sassy Attitude)  🙂
Here is our porch decorated for Summer…
Of course there are white rockers and a Southern Red Door.  🙂
Our porch went thru quite the transformation from when we purchased this home.
Here is our porch once again, decorated for Fall.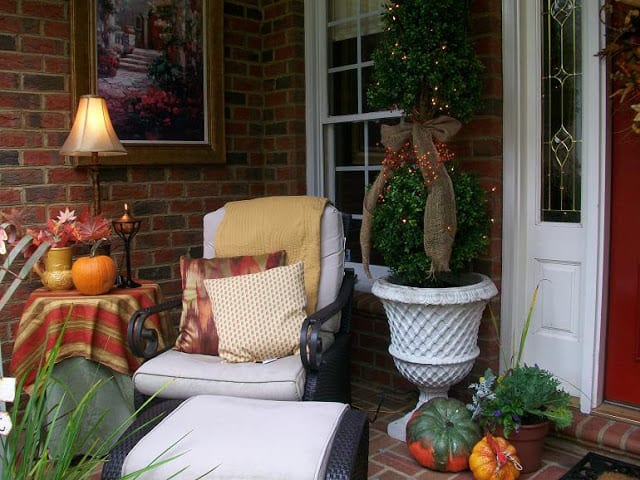 The white porches were switched with brown wrought-iron chairs and ottomans.
I love to change our porch for the Seasons.
Just inside the Foyer, you enter our Formal Dining Room.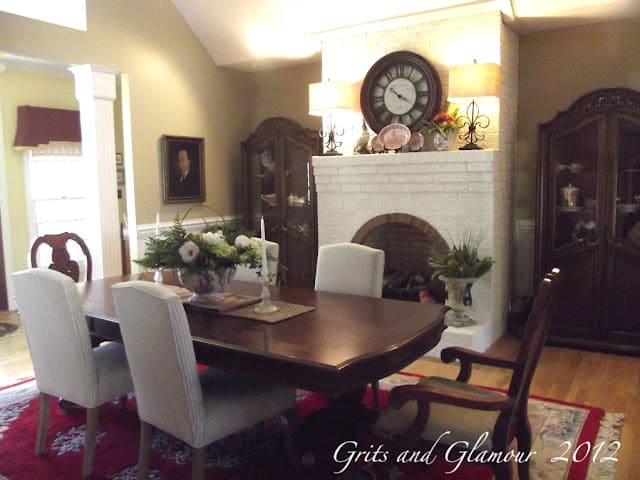 Two of my favorite furniture pieces are the FrenchCabinets you see flanking the fireplace.  These were Thrift Store find, believe it or not.
They are filled with a small portion of my collection of Pink and White Staffordshire China.
The next room has seen several changes over the last ten years since we moved into this home.
The Formal Living Room.
Here it is several years ago in its "Red Stage," all dressed up for Christmas –
– and here it is in "Blue Stage 1."
Blue Stage 1 you ask?
Yes, it has since been repainted to Summer Cottage Blue.
(What I call "Blue Stage 2)  🙂
Here is the English Hutch all dressed for Christmas…
Here is my Formal Living Room in all of its Fabulous Fall Finery.  You can see how the room has transformed from Blue Stage 1.
These are some of the pillows which grace my Living Rom sofa, which I carry in my online shop Farmhouse Decor.
And here is the room as if looks when not decorated for the holidays…
Next, we enter the heart of the home – and one of my favorite spots to spend time – the Kitchen and Breakfast Room.
The kitchen recently went through a whole new transformation, as well,  and you won't believe the Before and After.
Here is the Breakfast Room…
Some of the details of the room…
…and some details from the Kitchen…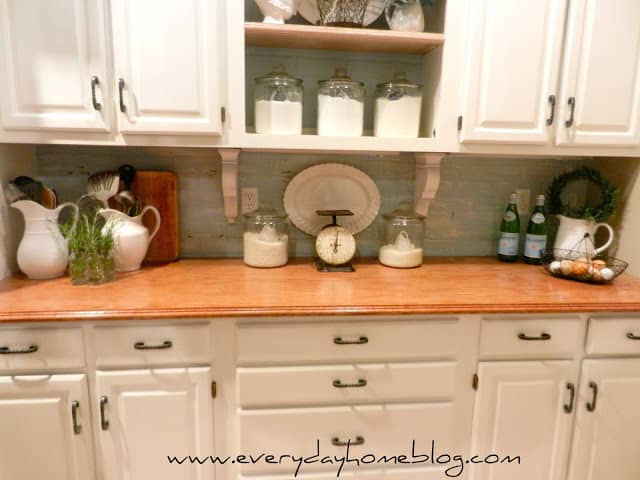 Pin
Our Copper Farmhouse Sink…
We added on a 30×30 Family Room several years ago.
It's where we spend most of our time.  It's also where we love to host a lot of parties for Family and Friends, and generally everyone gathers around our English Pub Bar.
Here is the bar decorated in all of its Christmas Splendor.
– and here is the TV/Sitting Area…
This room allows us to feature our love of English and Euro style.
When it is not bedecked with yards and yards of lights and garlands…
– this is how The Family Room looks on a regular basis.
We recently did a small make-over of the Guest Bath.  We spent less than $150, and got a whole new look.
Here is the Before…
Just a few changes in color and accessories,
and this is the After.
And speaking of budget makeovers, check out our $75 Guest Room Makeover…
Our most recent DIY Project has been a total renovation of our Laundry Room and Pantry.  I have yet to to do the final reveal, but I promise it is coming soon.
Here are a few pics of what we accomplished…
My new organized pantry.
Here is the awesome storage shelf we installed up high, and a look at some of the new beadboard on the walls and ceiling, too. (painted a soft blue)
Thank you for being our guest at The Everyday Home.
It has been our great pleasure in having you tour our home.  And we hope you come back again soon.
Thanks Suzy for featuring our home as part of House Snooping.
 xxoo, Barb
~ ~ ~ ~ ~ ~ ~ ~ ~ ~ ~ ~ ~ ~ ~

Thank you, Barb, for allowing us to snoop around your gracious home today.  I'm honored and blessed to have you as a personal friend.  I love you style and your home is lovely reflection of your sweet and generous spirit.