House Tour: House Snooping at Inspired Living
Happy Friday, y'all!
Today we snooping around Dawn's home at
Enjoy!
 ~ ~ ~ ~ ~ ~ ~ ~ ~ ~ ~ ~ ~ ~ ~
First of all, thanks to Suzy for inviting me to share my space with you today!  I'm flattered, and hope you will enjoy it.
…and a before and after…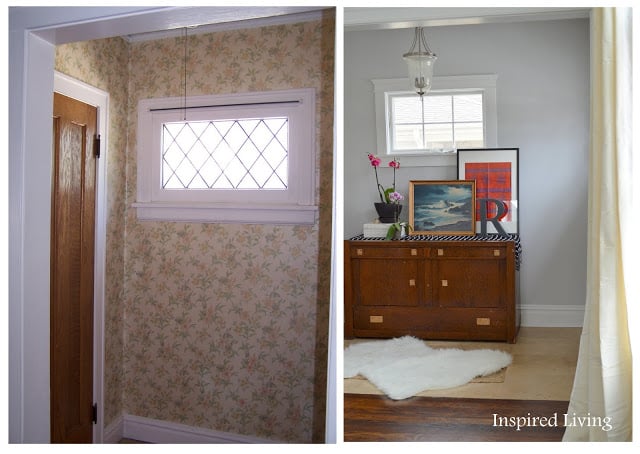 We widened the entry and enclosed the front porch to capture more space; this allowed us to create a large front hall closet. Here are some of the entryway details:
Off to the left of the entry is our living room.  We added lots of windows and a transom to this room to let in the maximum amount of light.  We also opened up the wall between the living room and dining room.  Here are some pictures of the space:
After:
I've used the black and white picture frames a millions different ways in our homes.
These peonies are from our garden.  I LOOOOVE the smell and especially the color of the deep pink peonies.  The ants….not so much….
As I mentioned previously, our living room flows right into the dining room:
The dining room flows into the kitchen, which we completely gutted and renovated:
In the meantime, I love adding flowers to this peninsula to liven it up.  The blossoms above are from the spring, and the ones below are more peonies from our garden.  I can't get over the beauty of these flowers: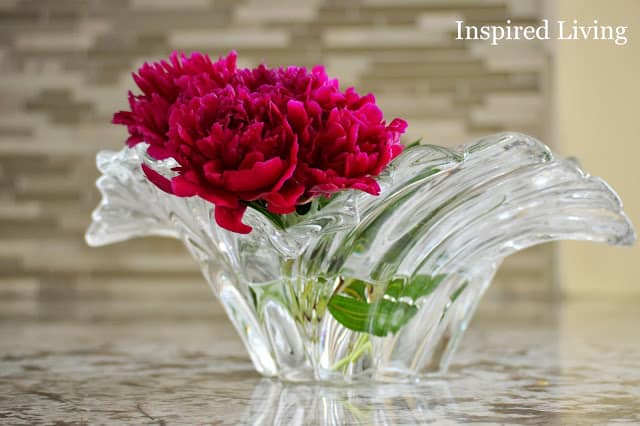 We still have some updates for the kitchen; after four years I finally purchased our kitchen hardware.  Now we just have to find the time to put it on!  The kitchen opens to the back family room, which leads to a deck and the backyard.
….and the deck….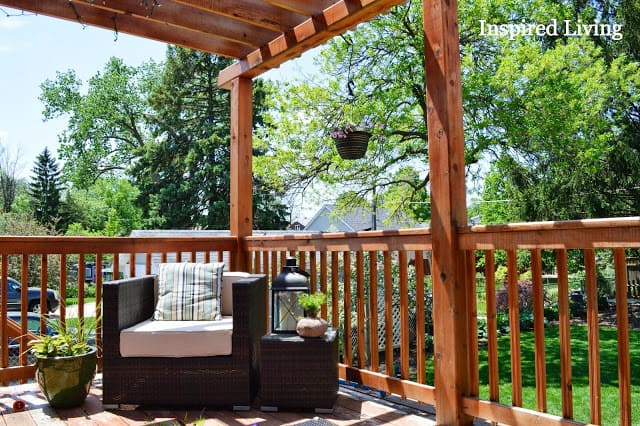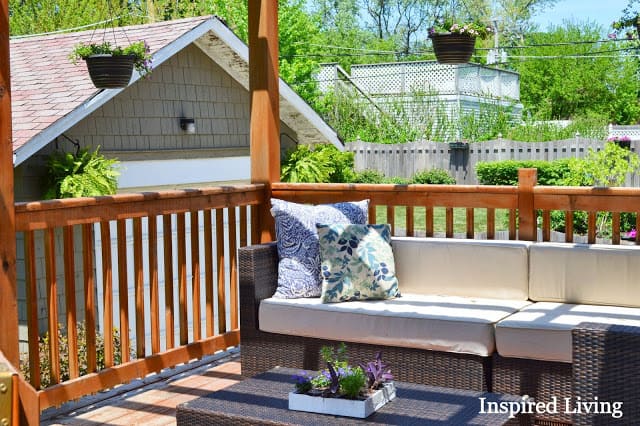 Here is just a peak at a few more of the outside spaces we've been working on this summer.  Actually, the first four years we spent tearing out years of overgrown plants.  This is the first year we are adding lots of new landscaping.  I hope to have a full makeover of the front of our house up on the blog sometime in July.  Until then, here is a mini makeover I recently shared of our side entry.  Before:
After…I added a few simple items to make this entry more inviting):
I completely update the landscaping in the picture below for only $8.
Back inside, I recently made some small changes to our bedroom for summer…
 I wanted a light and airy feel so stuck to whites, grey's and gold's.  I added in a few new accessories, like seashells from our vacations…..
…the gorgeous vintage books in the picture below….
I love this gold etagere, and it was free!  A generous aunt and uncle sold a home and they were no longer in need of the furnishings…no one claimed this baby so I was the lucky beneficiary!  It fits perfectly in this little space….
…finally, I added coral, botanical prints, and a fern…for a living element…
The boys, of course, have spaces of their own, too.  I had fun decorating their bedrooms.  My older son's room has a bit of an industrial vibe going on.
Thanks for taking a tour of our home!  I hope you will stop by and say hello!
~ ~ ~ ~ ~ ~ ~ ~ ~ ~ ~ ~ ~ ~ ~
Wow, Dawn.  What an amazing transformation!  You and your hubby have done an amazing job in your sweet bungalow.  I loved hearing the story of how you wound up in your new home.