Wow, the weeks are really flying by!
I can't believe that it's my favorite day of the week already.
Oh – and I'm happy to report that Spring has finally made its way to 
North Carolina!
This week we're snooping around Kelly's home at
The Lilypad Cottage.
Wait til you see her back yard.  Swoon!
Enjoy!
~ ~ ~ ~ ~ ~ ~ ~ ~ ~ ~ ~ ~ ~ ~ ~
  This is our sunny living room/dining area where the Mr. and I spend our evenings relaxing.
I love all my built in shelves, it's so fun to display all my vintage finds and old books. I'm constantly changing them around.
The Master Bedroom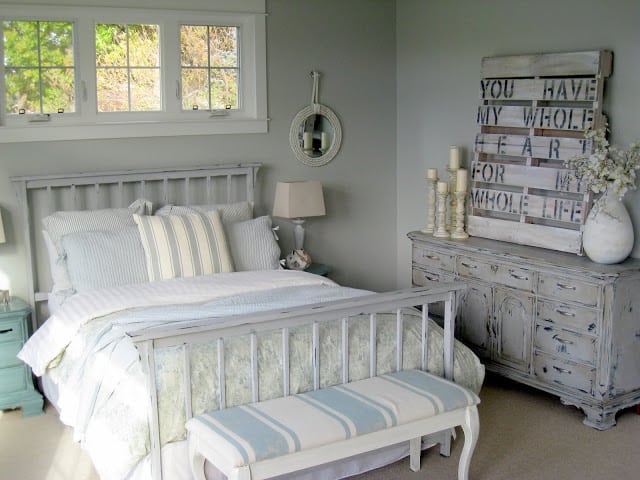 Our view in the master bedroom (sigh…so ready for some sunshine again, spring is really taking it's time this year!)
 My FAVORITE spot in the whole house, my tub, a place to restore my sanity at the end of the day!
The Playroom – which never, ever looks this clean, if you open those big toy closets you will be buried under an avalanche of barbies and matchbox cars…
The Mudroom – which is also normally complete chaos. 🙂
 And finally the very best part of our home (except it looks nothing like this at the moment, can't wait til the lake thaws!) our backyard.
 Thanks again Suzy for letting me share today! 
 Kelly
~ ~ ~ ~ ~ ~ ~ ~ ~ ~ ~ ~ ~ ~ ~
Thank you so much for letting us snoop around your house this week, Kelly.
Your home is just lovely right down to the very last detail!
Enter your email address to have updates delivered to your inbox:
Delivered by FeedBurner
***This original content was written by Suzy at Worthing Court. If you are reading this post using any method other than email notification or reader subscription, it is not from the author. Copyright (2011-2013) Suzy from Worthing Court @ worthingcourt.blogspot.com***