House Tour: House Snooping at SAS Interiors
On this favorite day of most everyone's week, we're snooping
around the home of Jenna from
SAS Interiors.
Jenna is a talented interior designer and diy'er who recently had a three page article published in FIRST magazine!  Head over and check SAS Interiors out.  You won't be disappointed!
Enjoy!
~ ~ ~ ~ ~ ~ ~ ~ ~ ~ ~ ~ ~ ~ ~
Hi All! To start, I want to say a BIG thanks to Suzy for having me crash Worthing Court today.
Secondly, I'm thrilled to be giving you a tour of my home. It's actually amazing that this is even happening because my home is forever a work in progress. As soon as I attempt to take pictures and get things in order, a new project falls into my lap and all bit of organization and cleanliness go to the wayside.
Anyway, you've gotta be impressed that I even pulled this off! If you don't know me (and you still want to keep reading after my crazy intro), my name is Jenna and I'm an interior Designer and Home Blogger of SAS Interiors where I share my personal DIY creations, interior design inspiration, and some very fun and creative decorating ideas and tips.
Let's ditch the chit-chat and come tour my pad…
Welcome to my home!
This is our front porch. We're still currently knee-deep in snow, but this is how the porch looked last Spring and how we hope it will look this year. I love flowers – hanging, potted, and in garden beds – of varying colors. The entrance way to a home, is what I believe, sets the tone for what's to come, so it's such a delight to surround our home in nature's beauty. Over the past 3 years of living in our home, the porch has had quite the transformation process – it didn't always look this inviting.
Pin
Come on in. Another space that has truly received a complete makeover is our foyer. From an entire new staircase to new flooring to the gorgeous, yet subtle stenciled wall, the foyer sets the aesthetic of my classic eclectic design style where all things should have meaning.
When entering into my foyer and as soon as you look to the right, BAM there is my newly created home office / family room. I'm loving the blue walls! This room has had quite the evolution process (and probably the most difficult in my home to design), but the result was so worth the wait. It's such an inspirational space, which I'm so thankful for since it's where I spend the most time (other then the kitchen… hehe).
Speaking of kitchen… My office / family room is adjacent to the kitchen. The space got a huge DIY reno 2 Summers ago and everyday I still love the color I chose for the cabinets – Benjamin Moore Berkshire Beige. I had originally thought black cabinets, but changed my mind to this gray/taupe/almost-green hue. It's a color that I have continued to use around my home and can be seen in other accents like the stair banister and the fireplace surround. The countertops also got transformed from hunter green to black. What a change and a great spot to cook!
Pin
From the kitchen is the dining room / breakfast room / we-eat-all-our-meals-here room… If you were to walk straight through the foyer, you'd enter into this space as well. My home is a total open concept, so every space flows into each other; I love the bright and airy feel of flowing rooms. Navy was a color that started peaking in last year and from the looks of the dining room, and obviously my office (pictures above), you can see that I just adore the deep hue. The dining room has a large bay area with two side windows and a sliding glass door that leads to our deck. Super easy access to the outdoors. We love being outside once the weather warms up (I can't wait)!
Pin
The dining room then leads to the orange-accent-wall living room… Another example of how I love color. This is our comfy room. The space where the kids play and our family relaxes (well tries to relax amongst all our DIYing). It's a large space and really makes the house feel bigger because it steps down from our dining room and has a high angled ceiling. With the addition of the skylights, there's so much sunshine that enters in, which we adore. Would you like to come relax with us?
So that's basically it for the first floor. Come on upstairs… …into our bedroom. A space that has forever been in transition (and is still a work in progress). Somehow this room gets neglected often and even though it looks pulled together here, it rarely looks like this (I'm so bad at taking the time to make our bed). Just like my office, this space has a huge amount of light filtering through. The windows are amazing. The aesthetic in this room is more serene than the rest of the house. Comparably, it might seem boring because the first floor is so vibrant, but for a bedroom, it's a nice change. Our lives are so hectic, that a quieter palette with a few accents of color is just enough.
And then there is the bathroom. And to think back and remember that it took us over a year to actually renovate, just simply scares me. Anyway, similar to the bedroom, the master bathroom is another quiet space accented with shades of blue. From the 'before' color, you'll know why this hue was chosen. Similar to most of the spaces in my home, the master bathroom was a full-on DIY endeavour. From the cabinet to the floor to the mirror to the shower curtain, this space was entirely transformed using my two hands!
Onto my kids spaces… My daughter's room got a pretty update last year when we transitioned her room from nursery to big girl space. The wall color stayed the same (which was my original plan when choosing the bright hue), but the accents and bed are new additions. Other details simply got revamped and a new, fun play tent was also created, which is on the other side of the room. My favorite part of the room is the inspiration wall. There is nothing like a great quote!
And now to my little guys room… At one time he had bunkbeds, but we took them apart to make two twin beds. Since we don't have a guest room, having an extra bed so family or friends can crash for the night is perfect. This room, which is an untraditional blue-for-boy is a fun and creative space, where my son can grow. The somewhat neutral base of the room is layered with all the things he loves and can continue to change as he grows up (sniff, sniff).
And that's my home. WOW! I hope I didn't loose you in one of the rooms. Thank you for taking the tour and I hope you come over to SAS Interiors (www.sasinteriors.net) to check out all the DIY projects that went into making our house a home.
~ ~ ~ ~ ~ ~ ~ ~ ~ ~ ~ ~ ~ ~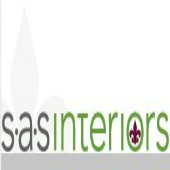 Thank you, Jenna, for opening your home up to us today.
I look forward to continuing to follow along with your diy adventures!