House Tour: House Snooping At A Stroll Thru Life
Good Friday morning everyone. I hope you've had a wonderful week!
I know this is a busy time of year for everyone, so grab a cup of your fave beverage and relax for a few minutes while you enjoy snooping around Marty's wonderful home.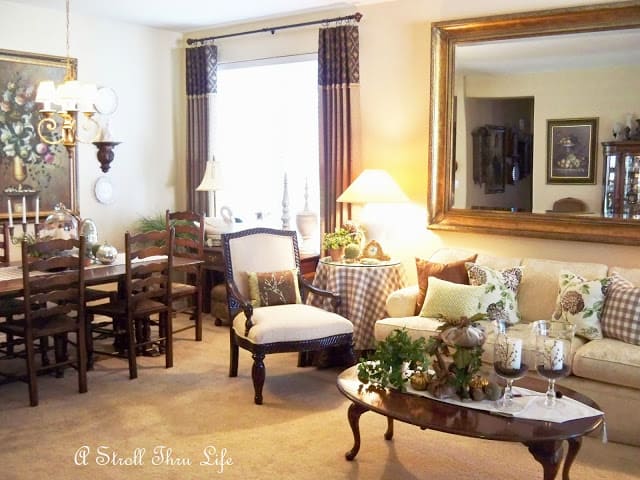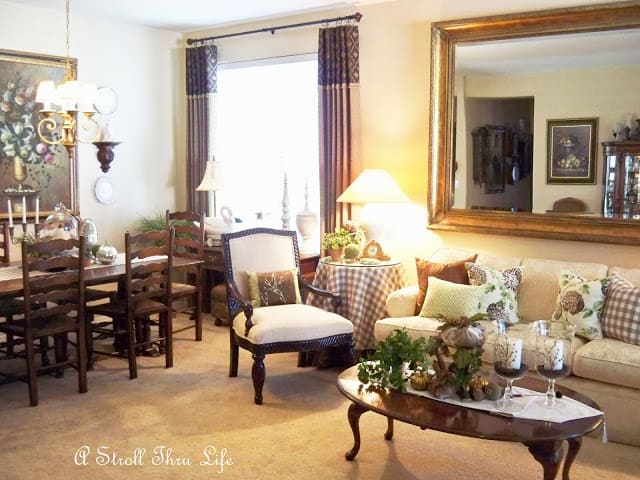 Pin
Enjoy!
~ ~ ~ ~ ~ ~ ~ ~ ~ ~ ~ ~ ~ ~ ~
Hi, my name is Marty and I am thrilled that Suzy asked me to be a part of her House Snooping Series. I am so happy to have you here for a visit.
After retiring and downsizing, we are gradually making our builder basic house a home. Come on in and I'll show you around. My home is a mixture of thrift, consignment and goodwill finds that I love to mix in with treasured pieces I've had for years.
Pin
One of my favorite things is changing out accessories and color schemes. Right now the living/dining area is dressed in a country french check brown and green color scheme.
Mix a little rustic with a little glitz and I am a happy girl.
The dining table got a little of my rustic and glitz mix too.
The family/breakfast/kitchen areas are all open to each other. This is where we live and family always gathers. I love being able to cook and still be part of all the fun.
The breakfast area, with the kitchen on the right. (You can also see into the living/dining area from here.
Pin
The kitchen is literally the center of our house and I love that it is open to all of our living areas.
As you can see, the entire house flows around it.
Pin
Some of my favorite treasures are the clocks I have in this hallway.
Pin
However this one is the neatest one of all. My mom and dad made this one for me. My dad was a contractor, but my mom was just as handy, she had a lathe and did all the turnings herself.
See the two plaques inside. Love Mother & Daddy 1977.
Pin
Down the hall across from the clocks is my laundry room. This is where I have my crafting cupboard, extra fridge and tons of accessories that are special to me. The quilt blocks are ones my mom and I made years ago. (That's the door to the garage.)
Pin
I used every square inch of wall space to display special treasures that make me happy every time I walk in here.
Pin
The next door is the Guest Bedroom. This is probably the only place where you will ever see an antique kitchen with a bed in the middle. Now these are treasured antique pieces that I just couldn't part with, so I made them work. How about a drop leaf kitchen work table complete with curved tin flour bins as a nightstand and a hoosier on the other side.
Pin
The Hoosier makes a fabulous desk when a guest needs one. The work surface pulls out for a very generous work space.
Pin
The butter churn holds a $1 tv from Goodwill and the lawyers bookcase houses some of my dads hand tools. There's also a few antiques used as accessories too. Works for me. To see how it all came together, check out this post.
Pin
Turn right down the hall and you come to the guest bathroom. Small, but functional. This is my most recent room redo. You can see how I pulled it together by rehabbing and shopping the house here.
I gave a tutorial on how to remove a medicine cabinet and patch the wall in this post. That made a huge difference. There's room for a towel rack by the sink and a cute picture from Goodwill.
Add a new faucet, some french inspired accessories with a painting and some transferware plates that I already had and a plain bathroom is totally transformed.
You can find a "how to" for the tank topper tray here. Now even that curvy tank top can be used to display some fun bathroom accessories and they won't slide off.
Pin
The master bedroom got a complete makeover last year. It started when I found the headboard at Hotel Liquidators for $75. You can see how I painted it in this post.
Next I found this dresser at a thrift store. I refinished the top and it looks good as new. Great storage and I love the hardware.
The nightstand on this side came from goodwill, it got a little refinish job too.
Across from the bed is an armoire and a small chair.
Pin
This is one of my favorite finds. – -$15 at Goodwill. I re-stained and redid part of the upholstery, love it. See that redo here.
The master bathroom hasn't had much of a makeover. Just some paint, new light fixtures and a few accessories. I left the huge mirror, I like how it makes the space feel bigger.
Pin
Pin
It's always bright and cheery in here with all the light from the window, and I love, love, love the soaker tub.
Pin
That's it for the tour. I can't thank you enough for stopping by, I love company and you are always welcome. If you are new here, I would love for you to follow me at A Stroll Thru Life.
~ ~ ~ ~ ~ ~ ~ ~ ~ ~ ~ ~ ~ ~ ~
Thank you so much, Marty, for inviting us to snoop around inside your home. Your lovely home is so warm and inviting. You've given me some great inspiration for transforming a builder home (which is what I live in) into something special.
Please feel free to grab the Featured On House Snoopers button for your blog.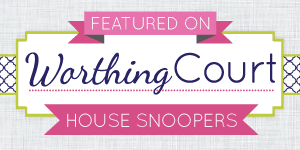 Pin
There are a lot more houses to snoop around! Click HERE.