House Tour: House Snooping At All Things Heart And Home
Happy Friday, everyone! So tell me, how was your Halloween? Do you have a lot of candy left? I love seeing all the sweet faces of the little ones, but I gotta tell ya – I'm a bit taken aback when I see adults trick or treating at my door.
Today, we're snooping around Robin's lovely home.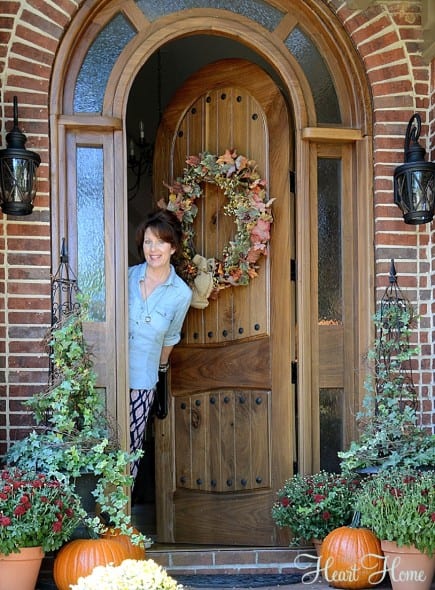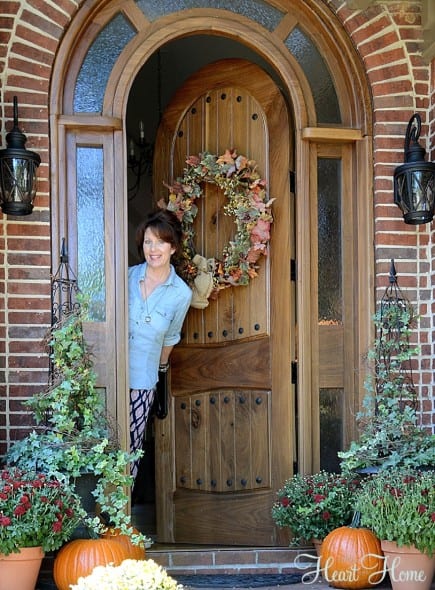 Enjoy!
~ ~ ~ ~ ~ ~ ~ ~ ~ ~ ~ ~ ~ ~ ~
Hello my new friends! I'm Robin from All Things Heart and Home and I'm so happy to be hanging out with you guys today! The Husband and I recently bought a new (old) house that we're slowly making our own. He's not afraid of any DIY project as you'll see in just a second!
My blog is All Things Heart and Home because I truly believe that all those projects we do in our home are a reflection of our hearts…so whatdaya say…let's look around!
Here's the front of our sweet house-although The Husband and I have always loved wood-frame, country style homes, when we saw this one, which was in need of some TLC, we immediately saw the potential… (The BEFORE post HERE and HERE )
See this Arched Tudor Door & Door Frame? The Husband made that! I told you he wasn't afraid to tackle any size DIY project! The 411 on the Arched Tudor Door is HERE.
Come on into the entryway…
The den is what sold us on this house…we walked in and thought that all 30-35 of our extended family would fit nicely in this open space…

Stone House Lane has several elements original to Brick Tudor style homes like these arches…
Although the den has high ceilings and is kinda large, it's still very cozy at night…
The eat-in part of the kitchen is open to the den and opens right out onto the screen porch…
Here's another project The Husband did… the farm table so our family could fit for Sunday Suppers! (DIY Farm Table HERE)
The screen porch is small but we spend a lot of time out here! It's where we have our quiet time every morning, until about December when it's too cold even with a blanket 🙂 I gave the screen porch a makeover that included all kinds of projects, whitewashing the floors, DIY Grapevine Sphere Chandy…posted HERE!
From the farm table to the kitchen, the downstairs is open, one room flowing into another…
Do you drink coffee? If not, I have hot cider? 🙂
Come on into the dinning room…
We added new chairs since the Christmas photos above…kinda warmed up the space but the dinning room is far from finished…
Our master bedroom is on the main level, we weren't sure we'd like that but we love it…this is the bedroom last Christmas, like most other rooms…you guessed it, not nearly done…(just got new bedding-but have yet to get a photo!)
The Master Bath is probably our next major project…but here's the current version…we added a beautiful armoire for storage.
Wanna head upstairs because I have to show you the playroom/nursery for our four tiny granddaughters! You're gonna love it!
This is my favorite thing! The Husband built this closet play house for our tiny girls, HERE is more on the indoor playhouse!
The guest room is right next door to the playroom…at the risk of sounding like a broken record…it's not done 🙂 HERE is the guest room info.
My project room is upstairs too and like all the other rooms up here…it's not done yet!
Before you go, can I show you our latest project? It's the backyard and The Husband has been working on it for months…all the details on the backyard project HERE…
Come on back…
We were thinking of Sunday Suppers and big family get-togethers when we planned the backyard…
My favorite thing has to be the pondless waterfall. We hear it easily from the screen porch and even from the den when the doors are open…(the post on the pondless waterfall is HERE)
Bindi says thanks for letting us hang out with you! Come visit me at All Things Heart and Home…I'm there every day! xo
~ ~ ~ ~ ~ ~ ~ ~ ~ ~ ~ ~ ~ ~ ~
Thank you so much for allowing us to come snoop around inside your home, Robin. It's just gorgeous.
And you weren't kidding when you said your husband isn't afraid of diy. My goodness. He made that door??? Wow.
Feel free to grab the Featured On House Snoopers button for your blog.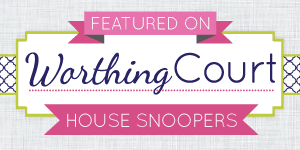 There's a lot more House Snoopers to see. Click HERE!