House Tour: House Snooping At Home Is Where The Boat Is
Happy Friday everyone! I hope you've had an awesome week. We had fun celebrating Pookie's birthday on Thursday. Luckily he's a techy kind of guy, so finding a special gift for him was pretty easy to do.
Today's house tour is a little different, but you're going to love it! We get to snoop around Mary's domain where she consistently wows all of us with her amazing talent.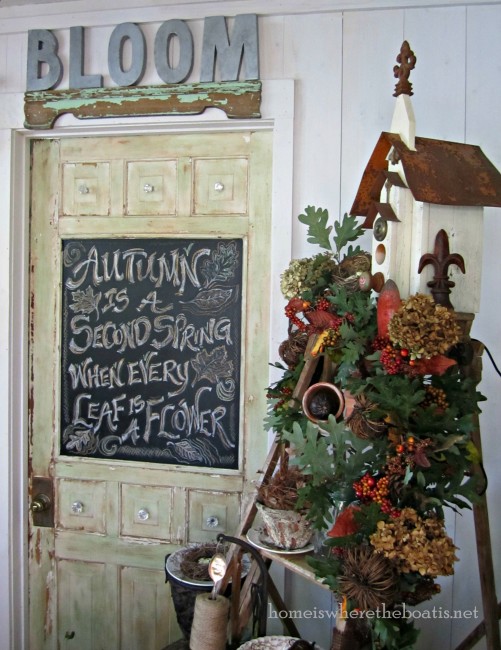 Pin
Enjoy!
~ ~ ~ ~ ~ ~ ~ ~ ~ ~ ~ ~ ~ ~ ~

Hi, I'm Mary at Home is Where the Boat Is.
We live on Lake Norman in North Carolina,
hence the name of my blog 🙂
Pin
I'm honored and thrilled to join Suzy and her readers
at Worthing Court for her House Snooping Series
and to snoop around my tiny house. . .my Potting Shed!
Pin
Welcome. . .
I'm happy to have you snoop around!
Pin
My Potting Shed was years in the planning and procrastinating
stage, but only took about a month, starting and stopping
due to a delay in materials, and a project I was thrilled
to have completed in 2012.
Pin
The exterior was inspired by my 2012
early spring issue of Country Gardens Magazine.
Pin
We didn't have any plans, just a rough sketch from ideas
and pages saved from magazines.
The exterior is 10 x 16~ the size dictated by the space
we had under the trees and already seems too small.
Pin
A marriage of old and new materials
with a little fun picking a few salvage items~
Pin
~Doors, $12 each
~Posts for Front Porch, $15 each
~Rusted Metal for Roof of the Porch, $3 a panel,
Tetanus shot not included 🙂
Pin
I splurged on a pair of leaded glass windows,
one hung horizontally and one hung
vertically in the front.
Pin
A pair of sash windows on the side were picked for $45,
installed to let light in but not to function,
over with built-in work areas.
Pin
Window dressing was one of my first projects to tackle.
Drapery rods supplied by Mother Nature were tied
together with twine and then secured
with twine to shelf brackets.

A roll of landscaping burlap from Lowe's was ideal
and affordable~ one roll of burlap fabric,
3 feet x 24 feet, was $9.78.

My work areas are 4 feet x 2 feet. I wanted a work
surface that would be functional & economical.
I found a sheet metal shop that does HVAC duct work
to cover my plywood counters with
galvanized sheet metal and attach a back splash.
Pin
I found cafe curtains the ideal length & width
for skirting my work benches and storage areas,
good for me since I'd rather pot than sew 🙂
Pin
My husband came up with the idea of repurposing
a pair of salvaged heat register covers
to use as gable vents instead
purchasing a new gable vent.
Pin
My salvaged back door had a broken window
that I decided to replace with a board
and paint with chalkboard paint~
Pin
And provides a place for quotes
and inspiration for projects~
Pin
My grandmother's neglected and very pink chest
of drawers got a new home and little facelift~

Courtesy of Annie Sloan Chalk paint, now
just a hint of the pink showing through.
Pin
I have to confess I've done more
puttering than potting here~

Unless you count
dish gardening 🙂
Pin
It has inspired a few projects though~
Pin
Like a Bird Feeder Chandelier,
also with dishes.
Pin
And it gives me an opportunity
to celebrate the seasons~
Pin
Pin
Pin
Pin

I have a Potting Shed tab at the top of my home page,
if you're interested in more information
and to see how she's grown!
Pin
Thanks so much Suzy for inviting
me over to your House Snooping Series
Pin
~ ~ ~ ~ ~ ~ ~ ~ ~ ~ ~ ~ ~ ~ ~
Thank you for letting us snoop around your special spot, Mary. You are one talented lady! I think that now all of us will want to have a potting shed to play in!
Feel free to grab the Featured On House Snoopers button for your blog.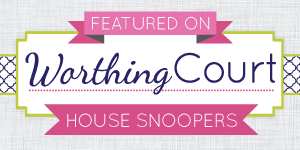 Pin
There's a whole lot more where this came from! Click HERE to snoop around more houses.