House Tour: House Snooping At Imparting Grace
Happy end of the week, everyone! I hope your week has been simply fabulous. Do you have any fun plans this weekend? I know that lots of places have their annual fall fairs going on. We'll be checking out some houses on Saturday – trying to make decisions about what to downsize to.
For today's house tour, we're going to snoop around the home of the lovely Richella.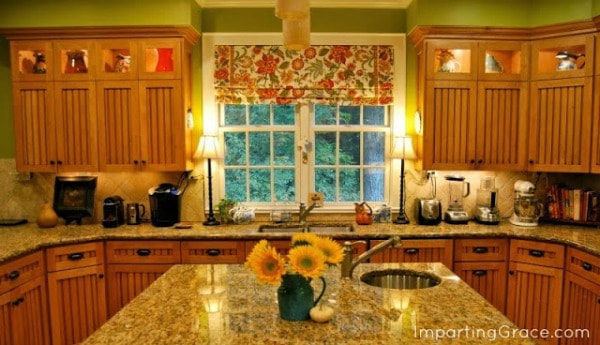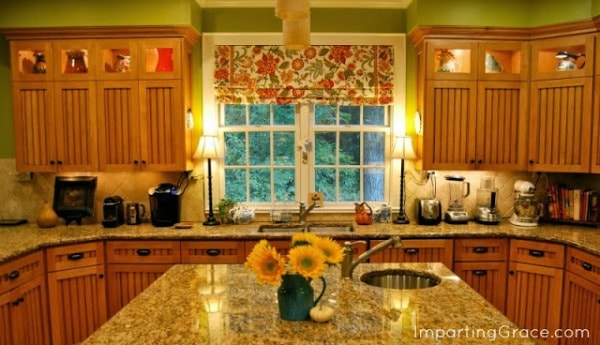 Pin
Enjoy!
~ ~ ~ ~ ~ ~ ~ ~ ~ ~ ~ ~ ~ ~ ~
I'm so grateful to Suzy for giving me the chance to be here at Worthing Court today. Let's snoop around my house a little, shall we?
Our house is relatively new, but it's in an old neighborhood in Durham, North Carolina. I am a lover of trees, so I'm especially thankful to be in an established neighborhood.
The first room you'll encounter in your visit is our front porch. See it nestled to the side of the front door?
If you were to peek through those windows on the front porch (which would be easy, since there are no curtains), you'd see my dining room.
After 20 years of having red dining rooms (four different rooms in three different states!), I made the move to blue. I like deep, dramatic colors for dining rooms. You can read more about my
dining room here.
The dining room leads to the kitchen. Our house's original design called for a kitchen, a breakfast room, and a keeping room in this space, but we used the space as a large, multi-purpose room. Here are a few recent photos:
Here's a peek at how my kitchen looked last
Christmas
:
The kitchen leads out to the screened porch, which is another favorite space of mine.
Now if we go back to the front of the house, I'll show you what's behind those other windows:
Yes, he does work in this room, and yes, it's always this neat. His spaces tend to be the cleanest spaces in the house. The rest of us drive him crazy sometimes!
Not usually so clean is the
bonus room
, which is built into the eaves over the garage.
Not very neat, but this room is a great hangout space for teenaged boys!
If you were to visit me in person, you'd stay in the guest room. You could bring a friend with you, since the room is furnished with twin beds.
Pin
I'd love for you to visit me at
Imparting Grace
if you'd like to see more. Any friend of Suzy's is a friend of mine!
~ ~ ~ ~ ~ ~ ~ ~ ~ ~ ~ ~ ~ ~ ~
Thank you, Richella, for letting us come snoop around! All of your home is so lovely. I'm totally jealous of your screen porch!
Feel free to grab the Featured On House Snoopers button for your blog.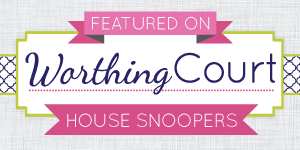 Pin
Want to snoop around even more homes? Click HERE!