House Tour: House Snooping At Our Southern Home
Happy Friday, everyone. Welcome to House Snoopers!
Today we're snooping around Christy's wonderful, traditional Southern home with a bit of French Country thrown in.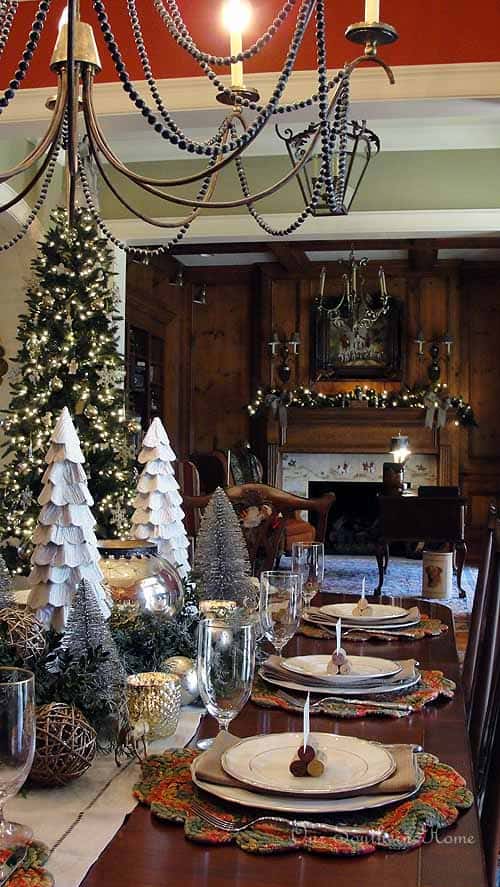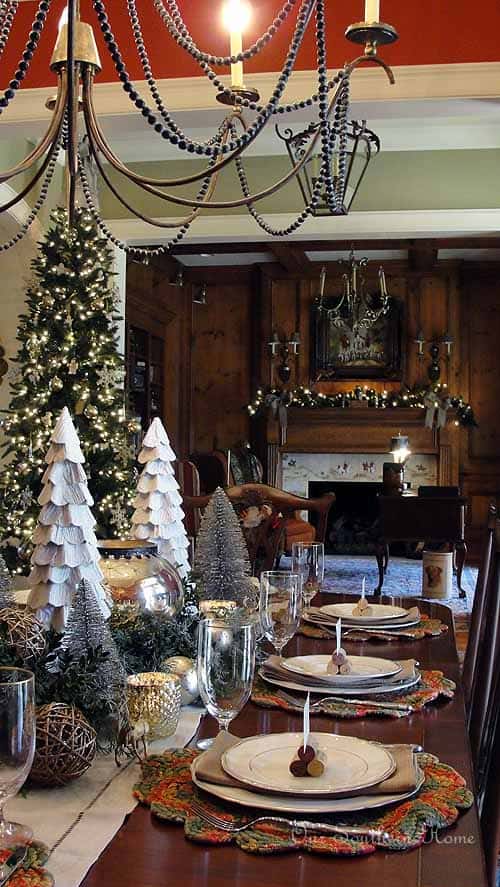 Pin
Enjoy!
~ ~ ~ ~ ~ ~ ~ ~ ~ ~ ~ ~ ~ ~ ~
I am Christy from Our Southern Home. I am so thrilled that Suzy has asked me to share our home with you in her House Snooping series! I had the honor of meeting Suzy this year at the Haven Conference In Atlanta. She is just as sweet in person as she is on her blog! It is such fun to meet the real bloggers behind the creativity.
Let's get started! You can read all about me and my family HERE. We built our home and have been living here for over 9 years now. We live in the country with quite a few animals…horses, cats and a dog.
Pin
Here is a picture before the leaves came in this past spring. It's hard to see the front of the house with the leaves like in the next photo.
Pin
This was from this summer. The trees are great in the summer helping to shade the front porch.
Pin
This year's fall porch really showcases my love of traditional fall color! I enjoy decorating the porches with vintage and thrift store finds.
Pin
Lizzie would like to welcome you into our home!
Pin
I thoroughly enjoy decorating our home and for occasional clients. My tastes have really changed from when I was first married in 1989 from that country phase…you know what I'm talking about! My style I think has really set in. I'm a traditional girl at heart, but I never see myself growing tired of French Country style. I love to mix in thrift store and vintage treasures for that unexpected bit of charm. All three of these rugs pictured here are either antique or vintage. For example, our dining room furniture was purchased new many years ago, but sits on a $100 vintage rug found on eBay. My style incorporates mixing old with new. That's what I think gives our space lived in character.
Pin
Here is our dining room decorated for summer. I do have fun with the table! Be sure to hop on over to my blog today when my fall dining table will be up!
Pin
This was last year at Christmas looking into my husband's home office/study.
Pin
I love to cook and the kitchen has always been a favorite room of mine! The stained pine perimeter cabinets and painted island have been so easy to maintain. You can read more about our French Country kitchen HERE. I am loving the popular look of all neutrals and whites, but will always be drawn to subtle color. I am enjoying adding neutral items here and there, but maintaining my use of color.
Pin
A local tile artist painted and fired the French Country village scene on tumbled marble tiles. It actually has all of our names hidden within the design!
Pin
I enjoy incorporating rusty reds, greens, blues and neutrals into my decorating. The walls in the breakfast area are a green washed Cyprus. The ceiling planks are stained pine.
Pin
We find that we dine here more even when we have company!
Pin
Our screened porch is another favorite room in the house. This is really where I showcase my love of vintage casual. All the furniture with the exception of the outdoor wicker has been a used find and repainted. We eat dinner here most nights late spring (after the nasty southern pollen has run its course) through late fall. You can see more of the porch HERE.
Pin
The screened porch has access from the kitchen/family room and the master bedroom.
Pin
Our master bedroom is traditional with French Country fabric touches and solid mahogany furniture. The window treatments and bedding are 12 years old!!!! I really try to spend money on items that will last the long haul. I still love the window treatments and matelasse bedding. I hope to update the pillows in the very near future to bring in a more vintage, casual feel.
Pin
Here is our family room. It is a favorite room in the cooler weather months as we love burning the real wood burning fireplace.
Pin
Pin
The guest room is off of the family room and is still a work in progress. I adore collecting tole trays…..a nod to my love of French Country.
Pin
This is my most treasured piece in our home. We purchased it in Southport, NC. It is an antique painted piece from Germany. It houses my massive yarn stash (confessed yarn hoarder). It used to be in our master bedroom, but in this house it is in the guest room.
Pin
This is my hubby's study which is probably more English in style with the hunt scene painted along the tile and the oil above the mantel. The two chairs were a newspaper downsizing ad….pre-Craigs List. They were bright yellow!!! I got both for $75! The small table is just one of my chalk paint make-overs.
Pin
Here is our 14 year-old daughter's room.
Pin
This is our 17 year-old son's room which is looking a bit differently lately due to the antique desk that I painted for him.
Pin
As you can see, his room is a work in progress!
Pin
Here is my crafting and sewing area. It only looks this neat on photo taking days! You probably can't even see the sewing machine right now! Keeping it real!
Pin
This is the upstairs bonus room that we really watch most of our TV and movies as a family. It has all of the cast off furniture. That denim slip-covered sofa was my mom's! She was getting rid of it, and we needed more seating up here. It is where I regularly fall asleep and never finish the end of movies! It is 70s hideous!!!
Pin
Pin
Many thanks again to Suzy for giving me the honor to be apart of House Snooping!
I'd love for you to visit Our Southern Home and follow along! You can find my projects HERE and my home tour HERE.
~ ~ ~ ~ ~ ~ ~ ~ ~ ~ ~ ~ ~ ~ ~
Thank you, Christy for allowing us to come snoop around your gorgeous home. It just exudes Southern hospitality and warmth.
Feel free to grab the Featured On House Snoopers button for your blog.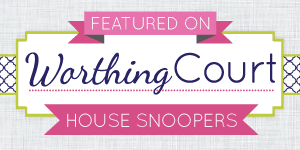 Pin
There's a lot more where this came from! Click HERE to snoop around many more homes.