House Tour: House Snooping at Primitive and Proper
Good Friday morning everyone!  During today's house tour, we're going to snoop around Cassie's beautiful home!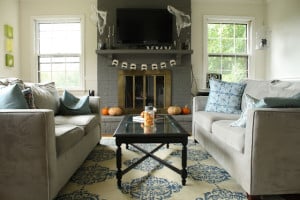 Pin
Enjoy!
~ ~ ~ ~ ~ ~ ~ ~ ~ ~ ~ ~ ~ ~ ~
Hello Worthing Court fans!  I am Cassie from Primitive and Proper and I am so excited and honored to have my home featured today on Suzy's blog.
I first came across Suzy's blog when my friend Gabbi from Retro Ranch Reno had her home featured back in July.  I have enjoyed it ever since, and especially love the house snooping!  After all, I think we all love snooping in other people's homes.
Of course I won't be showing you my secret piles of dirty dishes, or laundry to be folded, which you might find on any given day.  I will give you the tour of what my house looks like when no one is home to mess it up. 😉
My style is blended vintage, very eclectic.  I love so many looks, that I just buy what I love and work with it.  I always gravitate towards pieces that are used and loved, but I would not say they have to be one particular style  I love a little mid century, a little French, a little rustic, a little bit of everything!  I believe a home should be a reflection of the family living in it, and that the family should be totally at ease within its walls.
Here is the exterior of my home (this shot is from last Fall, since I have not yet decorated for this Fall)).
Pin
Let's pop inside, shall we?  Jake says to come on in!
The front entry features a wall I stenciled with sheep using a sharpie…
If you turn back around to face the door from inside, you will see one of my favorite areas, the chalkboard wall in the main hallway…
To the left of the entry sits our living room.  (Again using photos from last fall as they fit the season we are heading to, and not much has changed in this room since then).  I painted the fireplace gray to help blend our TV, which my husband says he will die without being above the fireplace.  So I guess I can make it work there.
Pin
Pin
We've recently worked on the kitchen in our home.  It's not quite done yet, but it's getting there….
Pin
One of the major changes we made was removing the wall between the kitchen and dining room, so now the kitchen opens into our dining room, which I recently repainted Kendall Charcoal from Benjamin Moore.  It's my favorite room at the moment!
The final area downstairs is the guest room and guest bath.  The guest bath is nothing spectacular, but it's better than it was when we arrived- everything was wood wood wood!  And cheap looking wood at that!  I painted the trim and the vanity, and framed out the mirror, so now it looks like this…
Pin
The guest room continues the color palette that I have through the main floor- navy, gray, and white…. That is a pretty consistent theme with some touches of aqua, too.
Pin
The guest room also features two large closets which I use for my craft space.
If you will follow me down to the basement, you will see the playroom, which is getting there….
Pin
The playroom also includes my daughter's craft closet.
Let's head upstairs and check out the bedrooms!
The master bedroom is my retreat, where I relax at the end of the day, where I sit and write this post now.  It's navy walls feel cozy and calming.
Pin
Pin
My son Sawyer's room is all about what he loves…. Star Wars!  And his favorite color is red, so we had to bring that in, too.
Pin
Pin
My daughter Emmy's room has an eclectic woodland vibe, but is about to undergo change, so stay tuned!  For now, here it is.
And finally, the kids bathroom has also been slightly updated with paint. (Notice how you won't see ours yet…. You can thank me later).
Pin
That concludes our tour!  But things are constantly changing in our home, so pop on over to Primitive and Proper for all the latest!
Suzy, thank you so much for allowing me to share my home with your readers today!  Have a wonderful weekend!
~ ~ ~ ~ ~ ~ ~ ~ ~ ~ ~ ~ ~ ~ ~
Thank you so much, Cassie, for allowing us to come snoop around your wonderful home today.  I love every single thing that you've done to your home.  I'll warn you that there's going to be some serious envy over your crafting space.
Feel free to grab the Featured On House Snoopers button for your blog.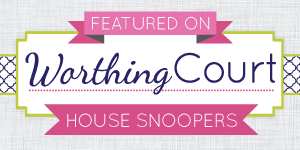 Pin
There are a lot more houses to snoop around!  Click HERE to see more.