House Tour: House Snooping at Rain On A Tin Roof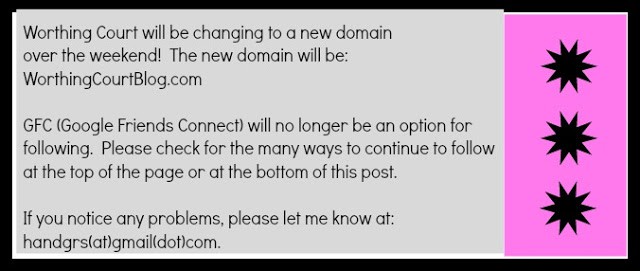 It's Friday once again.  Can you believe it?
And it's time for another great house tour.
Today we're snooping around Jenna's home at Rain On A Tin Roof.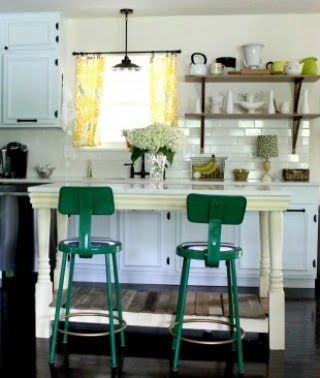 Enjoy!
~ ~ ~ ~ ~ ~ ~ ~ ~ ~ ~ ~ ~ ~ ~
Hi, I'm Jenna from Rain on a Tin Roof!
I'm so excited to be here at Worthing Court today so you can snoop around my home. A big thanks to Suzy for having me over!
My home has vintage, modern, and country elements. So, I'm calling it the Vintage Modern Country Rancher.
Welcome to my home!
We bought our home as a foreclosure two years ago. We have renovated and remodeled our entire home since then.
Entryway:
The entry table recently got a coat of white paint and gold detailing.
Kitchen:
The kitchen got a makeover including new tile, counter-tops and a custom built island thanks to Grunt Labor. We kept the original cabinets, but gave them a coat of paint and new hardware.
Our kitchen, living room, and dining room is one big open space. It used to be three separate rooms, but was just too confining, so a few walls had to go.
Dining Room:
Living Room:
The buffet turned media center came with the dining room table. Both were from my great aunt. Each got a coat of paint.
The white chairs were Craigslist finds that got a makeover, as well as the coffee table.
Master Bedroom:
After being in our home for nearly two years, the master bedroom was finally completed in March.
Monograms and I have an unending love. If you ask this southern girl, monograms are a classic.
The two pieces of furniture you will never find me painting is my dresser and chest of drawers in our master bedroom. They were my great uncle's and have a beautiful finish that has held up beautifully for the last 50 years. Hopefully, they have 50 more. I did touch up the hardware with some Rub 'N Buff though.
I carved out a reading nook in the corner of our bedroom with a chair from Costco and DIY corbel shelving.
I made the wall art in the bedroom with PicMonkey and frugal graphics from Etsy.
My Bathroom:
Grunt Labor and I have separate bathrooms. Its the key to a happy marriage. I promise.
My bathroom got new marble tile, a new vanity and this built-in bathroom shelving:
The Nursery:
Baby girl's nursery has a vintage feel. I combined thrift store finds and items from my childhood as well as Grunt Labor's to use in her room.
Screened-In Porch:
The screened-in porch got an overhaul this spring and it is my new happy place.
Thanks so much for snooping around with me today!
If you liked what you saw, I would love to have you follow me at Rain on a Tin Roof where I continually rant about DIY projects, thrifting, crafts, and decorating.
You can also find me here:
Bloglovin / Pinterest / Facebook / Twitter / Google+ / RSS
Thanks again for having me over, Suzy!
~ ~ ~ ~ ~ ~ ~ ~ ~ ~ ~ ~ ~ ~ ~
Thank you so much Jenna, for letting us snoop around your beautiful home today.
I love your style.  You've done a great job of creating a Vintage Modern Country Rancher.