House Tour: House Snooping at Start At Home
Happy Friday!  We are still in the midst of the the All Things Home Fall Home Tours, but today I have a tour of a different sort.  Today we're going to snoop around inside of Brooke's beautiful home.
Start At Home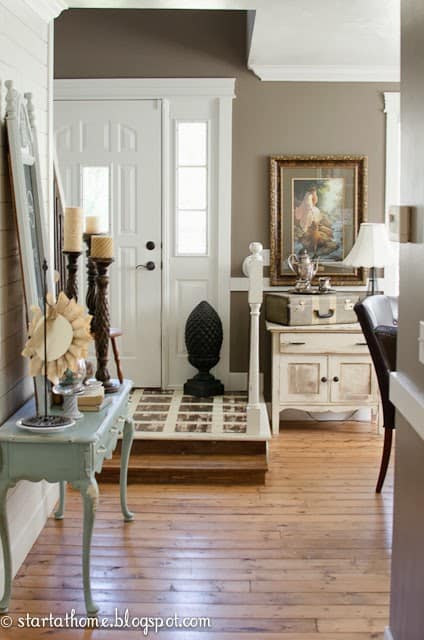 Enjoy!
~ ~ ~ ~ ~ ~ ~ ~ ~ ~ ~ ~ ~ ~ ~
I am so excited to share our home with you today!  What an honor to be featured on
Worthing Court
!!
I am Brooke from Start at Home, my husband and I bought this home 2 years ago, and ever since we have been ripping out, tearing up, and making it a home for our family!  I am happy to say we are getting close to being done, we only have a few rooms left!
On that note…
Come on in and make yourself at home!!
Before:
After:
My entry way is one of my most favorite parts of my home.  It tells our families story 
and invites all in to our home!
We turned our front room into an office!  I was a little scared to convert our front room, after all it is the first thing a person sees from your front door.  I didn't want it to scream home office but I still wanted it to be functional!  I am so pleased with how this room came together, it is one of our most used spaces now!
Before:
After:
Welcome to our kitchen, and incase you forgot what you do in the kitchen I have made a large reminder!
I have loved the tone on tone, which I stressed about far too much in the color selection process.  But I am so happy with the neutral pallet it created, it makes the hint of turquoise pop!
They say the kitchen is the heart of your home, and that is very true in our case.  We spend lots of time here creating treats, crafting, and of course making a good ol' mess!
Before:
After:
Now if you turn around you will find our table and chairs.  I love the bulkiness of the chairs and tables and the fun colors help add color to the space.
Before:
After:
If you turn around again you will be in my family room!  My dear husband put up the wainscoting on the back wall for me, I am so happy with how it helps fill in the empty spaces on this big wall!
I often find myself sitting in the chair in the corner reading/looking at pictures of a magazine.  It is a cozy quiet area of our home.
Before:
After:
Here is a peak into my daughters room.  She is my little princess and as such needed a room to suit her personality!  I even have her approval.
Before:
After:
My laundry room is a very small space with lots going on.  It is a hall way from my garage to my family room as well as the laundry/mud room.  We needed to maximize every ounce of space in this room, and stacking our washer and dryer was just the answer.  Once they were stacked we added this built in, which helps a lot in keeping this small space organized.
Before:
After:

Next lets take a peek at the bathrooms!
First is our Master Bathroom.  This room was a complete overhaul, but I couldn't be more happy with the outcome.  I love the design of the vanity and the fun legs, it even has self closing drawers, a luxury I had never experienced before!
Before:
After:
Here is my daughter's bathroom.  I wanted it to be bright and colorful without having a theme.
This bathroom too was a complete overhaul!
(I forgot to take a before pic of this bath, OOPS)
And the last remodeled bathroom is our little oddly shaped half bath on the main floor.  It may be oddly shaped but it does the job and catches MANY messes from outside!
Before:
After:
Our current Project is the basement, it is almost there!!
Thank you Suzy for allowing me to take over your blog today!  I sure have enjoyed my stay!
Brooke
~ ~ ~ ~ ~ ~ ~ ~ ~ ~ ~ ~ ~ ~ ~
Wow – Brooke!  Thank you so much for letting us snoop around your wonderful home today.  You and your hubby have done an amazing job of transforming every single room!
Feel free to grab the Featured on House Snoopers button for your blog.